Every year the massive sunflower fields at McKee Beshers in Maryland is a popular destination for photographers. It's hard to miss out on the bright yellow field of sunflowers. You can find these fields located in Poolesville, Maryland off River Road.
Usually blooming in early July and lasting for about 2 weeks it's quite a beautiful sight.
With over 30 acres of sunflowers in 9 fields you'll have plenty of photo ops. Great for taking portraits or just photos of the sunflowers.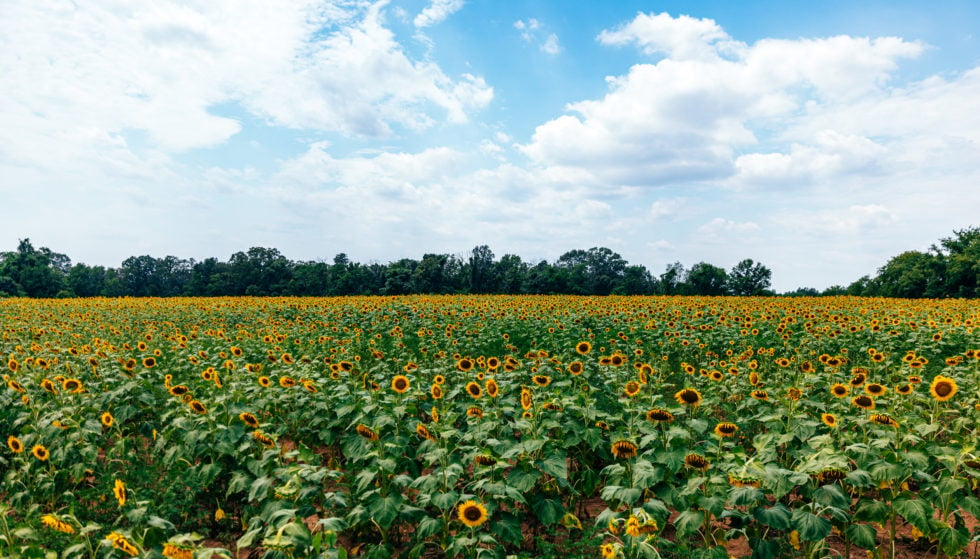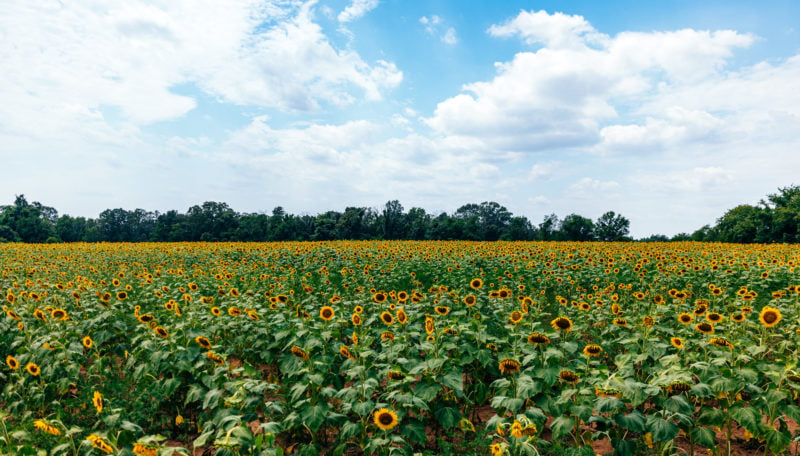 You'll see many photographers with ladders; allowing them to shoot high above the height of the sunflowers. With most sunflowers around 6 to 7 feet you'll want to get a higher angle on the sunflowers.
McKee-Beshers Sunflower Field Tips:
Take bug spray, especially if you go at sunset.
Bring a ladder to get a higher vantage point above the sunflowers.
Wear long pants or tall boots to protect your legs from tall weeds and critters you might encounter.
Wear light, breathable clothing as it can be very hot and humid.
Wear sunscreen since there isn't shade in the open fields.
Explore all of the grounds to see which fields are blooming (not all fields are planted every year).
Zoom lenses work well to get compression over the field.
McKee-Beshers on Google Maps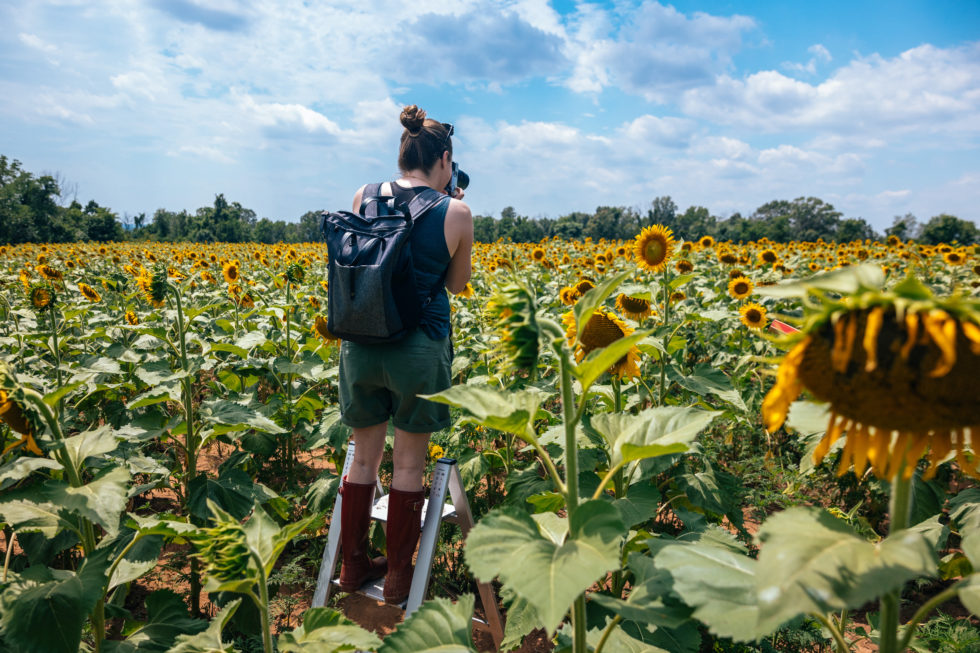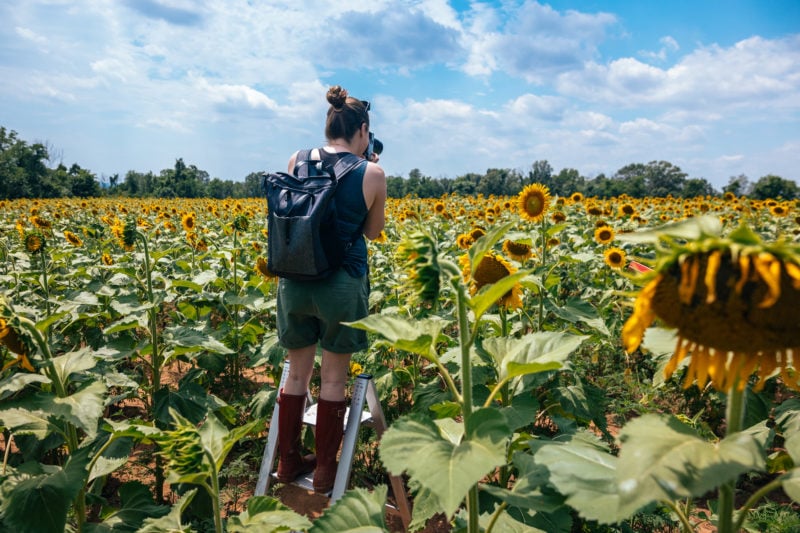 It's a neat sight to see a few of the sunflowers before they bloom. But the field is full of a variety of sunflowers, be sure to visit at peak bloom in mid-July. Best of all it's free to park and explore the fields at McKee-Beshers.
Since the McKee Beshers sunflowers are about an hour drive from Washington DC I recommend bringing a few friends, I headed to the patch with fellow photographer Brandon Kopp.
There are an insane amount of sunflowers at McKee. Plus plenty of areas to walk into the field so be sure to explore the whole area. The first field off river road is often the busiest since it's the first you see. But if you drive a round a bit and go to some of the other fields they'll be less trafficked.
All of the fields are surrounded by woods so it could be difficult to find all of the fields. I recommend looking at the map I have created below to familiarize yourself with the area.
How to Get to the Sunflower Patch at McKee Beshers
There are a couple of sunflower fields to visit but I had trouble finding the largest one. So here's a handy little map to find your way. Most of the parking lots have plenty of room so you shouldn't have any trouble finding a spot.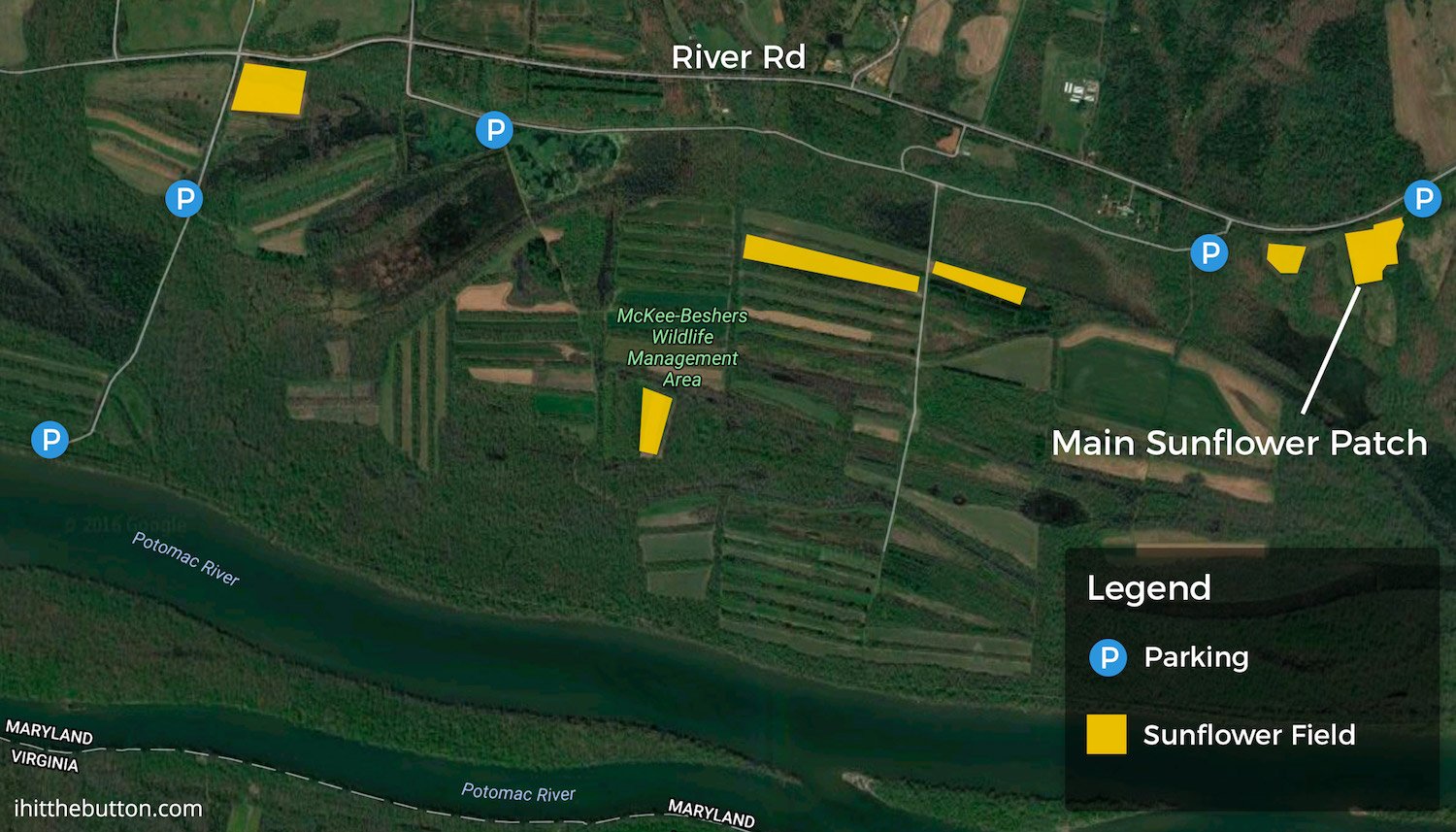 Parking is free and is just a short walk to the main field. Some of the fields near the main roads are often busy during peak times. So if you get there and one field is packed try another first.
For more information about McKee Beshers Wildlife Management Area and their address check out their website. I also recommend viewing the official Mckee Beshers map from the Maryland department of natural resources.
Just be sure to wear long pants since the field is often damp and full of insects.
Of course remember to not damage or pick the sunflowers as well so that they can stay enjoyable for everyone!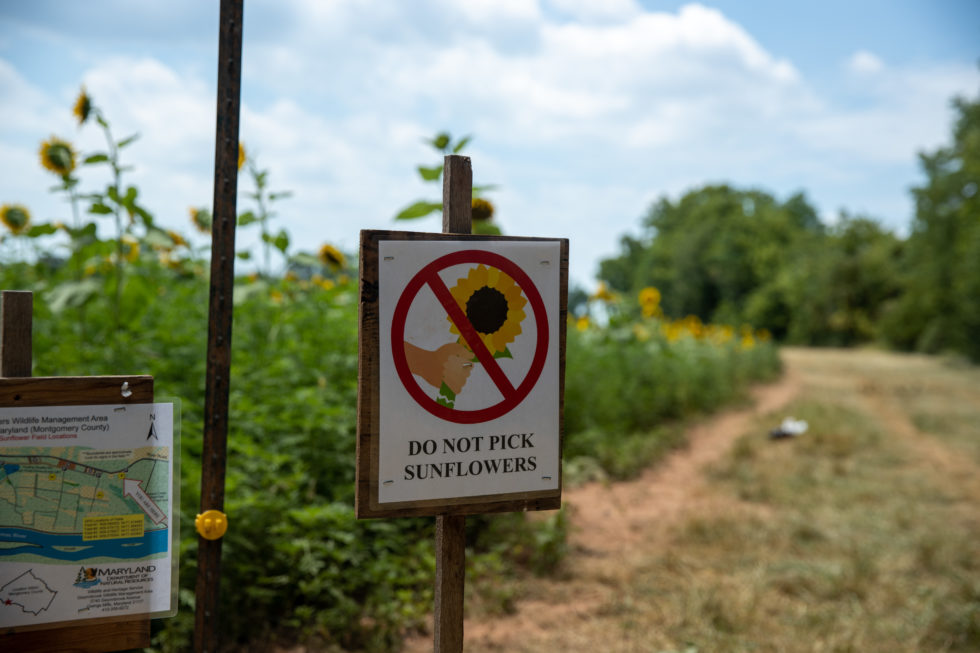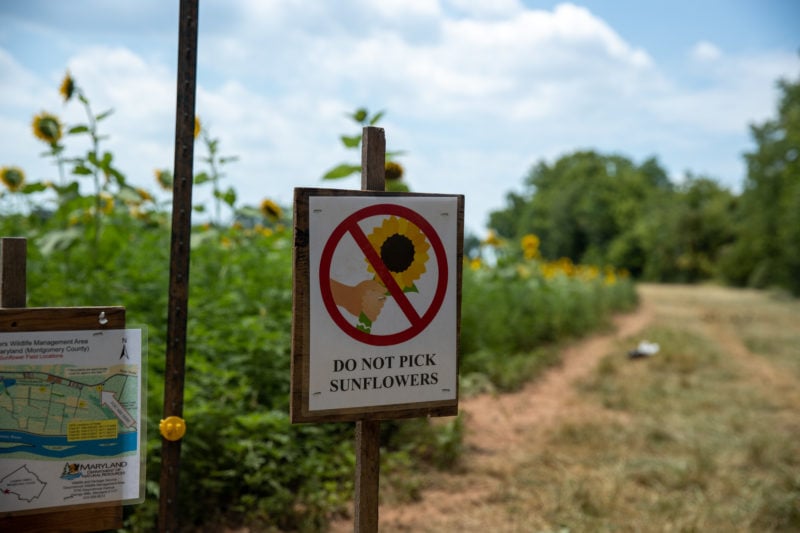 McKee-Beshers on Google Maps