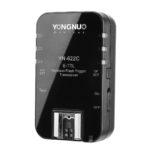 After buying a Canon Speedlite 430EX II (see a full list of my gear) for my camera I wanted a remote trigger, but didn't know exactly what I needed or how they worked. I took a risk and ordered the Yongnuo YN622 without much knowledge of the product and it was precisely what I needed.
This thing works exactly as you'd expect. Just slip some batteries in, connect one to your camera's hot shoe and the other to the flash, then BOOM you have a wireless flash setup. Each works as a transceiver, meaning they work as both a transmitter and receiver making it easy to figure out since there isn't a difference between them which scared me away from other brands.
If you're new to flash and want to trigger yours wirelessly I highly recommend the Yongnuo YN622 (~$85 for 2 transceivers) because of the price and ease of use.