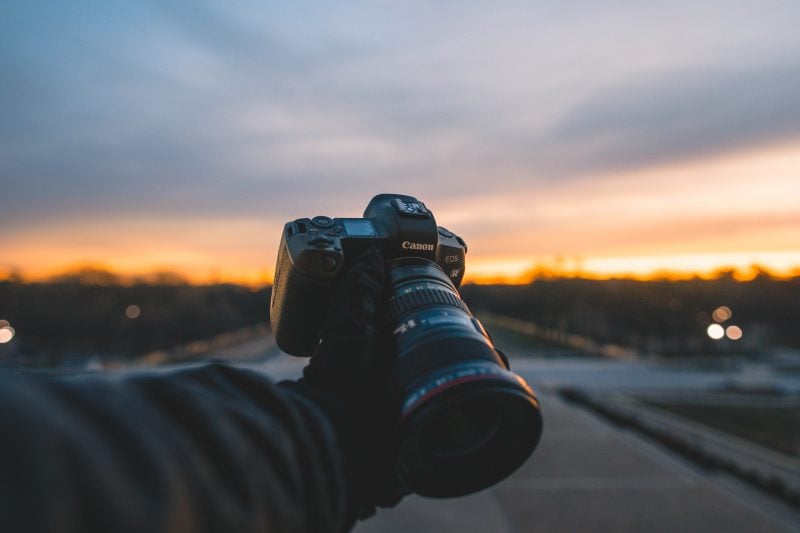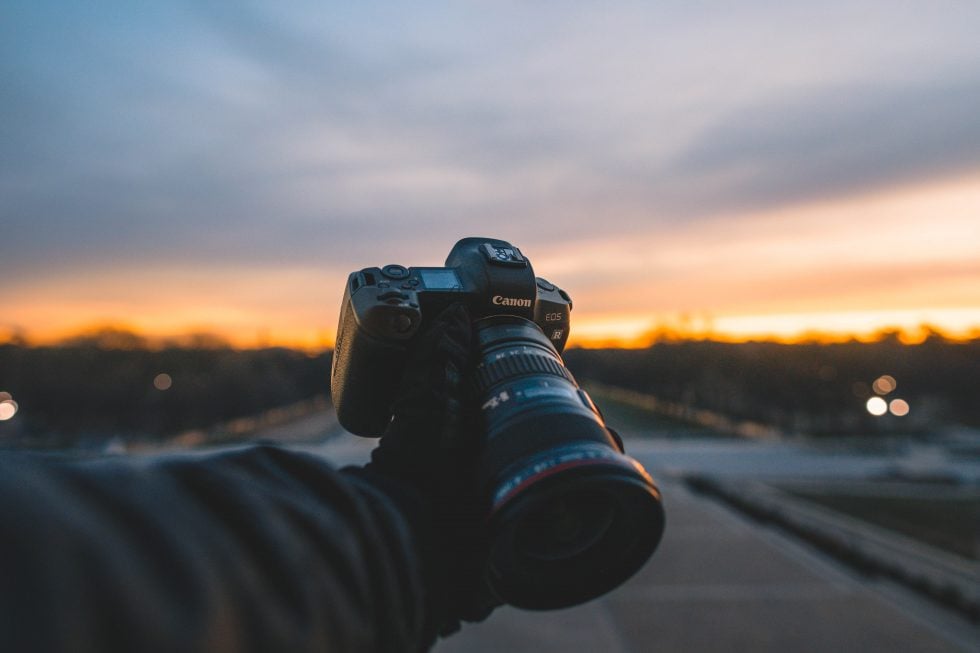 With the explosion of apps like Instagram photography has become a huge part of travelling.
But if you're someone who likes to take exceptional photographs, then your smartphone camera won't cut it. So how do you know the best mirrorless camera to bring with you on your trip? I mean, you need one that's lightweight and does your travels justice. 
Bigger cameras like DSLRs can give you high quality pics, but aren't easy to carry or travel with. So here's my list of the top mirrorless cameras for travel photography. They're all tote-friendly and still produce the kind of pics that make people's eyes pop and get you gobs of likes and shares.
Important Features When Buying a Camera
But before you jump into camera brands and models, you should know and understand the features to look for:
Sensor Size: Full frame, cropped, micro 4/3, all of these will affect how your camera takes photos and handles lenses. Full frame sensors offer the full sensor to your lens, meaning if a lens is 16mm it'll be 16mm. While on a 1.7x cropped sensor that 16mm lens will act like a 27mm lens. Micro 4/3 lenses will have a 2x crop so a 16mm lens will act like a 32mm lens. Even though there are plenty of lenses designed for cropped sensors the crop factor make it harder to find wide angle lenses for your body so it is optimal to get a full frame camera.
Megapixels: Depending on how you intend to use your photos, megapixels can matter a lot. If you're just uploading to Instagram or other social media, a high megapixel count probably won't matter much. But if you plan on printing your photos in larger formats, you need a camera with a high megapixel count.
Battery Life: Since you'll be on the move, battery life will be extremely important –especially if you plan on using your camera for travel videos. Many mirrorless cameras can be charged through their USB port, which means you can leave your charger at home.
Built in Wifi: Once you start taking photos, you'll want to edit and post your photos right away. This makes having a camera with wifi essential for travel. You can easily edit them in any editing app, but I recommend Lightroom CC for editing RAW images.
Body Size: Having a small camera is one of the huge perks of buying a mirrorless camera. A lightweight cameral is a huge plus, when traveling. Believe me, you want one you can easily carry –not one you have to lug around.
Video Features: Many photographers make YouTube videos of their travels. If you're interested in making videos, this is an important thing to consider before buying a mirrorless camera. Be sure you understand its video capabilities.
Weather Sealing: Rain, sleet, snow, all of these can be disastrous on a regular camera. Many high end mirrorless cameras and lenses are weather sealed so things like rain or snow won't damage them.
Lens Selection: Sony, Canon,Nikon, Micro 4/3 all offer different selection of lenses. I recommend looking into lenses of each system before commiting to a brand since lenses aren't shared across companies.
Image Stabilization: Most mirrorless cameras offer sensor image stabilization. Having a sensor and/or lens with stabilization will allow your camera to take in more light while you're taking hand held shots. This can be extremely useful when you're on the go since you'll be able to take lower ISO photos with faster shutter speeds. Additionally, stabilization will improve your videos by making them less shaky.
---
Best Mirrorless Cameras for Travel Photography in 2019:
1. Sony a7 III – Best Mirrorless Camera for Travel
Sensor Size: Full Frame
Megapixels: 24MP
Weight: 650g
Wifi: Yes
Innovation and evolution are on display in The Sony a7 III. It's the best mirrorless camera for travel. Compared to other lightweight cameras in its price range, it stands a few notches above. Its size, price, and features make it the smart and obvious choice.
It has been upgraded in almost every way from the Sony a7 II and boasts some seriously sweet features:
Exceptional low light performance
Sharp photo quality

24MP full frame BSI CMOS sensor
Tilt screen
Touchscreen
Weather-sealed body
2.36M-dot OLED viewfinder, 0.78x magnification
The a7 III has a quick and reliable autofocus system with 693 point phase detection, to keep pics crisp. Pair that with a 10 frame per second burst mode, and you've got a portable camera perfect for capturing fast action scenes. You'll also be impressed with its back-side illuminated 24 megapixel sensor that delivers dynamic performance, and is comparable to the A7R 111.
"The a7 III is awesome for travel because it's small and packs a huge punch. It brings you super crisp images in a super portable body that you can store in any bag"
@rucca_v
And with a 700 shot battery life (which is unheard of in any other mirrorless camera) longevity isn't an issue. Plus, you can charge the battery internally using a 3.1 USB type C. With the USB C charging capability you can even power the camera from a power brick during time lapses or while in transit.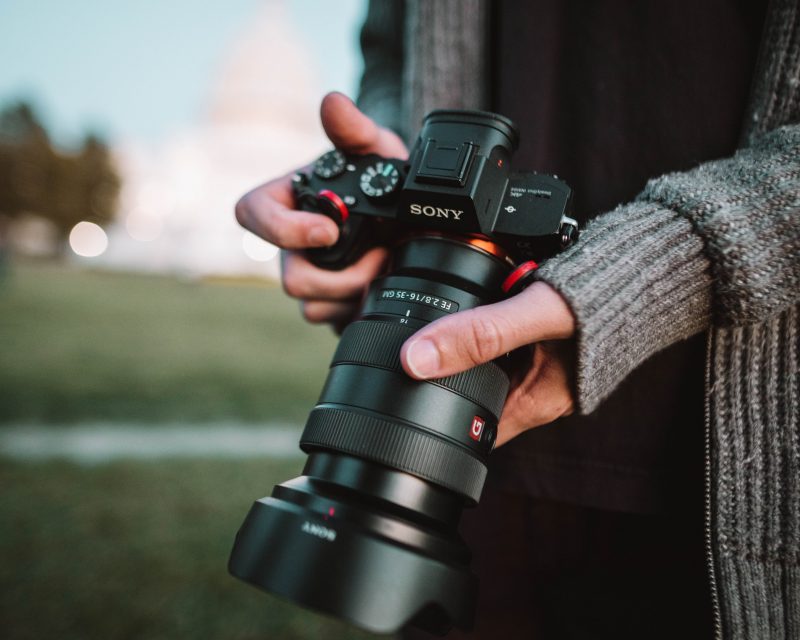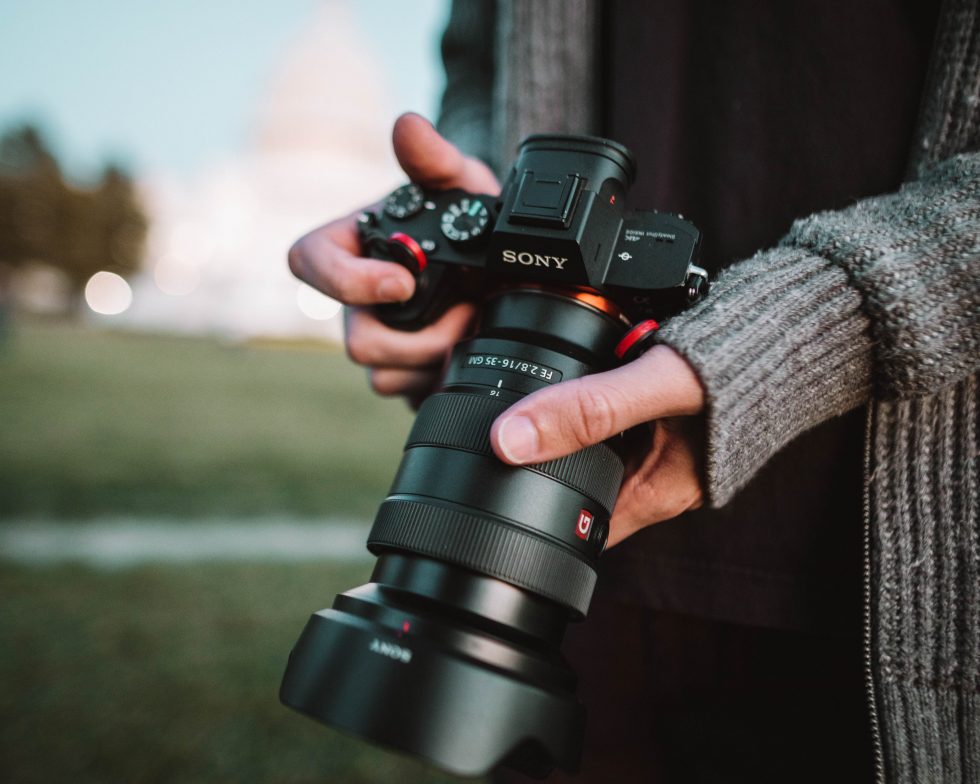 As far as audio recording, no worries. There's a microphone jack to take in all the sounds with your favorite microphone. The only catch is that the a7 III lacks a flip screen, so you can't see yourself while vlogging. Oh well, efficiency over vanity!
If you have a larger budget and want to take incredible high resolution photos you should also consider the Sony a7R IV which offers an insane 61 megapixel sensor. In addition to an insane sensor it offers a mode that allows you to pixel shift and take photos that are 240 megapixels.
For a more in-depth look at the a7 III click the video review link below.
Watch a Video Review of the Sony a7 III
---
2. Canon EOS R – Best Mirrorless for Canon Users
The EOS R is Canon's first mirrorless camera, but it's no surprise that it busted onto the scene with polarizing opinions. It's the first mirrorless camera to use Canon's new RF mount. Packing a 30.3 megapixel sensor with dual pixel autofocus, it's a great choice for travel photography.
Its elegant, lightweight, and stacked with awesome features like:
Fully articulated rear LCD
3.69M dot OLED viewfinder
Canon C-Log recording (10-bit 4:2:2 over HDMI or 8-bit 4:2:0 internal)
8 fps shooting with continuous AF
3 fps tracking priority mode
Autofocus point selection

LCD touchscreen and Dot-matrix LCD Panel
Silent shutter
4K 30fp maximum video quality

 

Eye auto focus
And no worries, there's an adapter that makes the Canon EF mount perfectly compatible. It easily fits onto the mirrorless body. So yes, you can use them on the EOS R! This is a fantastic feature for those who are heavily invested in Canon EF lenses.
Another sweet feature, is the " sensor protection " function. Basically, the shutter comes down when the camera is turned off. It's nothing fancy, yet a welcome feature seeing as how none of the other cameras have added it. 
The battery life is pretty good as well. It uses a LP-E6N Li-ion battery that you can rely on to get you through the day. The battery size, weight, and performance are something people are really loving. 
Some people aren't crazy about this camera's cropping in 4k video recording and lack of in-body image stabilization. But the Canon EOS R is still a stellar camera for travel pictures and videos. It has a flip screen for selfies and vlogging, plus a microphone port to pick up all the audio and ambience of your trip. If you're on the hunt for the perfect travel camera, you may have found your match.
Read my full Canon EOS R review it here.
Watch Video Review of the Canon EOS R
---
3. Canon EOS RP – Best Entry-Level Full Frame Mirrorless
You don't have to be rich to capture the world. The Canon EOS RP is a killer, affordable full-frame mirrorless camera made for photographers who are on a budget. It's smaller and lighter than the EOS R, making it more travel-friendly. One drawback is that you do get slightly lower resolution, but with 26.2 megapixels you still enjoy high quality pics.
Let's take a look at some of the features Canon packs into this firecracker:
Vari-angle 3-inch touchscreen LCD with 1.04-million-dot resolution
LCD screen

Electronic viewfinder (same as EOS M50 PDS-C Camera)
0.05 sec autofocusing down to -5EV
4K video at up to 25/24p
5-axis movie stabilization
5 fps burst-shooting
Dual Sensing IS system
New Single-Point Spot autofocus mode
88% horizontal and 100% vertical coverage
Eye autofocus that works in both One-shot and Servo AF modes
The EOS RP comes equipped with a DIGIC 8 processor, so it's infused with an ISO speed of 40,000. It can be bumped up to 102,400 if needed. So no worries, it will be sensitive enough to light without slowing down shutter speed or opening your aperture. 
Battery life won't be an issue, as you'll get about 250 shots when fully charged. Its LP-E17 battery is plenty capable of getting you through the day. It also boasts a USB port for charging, and comes with a standard charger. 
The EOS RP has a lightning fast 0.05 second autofocus system —which is the quickest full-frame mirrorless camera on the market. You also get nearly 5,000 different autofocus points to work with. And it performs exceptionally well in low light —even down to -5 EV. Plus, the autofocus does the job in one shot mode and serve mode. This smaller, more compact camera brings a new " single point " autofocus feature to the table as well.
The most mediocre aspect is its lack of image stabilization. Although, it does have a sweet Dual Sensing IS system that reduces shaking. And its Movie Digital IS mode offers stabilization while you're shooting 4K video at up to 25/24p. All-in-all, this little piece of technology is capable of delivering amazing pics and footage without breaking your pockets. 
Watch Video Review of the Canon EOS RP
---
The Canon M50 is every entry-level photographer's dream come true. It's reasonably priced, easy to use and produces professional caliber pics. So if you need a camera better than your smartphone it's the perfect low budget, high quality mirrorless option.
It has lots of impressive features that make it "the sweet spot" between affordability and excellent performance:
24MP APS-C CMOS sensor
EF-M lens mount compatible with EF/EF-S lenses, plus an optional adapter
Dual Pixel autofocus
DIGIC 8 processor
2.36M-dot OLED EVF
1.04M-dot vari-angle LCD
7.4 fps burst in AF-C (10 fps in AF-S)
4K/24p UHD video (1.7x crop)
1080/60p and 720/120p HD video
Wi-Fi and NFC with Bluetooth
235 shot-per-charge battery life
One of the best things about the Canon M50 is its stellar sensor. It's comparable to the Canon 80D in performance —which is a good thing. However, keep in mind it's smaller –actually the lightest camera Canon has produced– which makes it beautifully portable. It has also separated itself by being the first Canon model to use the CR3 Raw Format.
The M50 comes packing a Digic 8 Processor, giving you the power to capture smaller C-Raw files. It also wields an exceptionally fast dual pixel autofocus that is impressing photographers.
You get other unique features like eye detection mode that hones in on the eye nearest to the camera when it detects faces. There's also a new gyro sensor that detects movement and helps stabilize the IS system. This means crisp stills and videos.
Another addition you might love is the new silent shooting scene mode. Hey, it worked for Charlie Chaplin! Time to bring it back with class, style and creativity.
Some of the cons? It doesn't include direct sensor stabilization, but does have the upgrades to deliver steady still images and videos. Also, its 4k video shooting is cropped, making it a tad bit harder to use for vlogging. And lastly, if you're big on battery life you might be a hair less than impressed with the M50's 235 shot-per-charge battery. Altho sufficient, it falls just a little under the mark when compared to cameras with longer battery life.
Altogether, you get a lot for your money and will have all you need to capture your travels in exceptional quality. If you're trying to spend less than 1k on your camera, it's a choice you can feel good about. If you want more info, click the link below and see a video review. It will shed a little more light onto this model and make it easier to decide!
 Watch Video Review of the Canon M50
Sale
---
Think of the Nikon Z6 as the bada$$ little brother of the Nikon Z7. Highly praised in reviews, it's created rugged and imbedded with Nikon's exceptional optic technology —so yes it produces high quality pics and videos.
Photographers are buzzing about its solid image stabilization, and jack-rabbit fast autofocus. For such a well-rounded camera, it's managed to edge out the competition in key areas. Its 60p EVF display rate and 3.6 million dot Quad-VGA electronic viewfinder surpass the specs of the Sony A7 III. 
The Z6 brings a bunch of desirable features to the table:
24.5MP BSI-CMOS sensor
12 fps burst shooting

3.69M-dot OLED viewfinder
5 axis stabilization

2.1M-dot tilting touch LCD
Hybrid autofocus system packing 273 phase-detect points
100Mbps H.264 8-bit internal video capture
Quad-VGA electronic viewfinder (EVF)

OLED display
XQD card slot
30p UHD 4K capture
10-bit 4:2:2 N-Log output over HDM
With an innovative design that shortens flange distance, its lens performance is impressive. It maximizes the full-frame sensor, allowing light to burst into every crevasse. This means greater clarity and more brightness across the frame.
Of course the Z6 has less megapixels and lower resolution than its sibling Z7. But it's still awesome, and a perfect choice if you're looking to upgrade from a crop sensor camera. It's a fair-priced, high caliber mirrorless frame that will give you the results you want.
The stellar Z6 has a new lens mount —but no worries, you can use your old Nikon lenses via the F to Z mount adapter. The Z6 also boasts a 3.2 inch tilt-angle touchscreen, with 2,100,000-dot resolution. There's also a Z6 compact top-plate LCD thats displays crucial camera information.
Its electronic vibration reduction system (E-VR) reduces the impact of camera shake when filming. You can shoot 4K UHD video up to 30p, or full HD video in 60p or 120p. Plus you get a battery life of around 600 shots for all-day traveling photography. There's no doubt this mirrorless camera comes highly recommended, so check out the video below. 
Watch Video Review of the Nikon Z6
---
6. Sony a6000 – Best Budget Friendly Mirrorless
The Sony a6000 has to be one of the best mirrorless camera under $600. Its wallet friendly price, feature packed body is perfect for throwing into a bag while you're travelling. But don't let its smaller size, lightweight body and low price mislead you…
It's a seriously sweet little piece of technology, that outshines the Sony NEX-6 and NEX-7 in a few killer ways. Its 24.3 megapixel sensor and powerful new Bionz X processor give it higher resolution and improved performance over the NEX models. Its image quality is noticeably better. 
Plus it has an evolved 179-point hybrid autofocus system that covers over 90% of the frame. This means wider coverage, faster focusing and pinpoint tracking of moving objects. 
It's bubbling over with features that make it a ridiculously good value:
24.3 MP Exmor™ APS HD CMOS image sensor
Hybrid autofocus system w/ 25 contrast-detect
Has 179 phase-detect focus points
Full HD movie shooting up to 1080p at 60fps
420 image shot battery life

 

3 inch tilt LCD/921K dots
Transfers photos straight to your smartphone
OLED viewfinder with 1,440K dots
Infused with intelligent scene recognition, plus face detection
Has an electronic first curtain shutter
Gives you 11 fps continuous shooting at full 24.3 MP resolution
Autofocus display for precision manual focusing
The A6000's buffering ability also got an upgrade. It can shoot twice as many RAW images before the buffer fills up. Another upside is that its new image processor allows the battery to last longer so you can squeeze off more stellar shots before needing it juiced. 
It does, however, lack 4k video and image stabilization. But with all its other features and awesomeness, it's somewhat easy to excuse. Given the $500 price range, it's hard to believe there's so many great things brilliantly crammed into the camera. 
One shortcoming in the A6000 is that the EVF quality took a bit of a hit. The A6000 has a lower resolution 1,440K dot electronic viewfinder, compared to the 2,359K dot EVF on the NEX-6. But users are saying the difference in the viewfinder isn't really a factor, and are recommending it as a solid choice for taking travel pics.
Watch Video Review of the Sony a6000
Sale
---
The Sony a6500 is an exciting step up from the a6000, and a different animal altogether. Its 5 axis in-body image stabilization is its most coveted upgrade. Coupled with an expanded buffer and front-end LSI chip, you get improved image and shooting ability all-round. It's great for shooting at high speeds. You can snag 307 images over a duration of 35 seconds in Hi Continuous mode. So if you're looking to upgrade to a higher caliber mirrorless camera, and have the budget to back you then look no further.
It has some remarkable features and specs that will take your pics and videos to the next level:
24MP APS-C CMOS sensor loaded with 425 points of phase detection
2.36M-dot OLED electronic viewfinder
Tilting touchscreen located on rear

 

5-axis in-body image stabilization
Double layered dust and moisture resistance
11 fps continuous shooting for up to 300 JPEGs / 100 Raws
New BIONZ X Image Processor
XGA Tru-Finder 2.36m-Dot OLED EVF
Internal UHD 4K Video plus S-Log3 recording
11 fps shooting

 
Let's focus on the in-body image stabilization for a minute. The A6500 is the first APS-C Sony camera with this feature. It has a gyro sensor that stands up strong to 5 variants of camera shakes. You can use the shutter release to monitor the image stabilization via the viewfinder. This means more accurate framing and crisper focus for your videos and stills. 
The frame is designed to be durable, and the components dependable. The braking mechanisms and elastic material Sony added to this model reduce vibration during shutter release. The shutter mechanism undergoes a rigorous test, where the release cycle is utilized 200,000 times without fail.
Its stellar new view finder, and rear LCD monitor also set it apart from a6000. Packing a XGA OLED Tru-Finder you get better reproduction of darkness, color and pinpoint details. The touchscreen functionality has also been upgraded, making it a bit more fun to work with. And if you're a vlogger or looking to make travel videos, you still get 4k video shooting in super 35mm format.
As far as autofocus, you're working with a 1200-zone evaluative metering system with -2 to 20 sensitivity. Plus, there's two new metering modes that better handle brightness and overall smoothness of pics. Overall, this camera is a little pricier —but you will literally see and experience where the extra bit of money went. 
Watch Video Review of the Sony a6500
Sale
---
The Sony a7R II is truly the prince of pixels. It's impressive 42.4 megapixels means you'll get exceptional resolution, color quality and sensitivity. It's perfect for digital photographers looking to print their images in CMYK for display.
It comes with 5-axis image stabilization. And to compliment the high pixel count, its sensor is infused with BSI CMOS technology — an impressive 399 detection points. Photographers are giving it much praise and loving the high quality results it delivers. 
The a7R II is a solid choice and has lots of features to love:
42MP BSI CMOS Sensor
Hybrid autofocus with 399 points of phase detection on the sensor
Picture profile system with ITU-709 and S-Log2 gamma
A full magnesium alloy body
Steady 5-axis image stabilization
4K recording in full sensor width or super 35 crop mode
2.36m dot OLED viewfinder and 100% field coverage
High speed autofocus
Has continuous shooting option at 5 fps
0.78x viewfinder magnification
UHD 4K plus Full HD movie shooting

 

Panorama Mode
HDR Capable
Battery life of 340 images (LCD)
Tilted, 3 inch LCD with 1,228K dots
Image stabilization with 5-axis compensation
If there's a downside, it's that the 5-axis in-body image stabilization (IBIS) downgrades to 3-axis IBIS when you use non-native lenses. On the contrary, one of its most killer new features is its totally revamped autofocus system, popping with 399 on-sensor phase detection points. According to Sony, it can operate 40% faster than the older a7R. 
Overall, the differences in sensor resolution, IBIS and ISO sensitivity are separating it from its predecessor. Also, the A7R II has an elevated native ISO range of 100 to 25,600. All of these upgrades make it an awesome camera for taking travel pics.
Watch Video Review of the Sony a7R II
Sale
---
The Fujifilm X-T3 is a beautiful rebirth of the X-T2 and yes — this little baby packs more goodies and higher performance. The two most epic upgrades are its faster X-Trans CMOS Sensor and more powerful 4-core processor.
It busted onto the scene boasting a robust feature set:
Autofocus phase detection across the entire frame
Up to 30 fps blackout free high-speed shooting
New sports finder mode
Monochrome adjustment capable
Color chrome effect
4K video with a max 60P and 10 bit recording
Weather-resistant body
New and improved autofocus with eye detection mode
Full-width, oversampled video at up to 30p
Focus peaking and linear focus response
Dark ambient lighting display for pristine dark-adapted vision
If you're into making travel videos, then great —the X-T3 delivers 4k video at 60fps for butter-smooth footage. And with higher megapixels and a superior autofocus system, it reigns supreme over the X-T2. Autofocus tracking covers over 90% of the sensor, while other AF modes get 99% coverage — horizontal and vertical. 
The phase detection has also been upgraded, which is sweet. This means a more rapid face and eye detection mode, to quickly hone in on faces that aren't directly facing you. It only makes your job easier! The color chrome effect is also improved —now fast enough to be used in burst shooting mode. 
Photographers are also loving its high speed mode, which allows it to bust off 20 frames per second. You can get as high as 30 fps, with a slight crop. The sports finder mode puts the full image in the viewfinder for preview, so you'll know precisely when the subject is coming into the frame. You also get a large lens selection to work with.
Its biggest knock is the lack of in-body image stabilization. But if you're looking for a small-size mirrorless camera to give you high quality travel pics —it will do the job, plus more. Fujifilm cameras have a good reputation, and this model is brimming with great features and beckoning you to give it a shot. 
Watch Video Review of the Fuji X-T3
Sale
---
I call the Lumix DC-G9 "the sultan of stills." While the Lumix DC-GH5 model is geared towards videos, this model is designed to give still life and landscape photographers something to get excited about. It's cheetah-fast, with high resolution and great stabilization. It boasts the highest CIPA-rated level of stabilization (- 6.5 stops) of any camera.
And no worries, vloggers. While taking high quality pics is this camera's forte', it still does the job when it comes to shooting videos.
Let's take a look at what this crafty piece of technology has to offer:
20.3MP Live MOS Sensor
3.68M-dot electronic viewfinder and 0.83x magnification
Articulating touchscreen display with 1.04M-dots
5-axis in-body image stabilization with Dual I.S. 2
20 fps burst with continuous autofocus using shutter (up to 50 frames)
9 fps burst with continuous autofocus using shutter (for over 600 frames)
80MP Raw plus JPEG files in high resolution mode
4K at 60p UHD video capture
Magnesium body that's weather-sealed and dust-protected
Supports new high-speed 'V'-rated cards
variety of 4K and 6K Photo modes pls in-camera focus stacking
USB charge and power capability
Comes with top plate LCD
Has autofocus joystick
The Lumix DC-G9 comes with one of the largest viewfinders on any macro four thirds camera. And yes, its micro four thirds sensor might be a tad small, but it gives you a huge lens selection because so many companies make lenses for it. 
With continuous autofocus for about 50 frames using the electronic shutter, it's safe to say —it's fast. Also, it can shoot at 9 fps with autofocus-C for over 600 frames using the shutter. Not too shabby. 
 And as mentioned, it's quite serviceable when it comes to creating travel videos. Like the GH5, it can shoot 4K/60p videos. It comes with headphones and microphone jacks, so your audio and recording needs are adequately covered. However, it's missing some the more high-end options and extended video tool set the GH5 offers. Overall, it's a great little camera waiting to capture the world.
Watch Video Review of the Panasonic DC-G9
Sale
PANASONIC LUMIX G9 4K Digital Camera, 20.3 Megapixel...
Professional photo and video performance 20.3-Megapixel (Plus 80-megapixel high-resolution Jpeg/raw in-camera image) micro Four Thirds sensor with no low pass filter to confidently capture sharp images with a high Dynamic Range and artifact-free performance
---
The Olympus OM-D E-M10 Mark III is proof that you can buy a mid-level, high quality camera at a lower price. Given how awesome it is, photographers are stunned by its $650 price tag.
It comes packing a more powerful processor than its predecessor, plus various upgrades that make its specialized modes easier to master.
So yes, it's the perfect micro four thirds mirrorless camera for serious novice travel photographers:
16 megapixels
More powerful four thirds CMOS sensor
5-axis image stabilization

 

TruePic VIII processor
4K video with in-body/digital stabilization
8.6 fps continuous shooting and 4.8 fps with continuous autofocus
2.36M-dot electronic viewfinder
1.04M-dot tilting touchscreen
330 shot-per-charge battery life
This model is earning a reputation as one of the top travel cameras on the market, and comes with an electronic viewfinder and DSLR styling —unlike the PEN E-PL7 and E-PL8 models. Altho it boasts a modest 16 megapixels, its higher quality image processor is infused with 121 autofocus points for fantastic shots.
It also comes with 4K video and a bleach bypass art filter. And unlike some of the other small cameras on the market, it's infused with a remarkable 5 axis in-body stabilization system to help deliver crisp pictures and smooth video footage. 
One sweet addition is the shortcut button located on the the camera's top plate. On this model, it's a dedicated control that takes you straight to either the settings control panel or menu. There's also individual options for movie, SCN and AP modes.
And keep in mind, Olympus cameras like the OM-D E-M10 Mark III are ideal for taking travel pics because their lenses are smaller. That doesn't mean they're not powerful. It just means they're easy to carry. 
One knock on it, is the slightly inflexible auto ISO implementation. But it still maintains a decent shutter speed. Altogether, this lightweight camera is perfect for travels, and vlogging while on vacation. It has what you need to take epic stills and record stellar videos. 
Watch Video Review of the Olympus OM-D E-M10 III
Sale
---
While the Olympus E-M1 Mark III is the budget-friendly camera in the OM-D E-M1 series, don't forget about its high end predecessor —the OM-D E-M1 Mark II. If you're a professional photographer looking for a travel camera in the 2k price range, then look no further.
Packing a Micro Four Thirds sensor and a plethora of features, it's a great choice:
20.4MP Live MOS Sensor
TruePic VIII dual quad core processor
Small, lightweight micro four thirds system
2.36m-Dot LCD electronic viewfinder
20mp sensor, bumped up from 16mp
121-point hybrid autofocus system, up from the old 81-point system
10 fps shooting rate instead of 6.5 fps
Fully articulating touchscreen
2160P/30 (4K) video, up from 1080P/30
Dual SD slots
Headphone jack, USB 3, and headphones

 
The first thing you'll notice is its sleek construction and quality build. It's weather-sealed, and crafted with a control-conscious layout. This model is ideal for traveling photographers and videographers alike. Tight like Ft. Knox, with smooth curves and angles it's steady as a rock with in-body sensor and lens stabilization. The Mark II is tailored to deliver amazing pics through rain, wind, sleet or snow.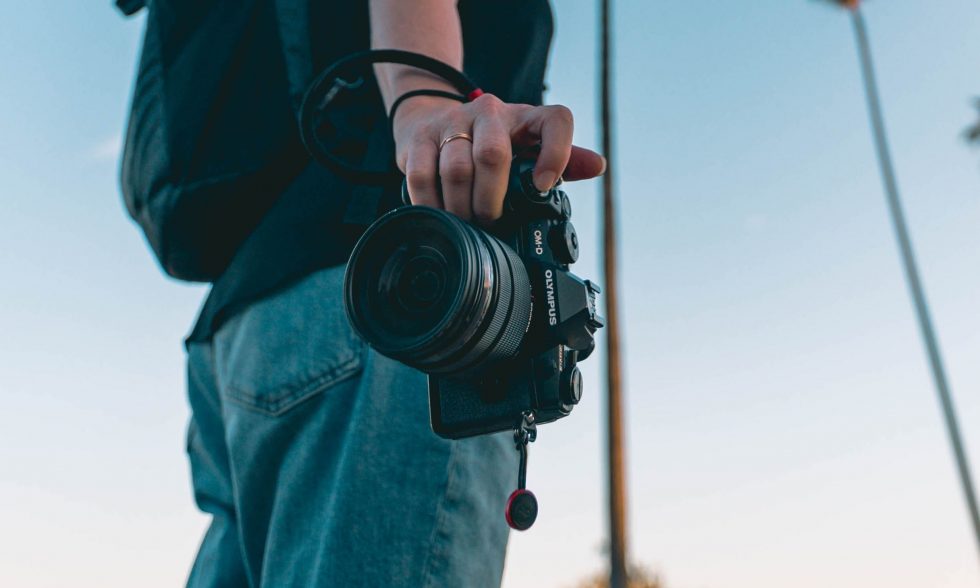 The exterior of the E-M1 Mark II somewhat mirrors the OM-D E-M1. But the inner mechanisms are newly upgraded. It has over three times the processing power, with a dual-core processor. It's faster, with a continuous shooting speed that was catapulted to 60 frames per second when using the electronic shutter. It also has high speed 20 fps burst shooting. 
When it comes to MFT cameras for travel pics, The E-M1 Mark II is at the top of the food chain. It pushes 18 fps with continuous autofocus and auto exposure between frames. Plus, its improved 121 hybrid autofocus points is 40 points higher than its predecessor. 
One possible drawback is that in high-ISO shooting, its MFT sensor could detect noise. Also, the antialiasing filter could lead to moiré. However, its superb built-in stabilization means you can keep ISO lower by reducing shutter speed. Plus, moiré can be eliminated by using its high resolution shot mode. 
This compact little piece of technology is the first Olympus camera to shoot 4K video —in both Ultra HD 3,840 x 2,160 and DCI 4,096 by 2,160 resolutions. The E-M1 Mark II also comes with a new BLH-1 lithium-ion battery pack. It's larger and has 37% greater capacity with a CIPA rating of 440 shots per charge. So yes, it will last a long time while shooting epic travel stills and video footage.
Watch Video Review of the Olympus OM-D E-M1 II
---
Sensor Size: Micro 4/3
Megapixels: 20.3MP
Weight: 725g
Wifi: Yes
The Panasonic GH5 is drawing praise as one of the best cameras for making travel videos. But it's not a one trick pony. Its set of awesome features also give you the power to shoot breathtaking, high quality stills. So yes, you get the best of both worlds. It's perfect for vloggers, professional videographers, and still photographers alike.
It comes packing lots of goodies like:
Large OLED live view finder with 3.86m-dot resolution and 0.76x magnification
Micro four thirds live MOS sensor with 20.3MP
3.2-inch angled touchscreen with 1,620,000 dots
6K photo still image extraction
Weather-sealed lenses for taking travel pics in the rain

Rear RGBW LCD monitor with tilt and swivel design, touchscreen with menu plus navigation and settings control
Dual UHS-II SD card slots and relay recording that automatically switches cards when full
Backup recording with same-data and allocation recording for fast and easy organization
Magnesium alloy construction with die-cast front and rear frames
Splash, dust and freeze proof
Rear joystick of the camera to make changing settings easier
Front and rear dials for better control over aperture and shutter speed settings
Multiple assignable function buttons, plus a dedicated exposure compensation dial
As mentioned, this mirrorless camera is the first in the GH-series to master the balance between stills and videography. It delivers top-tier, high quality pictures and features 6K photo still extraction. The GH5 also has an evolved sensitivity range, running from ISO 100-25,600. This helps maximize the performance of the micro four thirds prime lenses when shooting in bright conditions.
Also, the 20.3MP sensor is free of a pass filter, which means crisper pictures and more detailed imagery. The Lumix GH5's electronic viewfinder also got an upgrade to a stellar 3,680,000-dot resolution and 0.76x magnification. The display is infused with Panasonic's WhiteMagic technology for better brightness.
Its Axis Dual IS II anti-shake system gives it in-body image stabilization that works with its optically stabilized lenses. This is a big deal if you're planning to shoot handheld stills. Plus, traveling videographers can now shoot cinema 4K at 60p with a bit rate of 150mbps. Or you can shoot in Full HD video up to 180p.
The GH5 also offers color subsampling at 4:2:2 and 10 bit color depth. That means improved color information and richer graduations. And the cherry on top? It's packing external recorders like Apple ProRes via HDMI, and simultaneous internal recording.
Watch Video Review of the Panasonic GH5
Sale
---
These 13 mirrorless cameras are sure to improve your travel photography. Whether you're looking to become Instagram famous, or document your travels on a blog these will give you fantastic images and jaw-dropping responses from viewers. Now's your time to shine.
Pick the camera best for you today, and show the world your talent and unique perspective.