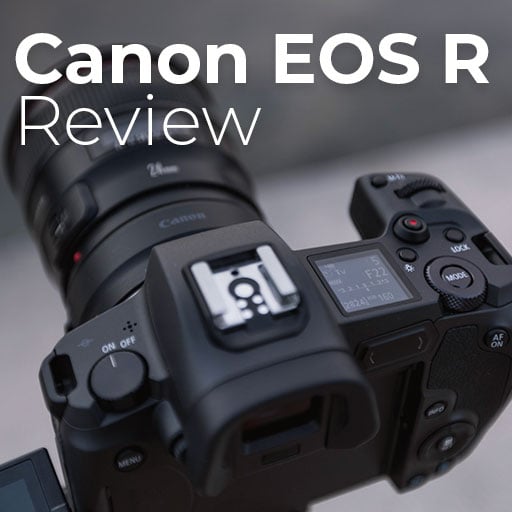 Canon has been under a lot of pressure to release a full-frame mirrorless with the massive popularity of Sony's cameras. Canon has released its first full-frame mirrorless with the Canon EOS R. The Canon EOS R pulls the best features from Canon DSLRs but is lacking in other areas.
I have owned many Canon DSLRs including the T1i, 6D, 70D, 5D Mark IV and have amassed plenty of lenses. This makes it challenging to change camera systems without selling all of the lenses. It was difficult to look at Sony cameras with smaller bodies and the same (or better) image quality as my larger Canon DSLR. I was very pleased to hear Canon had a full-frame mirrorless camera in the works.
Here we are a few months after the release of the EOS R (12th September 2018) so I'd like to share my insights as a travel photographer about the camera.
Review Summary
The Canon EOS R has its flaws, most notably the lack of in-body sensor stabilization and cropped 4k footage but the features that are here are executed incredibly well. It is clear that Canon is in the right direction building full-frame mirrorless cameras and I'd recommend the Canon EOS R to anyone looking to upgrade an older camera.
Sale
Pros:
Excellent image quality
Fast familiar interface
Incredible form factor and grip
Flip screen is great for video
Cons:
Very few RF mount lens options
RF to EF adaptor adds a bit of bulk
Lacks sensor stabilization
4K video is cropped
---
Canon EOS R for Photos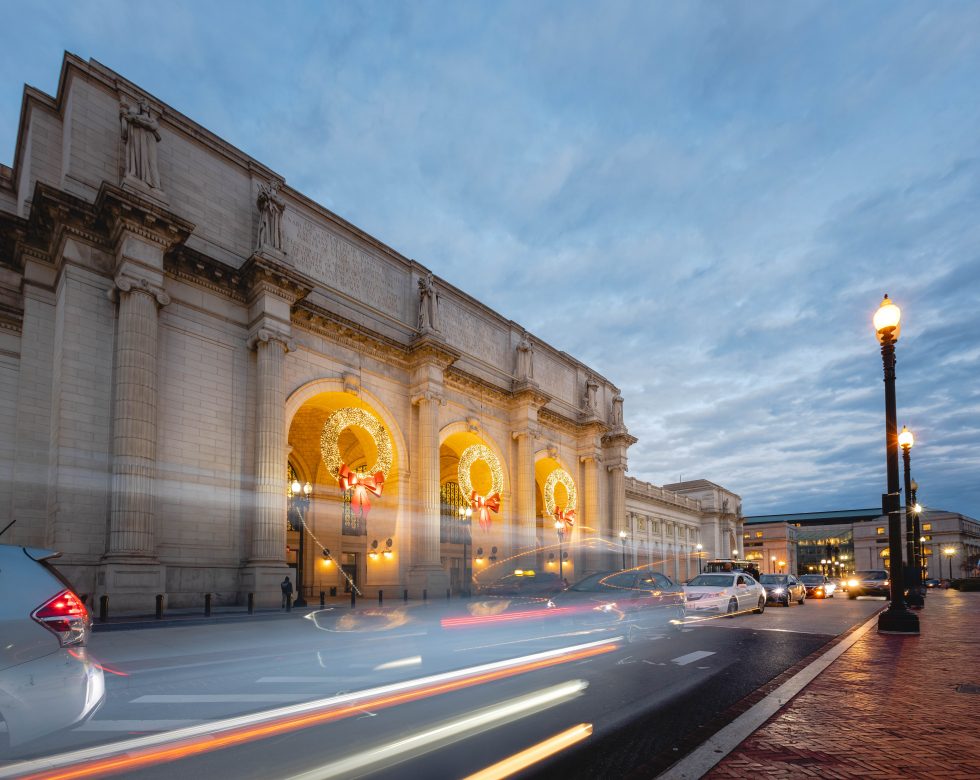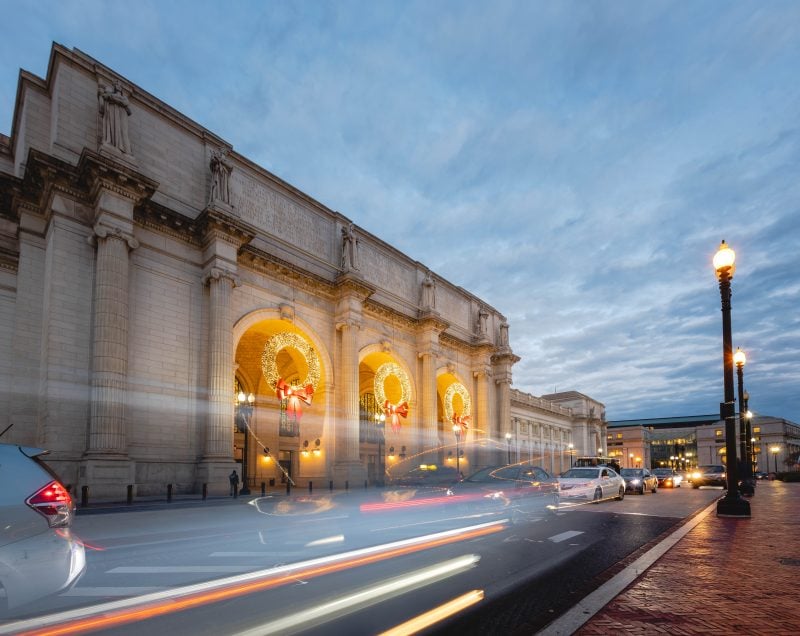 Photography is the core of any camera and the EOS R does not disappoint. The 30.3-megapixel sensor will give you massive 6,720 x 4,480 photos. Since I was previously using the Canon 5D Mark IV which has the same amount of megapixels the image quality felt familiar.
With the 5D Mark IV, I found myself rarely using the viewfinder since the dual pixel autofocus works so well. The same story is the same here with the EOS R. I disabled the viewfinder entirely since it'd randomly activate when moving my hand in front of the camera disabling the screen. Using the screen for all of my shooting perfectly meets my needs but the small amount of time I used the EVF viewfinder it seemed to work well.
The Canon EOS has a fully articulating touch screen that makes shooting up high and low a delight. I found myself constantly using the screen to flip it upward when shooting from a tripod down low.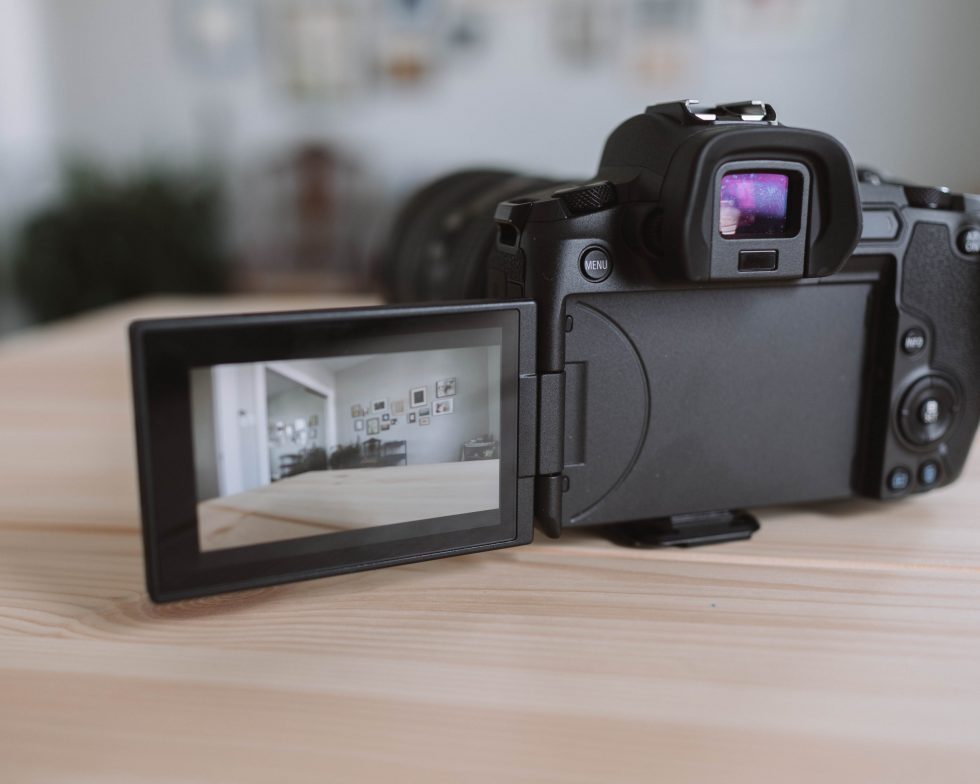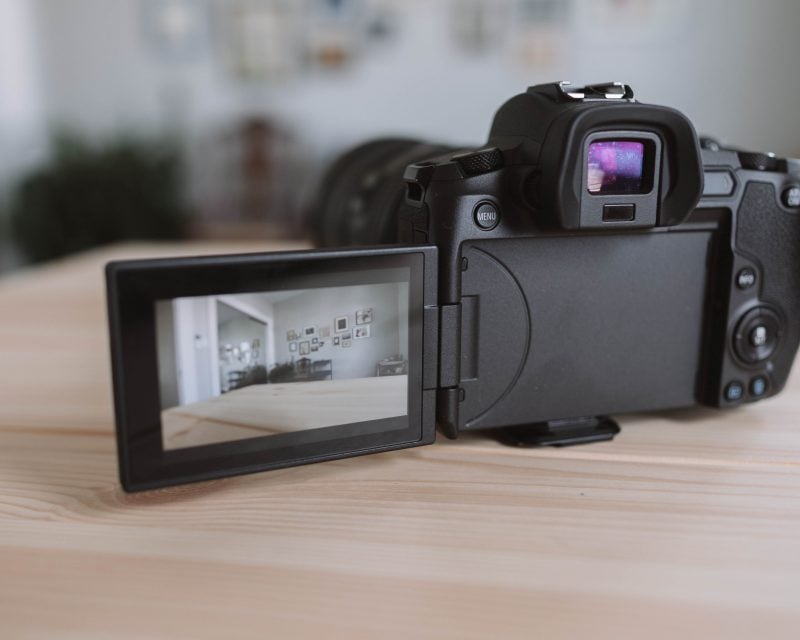 The button layout on the EOS R is a bit different than other Canon cameras I have used. After getting used to button layout I found myself quickly changing settings without a problem. Since the camera lacks ISO, Drive, etc buttons it's all mapped to one single button (M-Fn) and you have to flip between the settings using the wheels on top of the camera. I thought I'd find this incredibly annoying but I have found it to be better than the original design using multiple buttons.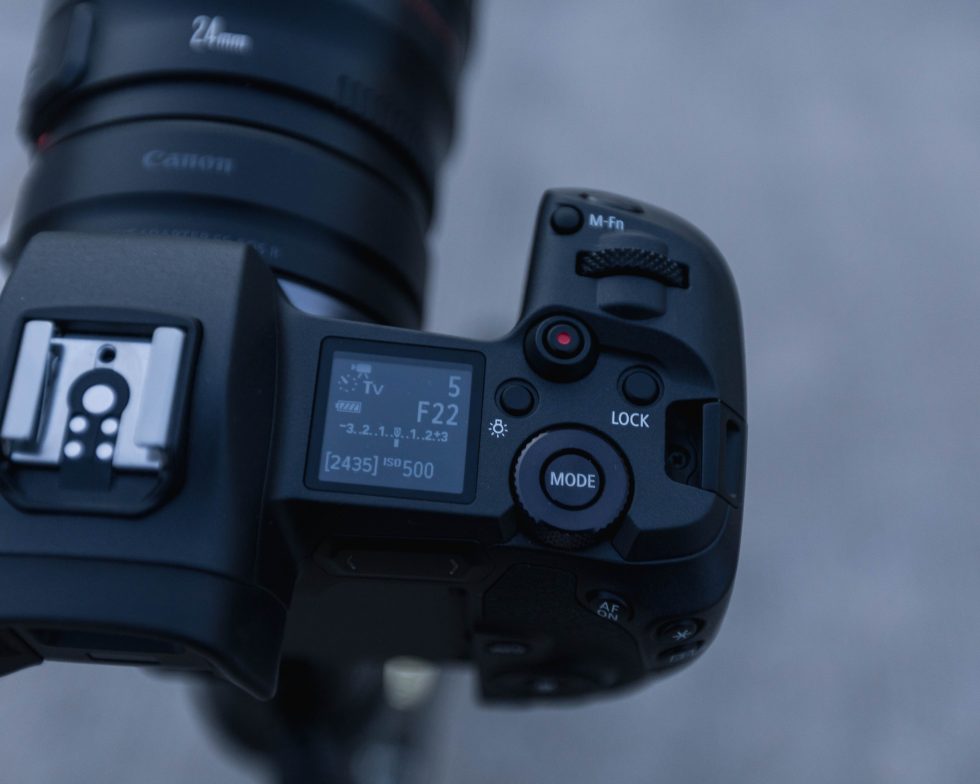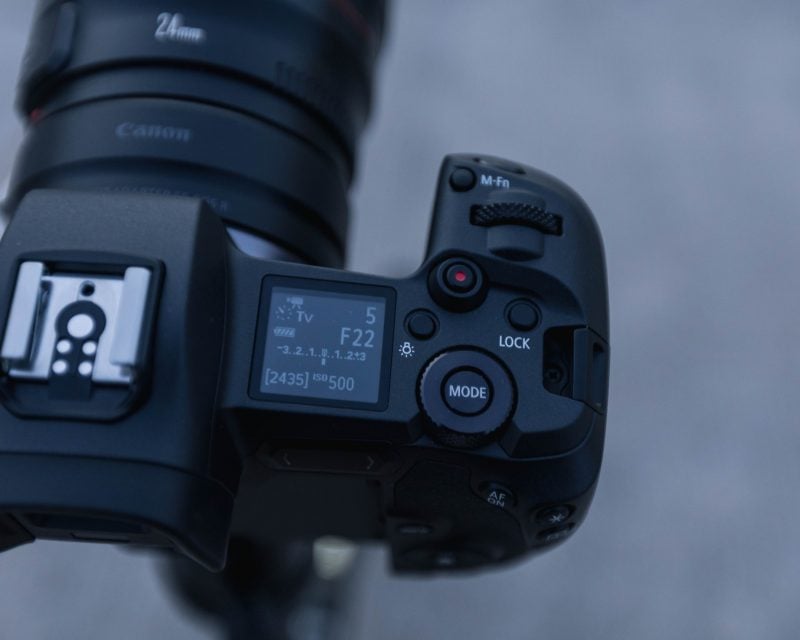 One of the strangest features added to the camera is the touch bar. I am not really sure why this was added but I don't have any strong feelings about it. The touch bar lets you swipe left and right or tap left and right to cycle through options you set. I set mine to be focus modes since I am often using single point then wanting to move back to face focus. You'll find yourself randomly hitting it so it was a lock where you need to hold it for 3 seconds to lock it, I found this to be a waste of time so I mapped the "lock" button on top of the camera to disabling it.
---
Canon EOS R for Video
My previous camera was the Canon 5D Mark IV which completely satisfied my video needs, the Canon EOS R is no exception. All of the video options are nearly identical to the 5DIV with the addition of digital stabilization and a better button layout.
Changes to how video is started is greatly approved. Previously on Canon cameras, your video mode would depend on what photo mode you were currently on. With the addition of a dedicated record button, you can set your video settings to specifically trigger when the button is used. I found this to be a welcome addition; previously I'd be shooting in aperture priority and have to flip between shutter speed priority to shoot video. This new method makes it trivial to switch between video and photo just using the record button. So if you're constantly shooting in 1080p 30fps and 1/60th shutter speed you can set that as your primary video mode.
The camera's new form factor makes filming video a blast. Being able to rotate the screen is huge for video folks. Plus if you do a lot of vlogging being able to flip the screen around to compose your shots is huge.
Sadly the video mode for 4k is still flawed with a 1.7x crop factor when using 4k. This is incredibly frustrating since the camera does so much right. If you're shooting interviews or static shot footage it isn't that much of a hassle but for things needing wide angles like vlogging makes 4k a struggle.
One welcome addition over the 5D Mark IV was the inclusion of 4k timelapses. I export all of my videos in 1080p but it's great to be able to crop in while editing time lapses due to the increase in resolution.
The Canon EOS R also lets you shoot C-LOG and 10bit RAW. I am not too familiar with these features yet but it's great to know they are available if I am working in a higher quality production.
Canon EOS R Battery Life
One thing I love about the Canon EOS R is that it uses Canon's standard LP-E6N batteries. So if you have a 6D, 5D or even a 70D you'll be familiar with the batteries and they'll be compatible. This allowed me to have a ton of batteries right out of the gate.
Since you'll be using a screen for all shooting battery life does take a hit vs standard DSLRs. I thought I would noticeable see a difference in battery life but I have found the battery life to be ample. Tests show you'll get around 370 photos out of a full charge which for me can last a few days of going out and taking photos.
One plus is that you can now charge your battery via the USB-C port on the side. So if you forget your changer when travelling you can just plug it in using the same wire as a newer Macbook pro. Surprisingly you can't power the camera using this port so you can't shoot for extreme times using the port.
Canon EOS R: What I Like
Canon EF Adapter: When using Canon adapter for Sony lenses you'll find a few flaws with focusing and other aspects of shooting. I have noticed no difference in performance when using the EOS R with the Canon EF to RF adapter versus a traditional Canon DSLR.
The Flip Screen: If you film video or make vlogs it's hard to ignore the fully articulating touch screen. Whether I am filming myself or just taking photos down low the flip screen is incredible for all situations.
Size of the EOS R Body: Travelling with a DSLR can be cumbersome but luckily the Canon EOS R slims down your bag and a breeze to carry. Additionally the grip on the EOS R is incredible versus other mirrorless camera I have used.
Dedicated Record Button: The EOS R has a dedicated record button which will instantly start recording video. I can't stress how useful this is since you can program specific video settings to the button rather than using your photo shooting mode.
---
Canon EOS R: What I Dislike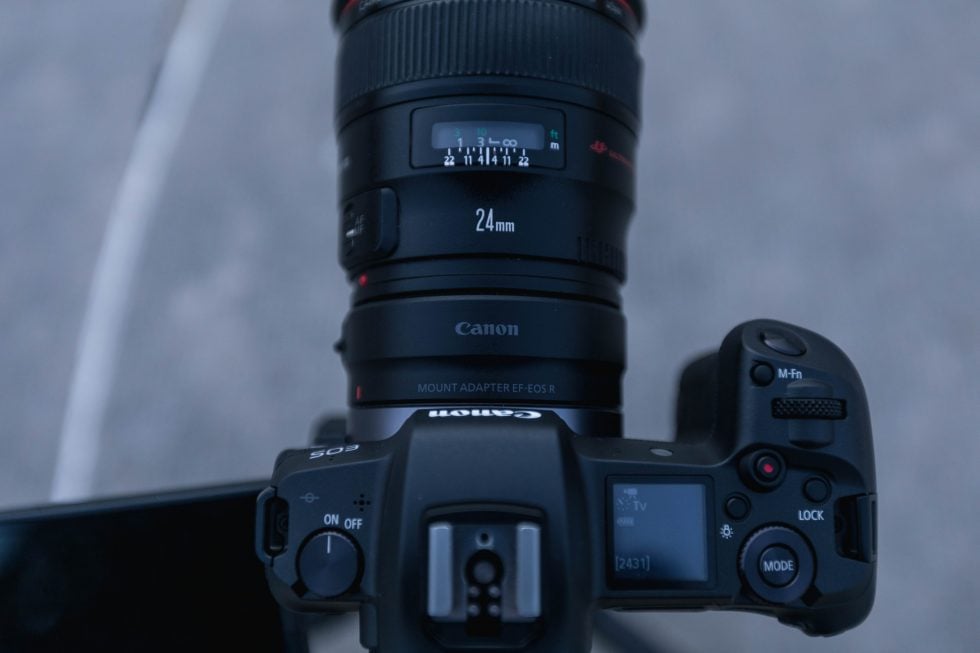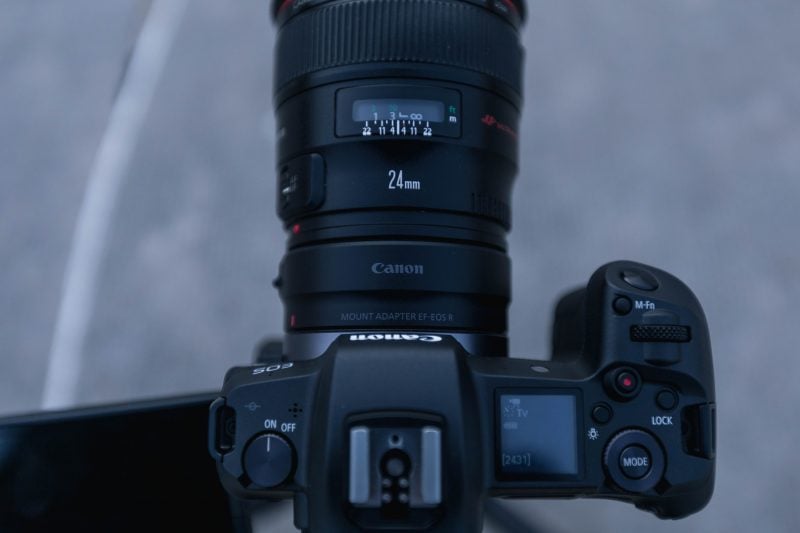 Limited RF Lens Selection: First I have to say the $100 adapter for EF lenses works perfectly on the EOS R. I can't tell a difference from using lenses on my 5D Mark IV and EOS R. Sadly there are only 4 RF lenses out at the moment making the adapter essential to my workflow. This being said it is frustrating to increase the size of the camera when the body is compact. This shouldn't be an issue when more RF lenses come out this year.
Cropped 4k Disappointment: Coming from the Canon 5D Mark IV I am used to the cropped 4k footage but it was a disappointment it wasn't addressed in this camera. If you're unfamiliar with how Canon crops 4k video in a lot of their cameras, the footage has a 1.7x crop on it. This makes it extremely hard to use it for vlogging since it makes wide lenses cropped in. Canon says they do this since it's the original area on the sensor and it give you 'the highest quality possible' but having this be an option would be a massive plus.
---
Should You Buy the Canon EOS R?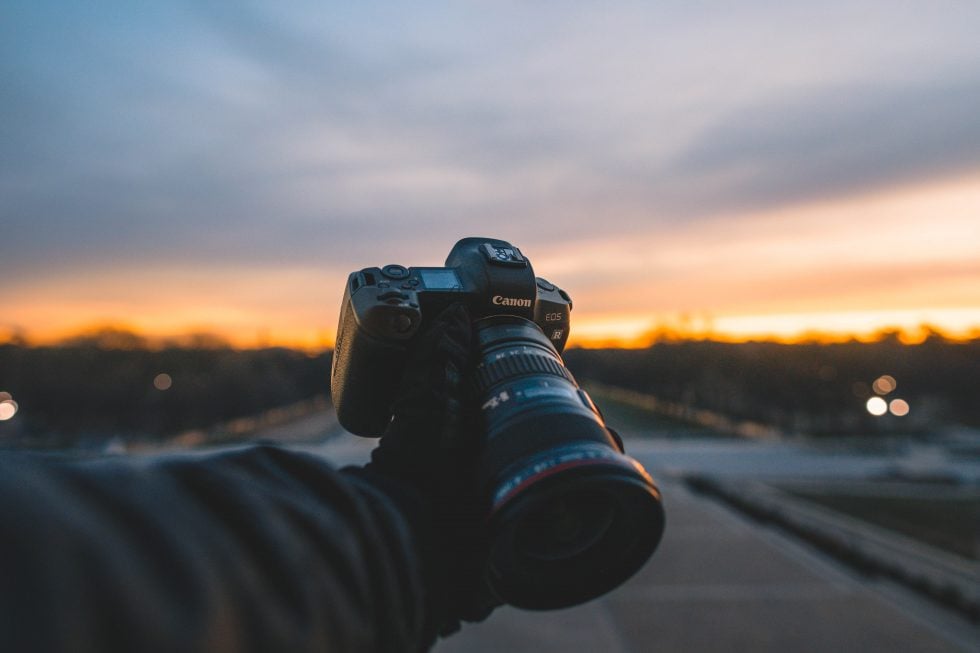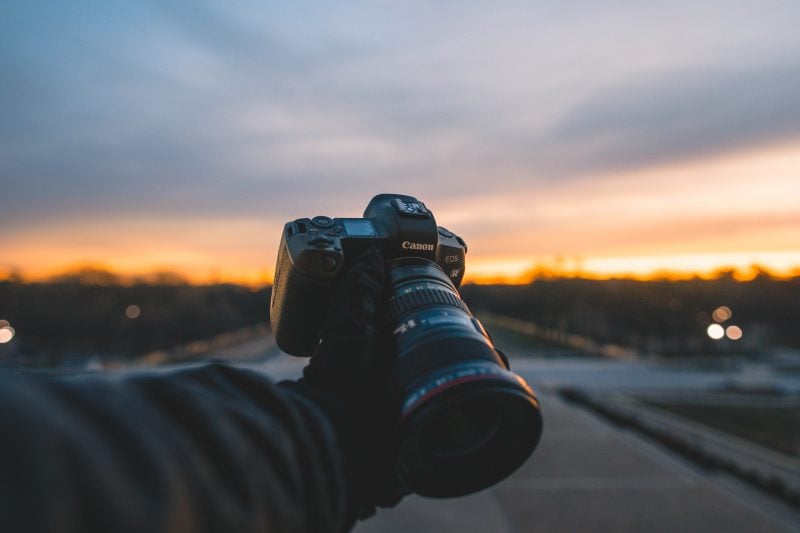 I think the Canon EOS R is a great entry into the Canon ecosystem for outsiders or a fantastic upgrade for anyone using an older 5D Mark III, 6D or a Canon cropped sensor camera. If you have a newer 1DX Mark II or 5D Mark IV you likely won't notice much improvement here other than size. That being said this camera has made it clear to me that when Canon releases a higher end full frame mirrorless it'll be well worth the upgrade for professionals.
If you end up buying a Canon EOS R check out my recommended settings for the EOS R.
Sale
---
Best SD Card for Canon EOS R
Since the Canon EOS R supports SDXC UHS-II you'll want to pick up one of these new faster cards. When using my typical 98/mbps SD card I noticed video recording couldn't keep up when shooting 60fps. The latest breed of cards can read and write with a 300/mbps speed. Getting one of these memory cards will ensure you're getting the most out of the EOS R.
Read my article on finding the best memory card for the Canon EOS R.
Sale
---
Canon EOS R Sample Photos
Here are a few sample photos I've shot with my time using the Canon EOS R. Note that these photos have been edited using Adobe Lightroom.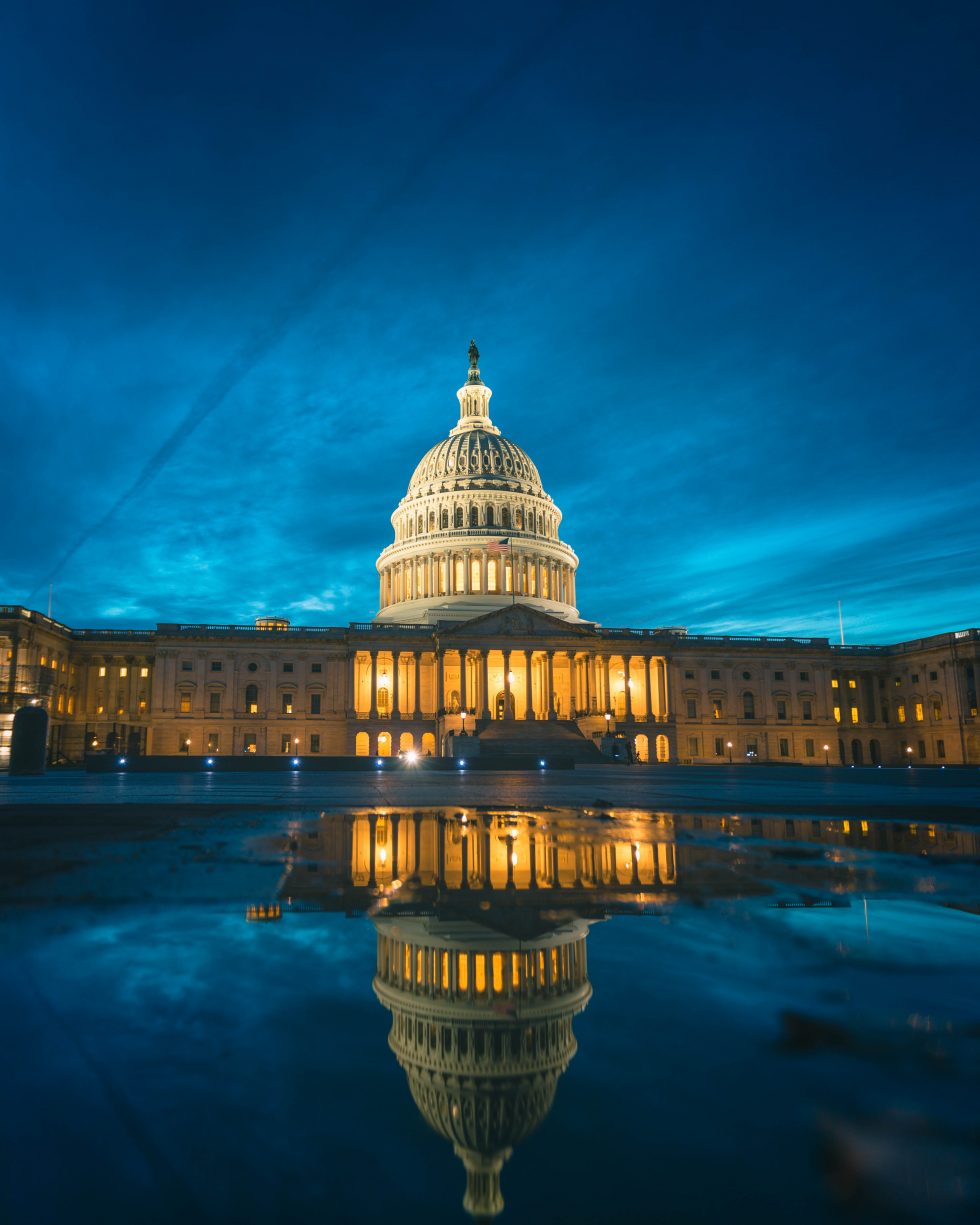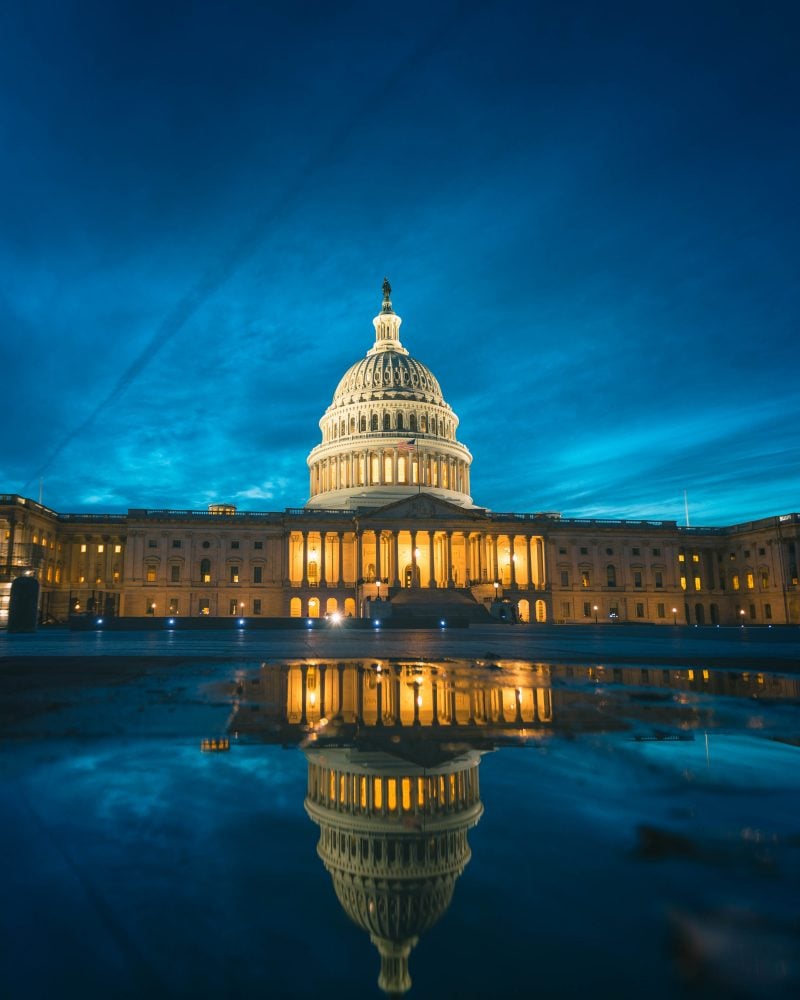 ---
Canon EOS R: Specifications
Sensor: 30.3 Megapixels, Full Frame CMOS sensor
Max image resolution: 6,720 x 4,480
Image processor: Digic 8
ISO Range: 100-40,000 (Expanded 50-102,400)
AF Points: Dual pixel CMOS AF with 5,655 manually selectable AF points
Max Burst: 8fps
Video: 4K up to 29.97 fps, 1080p up to 59.94 fps, 720p up to 119.9fps
Memory Card: SD / SDHC / SDXC
LCD: 3.15 in. fully articulating touchscreen, 2.1m dots
Weight: 660g, 1.46 lbs. (with battery + SD card)
Body Size: 5.35 x 3.87 x 3.32 in. / 135.8 x 98.3 x 84.4 mm.
Charging Port: USB-C (does not power camera while in use)
Connectivity: Wi-Fi, Bluetooth, NFC