Memory cards are an essential part of any camera and having an incorrect one won't allow you to use the full potential of your camera.
The Canon EOS R has an SD card that works with SD/SDHC/SDXC memory cards. The EOS R card slot can handle speeds up to UHS-II.
Here are the best memory cards for the Canon EOS R:
Canon EOS R SD Card Recommendations
If you want to get right to the point these are the best SD cards for the Canon EOS R. The Sony Tough cards with UHS-II speeds will unlock all features of your EOS R. This includes C-Log video shooting and large raw image shooting buffers. If you don't use video features or take photos rapidly the SanDisk Extreme UHS-I is a great affordable option.
---
Why Does a Fast Memory Card Matter?
For Photography
When taking a large number of raw photos in a row your EOS R will need fast write speeds to write the images to your memory card.
Since the EOS R can shoot 8 stills per second this can produce a lot of data quickly. Using a UHS-II card that supports 300 MB/s write speeds will allow you to shoot the entire 47 RAW image buffer to your card without stopping.
Obviously not everyone needs this functionality. If you aren't shooting sports or any other subject requiring high-speed continuous shutters then using a cheaper memory card that is only UHS-I will work fine.
Sale
---
For Video
Video shooters know how much storage 4K and C-Log footage can take up. If you want to take advantage of the 8-bit recording and C-Log functionality of the Canon EOS R you'll need a fast ~300 MB/s UHS-II Card.
Below you'll see a snippet from the EOS R manual talking about what class of card is needed for each shooting mode.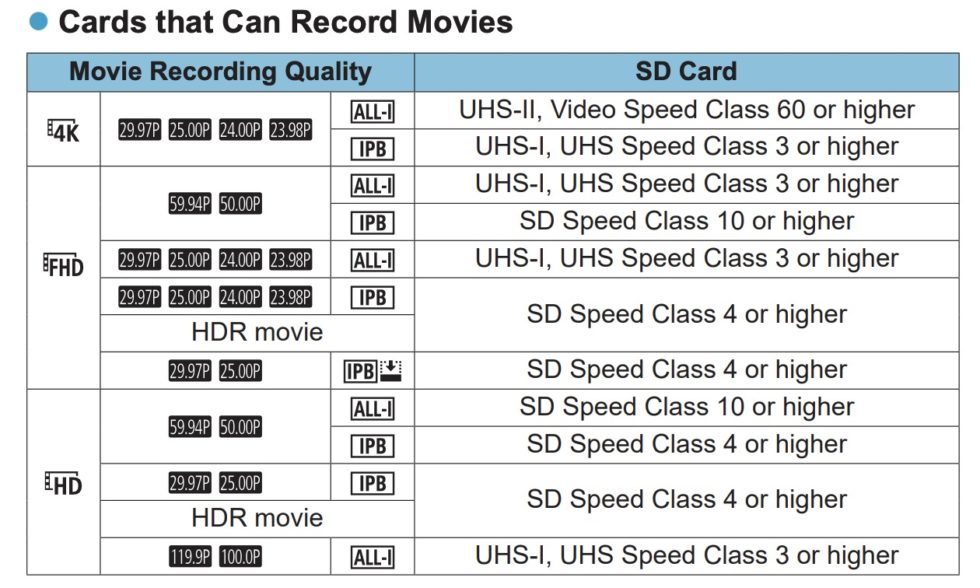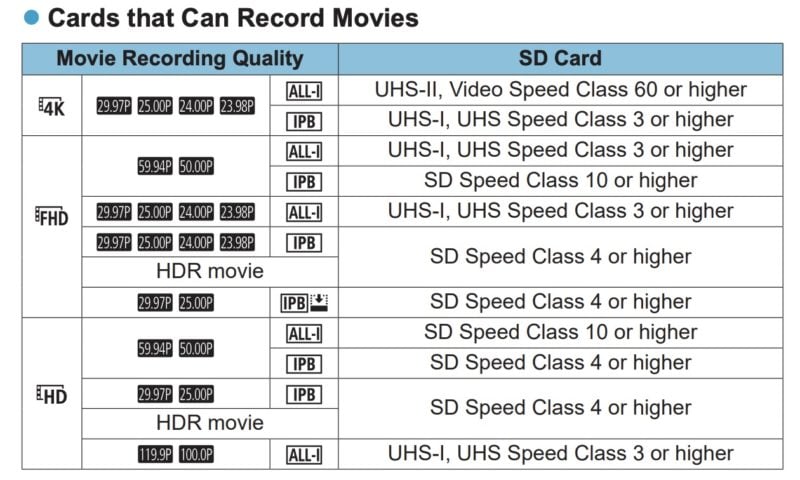 So if you want to get the most out of your camera and shoot 4K ALL-I you'll want a fast UHS-II card.
Sale
---
How to Format SD Cards on Canon EOS R
Formatting memory cards on the Canon EOS R is a simple process. To format a memory card, press the Menu button on the camera. Navigate to the "Setup 1" section (noted by the wrench icon) and select the "Format card" option. After selecting this option the EOS R will prompt you to format the memory card.
Within the formatting settings, you may have the option to perform a low-level format, which completely wipes all data on the card, including any sensitive images you want to be irrecoverable.
I recommend that you format your new memory card as soon as you receive it for the best performance from your Canon EOS R.
---
A faster memory card can really speed up your work. Large photos and videos can take a long time to move from your camera to your computer. A slow memory card can make this process take even longer, slowing down your work. A faster memory card can move these big files more quickly.
This means you'll have to wait less and can do more. It also helps your camera work better when you're taking pictures or making videos. So, if you want your work to go faster and be easier, you should get a faster memory card.
---
Did you just buy a Canon EOS R?
Read: Recommended settings for the EOS R