Memory cards are an essential part of any camera and having an incorrect one won't allow you to use the full potential of your camera.
The Canon EOS R has an SD card that works with SD/SDHC/SDXC memory cards. The EOS R card slot can handle speeds up to UHS-II.
Here are the best memory cards for the Canon EOS R:
Canon EOS R SD Card Recommendations
If you want to get right to the point these are the best SD cards for the Canon EOS R. The Sony Tough cards with UHS-II speeds will unlock all features of your EOS R. This includes C-Log video shooting and large raw image shooting buffers. If you don't use video features or take photos rapidly the SanDisk Extreme UHS-I is a great affordable option.
---
Why Does a Fast Memory Card Matter?
For Photography:
When taking a large number of raw photos in a row your EOS R will need fast write speeds to write the images to your memory card.
Since the EOS R can shoot 8 stills per second this can produce a lot of data quickly. Using a UHS-II card that supports 300 MB/s write speeds will allow you to shoot the entire 47 RAW image buffer to your card without stopping.
Obviously not everyone needs this functionality. If you aren't shooting sports or any other subject requiring high-speed continuous shutters then using a cheaper memory card that is only UHS-I will work fine.
Sale
---
For Video:
Video shooters know how much storage 4K and C-Log footage can take up. If you want to take advantage of the 8-bit recording and C-Log functionality of the Canon EOS R you'll need a fast ~300 MB/s UHS-II Card.
Below you'll see a snippet from the EOS R manual talking about what class of card is needed for each shooting mode.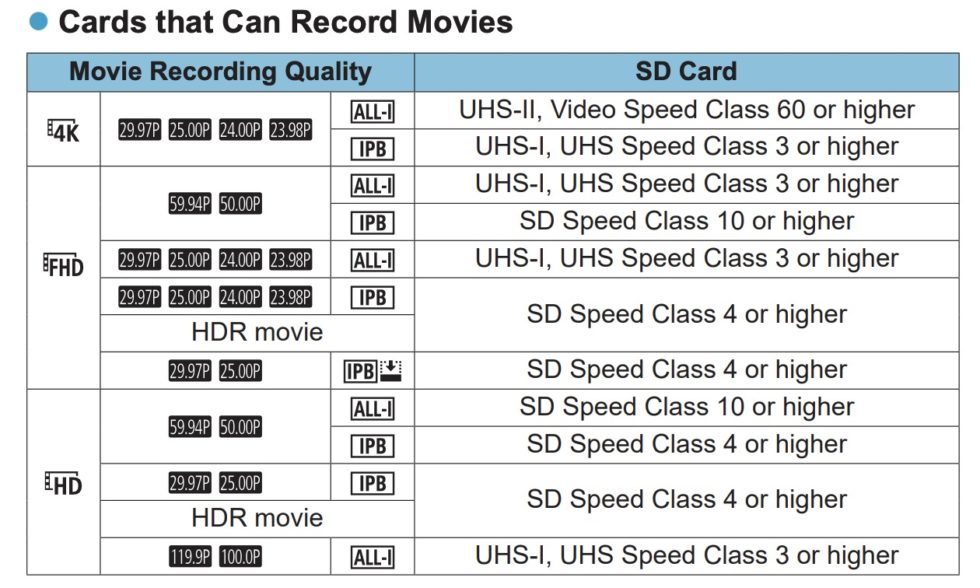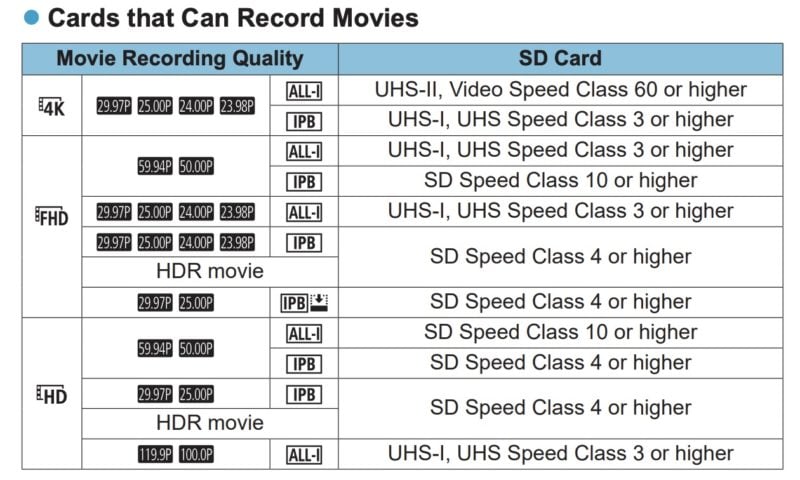 So if you want to get the most out of your camera and shoot 4K ALL-I you'll want a fast UHS-II card.
Sale
Getting a faster memory card will also make your workflow faster when dumping videos/photos to your computer for editing.
---
Did you just buy a Canon EOS R?
Read: Recommended settings for the EOS R