Want to know how to use Canon camera as webcam? In this quick guide I'll show you how to use Canon webcam utility to turn your Canon camera into a webcam.
With the rise of video calls and streaming Canon has rolled out new software to use most Canon cameras as a webcam. This is great for Canon users who may have an extra camera laying around or anyone who wants to upgrade their webcam camera quality.
In this post we'll go over how to use your Canon camera as a webcam using the EOS Webcam Utility. This simple task should only take a few minutes after you have your camera hooked up and ready to go.
This will work to use your Canon camera in any app like Zoom, OBS, FaceTime, and even Facebook video chat.
---
Things You'll Need to Use Canon Webcam Utility
Compatible Canon camera (see below)
Window or Mac computer
USB Wire to plug your camera into your computer (varies by camera)
Best of all you don't need anything additional to use this new software from Canon. It'll make your camera function as a webcam in any apps on your computer.
Now that you know what you need lets hop into camera compatibility.
---
Compatible Canon Cameras
The Canon webcam utility won't work for all Canon camera; but luckily most newer models are supported like the Canon EOS R5 and R10. Many older DSLR cameras work as well like the Canon 70D and 60D.
Here is the full list of compatible cameras from Canon's site. For the latest supported cameras read the list on their site, they're always adding new cameras.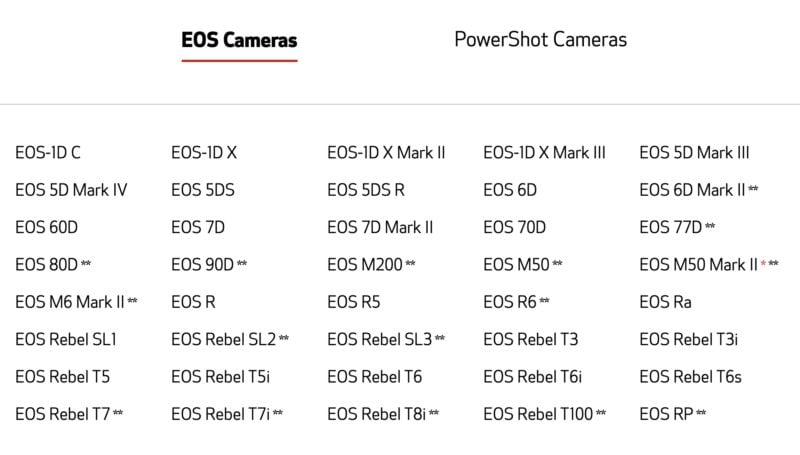 Now let's dive into installing and using the software.
---
Installing & Using EOS Webcam Utility
The first think you'll need to do is download & install the EOS Webcam Utility. Just head to their site and click what camera you plan on using it with and you'll be able to find your Mac or Windows download.
The software is easy to install but it did make my Macbook restart so be prepared for a reboot after it installs. Once your computer restarts you will be ready to use your Canon DSLR or mirrorless as a webcam.
Now you may be wondering how to use Canon webcam utility. It's quite simple, in all applications that let you select a webcam you'll see a new option for "EOS Webcam Utility" as a camera option. Just make sure your camera is plugged into your computer's USB port and turned on.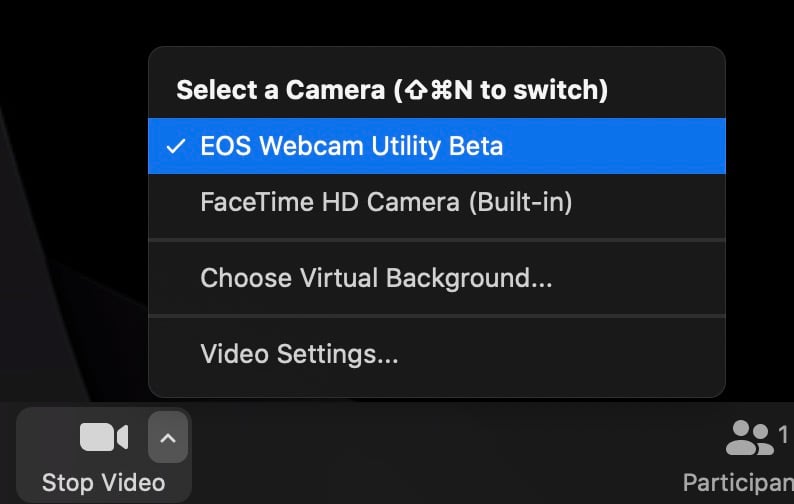 The EOS Webcam Utility will always show up regardless if you have a camera plugged in or not. Once you select the camera you'll be broadcasting a static image that says "EOS Webcam Utility" until you connect and turn on your camera.
After your camera connects boom!
You now should have crystal clear DSLR/Mirrorless quality footage for your video calls.
Tested applications that work:
Zoom
Google Chrome (Facebook video call)
OBS
Streamlabs OBS
Discord
FaceTime
---
Tips to Improve Your Video Quality
It's important to note that the EOS Webcam Utility does not feed the full resolution of your camera to your computer. You'll be getting a 1024×576 resolution video feed from your camera. This should be plenty for video calls and even streaming on sites like Twitch though.
If you want to do that you need to use HDMI and a capture card like the Elgato Camlink. There are also capture cards that will allow you to capture 4k footage as well and use it as a webcam. I go over this more in my EOS R livestreaming guide which is applicable to more than just the EOS R.
That being said we're going to go over a few options you can change on your camera to ensure a good looking video feed.
---
Changing Your Camera Settings
Regardless of your Canon camera it's best to set the camera to video mode. If you aren't too familiar with camera settings you can keep this on auto but we'll dive into what settings I recommend changing on your camera.
Set your camera to video mode on manual with the shutter speed of 1/50, ISO 100-400, and the lowest aperture possible to exposure the image correctly.
Additionally I recommend setting your white balance manually for the best results.
---
Lighting, Tripods, Etc
If you want to improve the quality of your video even more you can upgrade your lighting as well.
On a budget? just use a lamp and put it near your camera
And of course to hold your camera you can look into desktop tripods.
---
And just like that you're now using your Canon mirrorless as a webcam (or DSLR). I personally love using this tip when talking to friends on video chat or during work meetings.
If you have any issues or feedback let me know in the comments below!