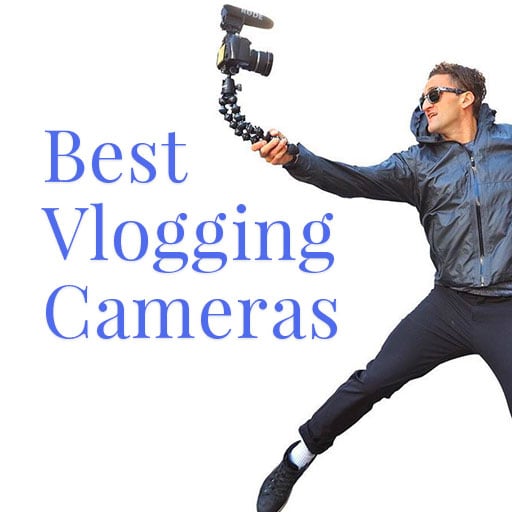 Starting a video blog (aka a vlog)? YouTube has quickly become the best way to share your stories and having the correct camera is essential. If you plan on making a vlog a part of your life, it's important to have a camera that's easy to use while on the go. I have compiled a list of the best vlogging cameras in 2023.
There are tons of different options in terms of cameras for vlogging that range in price, quality, and size.
Tips for buying a vlogging camera
If you're looking to get into vlogging, you'll need to find the right camera for you. But with so many options out there, it can be hard to know where to start. First, we'll go over some tips for buying a vlogging camera, so you can find the perfect one for your needs.
Camera Type: Decide on the type of camera that suits your style best. Mirrorless cameras offer excellent video quality, but they can be bulky. Getting a larger camera with interchangeable lenses you'll have to think about buying a lens as well. You'll typically want a wide angle lens to capture yourself while holding the camera. Compact cameras like a point and shoot or action cameras like GoPros can be more portable and easier to handle for beginners.
Video Quality: Look for a camera that can shoot in at least 1080p (Full HD), although 4K is becoming increasingly popular and future-proof. Personally I love 4K since you get a lot more detail in your shots plus the ability to crop in during post production.
Image Stabilization: A camera with good image stabilization is important, especially if you will be moving around a lot in your vlogs. Look for in-body image stabilization (IBIS) if possible, also if you have a camera with interchangeable lenses you can find lenses with stabilizations to work with IBIS.
Autofocus: Reliable and fast autofocus is crucial for vlogging. You want to ensure that you're always in focus, even when you're moving. Some cameras feature eye or face-tracking autofocus, which is very beneficial for vloggers.
Audio Quality: Good audio is just as important as video quality in vlogging. Check if the camera has a good internal microphone, but also look for a camera with an external microphone input. This allows you to upgrade your audio quality later on.
Flip Screen: A camera with a flip screen is very useful for vlogging, as it allows you to see yourself while filming. This way, you can ensure you're in the frame and in focus.
Low Light Performance: Depending on the type of vlogging you do, good low light performance might be important. If you plan to vlog in various lighting conditions, consider a camera with a larger sensor or a lens with a wide aperture.
Battery Life: Vlogging often involves long shooting times, so look for a camera with strong battery life, or the option to use an external power source. Typically cameras will use more battery when filming in 4K so that's something to consider as well.
Ease of Use: Some cameras have complex settings and menus that can be daunting for beginners. Depending on your skill level you'll want to choose a camera that's user-friendly.
Budget: Vlogging cameras can range from a few hundred to several thousand dollars. Determine your budget before you start shopping, and consider whether you will also need to buy additional equipment like lenses, microphones, or tripods.
Remember that the best camera is the one you'll actually use. So, prioritize features that matter most to you, and don't be afraid to start with a simpler, more affordable camera as you learn what your specific needs are.
Additionally, if you need guidance on building an audience YouTube has a playbook that can help to build your channel. There are also plenty of articles with vlogging tips but the #1 tip from my experience is to just start. It's easy to psych yourself out of starting a vlog and may feel awkward at first but you'll eventually get comfortable and even better at telling stories.
Best Vlogging Cameras for 2023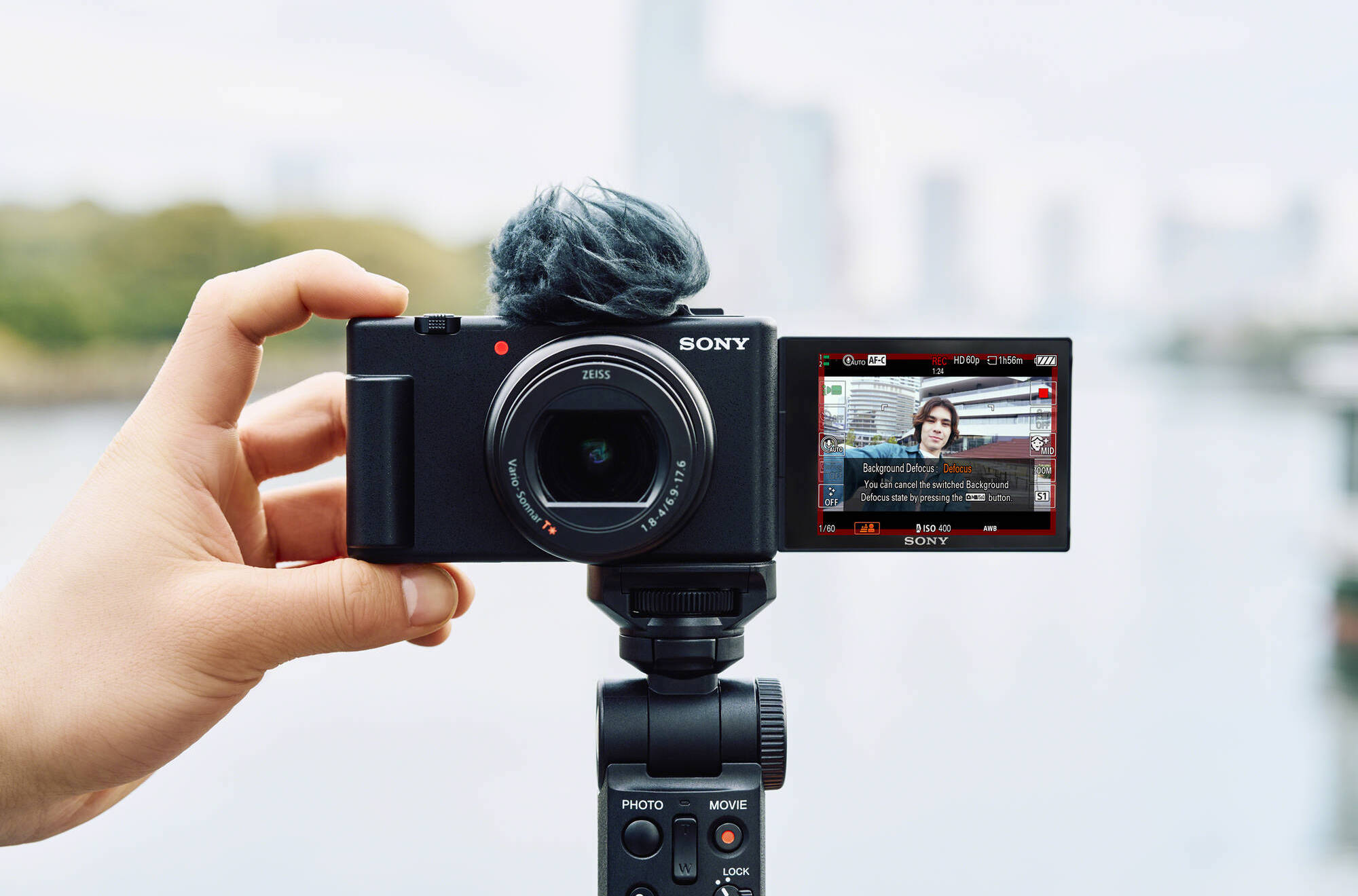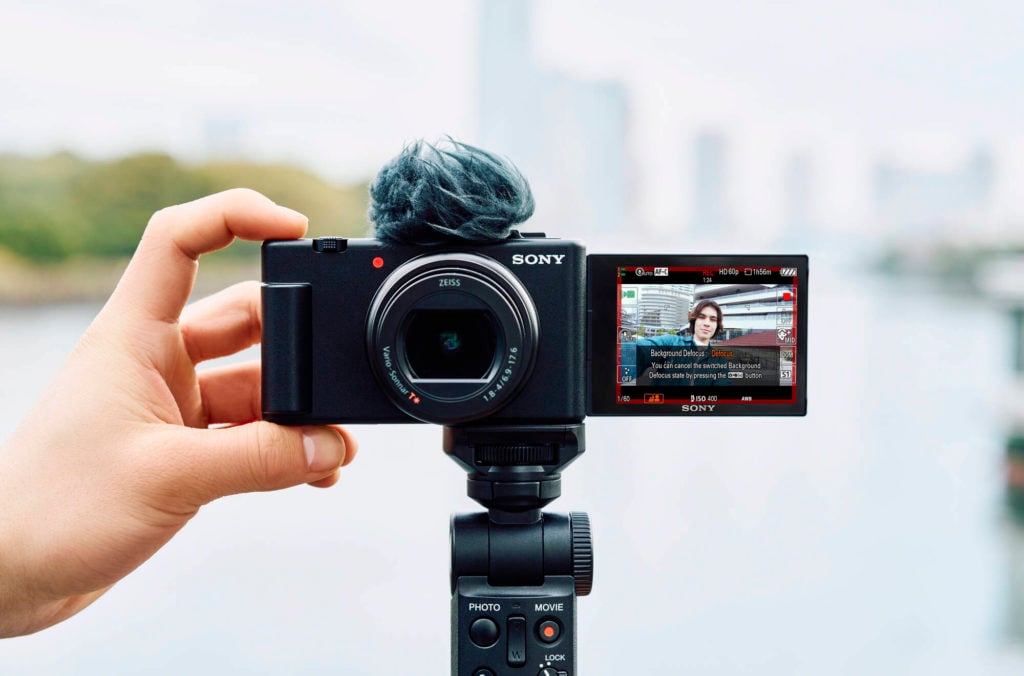 Sony introduces the successor to the first point-and-shoot camera designed for vloggers, the Sony ZV-1 Mark II. It comes equipped with features specifically crafted for vloggers, such as improved stabilization and an enhanced three-capsule microphone array, making it one of the most user-friendly cameras for both seasoned and novice vloggers.
The ZV-1 Mark II maintains its predecessor's compact form factor with a flip-out screen, ensuring it remains an ideal travel vlogging companion. The camera's compact size allows for easy portability and readiness for capturing spontaneous moments. The optional Bluetooth remote, which doubles as a handle and tripod, is also available for purchase.
Further upgrades in the Mark II model include wider 18-50mm-equivalent lens, superior skin tones rendering, an advanced product showcase mode that prioritizes the camera's focus on products when held up close (instead of your face), and a specialized mode that highlights background bokeh during filming.
Aimed at delivering effortless content creation in high quality, the ZV-1 Mark II from Sony, packed in a compact and easy-to-handle body, marks a significant step forward in the realm of vlogging cameras.
---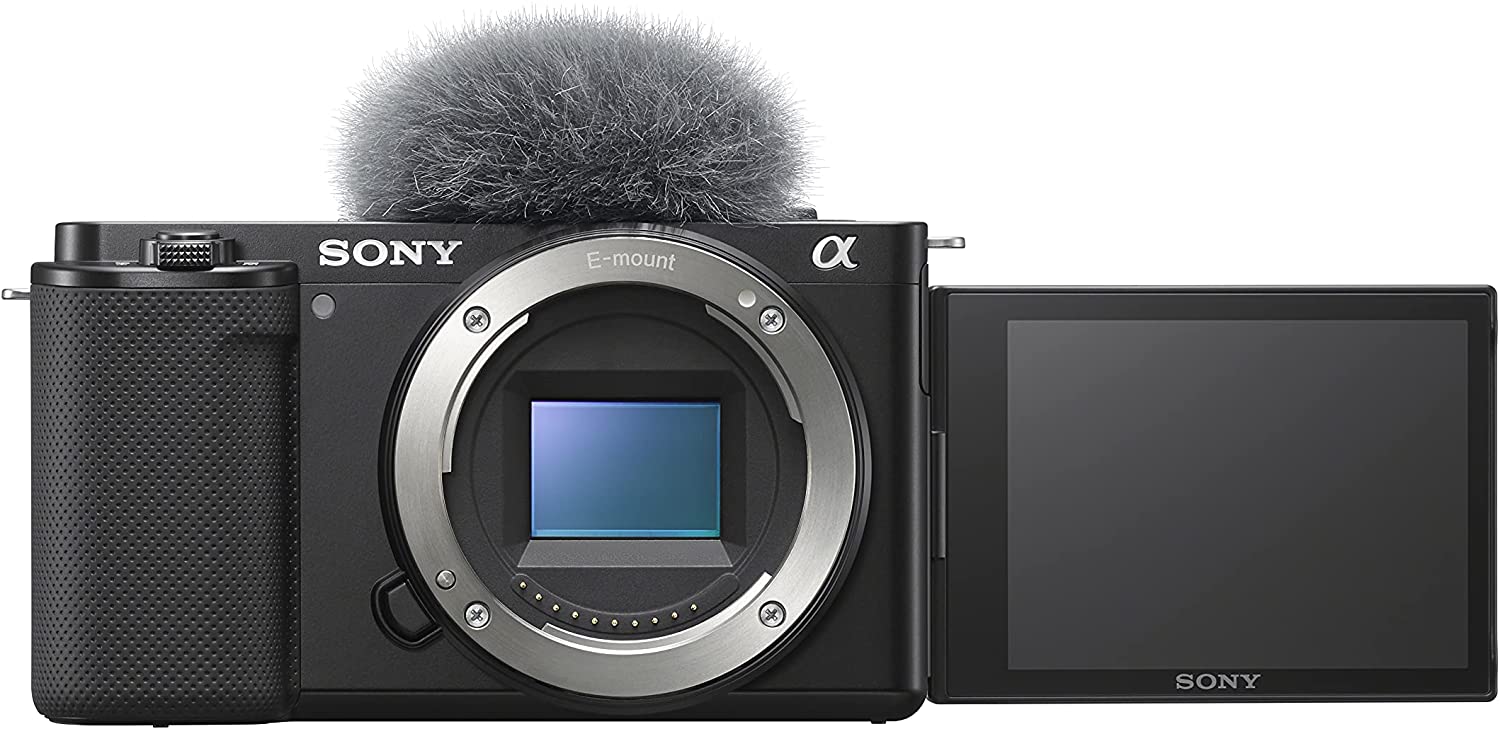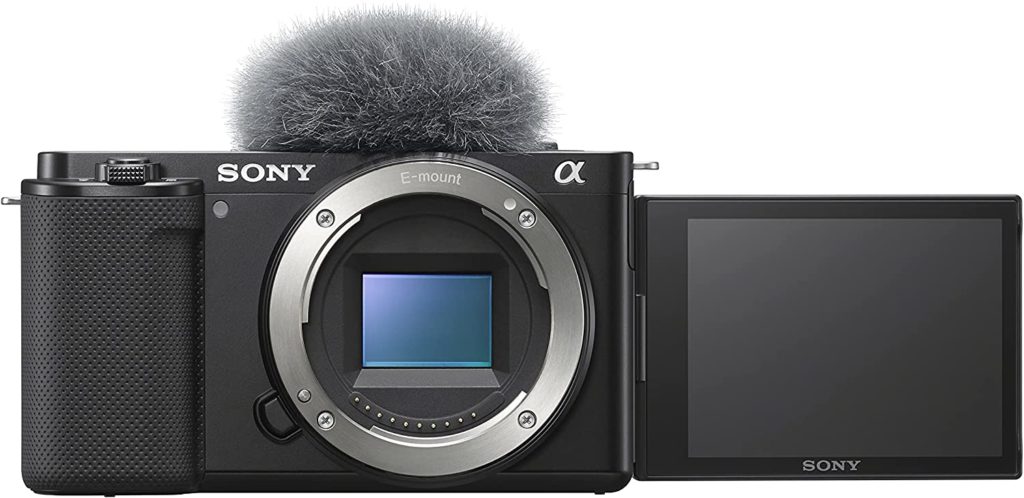 For people who want to get into vlogging with a camera that allows interchangable lenses Sony has released the ZV-E10. Designed for vlogging in mind the ZV-E10 features many features vloggers will love. Including skin softening mode, product showcase mode, and of course a flip screen.
---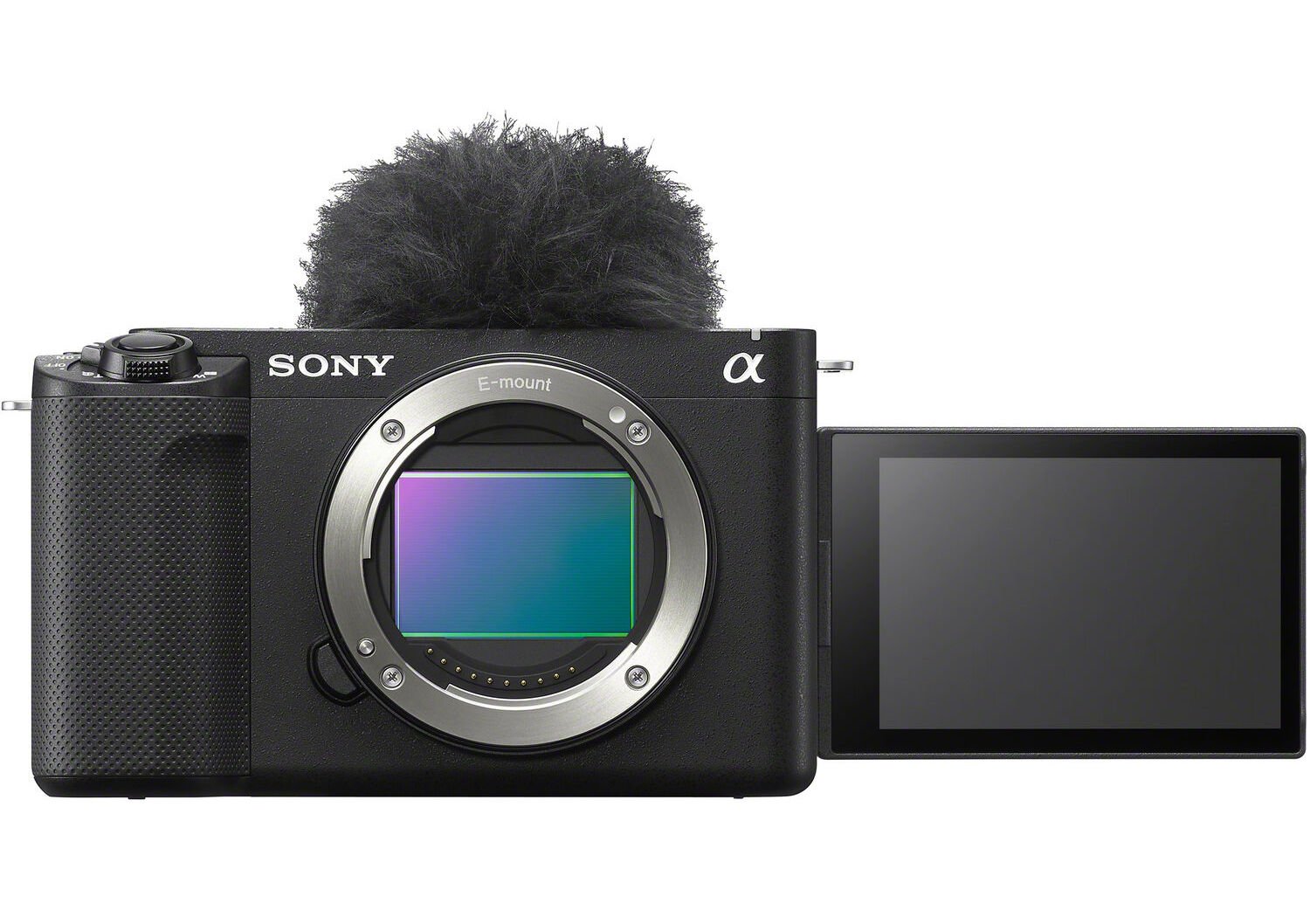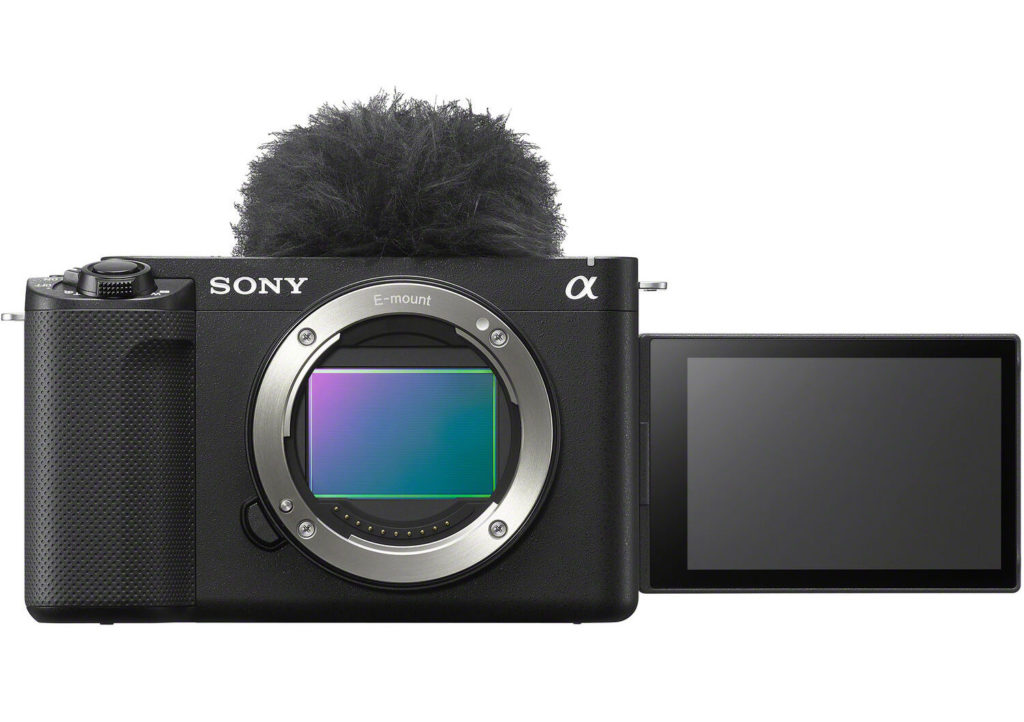 The Sony ZV-E1 is a compact, full-frame mirrorless camera specifically designed for vloggers and content creators. Its lightweight design and interchangeable lens mount make it highly portable and perfect for on-the-go shooting. The camera's advanced features, such as 5-Axis SteadyShot Image Stabilization, AI Auto-Framing, and Product Showcase Setting, ensure professional-looking results that will elevate your content to new heights.
Equipped with a 12MP sensor, 15+ stops dynamic range, and an extended ISO range of 80-409,600, the ZV-E1 excels in various lighting conditions, allowing you to capture stunning visuals in any environment. The camera also offers multiple audio input options and USB streaming capabilities for seamless live streaming, making it ideal for engaging with your audience in real-time. With a dust and moisture-resistant housing, the ZV-E1 is built to withstand the rigors of travel and outdoor shooting. In summary, the Sony ZV-E1 is the perfect choice for creators seeking a powerful, versatile camera to produce high-quality content.
---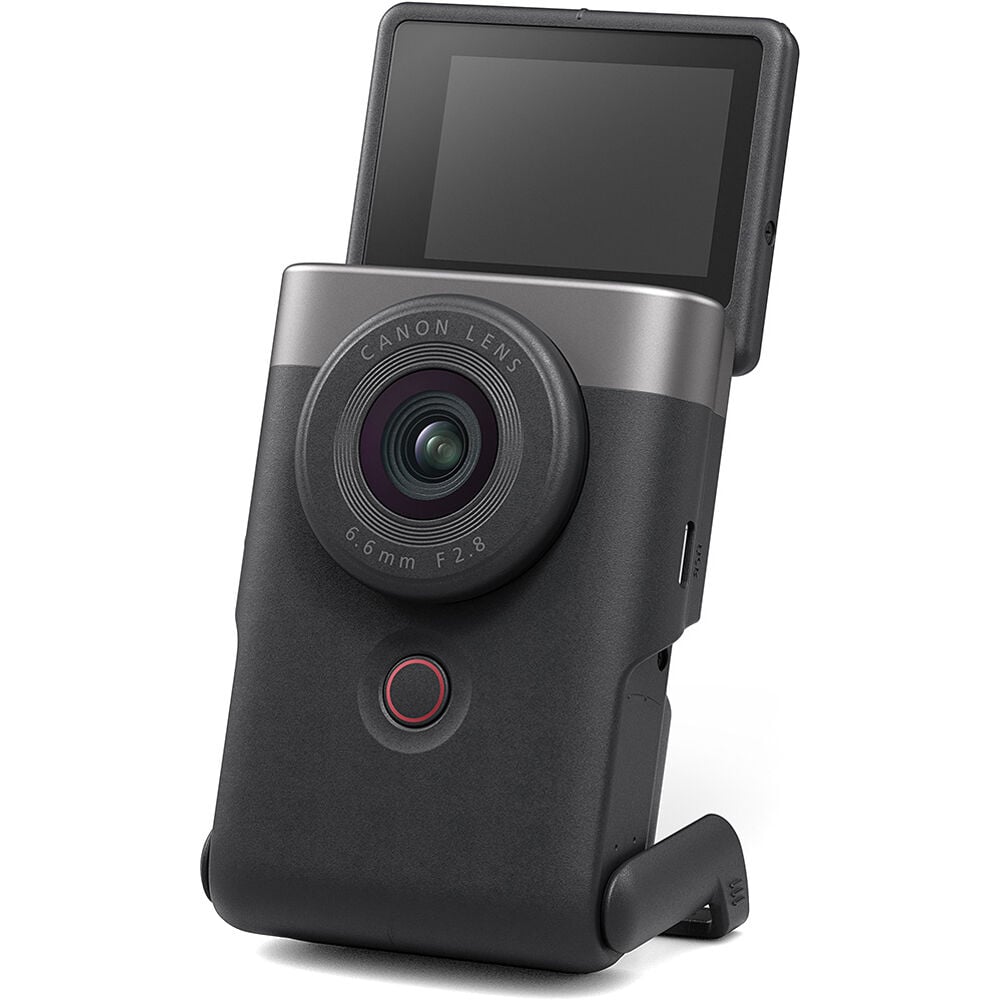 What I like: Great price, compact size with unique design and a 19mm equivalent lens!
What I dislike: No dedicated microphone mount and the video quality could be improved.
The Canon PowerShot V10 is a fantastic vlogging camera that compacts the power of high quality video and audio into a pocket-sized device. It features the same 1″ CMOS sensor as the highly regarded PowerShot G series, which records in 4K at up to 29.97 frames per second and Full HD at 59.94 frames per second. With an ISO range of 125–3200 in 4K UHD and Full HD and up to 12,800 ISO in still photos, this camera's 20.9MP sensor and DIGIC X image processor produce stunning video and stills.
https://www.youtube.com/watch?v=MG3JQCKK8pw

The PowerShot V10 offers multiple video capture options, including uncropped UHD 4K, Full HD high frame rate, and live streaming in Full HD at 30 fps. It's designed with UVC capability for use as a web camera for streaming live video in Full HD on platforms like YouTube Live and Facebook Live without the need for additional computer software.

The 19mm autofocus wide-angle lens captures a large area, making it easy to record expansive landscapes or do a do-it-yourself video of yourself. It also opens to a wide f/2.8, enhancing the camera's low-light performance.

The camera's 2″ (460,000-dot) touchscreen is designed to make setting focus points and reviewing photos a breeze. The screen can tilt upwards by 180°, catering to both rear- and front-facing viewing.

The Canon PowerShot V10 is a versatile, high-quality vlogging camera offering excellent image and video quality, multiple video capture modes, a user-friendly touchscreen, and flexible connectivity options.
---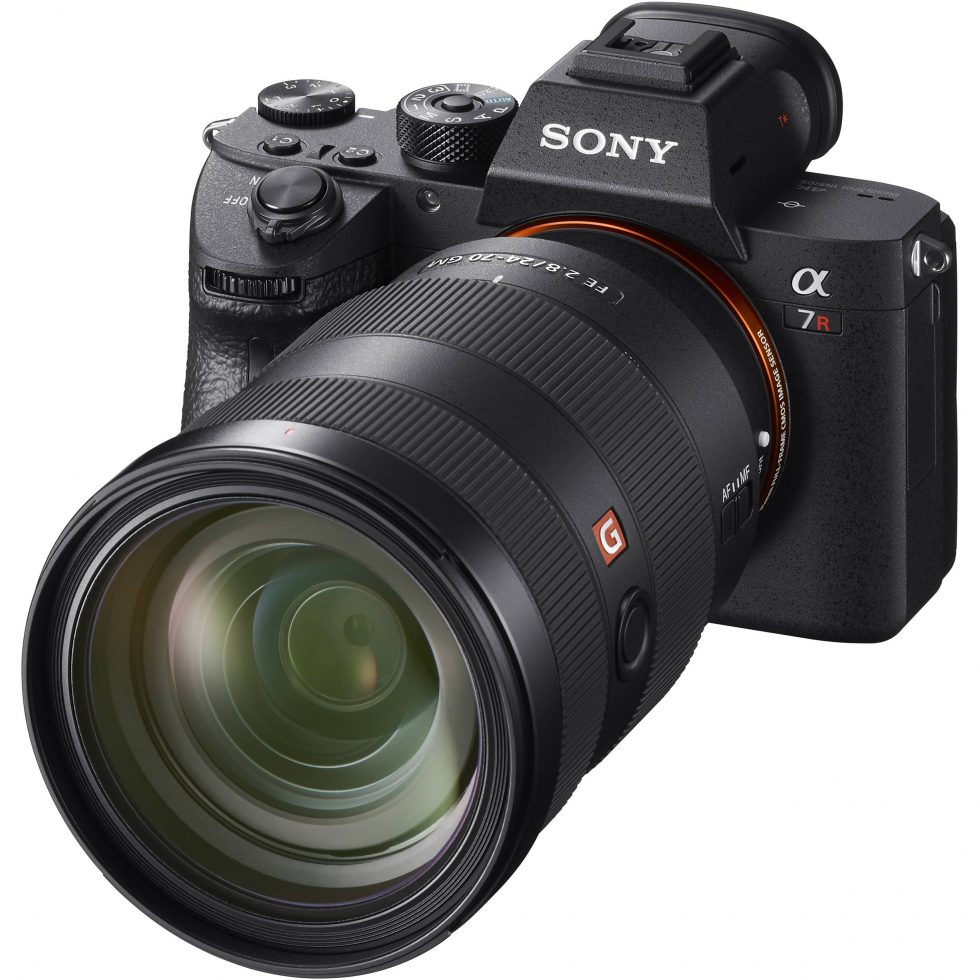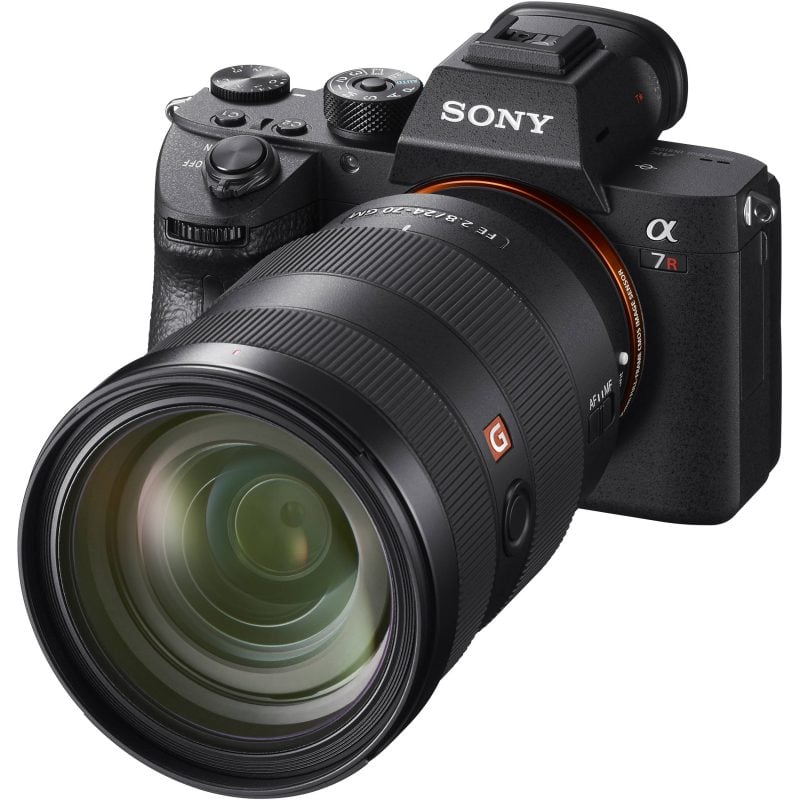 The Sony a7R III is a new release from Sony so you know it'll have some of the latest features YouTubers will want. Including sharp 4K recording and slow-mo video at 1080p/120fps. Additionally the Sony a7R III's 42mp sensor will make it very desirable for stills as well. With its insane megapixel count and incredible video features, the Sony a7R III is an incredible mirrorless camera for travel.
The a7R III's screen tilts so you can see it from lower angles but you won't be able to use it to see yourself while vlogging.
The 5-axis stabilization built into the sensor will also help for smooth footage even when a lens doesn't have stabilization.
Recommended lens for vlogging on the a7R III: 16-35mm f4
Recommended microphone for vlogging on a7R III: Rode Videomic Pro+
---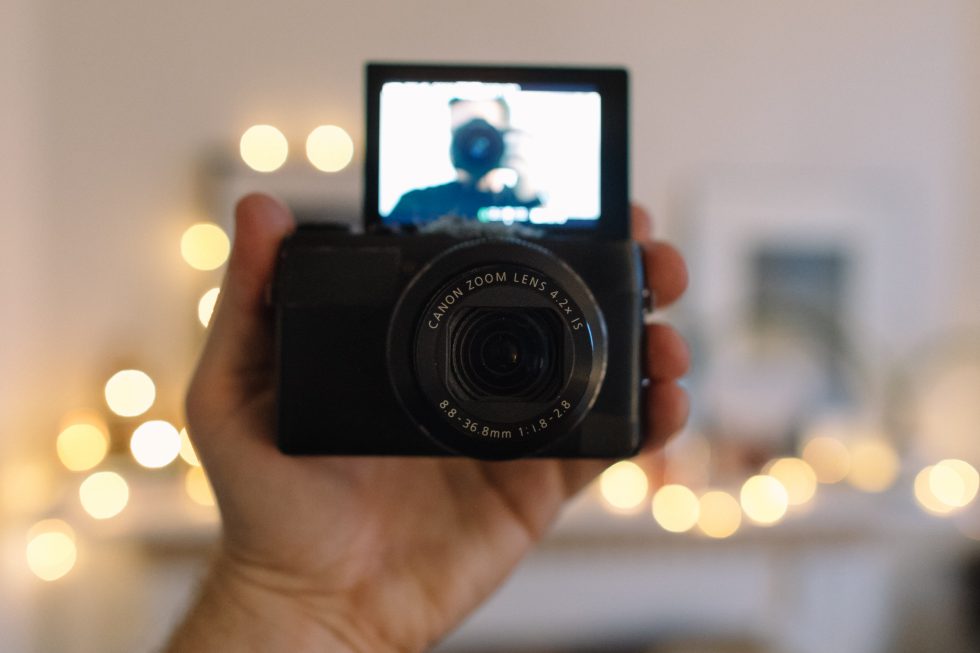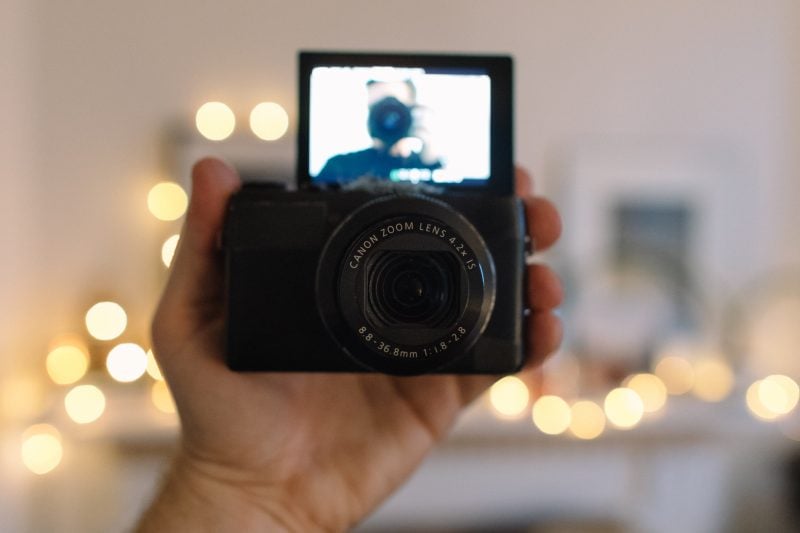 The Canon G7X Mark II is the best option for beginners who are just starting out vlogging. Its size, quality, and price make it one of the best vlogging cameras.
I have personally used the Canon G7X on over 40 vlogs and it's a blast to use as a vlog camera. Since the G7X Mark II is a point and shoot it's fantastic for throwing in your pocket and hitting the town. I typically pair the G7X with the Manfrotto Pixi tripod to make it easier to hold while vlogging.
The camera also has built in stabilization which makes videos day or night look smooth and high quality.
On the downside, the Canon G7X Mark II does not include a microphone port so you'll be stuck with using the built in microphone. To improve the audio quality on the G7X Mark II you can pick up a windjammer to put on top of the internal microphone.
The G7X can also shoot raw photos but I found the image quality for photos lacking.
If you're just starting out and want higher quality than using your phone the G7X Mark II is the best camera for vlogging, especially at its price point. If your budget permits the G7X Mark III is the newer model with improved performance.
---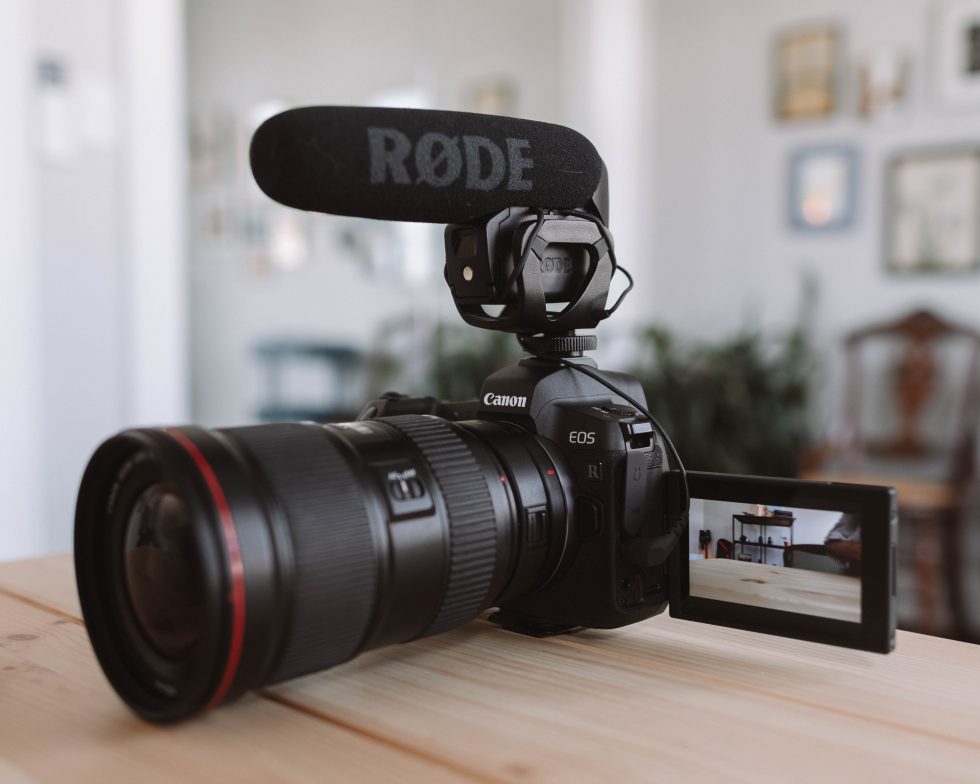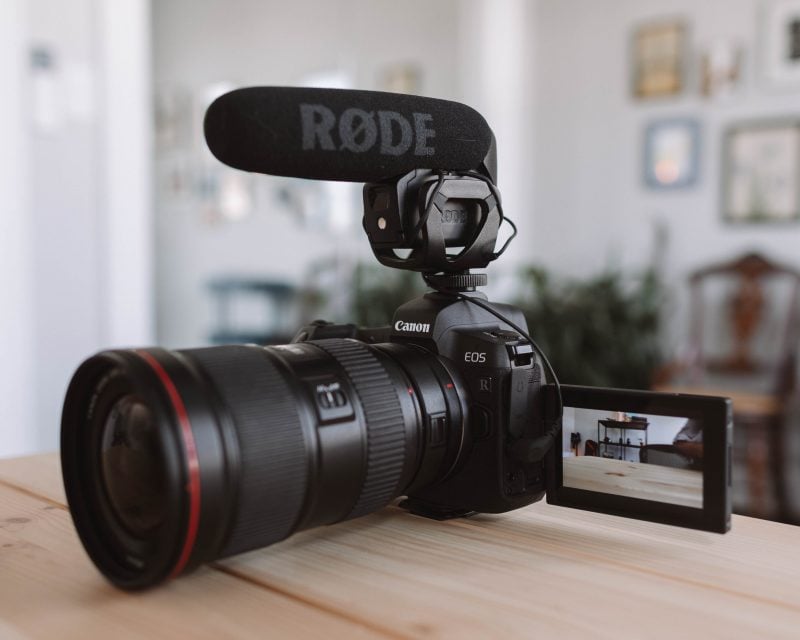 Canon has finally released their first full frame mirrorless camera, the Canon EOS R. This of the EOS R as a mix between the 5D Mark IV and 6D Mark II. It offers the fantastic video and image quality of the 5D Mark IV, their incredible dual pixel autofocus, and a flip out screen!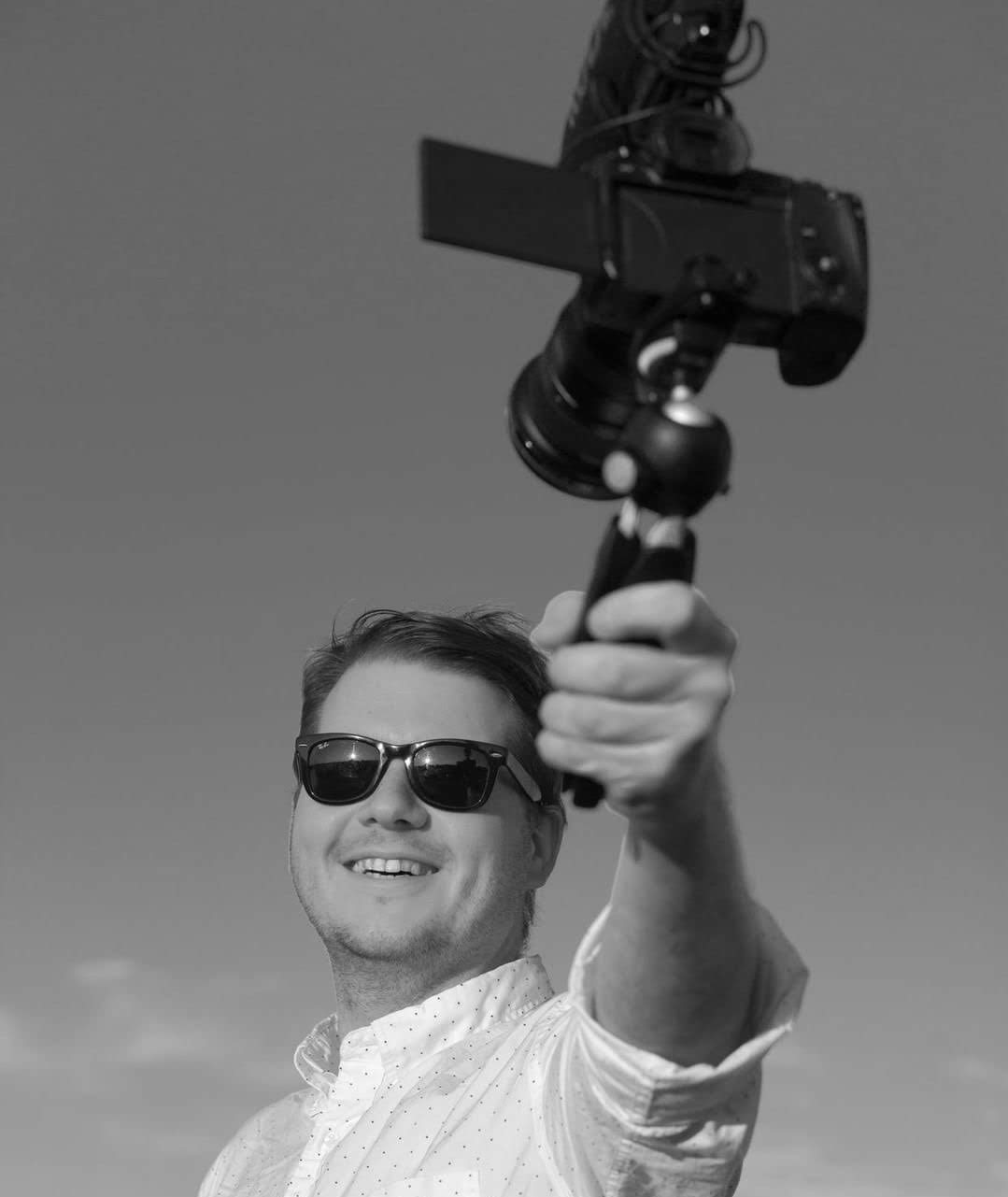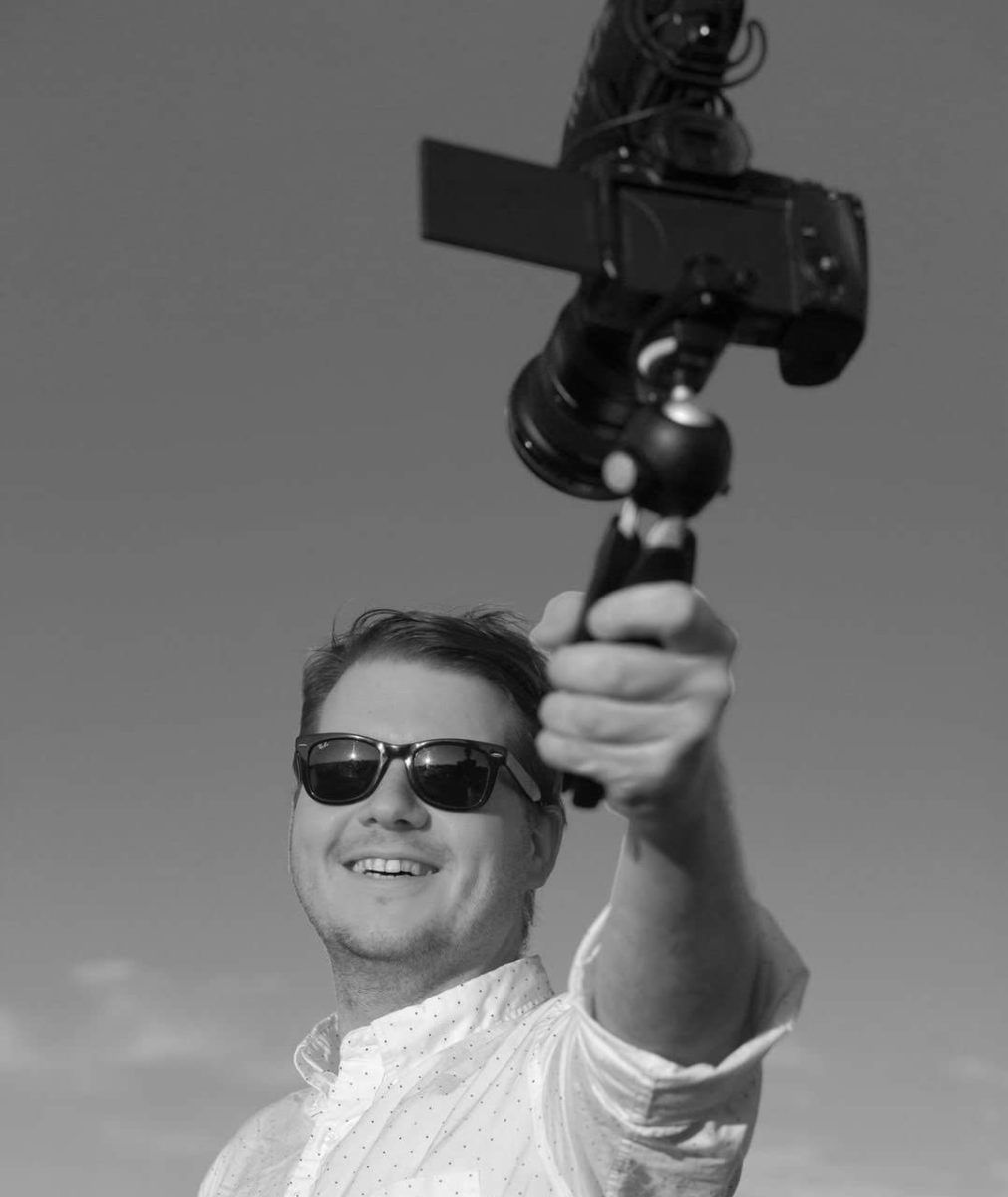 On the downside, if you already have Canon lenses you will have to use an adapter to use your lenses. But they have new RF mount lenses coming out but none of the currently announced ones are specifically great for vlogging.
Overall this lightweight package and having a flip out screen that includes Canon's dual pixel autofocus makes it a super solid vlogging camera.
Recommended lens for vlogging on the EOS R: 16-35mm f2.8 III w/ adapter
Recommended microphone for vlogging on the EOS R: Rode Videomic Pro+
---
8. Canon 6D Mark II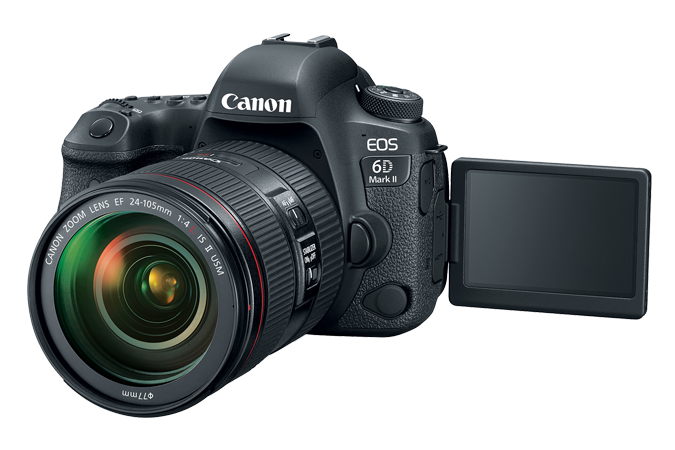 The recently released Canon 6D Mark II has been huge for vloggers like Casey Neistat and Peter Mckinnon. The Canon 6D Mark II is the first full frame camera with a flip out screen. This alone makes it great for vloggers since being able to see yourself in the frame is huge for composition.
One thing the Canon 6D Mark II lacks is 4K video which can be a deal breaker for some but the 1080p video out of the camera is top notch. Additionally it offers a timelapse mode that will record in 4K. This feature is great for recording a quick time lapse and adding it into your vlog.
Recommended lens for vlogging on the 6D Mark II: 16-35mm f2.8 III
Recommended microphone for vlogging on the 6D Mark II: Rode Videomic Pro+
---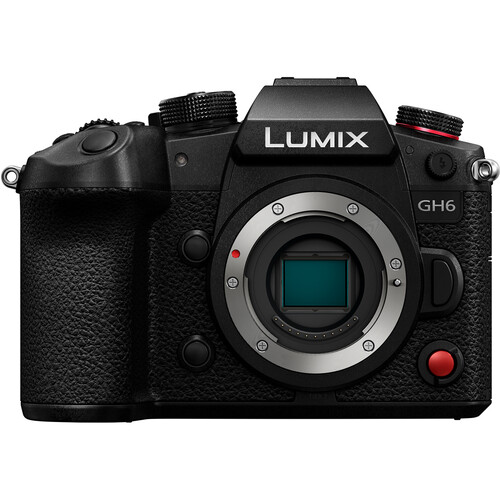 The Panasonic Lumix GH6 is a compact and powerful vlogging camera that is still going strong despite the trend toward full-frame cameras in the filmmaking world. With a Micro Four Thirds sensor, the GH6 offers excellent image quality and a vast array of video options, as well as superb handling and image stabilization.
It also boasts the best contrast-based autofocus yet seen on a Panasonic camera, although it may not be quite as advanced as some of the competition.
Additionally, the GH6 has an affordable price point, a multi-angle tilt-and-swivel screen, and unlimited recording times, making it a great option for vloggers who want high-quality video without breaking the bank. While it may be slightly larger and heavier than its predecessor, the GH5 II, the Panasonic Lumix GH6 is still an excellent choice for those looking for a compact and versatile camera for vlogging and beyond.
Recommended lens for vlogging on the GH6: 12-35mm 2.8
Recommended microphone for vlogging on the GH6: Rode Videomic Pro
---
10. Sony a7S II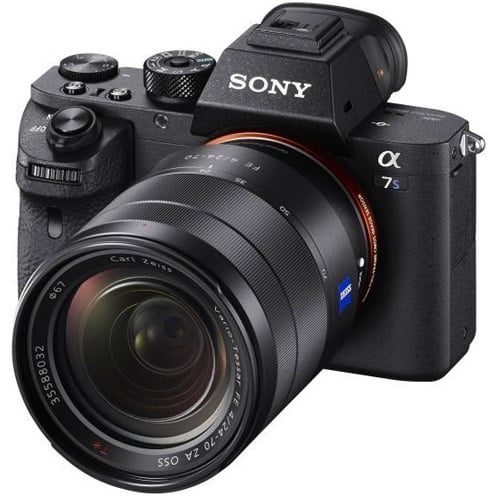 The Sony a7S series was built for video and the a7S II is no exception. The camera contains a 12.2MP sensor which can record at 4K 30fps & 1080p 120fps. Additionally it has amazing low light performance and 5-axis sensor stabilization which will make your footage look smooth.
Recommended lens for vlogging on the a7S II: 16-35mm f4
Recommended microphone for vlogging on a7S II: Rode Videomic Pro
---
11. Canon EOS RP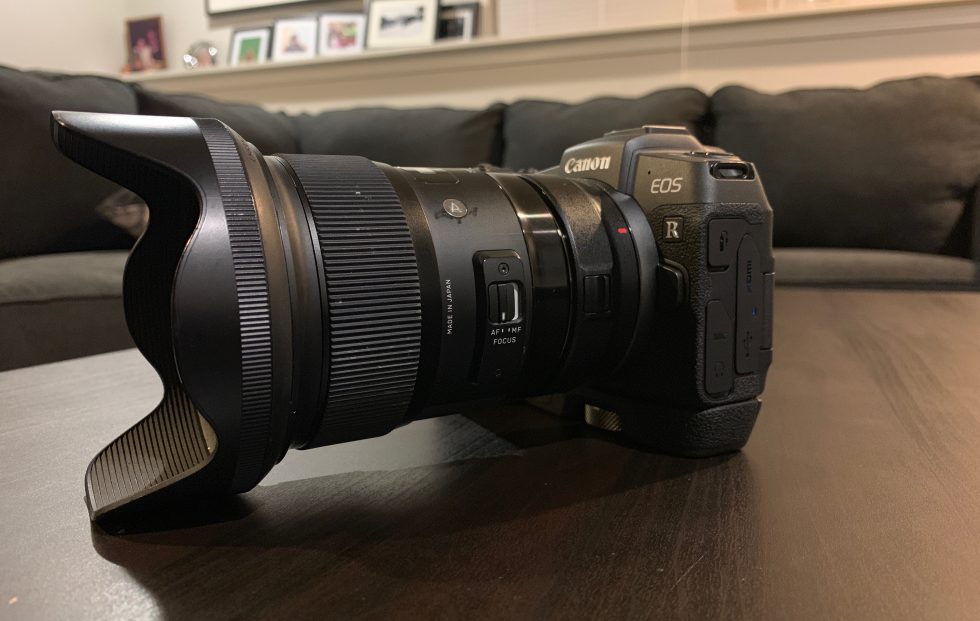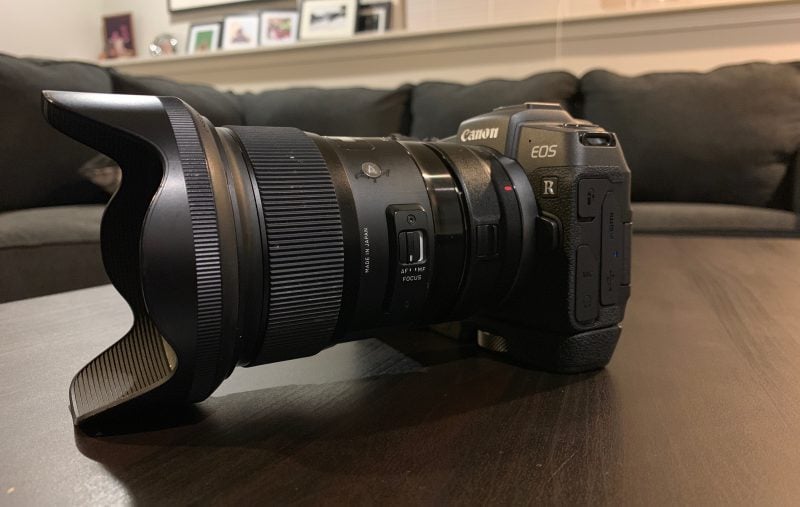 The Canon EOS RP is one of the most affordable full frame mirrorless cameras on the market. With it's full frame sensor, flip out screen, and small body, it is one of the best cameras for vlogging, especially for the price.
If you already have Canon lenses you'll love this camera since they will all be compatible with the adapter. Plus you can use all of Canon's newest RF lenses.
---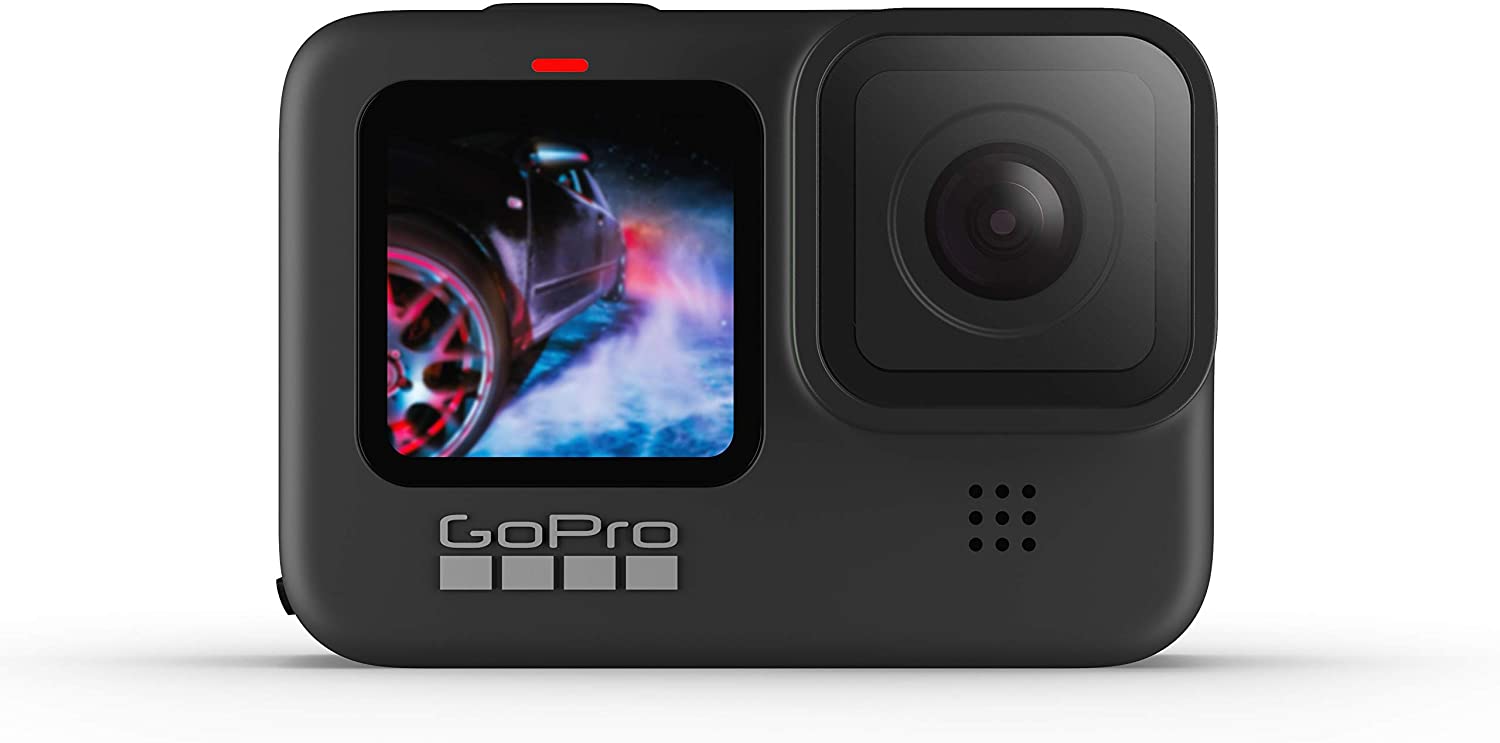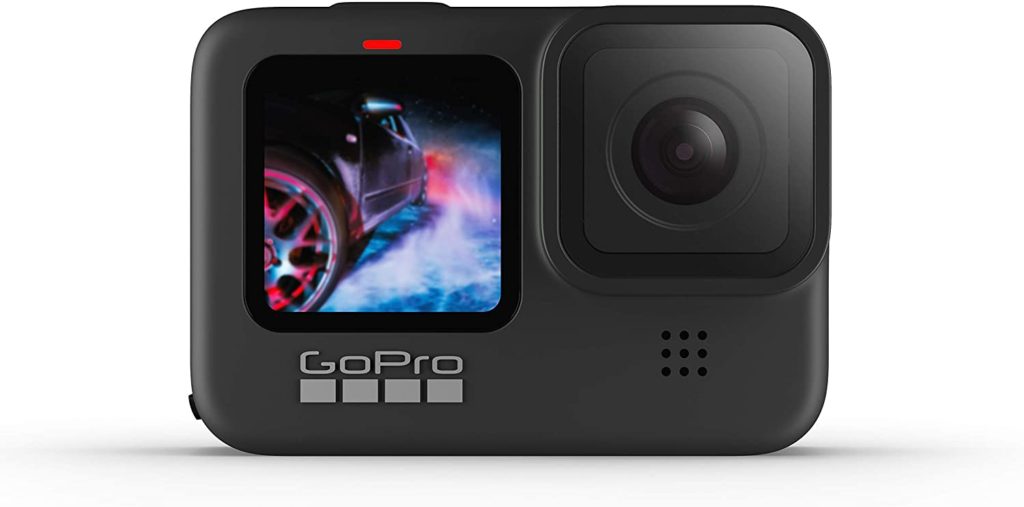 GoPro is well known for their action cameras but they also function great as vlogging cameras! The GoPro HERO9 features a front facing screen to easily see what you're filming.
The GoPro HERO9 can film up to 5K video but most users will probably film in 4K or 1080P. Either way the GoPro HERO9 can produce some seriously crisp footage. You can also buy the optional Media Mod that includes a shotgun microphone.
When I use my GoPro I typically connect an Rode Wireless GO II which can be done by using the GoPro's USB-C port.
The built in image stabilization on the GoPro Hero9 helps a ton by making your videos look professional and smooth.
One added benefit of using a GoPro is their included video editor, Quik.
---
13. Sony a6500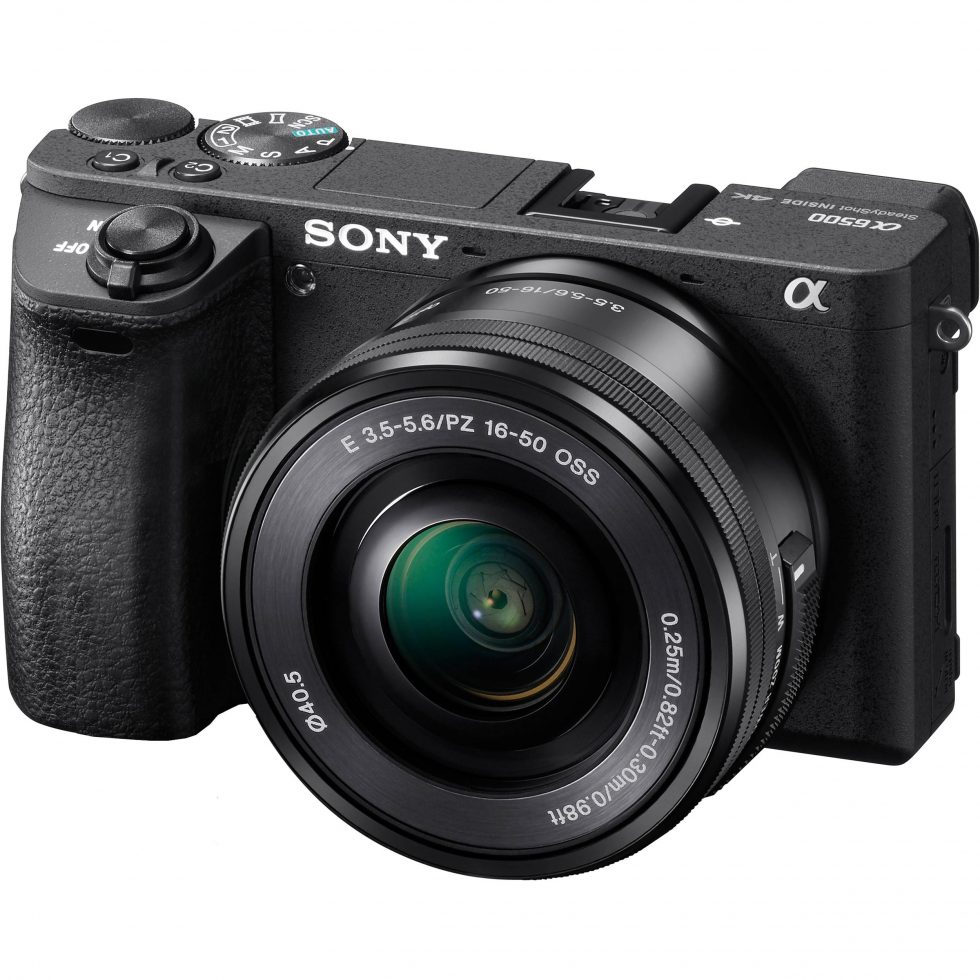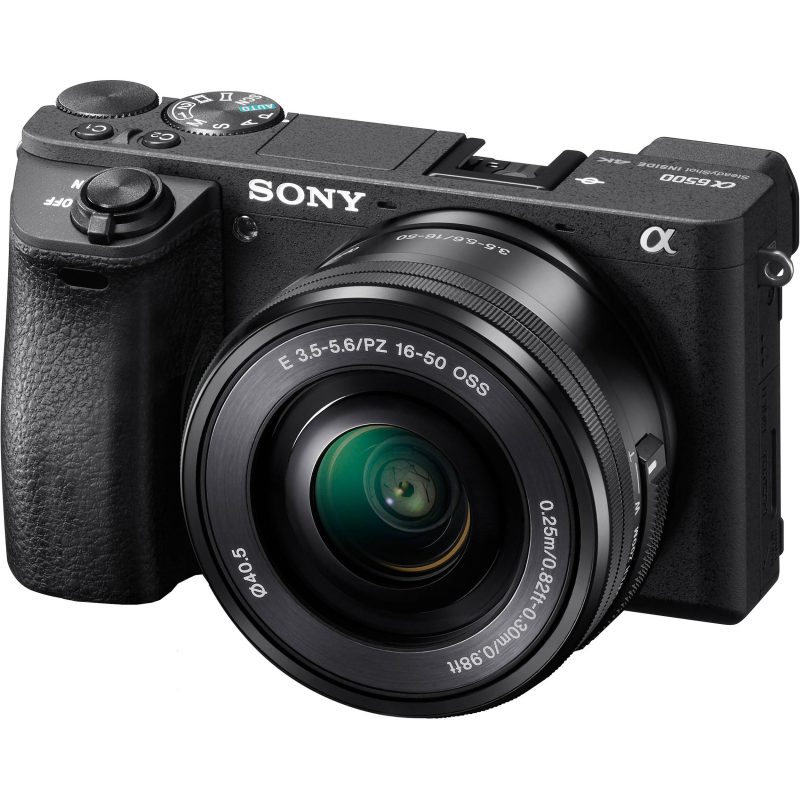 Many vloggers starting out choose the Sony a6000 line. The Sony a6500 is one of Sony's best cropped mirrorless cameras with 4k shooting and 1080p 120fps compatibility. It also has built in sensor stabilization like many other higher end Sony cameras.
One feature the a6500 lacks is a flip out screen so you'll have to trust you're in the frame while shooting.
Recommended lens for vlogging on the a6500: 10-18mm f4
Recommended microphone for vlogging on a6500: Rode VideoMicro
---
14. Sony RX100 VII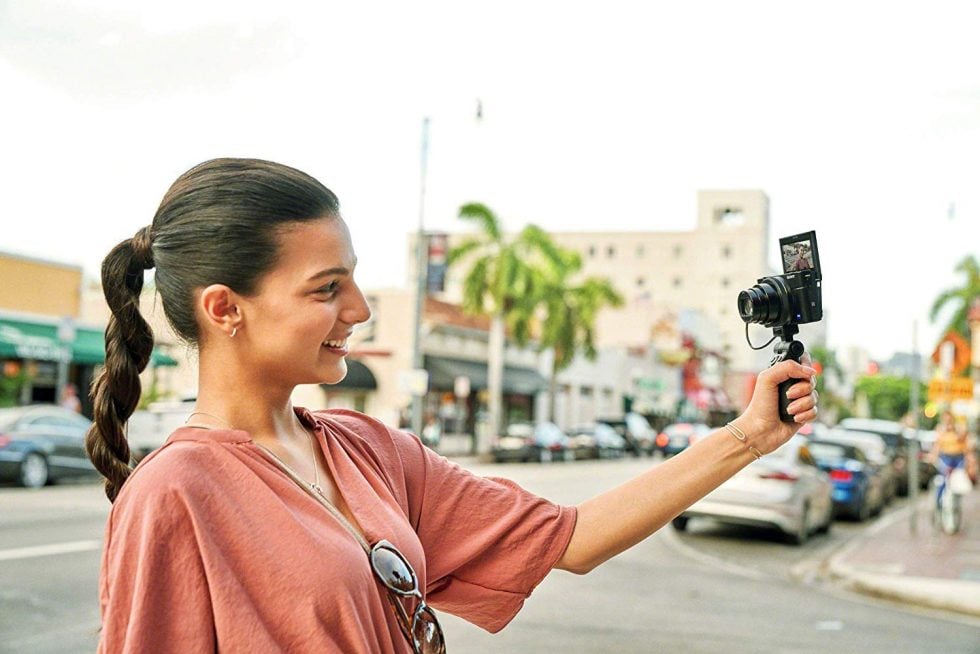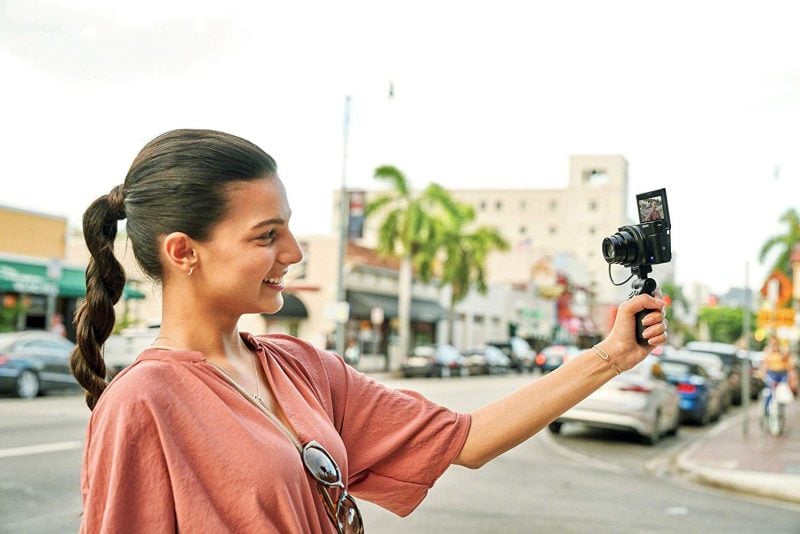 The Sony RX100 Mark VII has some of the best features for vloggers. Its compact body, microphone port, and 4k uncropped shooting makes it perfect for a travel vlogging camera. All previous versions of the RX100 didn't include a microphone port so it's a welcome addition to this point and shoot.
One downside is the lack of a hotshoe at the top to hold a microphone but you can always pick up specialized rigs to hold microphones or use a compact one that sticks out of the side of the camera.
---
15. Canon 70D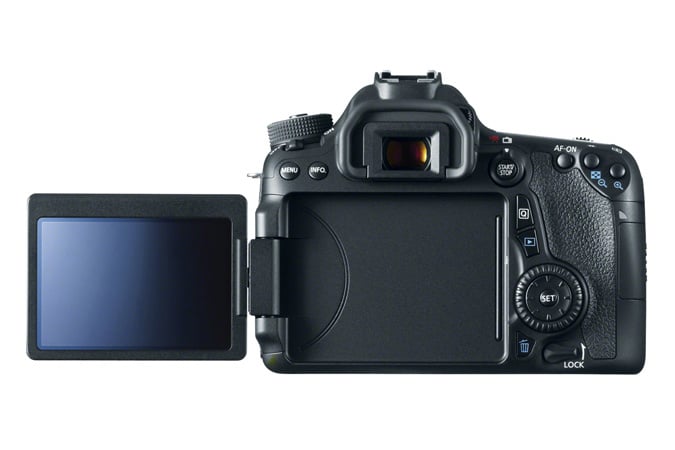 Used heavily by Casey Neistat the Canon 70D is now a few years old but still works great for vlogging due to its light body and flip out screen. If your budget permits, you can pick up the Canon 80D which has slightly more dynamic range. I personally use the Canon 70D for many of my vlogs including my video about drone tips.
Recommended lens for vlogging on the 70D: 10-22mm f/3.5-4.5
Recommended microphone for vlogging on the 70D: Rode VideoMicro
---
16. Sony RX100 Mark V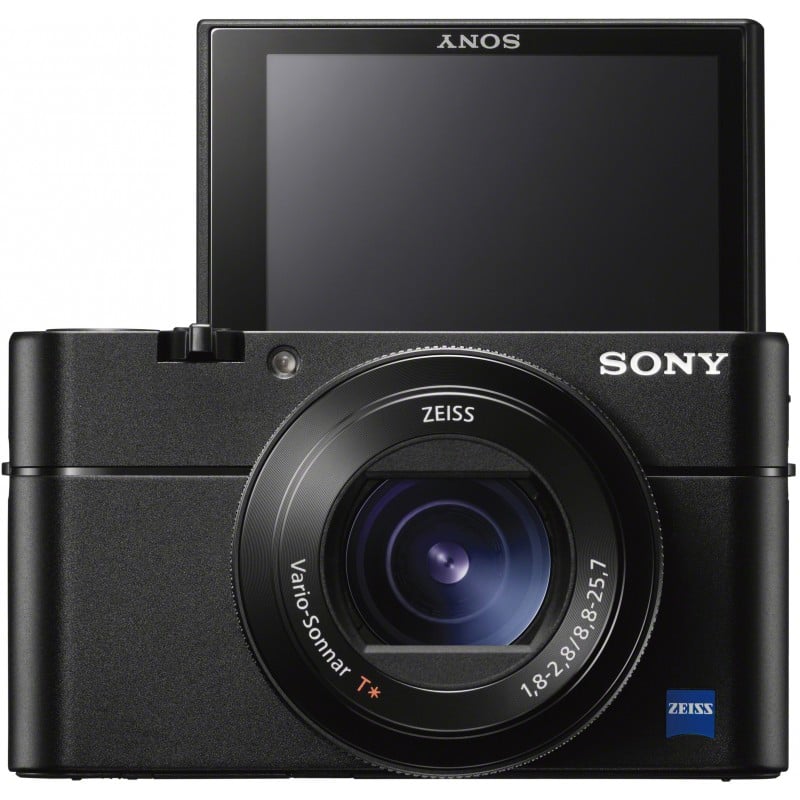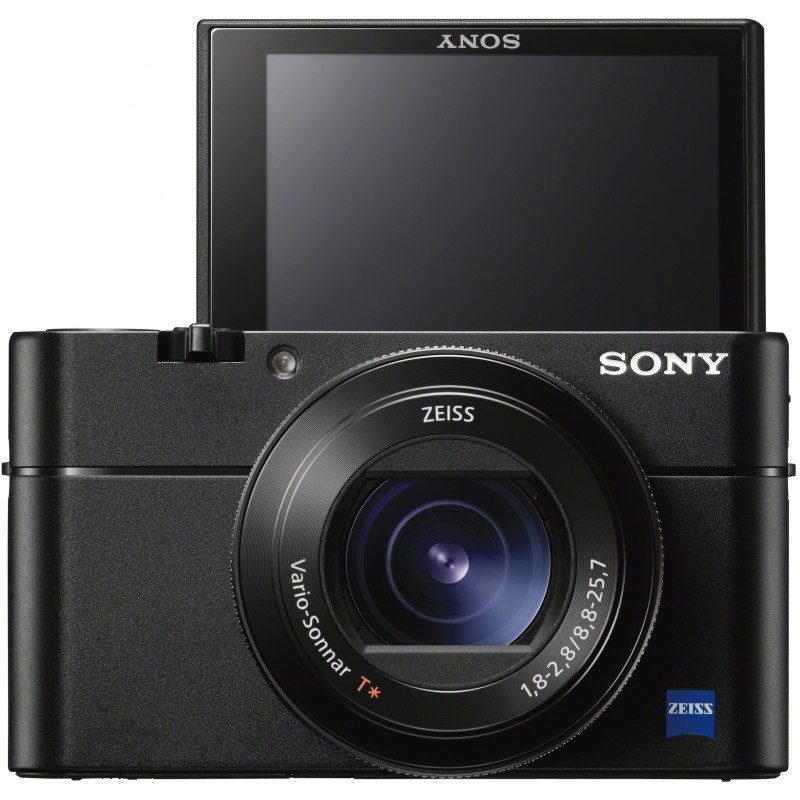 Many vloggers love the Sony RX100 Mark V due to its small size and great video features. These include 4K video, 1080p @ 120fps, and S-Log2.
Many users complain that the 4K video can only record for 5 minutes at a time due to overheating.
If you're creating more cinematic videos and want to color grade your footage the RX100 Mark V even offers S-Log2 video profiles.
This camera is a bit pricey but it takes some of the best footage possible in a point and shoot. If you want a lightweight setup the RX 100 is a great choice for throwing in your pocket when out vlogging.
Additionally if you have a larger budget for a point and shoot you can pick up the new Sony RX 100 VI which has a 200mm lens.
---
17. Canon G7X Mark III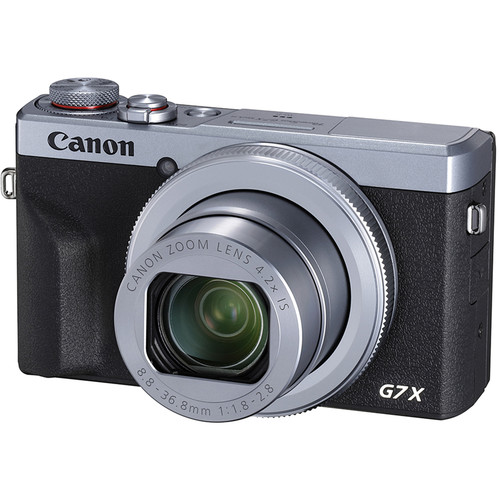 One of the newest compact cameras from Canon that is perfect for vlogging is the Canon G7x Mark III. The changes from the G7x Mark I to the Mark II weren't that dramatic but the Mark III brings a lot of welcomed features. This mainly includes uncropped 4k video (at 30fps), 1080p (at 120fps), and best of all a microphone port.
Like the previous models the G7x Mark III includes a flip screen which is perfect for vlogging. This time around it even supports vertical video if you are recording content for Instagram.
The lens is stabilized which is great for recording footage while walking.
Audio quality is extremely important for videos and luckily the G7x Mark III has a microphone port. On the downside it doesn't have a hot shoe mount for a microphone so you may have to get creative while using a microphone. This could include using a cage to hold a microphone or using a lav mic. Either way it's great to have the addition of a microphone port.
The Canon G7x Mark III also offers built in live streaming to YouTube. Additionally the HDMI output is clean making is a great camera for streamers. The camera can easily be powered while in use via its USB-C port.
---
18. Canon M50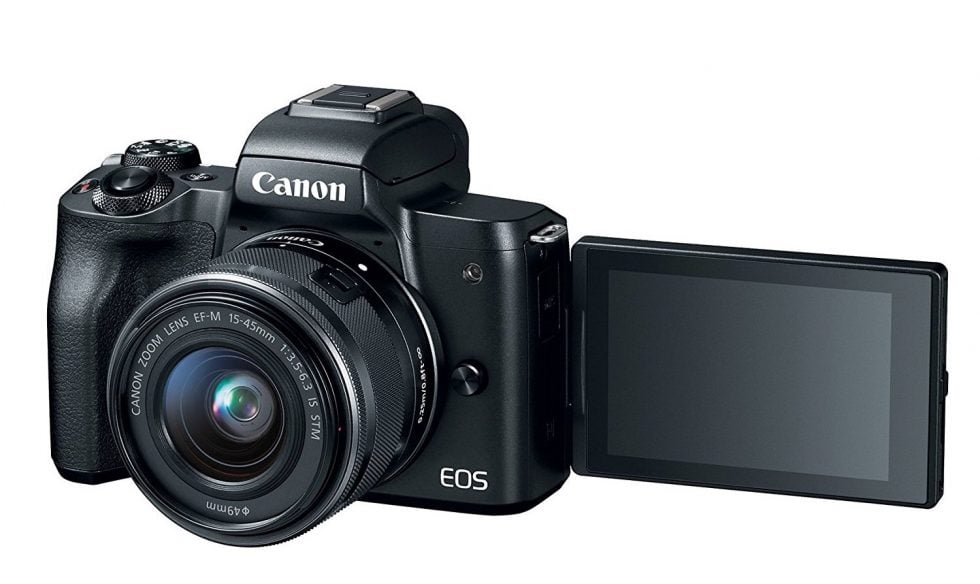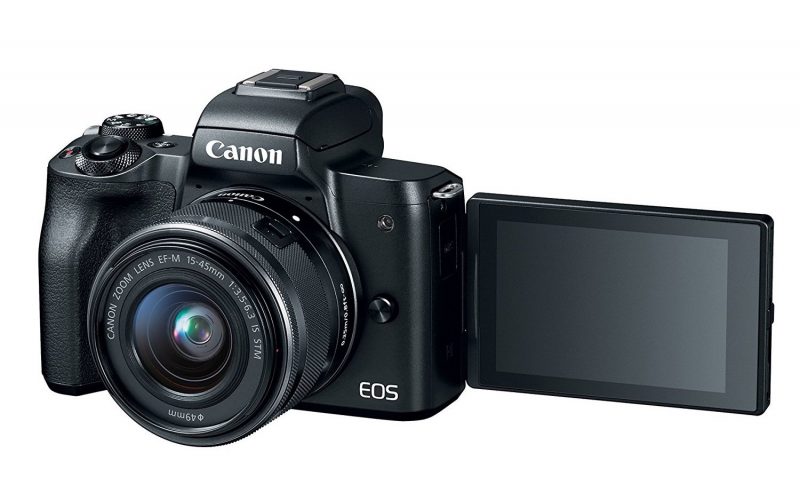 One of Canon's newest releases is the M50 which has plenty of features vloggers will love. Mainly a fantastic dual pixel autofocus system, interchangeable lenses, microphone port, and a flip out screen, all in a mirrorless body.
The Canon M50 will also shoot 4K but the video will be cropped and the dual pixel autofocus does not work in 4k shooting. This makes the 4K mode much harder to use but could be useful for cinematic footage.
Recommended lens for vlogging on the M50: The M15-45mm Kit Lens
Recommended microphone for vlogging on the M50: Rode VideoMicro
---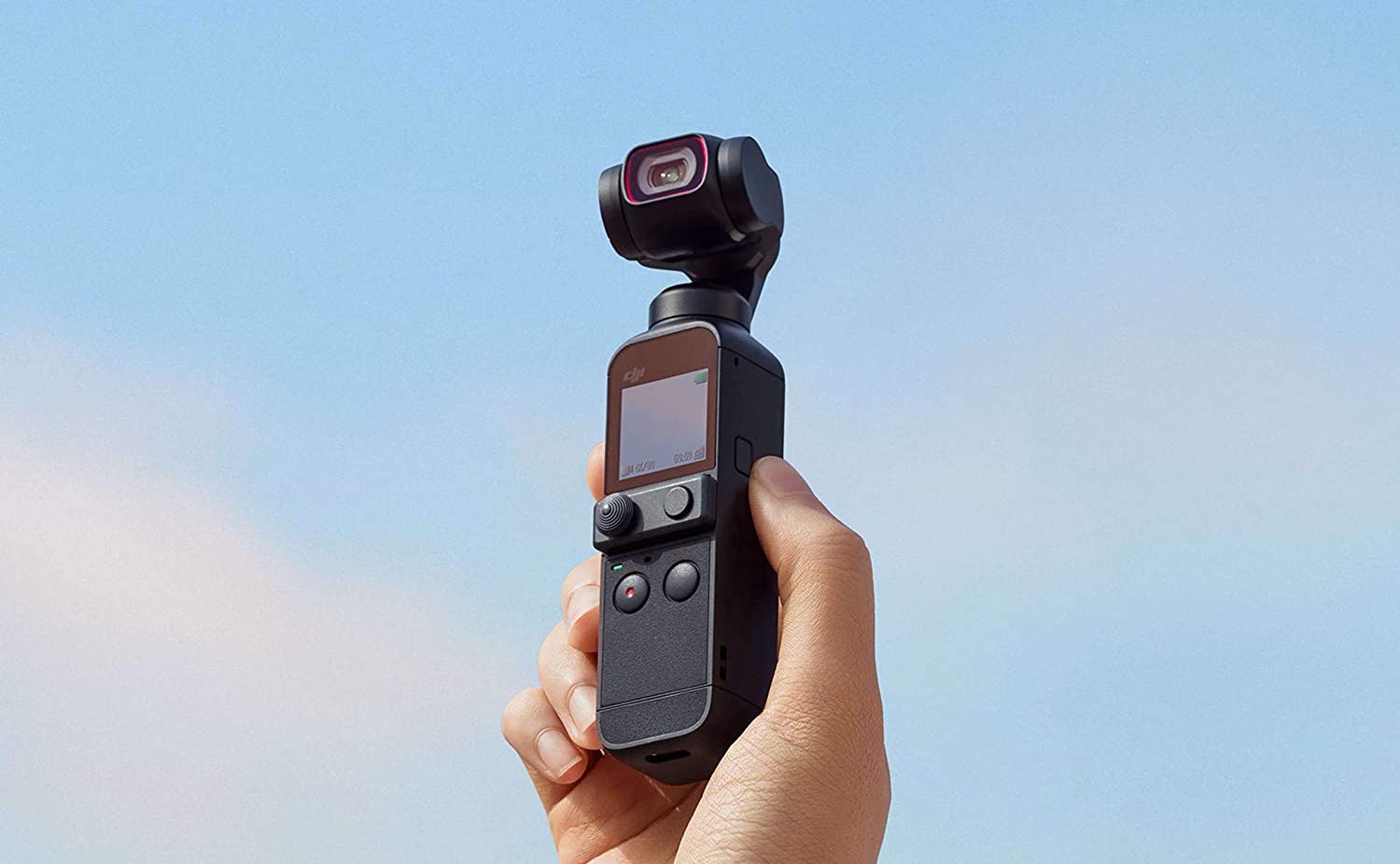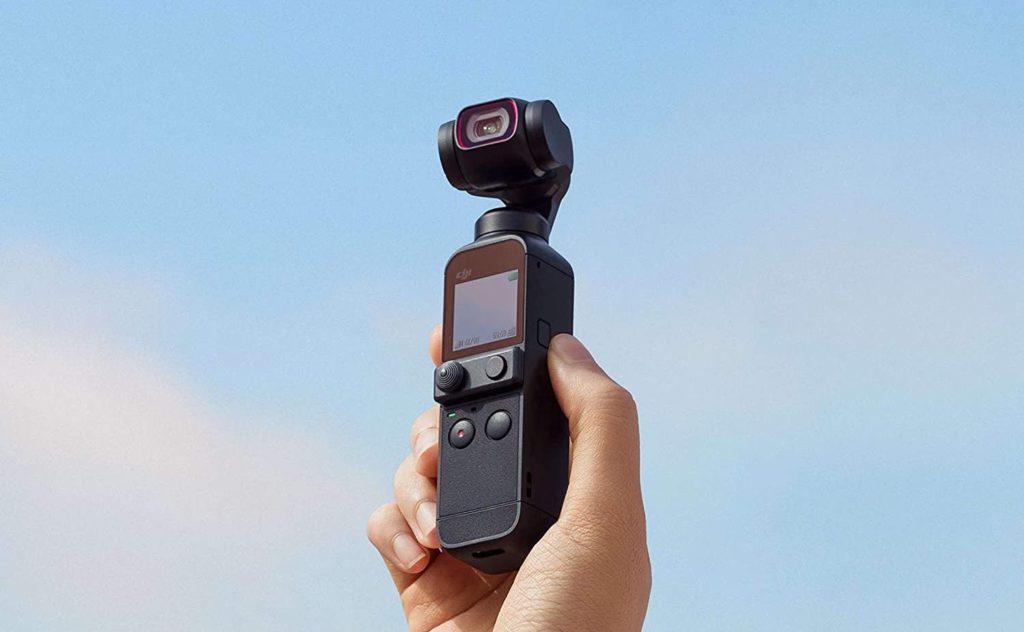 One of the smallest and high quality options for vlogging on the go is the DJI Pocket 2. Its 1/1.7-inch sensor outputs 4k video at 60fps which is insane for such a compact device. The DJI Pocket 2 can also take 64mp raw photos.
There is a tiny display on but device for checking framing but if you want to use a larger display you can hook it to your phone. The tiny display also allows you to change settings via a touchscreen.
The focal length is about 20mm which is a great focal length for holding the camera facing you and getting everything in frame.
If you pick up the DJI Pocket 2 with the creator combo it includes a wireless microphone that connects to the Pocket for improved audio.
Best of all the entire camera system is stabilized so you won't have to worry about shaky footage.
The DJI Pocket 2 uses microSD cards also which is accessible on its side.
---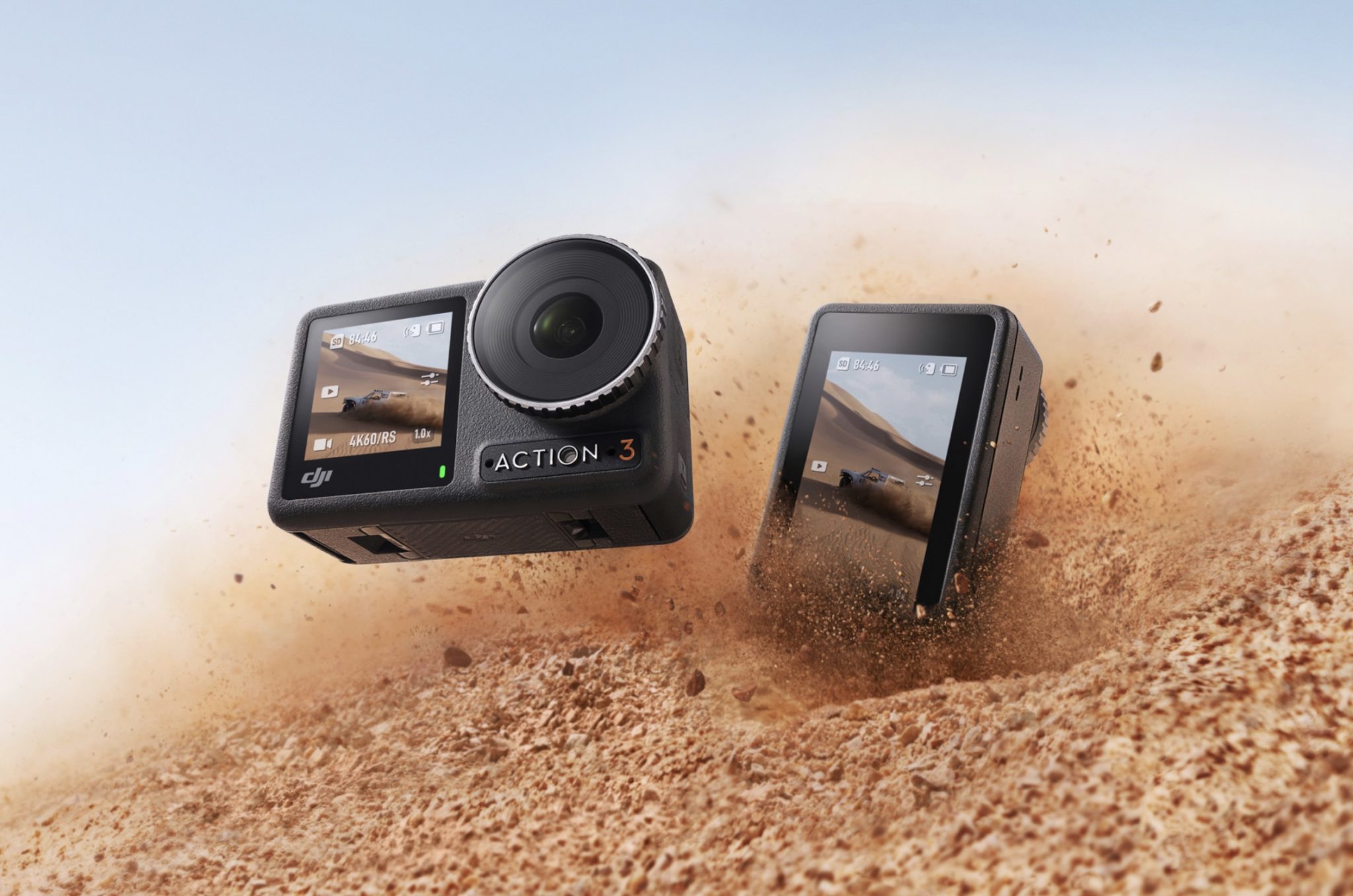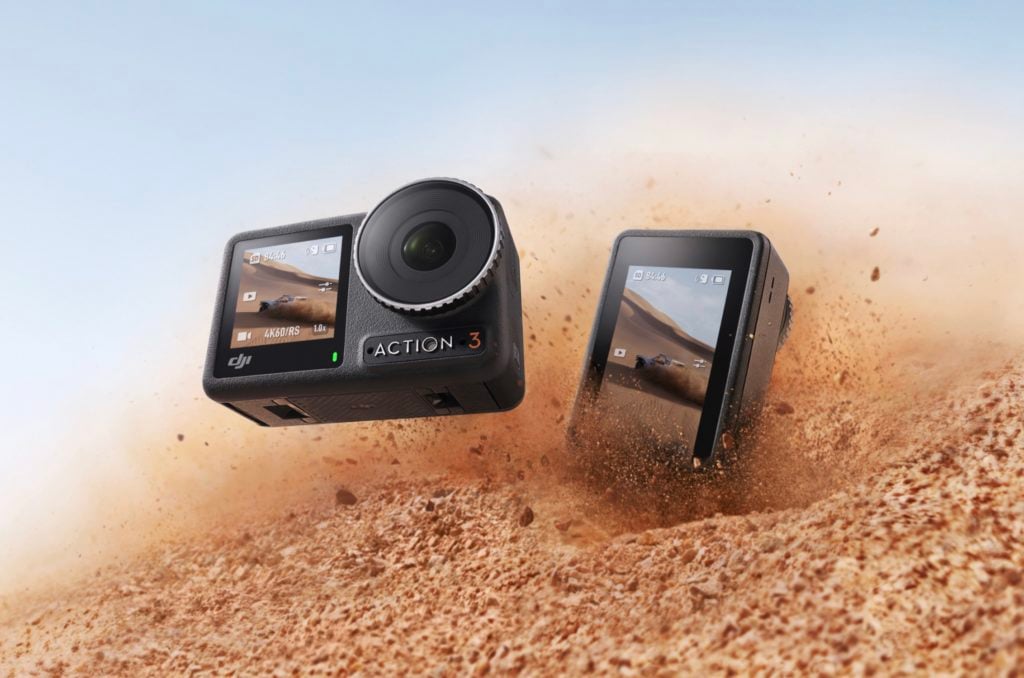 The DJI Osmo Action 3 is a great option for vloggers who need a robust, powerful, and long-lasting camera that can handle a variety of shooting environments. While it does not have the best image quality on the market, it provides excellent value for money with features such as waterproofing to 16m, a wider field of view, and long battery life.
The camera also has an improved design and mounting system that makes it simple to use in a variety of situations. Overall, if you're looking for a low-cost and dependable GoPro alternative for your vlogging needs, the DJI Osmo Action 3 is an excellent choice.
---
Best Tripods for Vlogging
Depending on the weight of your camera, there are multiple tripod options for vloggers. Before buying, ensure that the weight of your camera is compatible with the tripod. From lightweight options to heavy-duty tripods, we'll cover it all so you can find the perfect tripod to help you capture your adventures.
Here are the best tripods for vloggers:
The JOBY GorillaPod is one of the most popular options for vlogging since the legs can form in any direction and the legs make it easy to hold on to.
---
The Sirui ET-35K tripod is an excellent choice for vloggers who value portability and versatility. Despite its relative obscurity in the market, it has quickly gained popularity due to its impressive specifications, which include a weight of only 8.8 oz and a capacity of 8.8 lb.
The true benefit of the Sirui ET-35K, however, is its maximum height, which can reach up to 13.4 inches when fully extended. This makes it an excellent choice for vloggers who want to use narrower lenses and capture more space in selfie mode. While it can be used as a tripod, it is most effective on flat surfaces. Overall, the Sirui ET-35K is a light and versatile option ideal for vloggers looking for a simple and convenient vlogging stick.
---
One of the smallest tripods to integrate a ball head and three legs is the Manfrotto Pixi. The Pixi is optimal if you are using a point and shoot or small camera. Best of all the integrated ball head makes it compact but also gives you the ability to tilt the camera when you're using it as a tripod.
---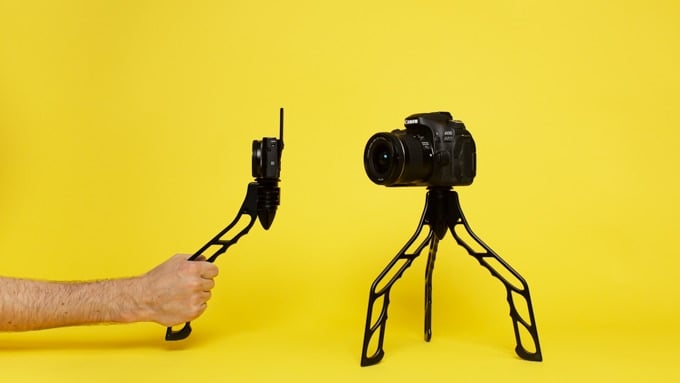 SwitchPod has to be the newest option for vloggers and is specifically designed for vloggers. Most tripods just "work" as vlogging tripods but the SwitchPod was designed from the ground up specifically for vloggers. With its metal build and thin frame with a grip it makes it perfect for vlogging.
---
Vlogging has become such an important part of social media because of the rise of YouTube. I hope one of these cameras meets your needs so you can start vlogging!
Even if you're on a budget you can use your smartphone's camera to start vlogging. I just recommend getting out there and creating! Don't let your gear hold you back.