After spending years filling my Instagram feed (@someguy) with beautiful photos of Washington DC. Including well known spots like the Washington Monument, Lincoln Memorial and the Tidal Basin to less known spots in the city.
I want to share my list of the best places to photograph in DC! Additionally I have also included some of the best times to visit specific spots.
The easiest way to get around DC is to use the Metro. You can walk to most of the spots listed by heading to the Smithsonian metro stop on the mall. You can also use Google maps to map any spot and it'll show you the proper metro stop to get there.
If you aren't a fan of the metro you can also rent a bike using the Capital Bikeshare or my personal favorite grabbing a scooter. Plenty of companies have popped up with scooters all over DC including Lime, Uber, and Lyft. If you have the Uber or Lyft app you can easily go to them and select to scooter option to see scooters around you. Just remember to check the parking map since a lot of the National Mall is a no parking zone for scooters.
Here is my list of the best places to take photos in Washington DC:
The Washington Monument
The most iconic and recognizable building in DC is hard not to photograph since it's DC's tallest building. From the Tidal Basin, steps of the Lincoln Memorial or standing right next to it, the Washington Monument looks great from all angles.
You can also get a unique angle of the Washington Monument from the POV bar at the W Hotel. It's kind of awkward to walk in and take a quick photo but I have never had an issue doing it.
Plus you can visit the Washington Monument grounds 24 hours a day; which makes it a great place to photograph late at night.
Washington Monument on Google Maps
The US Capitol
Now that the US Capitol is scaffolding free it's primed for taking photos. There are plenty of views of the Capitol around the city but if you want a more iconic view head to the east side of the building. On the east side of the Capitol there are huge glass panels that are great for getting reflections of the dome in.
If you arrive at the Capitol for sunrise I highly recommend setting up at the Capitol Reflecting Pool which will give you a great reflection of the sky and Capitol dome. For sunrise I typically park on Madison Dr NW which has paid parking starting at 6am.
You can also enter the Capitol if you have tickets. Tickets can be picked up the same day you visit but I recommend viewing their website for full details.
Unique Times to Visit: Head to the Capitol during the holidays and you'll be able to see the Capitol Christmas Tree lit up on the west lawn.
US Capitol on Google Maps
The Bridge at The Yards Park
If you love unique architecture the bridge at The Yards if a fantastic spot to capture day or night. I wouldn't recommend heading here too late since you'll be hassled by security guards after 10pm.
To avoid large crowds avoid this spot when a National's game is happening. After exploring Yard Park make a stop by Ice Cream Jubilee for a delicious scoop.
The Yards Park on Google Maps
CityCenterDC
I love CityCenter because it offers an extremely modern aesthetic (plus you can stop at Momofuku Milk Bar for ice cream or Dolcezza for gelato or coffee). CityCenterDC has to be one of the most instagrammable places in DC.
In the center you'll find a massive LED screen which is fun to shoot at night with a friend. Plus there are tons of reflective surfaces including water features and store windows. If you want to see more from CityCenter before visiting you can watch my video where I visit at night.
Unique Times to Visit: During the DC Cherry Blossom Festival (usually in March) CityCenter adds awesome pink lanterns to it's Palmer Alley. Additionally for July they changed the lights in Palmer Alley to be red white and blue. During the Winter months they had giant snowflakes lining the Alley as well. The themes in Palmer Alley frequently change but if you check the location tag on Instagram you can see what it typically looks like that day.
CityCenterDC on Google Maps
The Friendship Arch in Chinatown
Probably the most iconic part about DC's Chinatown is the Friendship Arch right in front of the Capital One Arena. One thing I love about this intersection is that it turns into a 4 way stop allowing you to get into the middle of the road safely for a few seconds.
You can also take a photo of the Friendship Arch from above at the Crimson View bar in the Pod hotel.
Friendship Arch on Google Maps
Culture House (Super Colorful Church)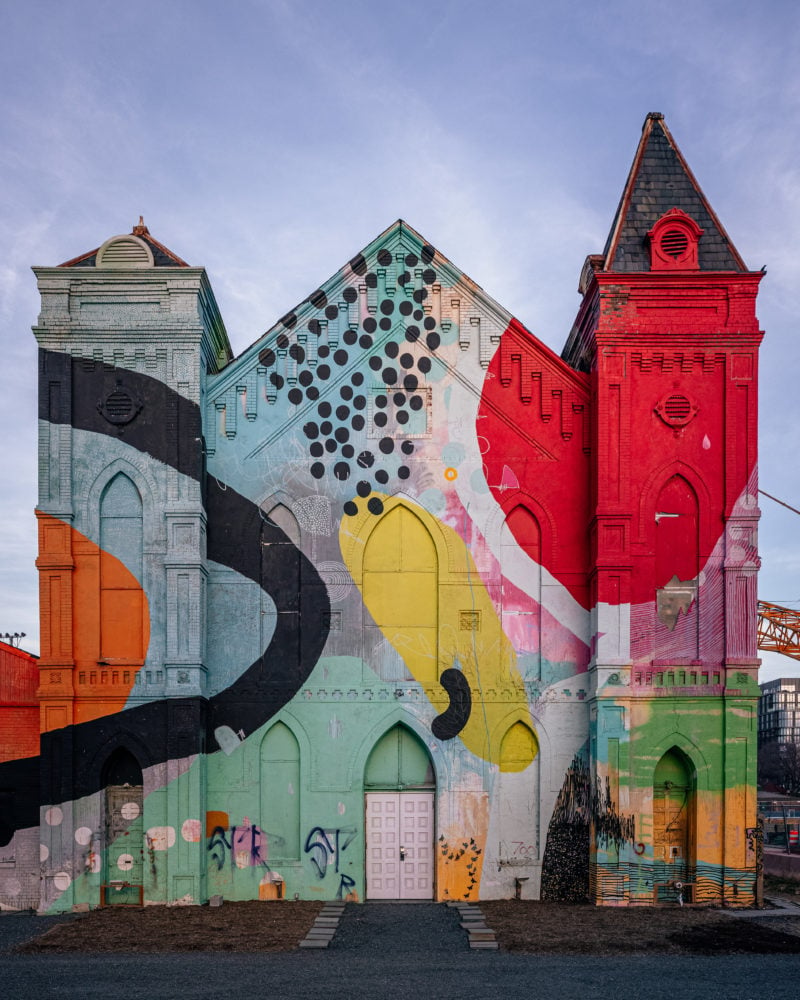 One of the most colorful buildings in DC is Culture House (formerly Blind Whino). This colorful church is sure to add a splash of color to anyone's Instagram feed. The interior is periodically open as well which includes beautiful stained glass and local art shows.
Culture House on Google Maps
Tidal Basin
The Tidal Basin is a staple of Washington DC, I recommend visiting the Tidal Basin for peak cherry blossom bloom for the most iconic photos. The Tidal Basin also offers sweeping views of the Jefferson Memorial and Washington Monument.
Unique Time to Visit: I highly recommend visiting the Tidal Basin for the Cherry Blossom peak bloom which is usually in March. Do research before visiting since estimates are commonly off by a week or more.
Tidal Basin on Google Maps
Thomas Jefferson Memorial
If you're walking around the Tidal Basin you can't miss the Jefferson Memorial. The massive columns around the edges are beautiful and offer a great view of the Washington Monument.
Be prepared to walk to if you're heading to the Jefferson Memorial. The parking lots are about 0.5 miles away and sometimes an Uber can be tough to get here. I have had luck getting cab on E Basin Dr SW when I have left the memorial.
Jefferson Memorial on Google Maps
James Madison Memorial Building
Right next to the Capitol and Library of Congress is the James Madison Memorial Building. The external columns located right outside of the building is perfect for stride bys, portraits, or even a background of engagement photos.
James Madison Building on Google Maps
Library of Congress
The Library of Congress is one of the largest libraries in the world and full of classic DC architecture.
The main reading room is one of the great sights to see in the library. You can view the reading room from a balcony on most days, plus on Columbus & Presidents' Day you can enter the floor of the main reading room.
Library of Congress on Google Maps
Lincoln Memorial
There are many great views of the Lincoln Memorial and you really can't go wrong with any of them. There's nothing like sitting with the columns of this Memorial during a sunset or sunrise. If you're at the memorial I recommend walking around back to the west side to photograph the columns with no tourists in sight.
From the steps of the memorial you can also get fantastic photos of the Reflecting Pool. I love going down to the water and photographing the Washington Monument with epic reflections right against the water.
Lincoln Memorial on Google Maps
National Gallery of Art
The NGA is one of DC's many free and awesome museums with plenty to photograph (check out their rooftop on the east building). I usually stop in at the East building and photography their massive stairwell and light tunnel (perfect for bokeh lovers). There is plenty to see in the West building as well so I recommend exploring the entire thing.
Unique Time to Visit: During the holidays the light tunnel connecting the East and West building includes red and green colors.
National Gallery of Art on Google Maps
National Arboretum
The National Arboretum is a great outdoor space to shoot (plus it's free!). From the Capitol Columns, Bonsai trees on display, and large fields it doesn't get much better. The Arboretum is also perfect for a picnic or an engagement photoshoot. There are also a few trails to explore in the Arboretum including collections of plants from all over the world.
National Arboretum on Google Maps
United States Botanic Garden
The United States Botanic Garden is full of unique greenery, interesting spaces, and seasonal decoration. By far the most photogenic room is the "Tropics" room with a suspended canopy walk. In addition to indoor spaces there are also gardens around the grounds to explore.
DC Botanic Garden on Google Maps
ARTECHOUSE
One of the newest museums in DC is ARTECHOUSE which is loaded with seasonal interactive art. Before heading to ARTECHOUSE I recommend checking their website to see what exhibit is happening and to buy tickets.
In addition to the interactive art spaces ARTECHOUSE has a small bar where they make cocktails that you can interact with using AR in their app.
ARTECHOUSE on Google Maps
Dumbarton Oaks Gardens
Taking a trip to Dumbarton Oaks feels like you're in a totally different country. With its $10 admission fee it's well worth the price if you want to be engulfed in unique gardens. The grounds also include a museum to explore as well. People often photograph the Orangery which is a room covered in vines in the gardens.
Dumbarton Oaks on Google Maps
Hirshhorn Museum
The Hirshhorn has become a very popular spot to Instagram in DC due to its Yayoi Kusama Exhibit that was in town in 2017. Entitled 'Infinity Mirrors' the exhibit offered infinity rooms with stunning reflective views. The exterior is built with a very unique circular architecture.
The Hirshhorn has also acquired a permanent Infinity Room from Kusama which will be open in 2020.
When you're visiting the Hirshhorn you can also head next door to the Enid A. Haupt Garden next to the Smithsonian castle. Well worth the detour if the magnolias are in bloom (spring).
Hirshhorn on Google Maps
American Art Museum / Portrait Gallery
The hallways and Kogod Courtyard of the National Portrait Gallery are some of the coolest places in DC to explore and photograph. The Kogod Courtyard also has a cafe and free wifi so it's a great place to edit your photos. The museum has free entry and is open in Chinatown until 7pm.
One of the Portrait Gallery's latest additions is Barack Obama's official presidential portrait which is worth stopping in to see.
National Portrait Gallery on Google Maps
Union Station
Union Station has classic beautiful architecture inside and out. I especially love the corridor just outside the front doors and the newly opened ceiling inside has epic hits of gold.
Union Station also includes a food court which is perfect for a quick bite.
Unique Times to Visit: If you visit during the holidays you'll be treated to massive wreaths around the entrance. Additional around the 4th of July there are massive American flags in the same spot.
Union Station on Google Maps
The Watermelon House
If your Instagram account if full of colorful photos you'll love the Watermelon House. With a massive watermelon mural on the side this house is sweet. Often when people are visiting the Watermelon House they will post a photo of themselves jumping in front of the mural. Additionally there is a cute kiwi mural next to it as well.
Watermelon House on Google Maps
Any Metro Station
Most of DC's metro stops have the classic "Waffle" pattern pictured below but if you go out of the city a bit you'll find even more unique stations. If you enjoy more modern architecture be sure to stop at the newly created Silver line stops. I don't recommend using a tripod in the Metro stations but if you get caught acting like a clueless tourist should get you out of any trouble.
Chinatown Metro on Google Maps
Georgetown Row Houses
This isn't a specific spot but a neighborhood full of beautiful row homes. If you love posting colorful houses on your Instagram feed this neighborhood is for you. If you visit during Halloween or Christmas you'll see loads of decorations on people's steps, windows, and doors.
You'll have no trouble finding something to Instagram in Georgetown. Parking isn't too bad and once you are parked I recommend just walking blocks to explore the area.
Georgetown on Google Maps
Washington DC Skyline from Arlington, VA
One of the best views of DC's skyline is from The Netherlands Carillon in Arlington, Virginia. It's a classic view of the skyline with views of the US Capitol, Washington Monument, and Lincoln Memorial, plus it's a perfect spot for sunrise.
Also while visiting this spot you can visit the US Marine Corps War Memorial (Iwo Jima Memorial) which is a short walk away.
For this location you'll need a lens with a good amount of zoom, I shot this with a 300mm on a full-frame camera.
The Netherlands Carillon on Google Maps
Spy Museum
The Spy Museum has relocated to the heart of L'Enfant Plaza near The Wharf. To enter the building you'll need to buy tickets which you can do on their website. While the interior offers many floors of exhibits I enjoy photographing the exterior of the building at night due to its unique design. If you want to see more about the Spy Museum you can watch my video here.
United States Air Force Memorial
Just outside of DC is the stunning Air Force Memorial next to the Pentagon. There is a little parking lot here and I've never had trouble parking here at sunset. It offers great views of the city if you have a zoom lens plus photos of the memorial itself are fantastic if you have a wide lens.
Air Force Memorial on Google Maps
Flying In/Out of Ronald Reagan National Airport
The best view of DC has to be from flights coming in/out of Ronald Reagan National Airport (DCA). A little tip, when leaving DC sit on the right side of the plane, while entering DC sit on the left side of the plane. Sometimes the direction of the wind will affect how you land at DCA but there is a high chance you'll get the correct flight path for seeing all of DC.
---
I really hope this jump starts your to Washington DC, be sure to explore all of our beautiful city!
If you're looking for even more places to photograph you can take a walk around the Georgetown Waterfront, H Street, 14th St, Black Lives Matter Plaza, The Wharf, Rock Creek Park and Shaw.
Outside of DC in Maryland you'll find National Harbor which has great views of DC and Virginia has Old Town Alexandria full of historic homes.
You can also check out my friend Angela Pan's book with more detailed guides about DC photography. You can find it on Amazon in the link below.
---
Have a favorite spot to photograph in DC? Let us know in the comments below.