One of the best times to visit Washington DC is during the annual National Cherry Blossom Festival. Viewing the peak bloom of cherry blossom trees on the Tidal Basin is a must-see experience. With amazing bursts of pink and white the cherry blossom trees create a huge burst of color in the nation's capital. In this post I'll be going everything you need to know before visiting DC for the cherry blossoms and the peak bloom prediction.
The 2024 Cherry Blossom Festival will take place from March 20th to April 14th, 2024. Peak bloom for 2024 has yet to be predicted, for reference 2023 peak bloom was on March 23rd, 2023.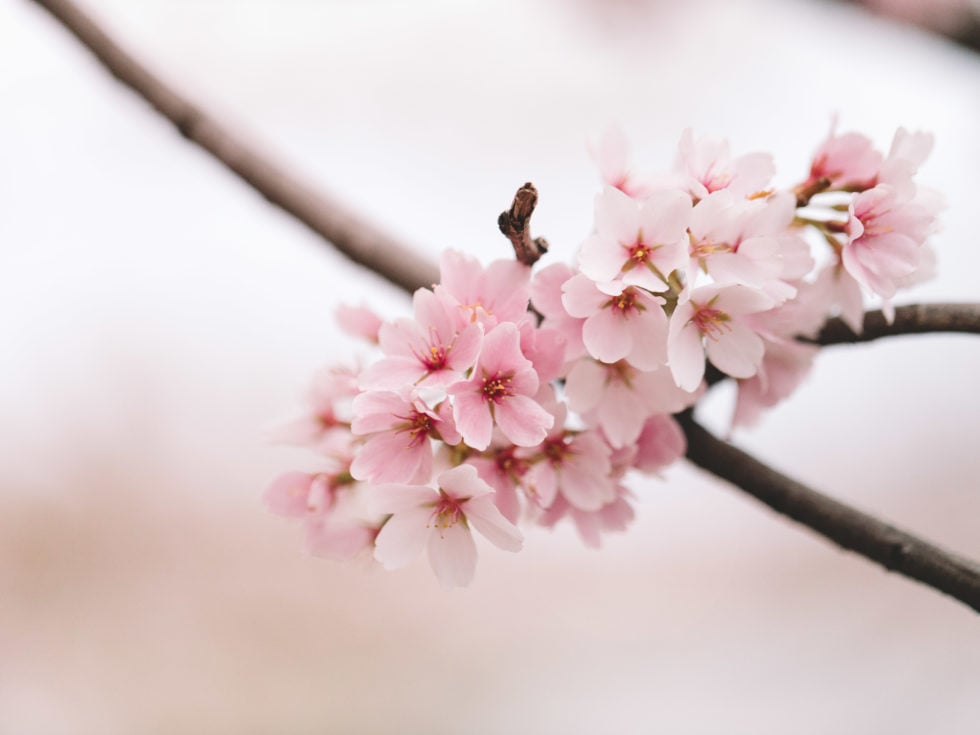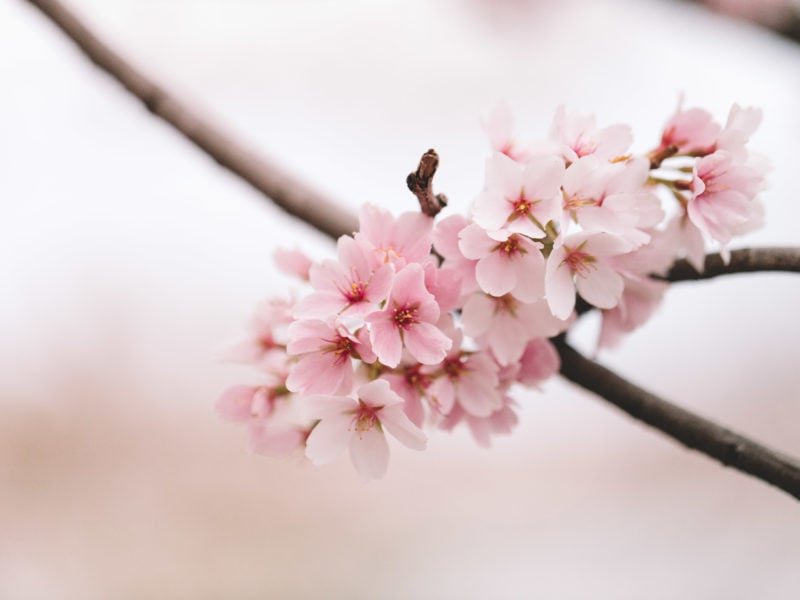 You might be asking yourself when is peak bloom predicted? It's difficult to plan a trip around peak bloom since the most accurate predictions are about 10 days before they bloom. I've seen many friends come to town and miss the peak bloom by a few days.
---
DC Cherry Blossom Peak Bloom Prediction 2024
2024 Peak Bloom:
Too Early to Predict
(Updated August 15th, 2023)
2023 Peak Bloom:
March 23rd, 2023
2022 Peak Bloom:
March 22nd to 25th, 2022
The Washington DC cherry blossom peak bloom prediction for 2023 is between March 22nd and March 25th by the National Park Service. The Washington Post has predicts peak bloom will be between March 25 and 29. NBC Storm Team 4 predicts the peak cherry blossom bloom to be between March 15 and 20.
Typically the cherry blossoms bloom in March or April and last for about a week. Peak bloom is when 70% of the blossoms have bloomed which can heavily vary because of weather conditions. Wind is often a large factor as it'll blow blooms off the trees.
Love the Cherry Blossoms?
Make a donation to the National Mall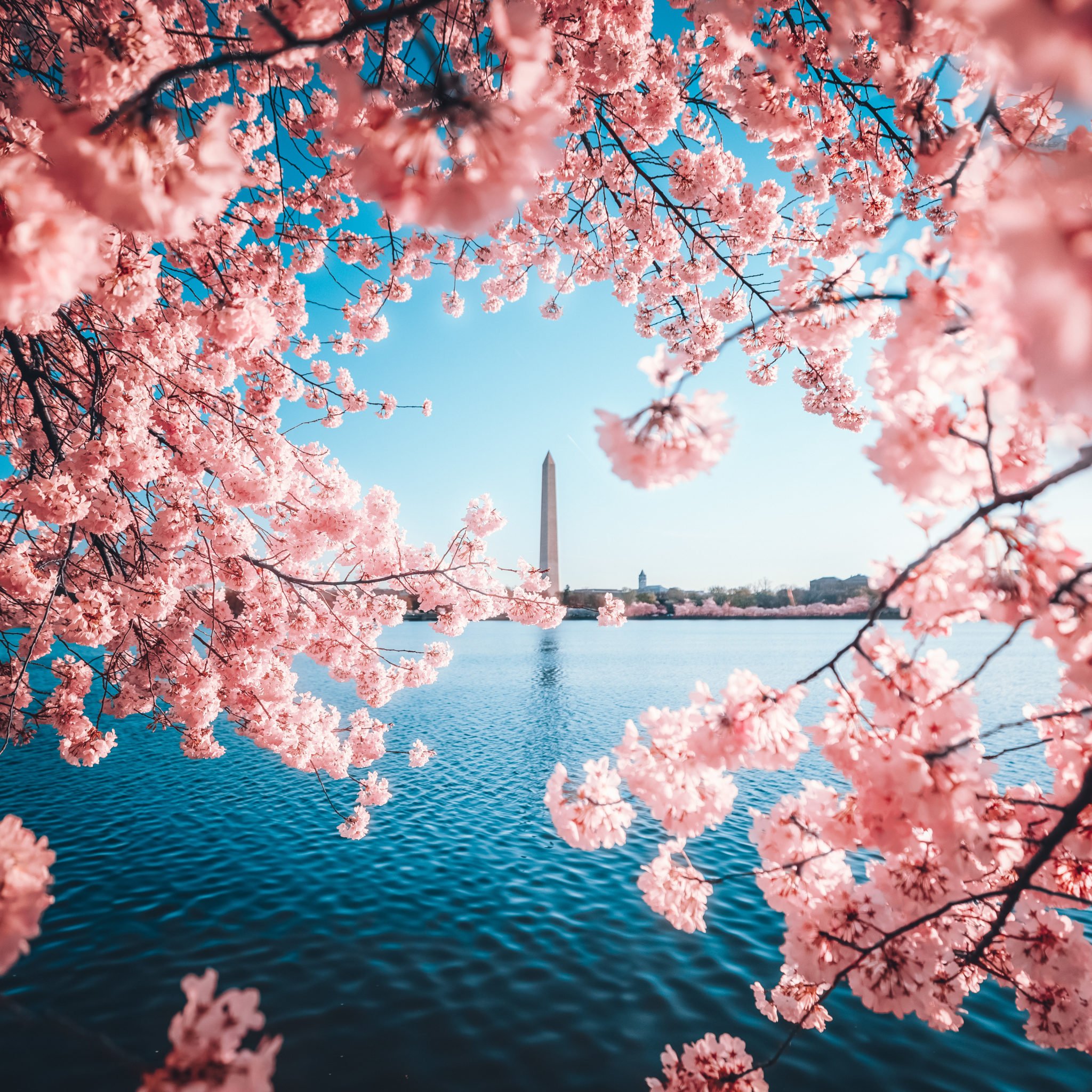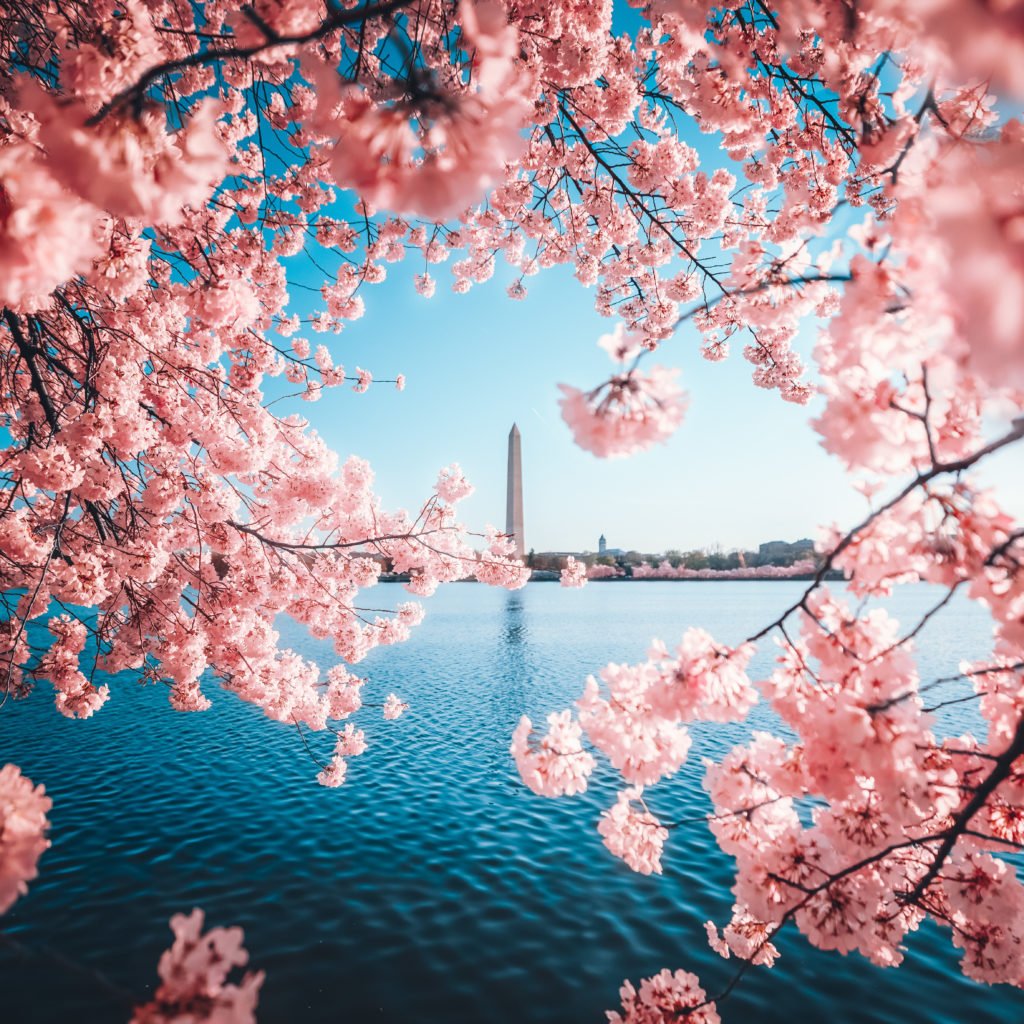 It is common for peak bloom predictions to change as they get closer to bloom. The dates often change due to weather and other circumstances which can make it hard to plan a trip to DC for the blossoms.
Last year: the National Park Service observed peak bloom on March 23, 2023.
---
Best Place to See the Cherry Blossoms in Washington DC
By bar the best place to see cherry blossoms in Washington DC is the Tidal Basin. The cherry blossom trees surround the entire path around the Tidal Basin. This makes it great for framing up photos of the blossoms surrounding DC's monuments.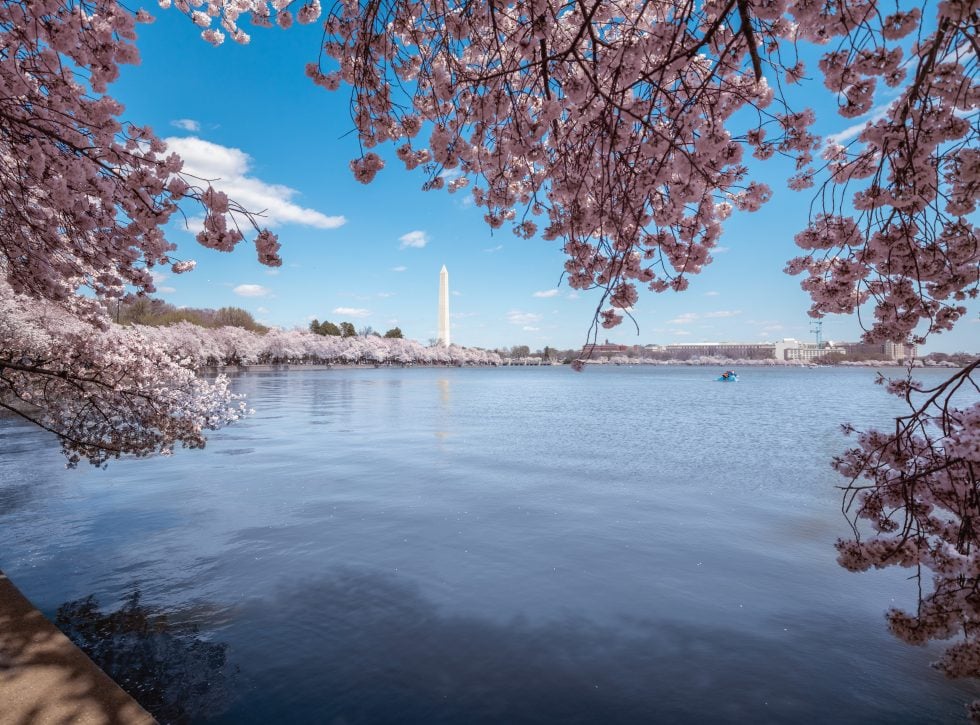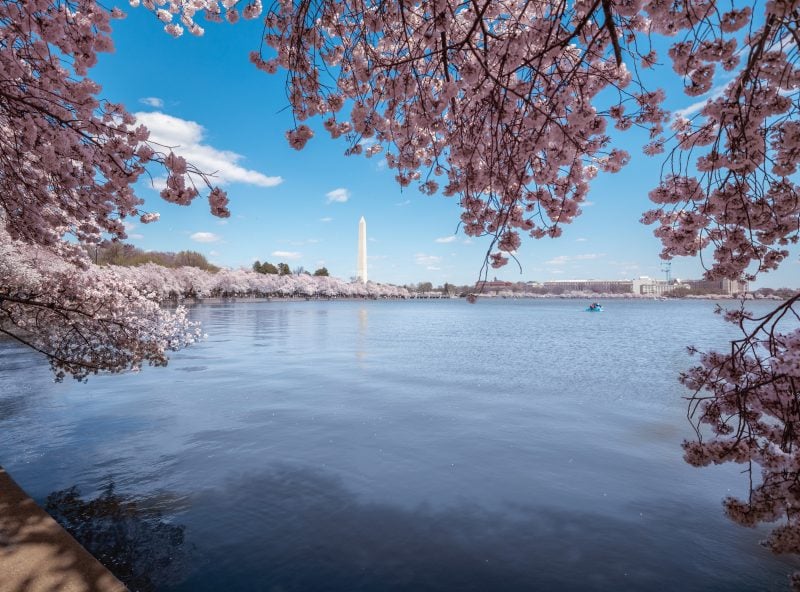 Typically Casey Trees releases a map of all of the cherry blossoms across the city if you'd like to find a less crowded area. Some other popular areas for cherry blossoms include Congressional Cemetery, National Arboretum, and Kenwood, MD.
Since the Tidal Basin is the best place to see cherry blossoms in DC here are my tips for planning your visit to the Tidal Basin:
Expect huge crowds around the Tidal Basin (even at sunrise).
Go at sunrise! By far my favorite time to see the blossoms on the Tidal Basin are at sunrise.
Be prepared to be disappointed, often the peak bloom date will shift even days before it's expected. This makes it very hard to plan a trip to the area for the bloom. That's why it's important to have temper expectations before visiting.
---
Tidal Basin Cherry Blossom DC Parking Map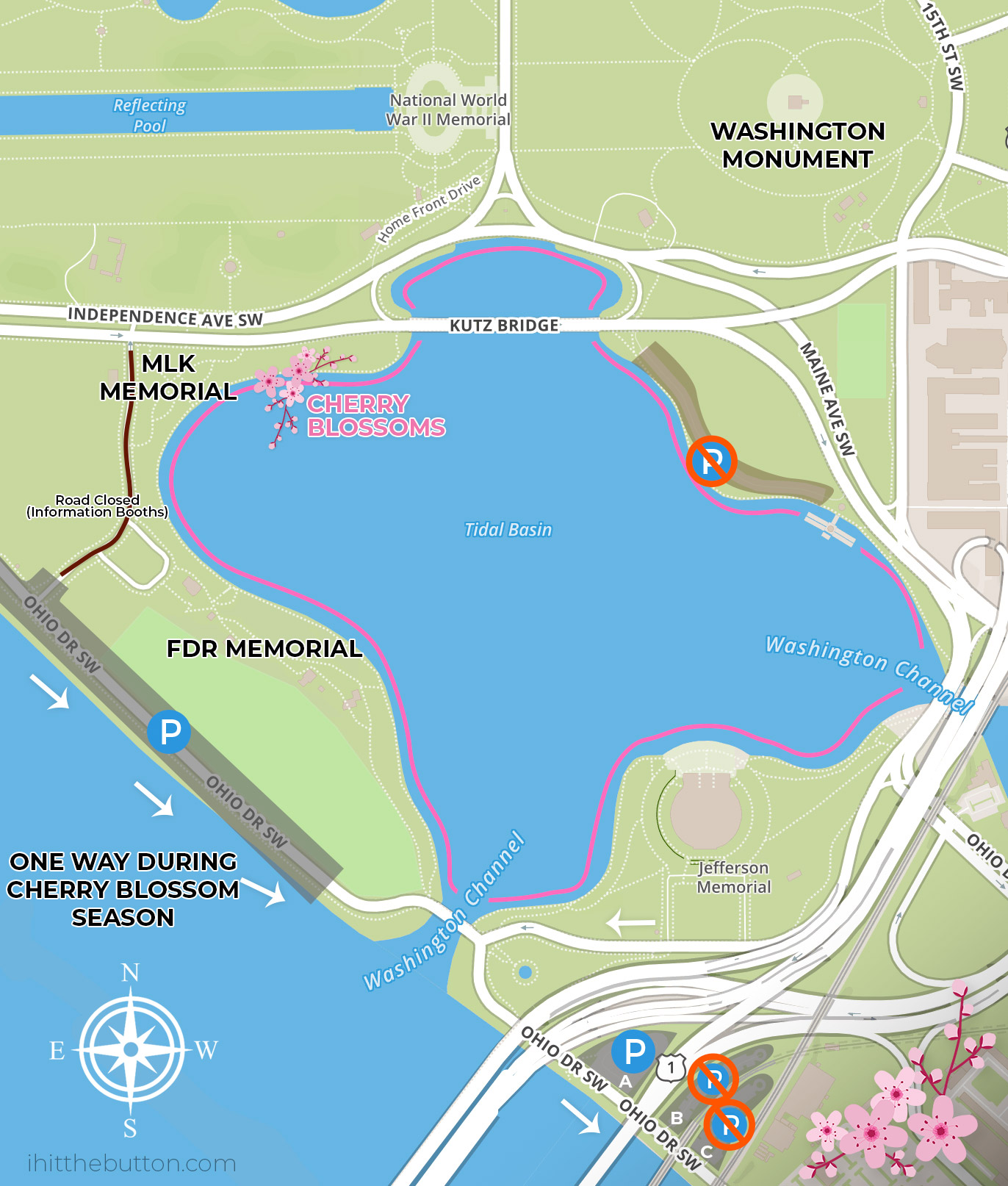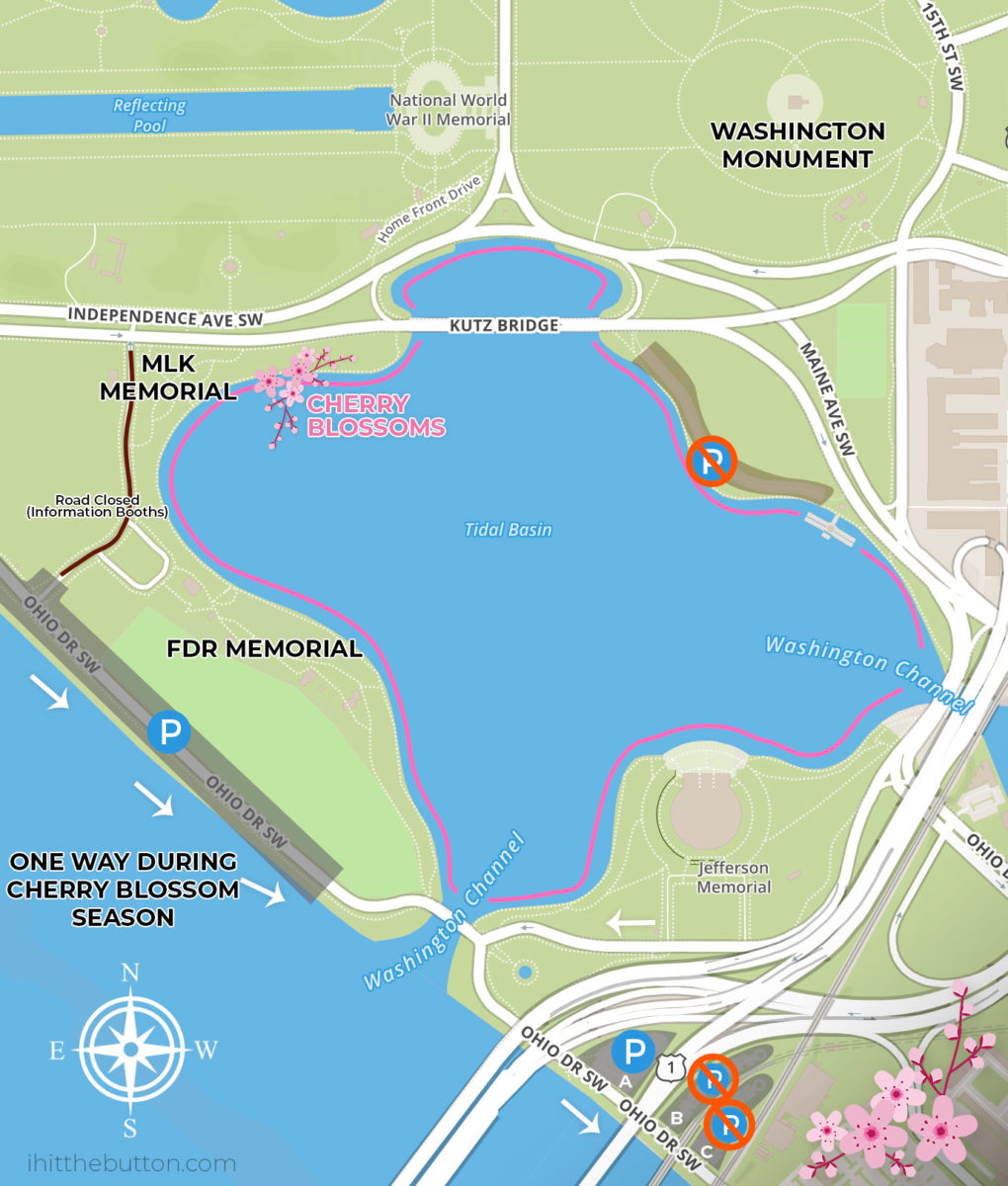 It's probably easiest to just Uber/Lyft to the Tidal Basin, I would recommend getting dropped off near the MLK memorial off Independence Ave SW. From here you can walk around the entire Tidal Basin to get the most out of the area.
If you plan on driving here are some tips:
Above is a map of the parking situation at the Tidal Basin. The primary parking lots are located off Ohio Drive SW. That includes Parking Lot A, Lot B, and Lot C which are located next to each other. If you're lucky you can also find parking on Ohio Drive SW near the west side of the Tidal Basin. The parking lot off of Maine Ave should be avoided since it's closed for festival activities.
There is street parking on Ohio Dr and next to the MLK memorial but they can be hard to come by. Street parking on Ohio Dr is paid and costs a few dollars an hour via the ParkMobile app.
The entire stretch of Ohio Dr becomes a one way, so it can be difficult to get to the bigger parking lot off of Ohio. You'll most likely have to go down Buckeye Dr. SW to reach that parking lot. Every time I shoot the Cherry Blossoms for sunrise I park at the lot on Ohio south of the Tidal Basin.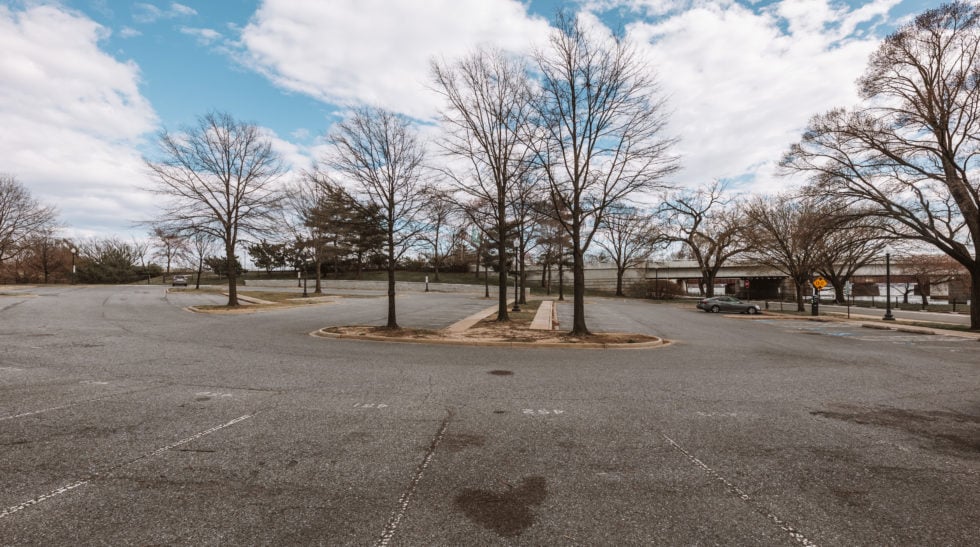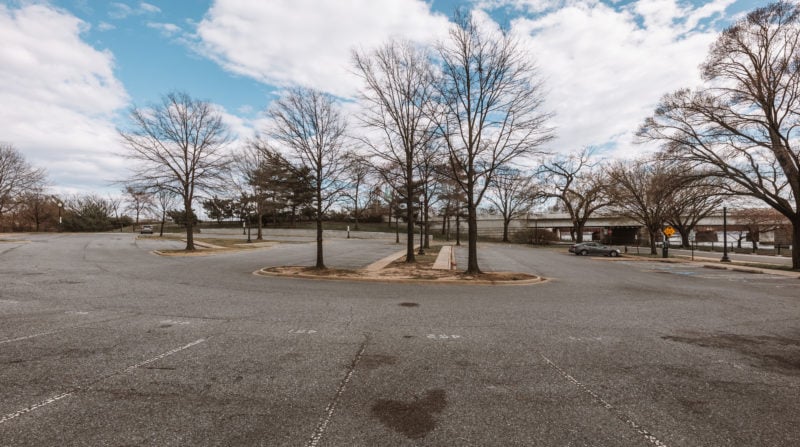 You can also metro to the Tidal Basin, the closest metro stop is Smithsonian which has the blue, orange and silver lines.
Additionally, if you can bike and are nearby you can rent a bike via Capital Bikeshare. There are also dockless bikes and scooters around the area but just be careful not to park them in a no parking area when riding down (the app will show you no parking zones).
---
National Cherry Blossom Festival 2024
The 2024 National Cherry Blossom Festival will take place on March 20 thru April 14, 2024. The not-for-profit organization hosts events all around DC including performances on the Tidal Basin and exhibits.
Here are the primary 2024 Cherry Blossom Festival Events:
Not yet announced
2023 Cherry Blossom Festival Events:
---
DC Cherry Blossoms Pictures
If you're unfamiliar with the beauty of the cherry blossoms in Washington DC here are a few of my photos over the years.
The most iconic place to take photos of the cherry blossoms is around the Tidal Basin. There are loads of other smaller parks around the district that also have cherry blossom trees if you're looking for a less congested area.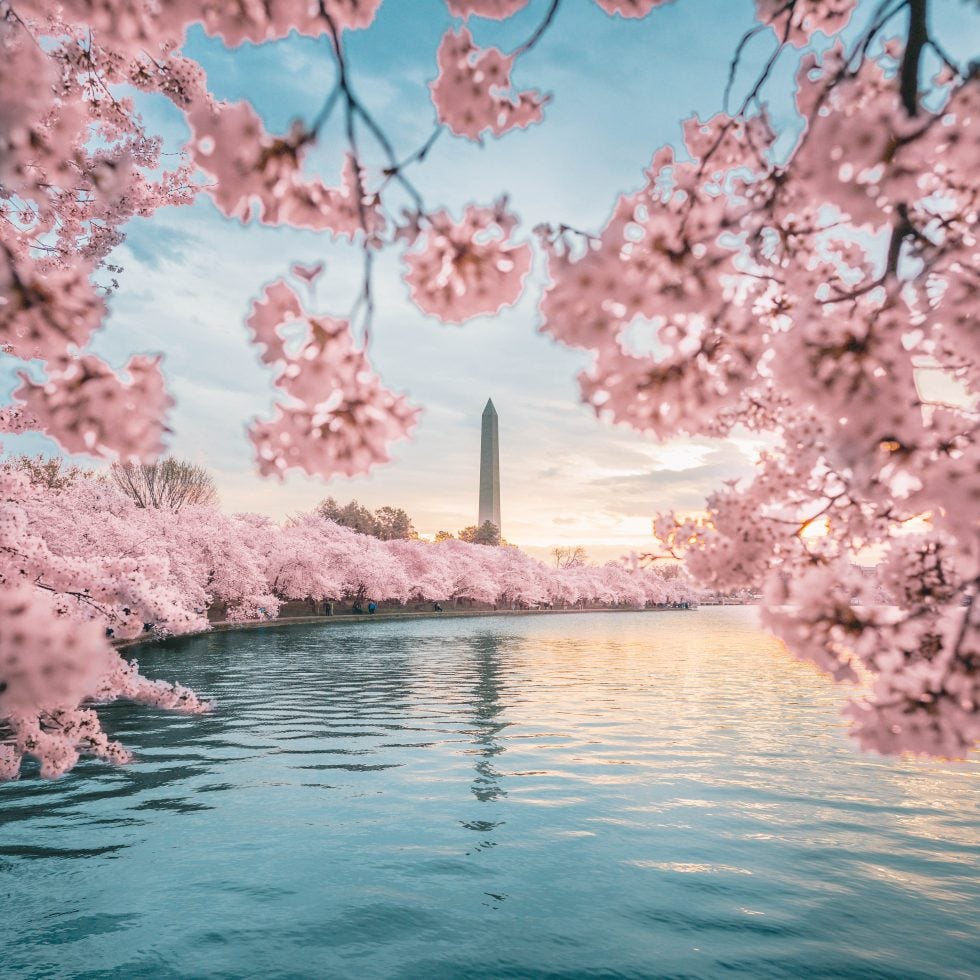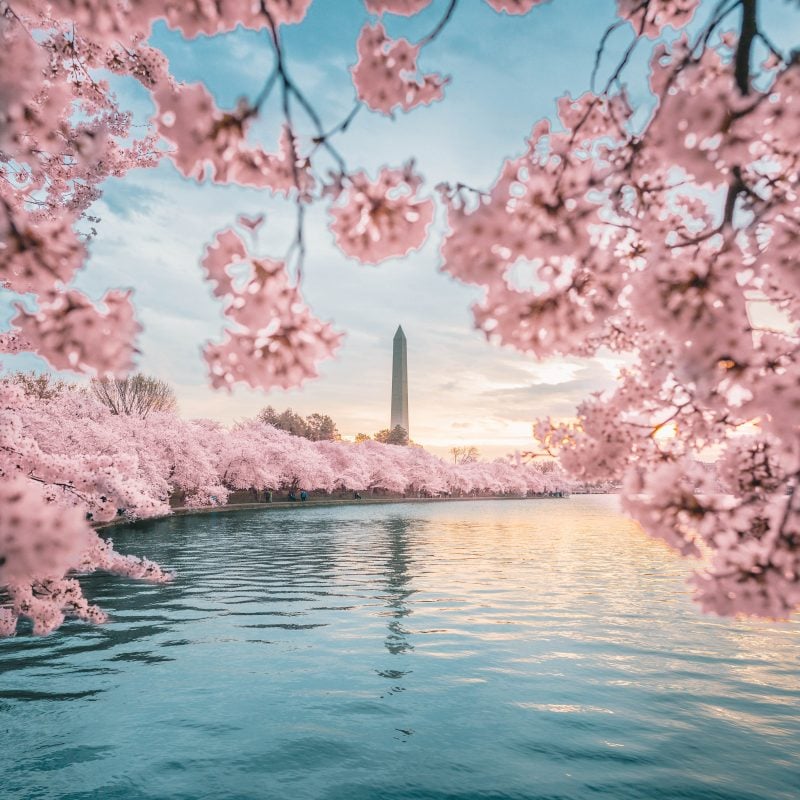 Remember to tag your photos #CherryBlossomDC on Instagram.
If you're planning a trip to DC here are my favorite spots to photograph in Washington DC. You can also stop the uniquely themed Cherry Blossom Pub that is usually open during cherry blossom season for a cherry blossom themed cocktail (or at any of these DC cocktail bars). Additionally ARTECHOUSE typically has an exhibit revolving around the blossoms as well.
---
Things to Do if You're Too Early for Peak Bloom
If you're too early for the blossoms you can also stop by Rawlins Park or the Enid A. Haupt Garden to get your pink fix with magnolias. Their pink blooms are often confused for cherry blossoms but are also worth checking out.
You can also stop by and see cherry blossom trees at Congressional Cemetery and the LeDroit Park Arch. The trees at these locations typically bloom a few weeks before the Tidal Basin.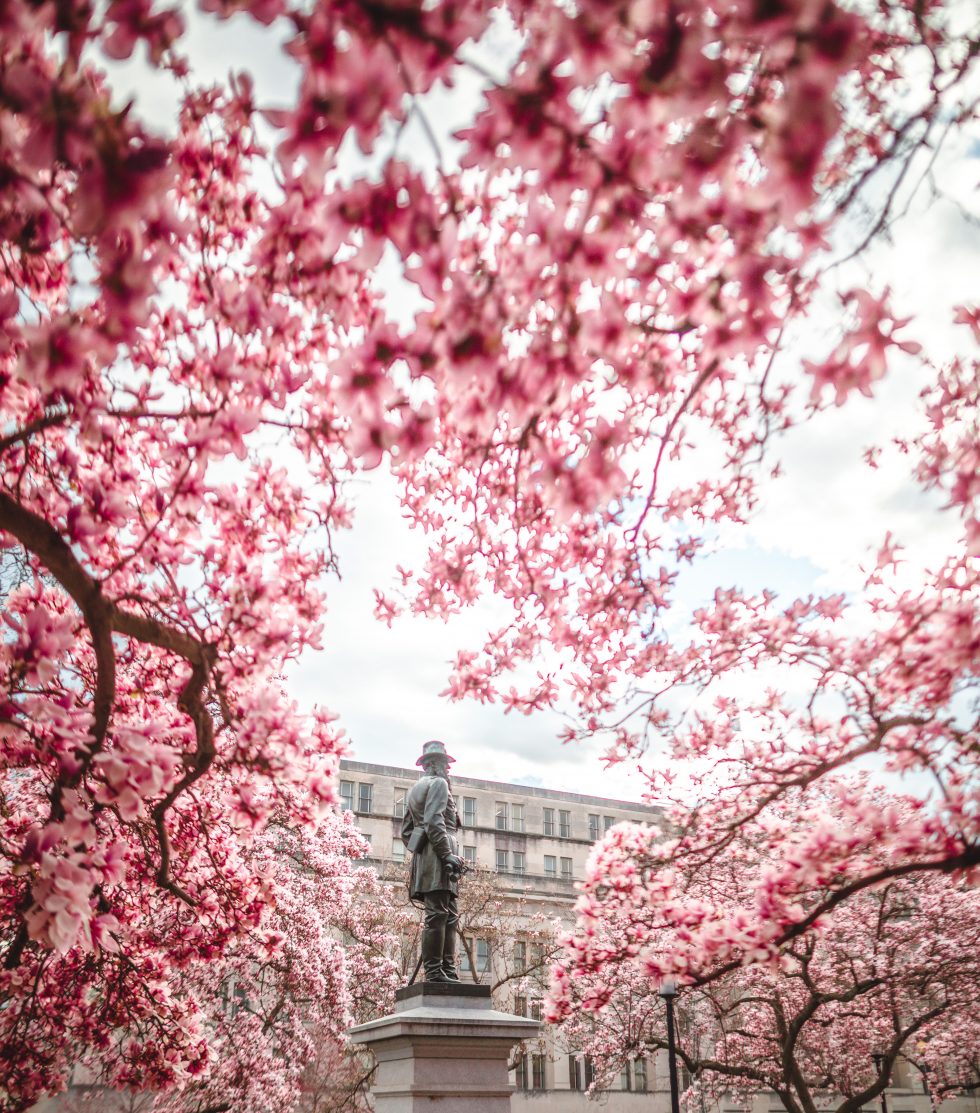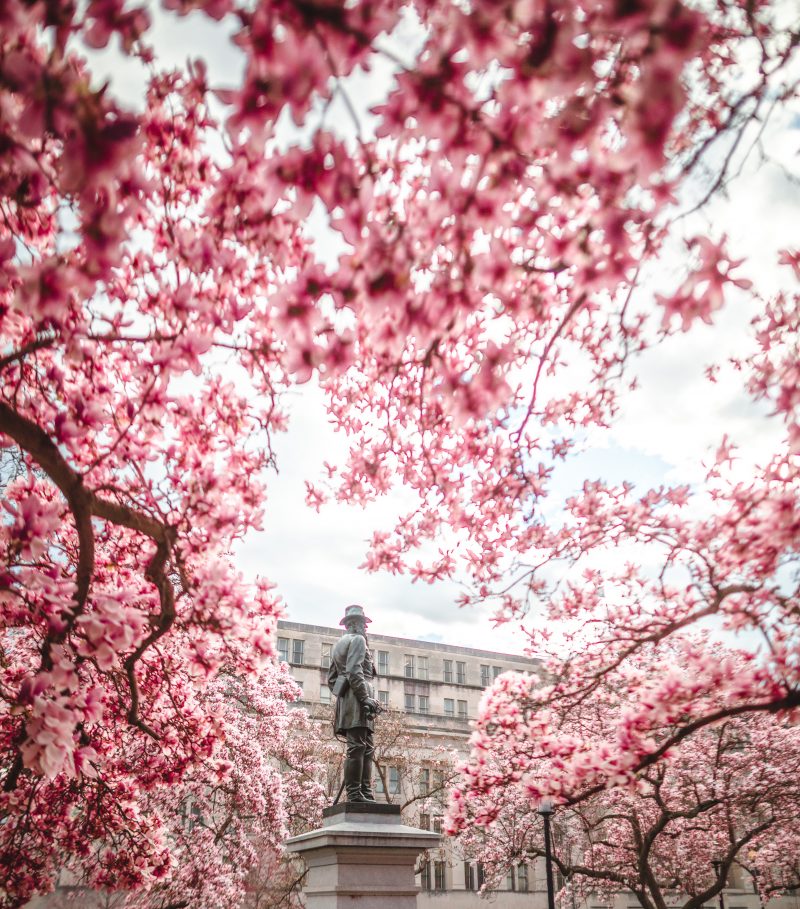 Both parks are a great way to see some color in the city, plus they are free to visit!
---
DC Cherry Blossom Frequently Asked Questions
I compiled a list of frequently asked questions (FAQs) about the DC cherry blossoms to help you plan your trip, above we've covered everything from peak bloom dates to best viewing spots but here are more transportation and crowd management tips. Whether you're a first-time visitor or a seasoned DC traveler, these FAQs are here to help you get the most out of your cherry blossom experience.
What Metro Stop is DC Cherry Blossoms?
The cherry blossom trees in Washington, D.C. can be found around the Tidal Basin, which is accessible via the Smithsonian Metro stop on the Blue, Orange, and Silver lines. However, the cherry blossoms are only in full bloom for a short period of time each year, typically in late March to early April, so it's important to plan your visit accordingly. Additionally, it's worth noting that the Tidal Basin can get very crowded during peak bloom, so it's a good idea to arrive early in the morning or consider visiting during off-peak times.
There are also cherry blossom trees all over Washington D.C. You can see where every cherry blossom tree is planted in DC with Casey Tree's cherry blossom map. Blossoms in different areas of the city will bloom at different times.
How Long is Peak Bloom Cherry Blossoms?
The peak bloom period for the cherry blossoms in Washington, D.C. usually lasts a few days to a week, between late March and early April. Peak bloom timing can vary from year to year depending on weather conditions, but the National Park Service usually provides a prediction based on a number of factors such as temperature and weather patterns. When the cherry blossoms reach their peak bloom, the flowers will begin to fall from the trees within a few days, so plan your visit accordingly if you want to see the blossoms at their best.
Do You Have to Pay to See the Cherry Blossoms in DC?
No, there is no charge to see the cherry blossoms in Washington, D.C. The trees are free and open to the public and are located in public parks and areas such as the Tidal Basin and the National Mall. However, there may be some additional costs if you choose to participate in cherry blossom-related activities or events, such as tours, cruises, or concerts.
There may also be parking fees or other transportation costs to consider if you plan to drive to the area. Overall, viewing the cherry blossoms is a popular and accessible activity that visitors of all ages and budgets can enjoy.
Can You Drive to See Cherry Blossoms in DC?
Driving to see the cherry blossoms in Washington, D.C. is possible, but parking can be difficult to come by and traffic can be heavy during peak bloom. Parking in the Tidal Basin area, where many of the cherry blossom trees are located, can be extremely limited and is likely to fill up early in the day.
If you choose to drive, parking farther away from the Tidal Basin and walking or taking public transportation to the cherry blossom viewing areas is ideal. You can also consider taking a guided tour, shuttle, or boat cruise that will transport you to and from the cherry blossom sites.
Regardless of how you get there, plan ahead and be prepared for crowds, as the cherry blossoms are a popular attraction in Washington, D.C. during peak bloom season.
---
I hope you found my guide to cherry blossoms in DC helpful! Spring is one of the best times to visit Washington DC. With plenty of flowers blooming around the district, events, and great weather it's hard to have a bad time.
If you have any questions let me know in the comments below.
---
If you've enjoyed this post please share a pin on Pinterest
Keep up with the latest on my Washington DC Pinterest Board