One of the hidden gardens in Washington DC is the Smithsonian's Enid A. Haupt Garden. This 4.2-acre garden is located on the south side of the Smithsonian Castle on the National Mall. Early in the spring, the beautiful pink magnolia trees bloom all around the gardens. In addition to the saucer magnolias, there are plenty of flowers that bloom in the gardens further into spring.
The magnolias typically bloom a few weeks before the cherry blossoms making them a perfect stop if you're too early for peak bloom.
The Enid A. Haupt Garden has a couple of smaller gardens on each of the property. Luckily the gardens are small enough to see everything in one visit, typically you can walk around everything in under 20 minutes.
Things to Know When Visiting the Haupt Garden
The garden grounds are open from dusk to dawn so arriving for sunrise in the spring shouldn't be an issue. Overnight they close gates to the gardens so if you arrive slightly before dusk they may be closed.
You should have no problems using a tripod on the garden grounds.
The Moongate Garden
On the west side of the Enid A. Haupt garden is the Moongate garden which offers a unique water feature as seen in the photo below.
The Fountain Garden
While the east side of the grounds has a Moorish style garden called the Fountain Garden.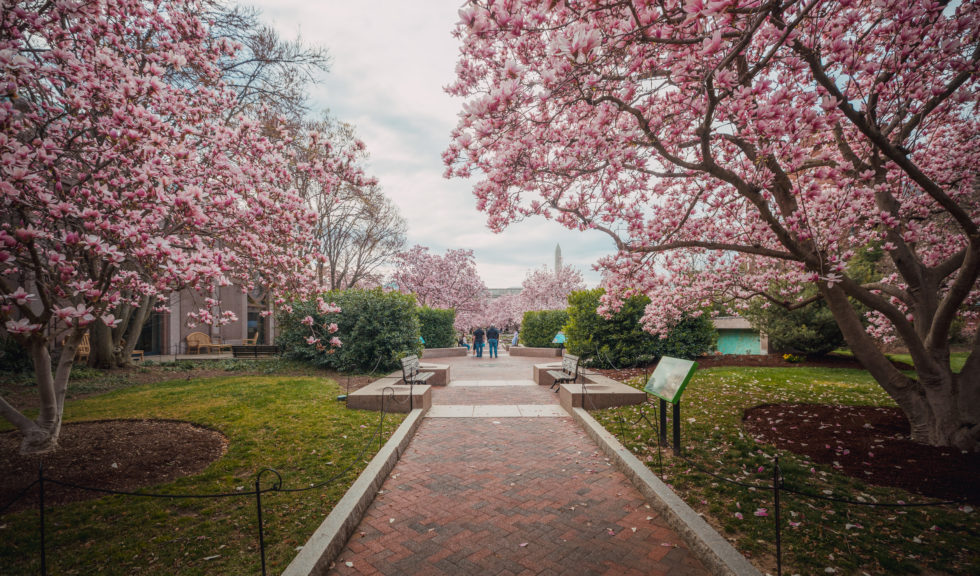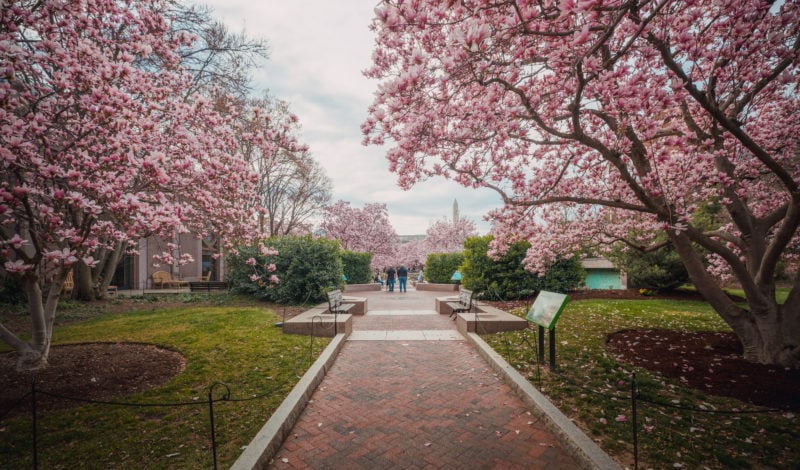 All over the garden's grounds you'll find beautiful saucer magnolia flowers. They typically bloom a few weeks before the cherry blossoms.
Getting to Enid A. Haupt Garden
The Enid A. Haupt Garden is located on in the back of the Smithsonian Castle which is incredibly easy to spot if you're on the National Mall.
The easiest way to get to the gardens is to take the DC Metro to the Smithsonian stop (Orange/Blue Lines). Once you get off the Smithsonian stop you're only a couple of blocks from the Smithsonian Castle and garden grounds.
Additionally, you can pay a meter to park directly on the mall in front of the Smithsonian or on the opposite side of the castle on Independence Ave SW. During peak times parking can be hard to find in these busy areas but if you come for sunrise it should be easy to find a spot.
Enid A. Haupt Garden on Google Maps
Photos of the Enid A. Haupt Garden
Here are more photos from the peak magnolia bloom on the Smithsonian garden's grounds. Including pictures from the Moongate Garden and Smithsonian Castle.
Many of the magnolia trees turn green during the summer. Here are some additional photos from the Smithsonian Gardens in the summer.