Fall foliage in DC is one of the best times in the city. While being less crowded than the summer the fall colors around Washington DC are worth seeing.
I always love capturing fall foliage in DC on my Instagram. In this post I'll be going over the best places to see fall colors in DC including a few spots outside of DC at the end of the article. The leaves in Washington DC are typically at their best mid-to-late October. I personally thing it's one of the best times to be in DC.
Here are the best places to see fall foliage in Washington DC:
---
1. Rock Creek Park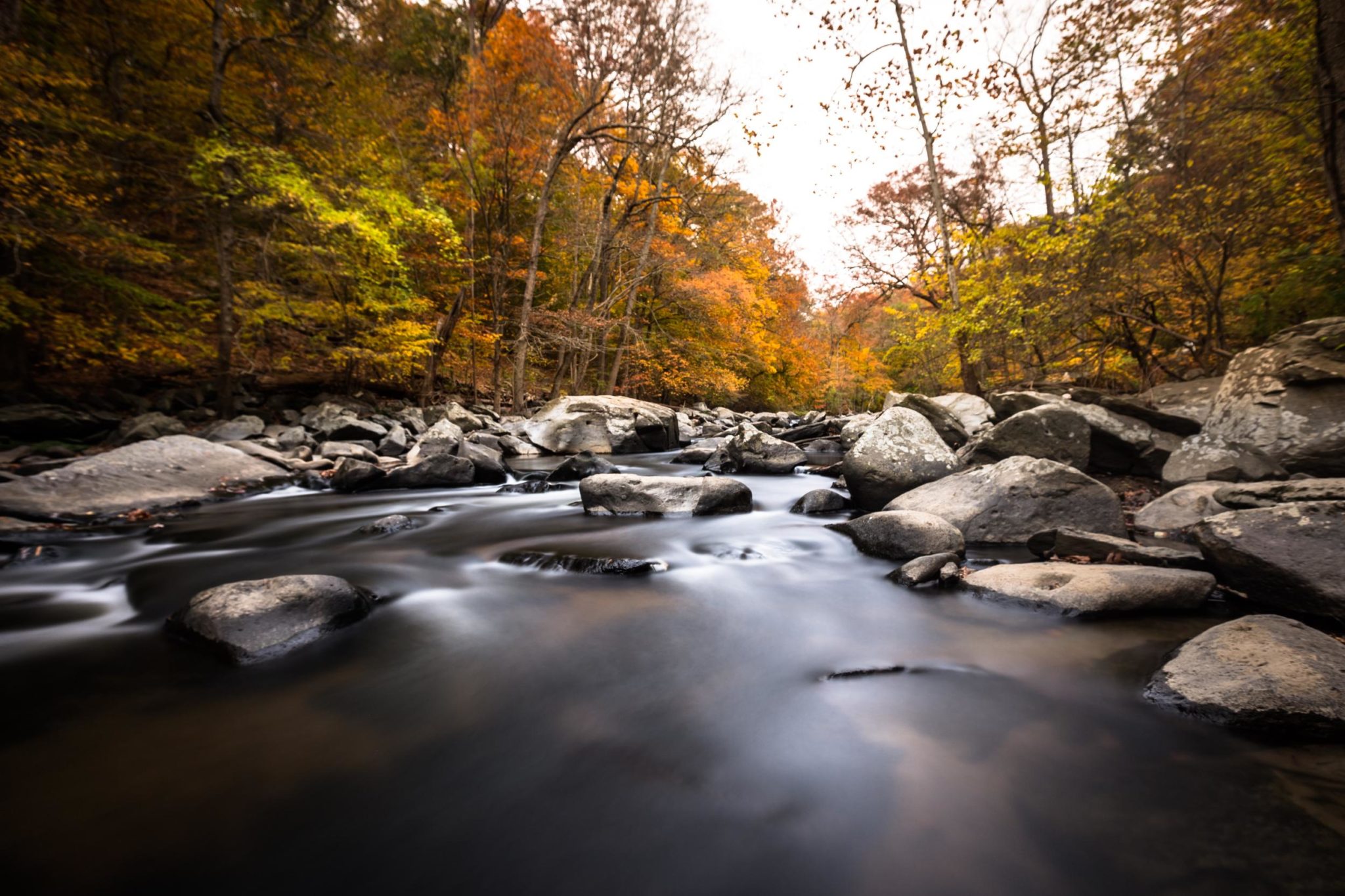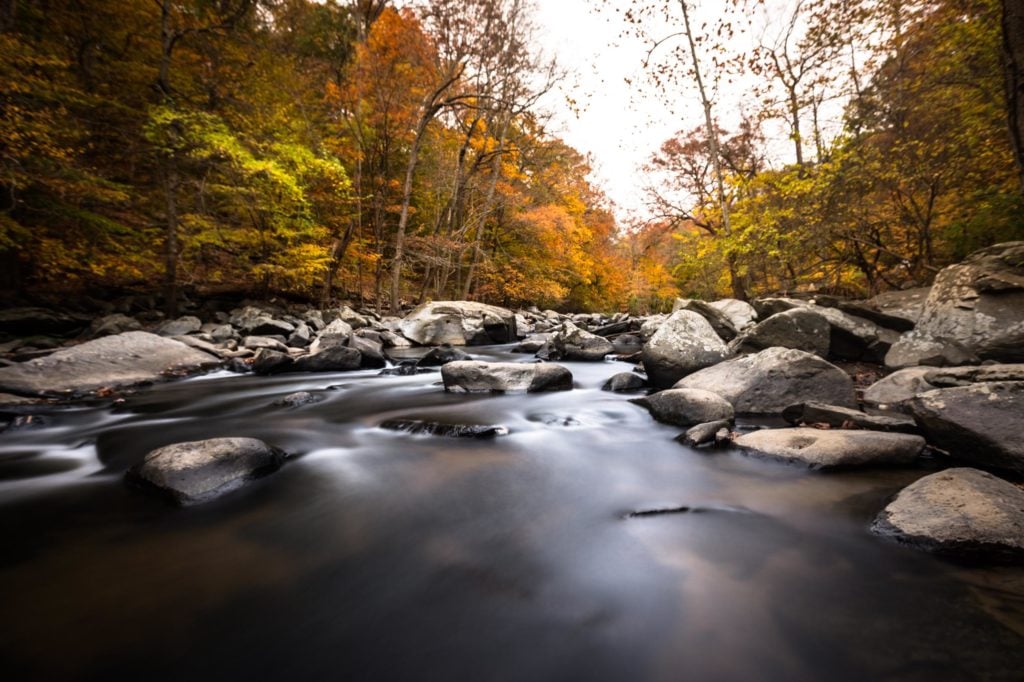 Rock Creek Park is a no brainer, DC's largest park is FULL of fall foliage. Some stand out spots include Boulder Bridge, Miller Cabin and Rapids Bridge. Typically you can pull off and walk to each location (unless Beach Dr is closed to cars!). If Beach Dr is closed you can find parking nearby and take a trail into Rock Creek Park to walk the road or bike ride through the park.
Rock Creek Park has many trails to explore, with miles of trails winding through the park. There's always something new to discover for hikers, runners, and nature enthusiasts. The trails offer a range of difficulty levels. It's the perfect destination for outdoor adventurers looking to immerse themselves in nature.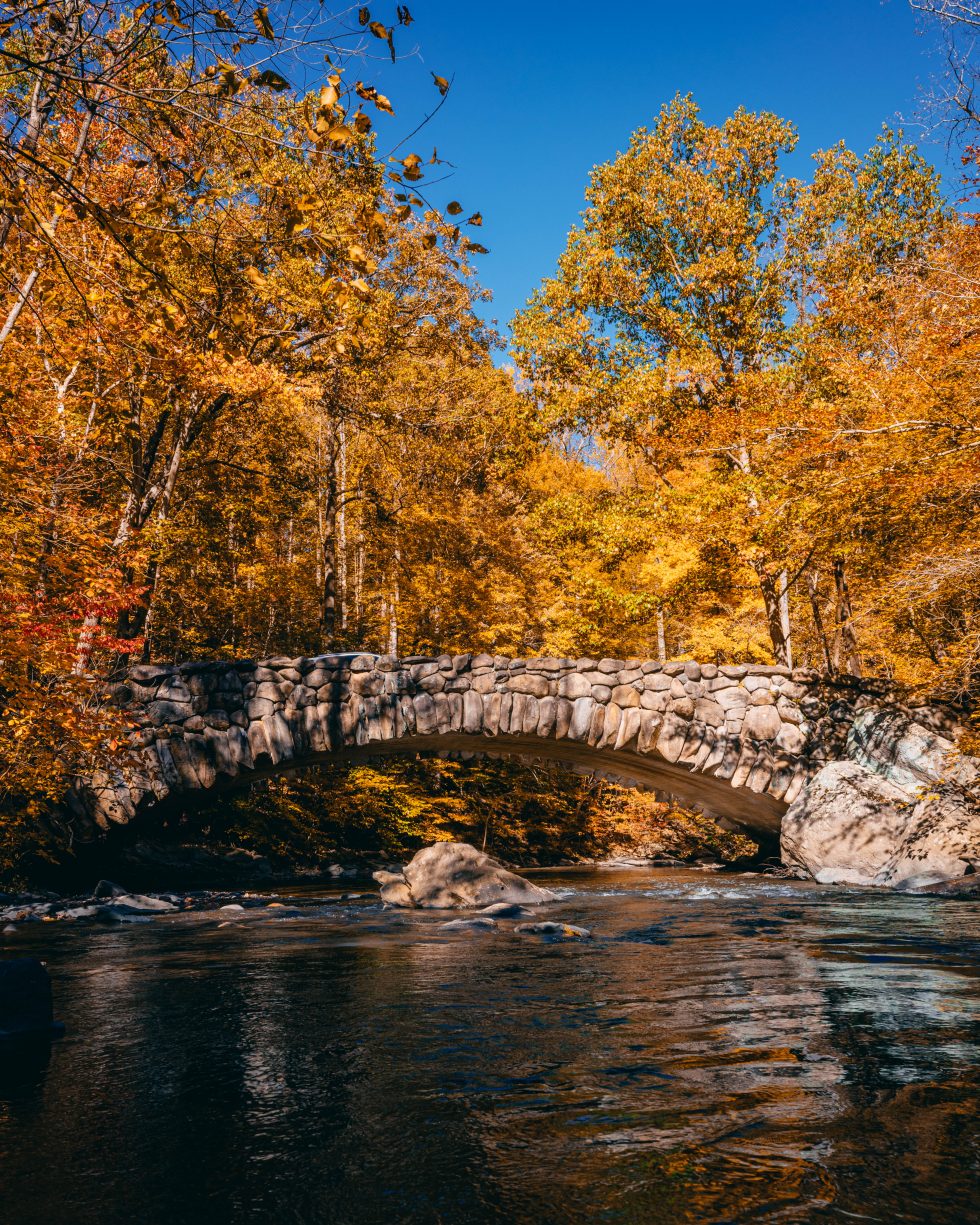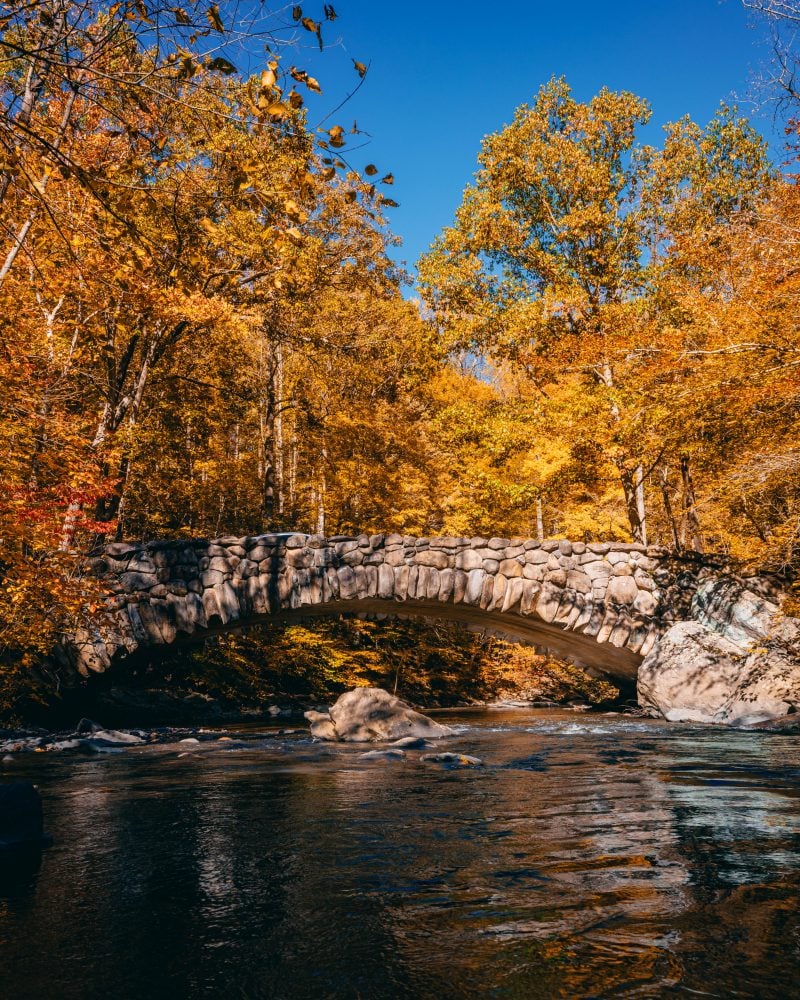 All over Rock Creek Park you'll find hiking trails that range in elevation. I love taking hiking during fall here since you can get close to Rock Creek and take long exposure photos of the creeks. This is one of my favorite places in DC to see fall foliage and well worth a stop in autumn.
Rock Creek Park on Google Maps
---
2. U.S. National Arboretum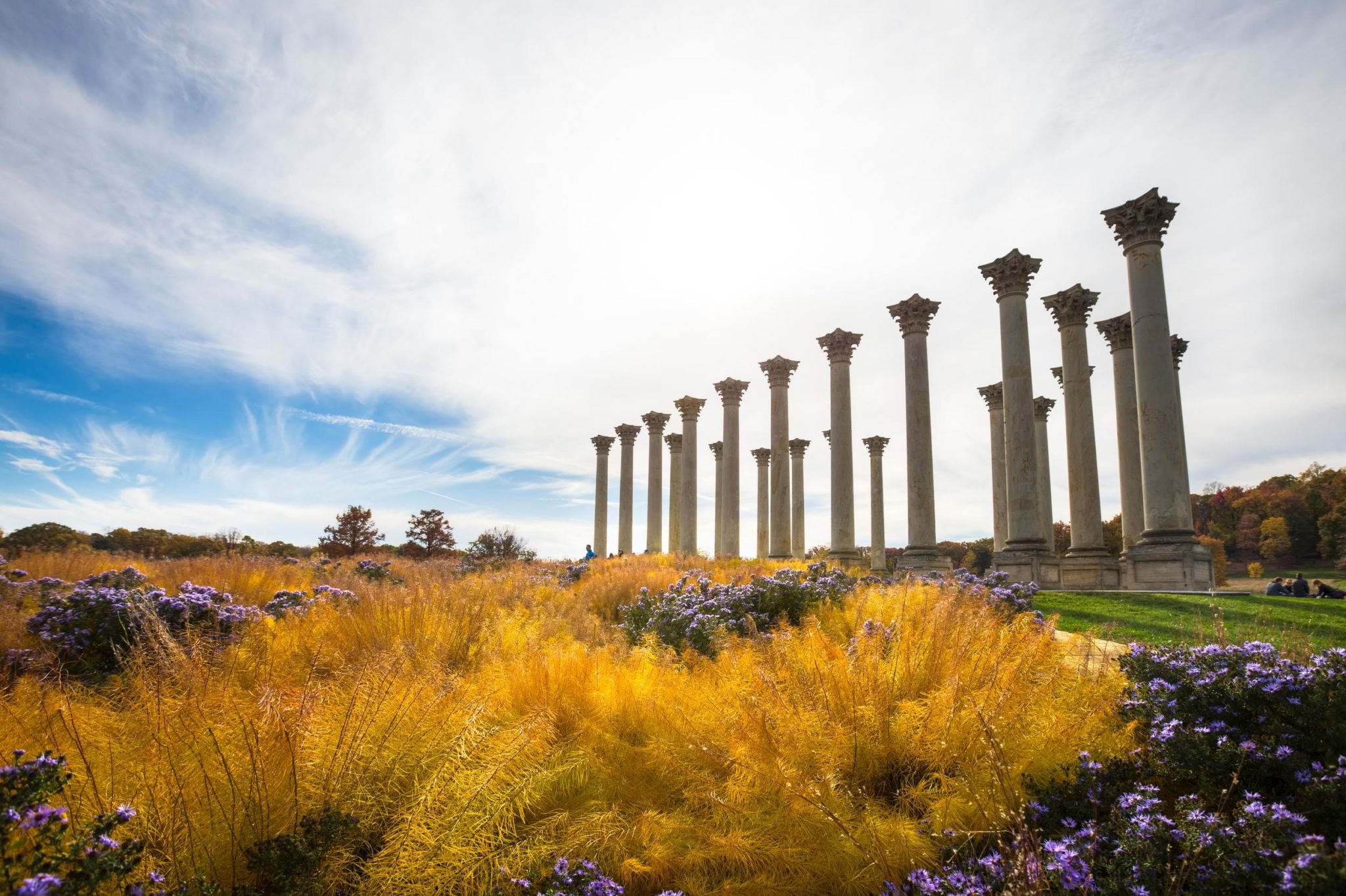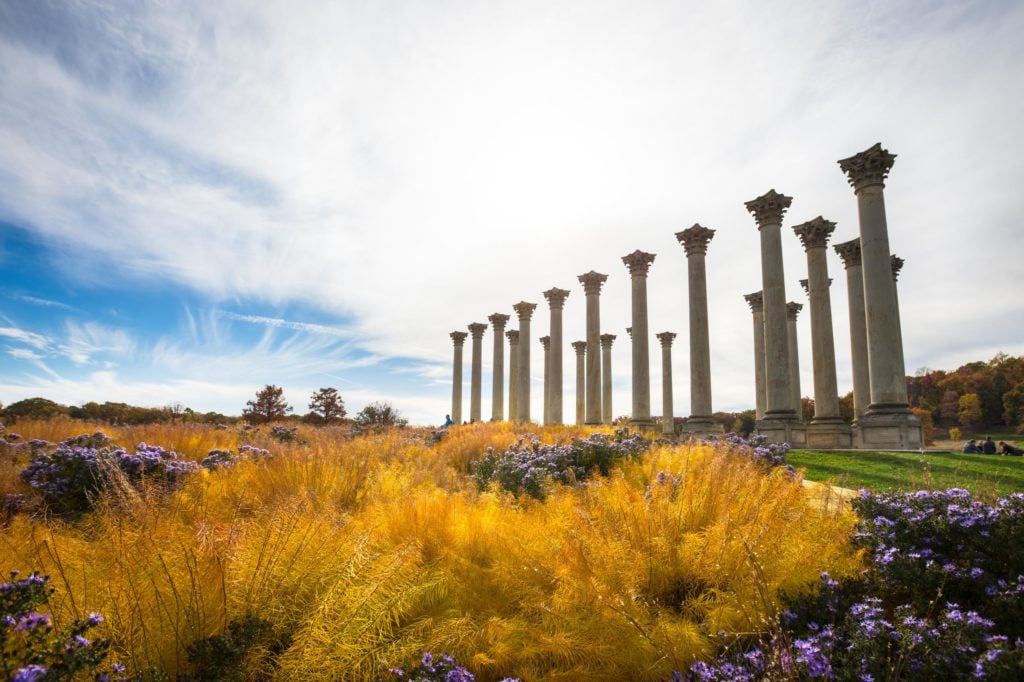 One incredible place for autumn colors in DC is the U.S. National Arboretum. The grounds of the Arboretum include over 400 acres of unique gardens and forest. You'll see plenty of color in the fall plus it's just a fun place for an autumn walk.
The main attraction of the National Arboretum is the Capitol columns in the middle of the park. The grounds also include a Bonsai museum, asian gardens, and many more collections of greenery.
National Arboretum on Google Maps
---
3. National Mall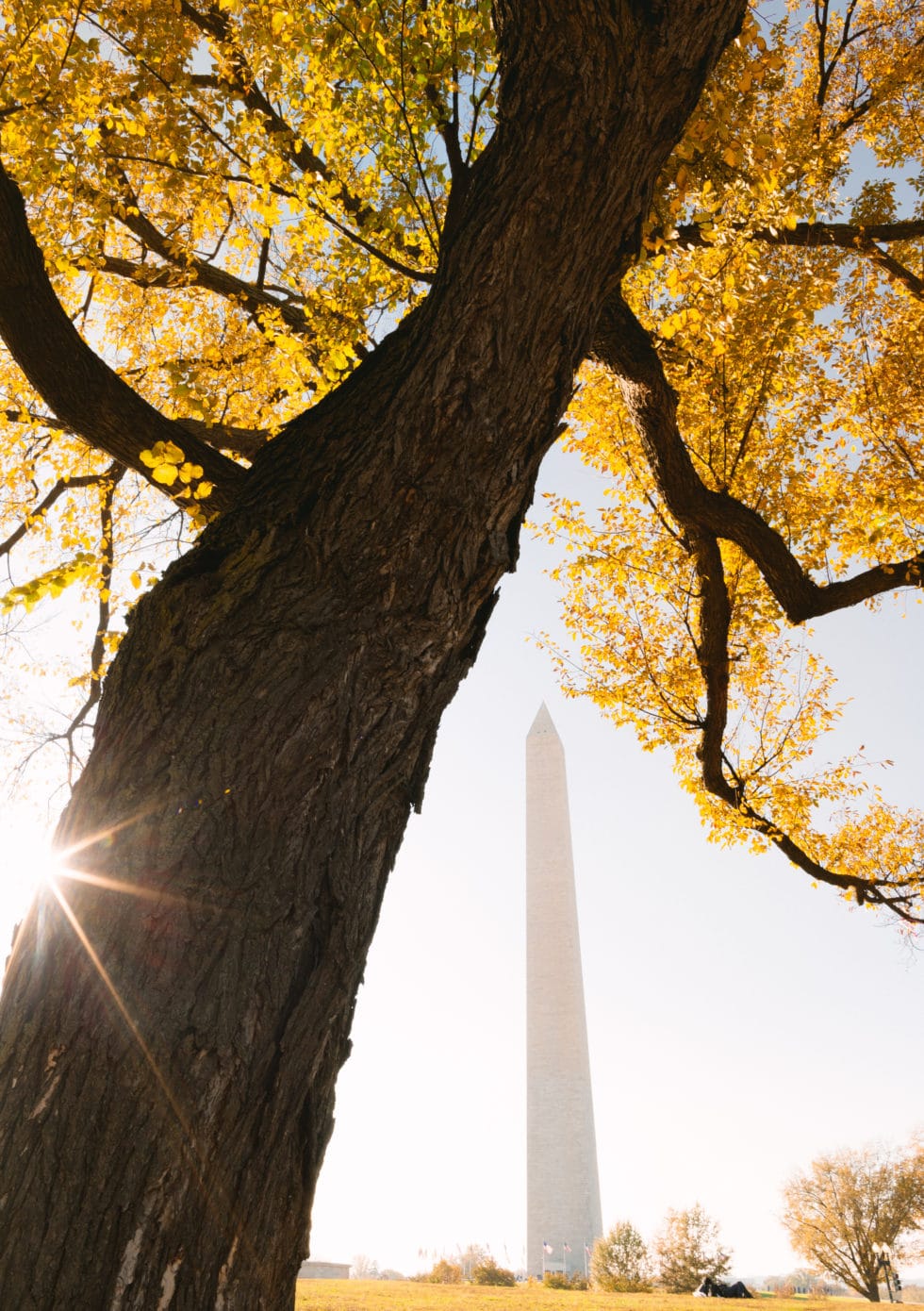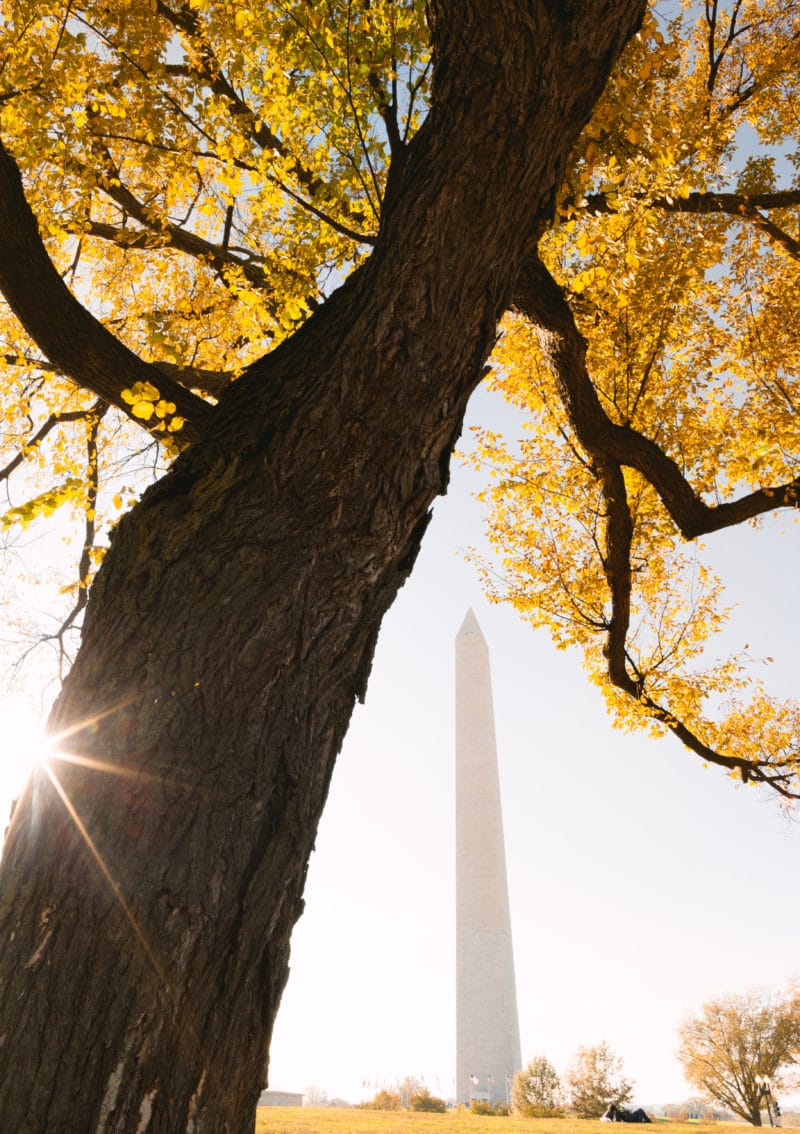 A list of Washington DC in the fall wouldn't be complete without the National Mall. The National Mall is full of trees that turn orange and yellow in Autumn. Whether it's a walk around the Washington Monument, Reflecting Pool or Tidal Basin you'll see plenty of color when trees are at their peak. Best of all the monuments and memorials make the perfect subject when framing your photos for fall colors.
National Mall on Google Maps
---
4. Swann Street
One of the most beautiful spots in the city for fall colors is Swann Street. Located in the heart of DC Swann Street has stunning ginkgo trees that are picture perfect in fall.
Typically I start at Swann St NW & 14th St and walk west down Swann, you'll see blocks of colorful ginkgo trees lining the street. I love how the leaves land on the ground as well. Just watch out for cars driving down the street.
Swann Street NW on Google Maps
---
5. National Cathedral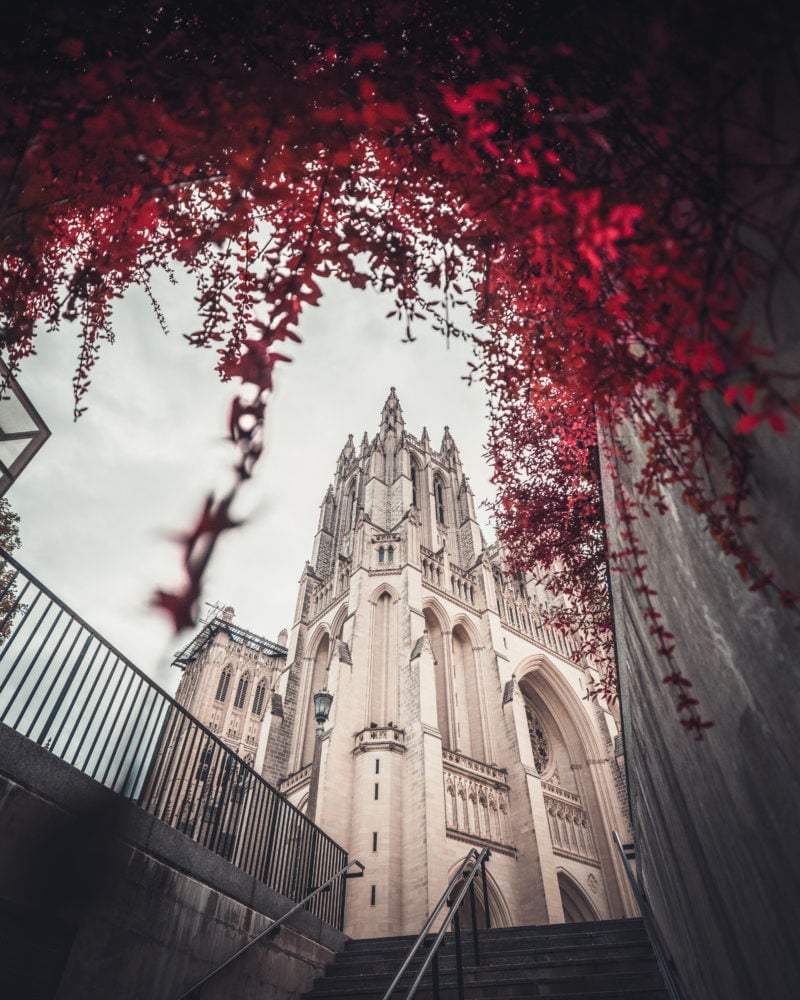 The National Cathedral in the fall is a stunning spot to visit in the fall, thanks to its remarkable architecture and vibrant gardens. The stunning autumn colors make it an ideal spot to visit, attracting visitors who appreciate beauty and nature. The combination of the magnificent structure and the lush grounds creates a captivating experience that should not be missed.
National Cathedral on Google Maps
---
6. Georgetown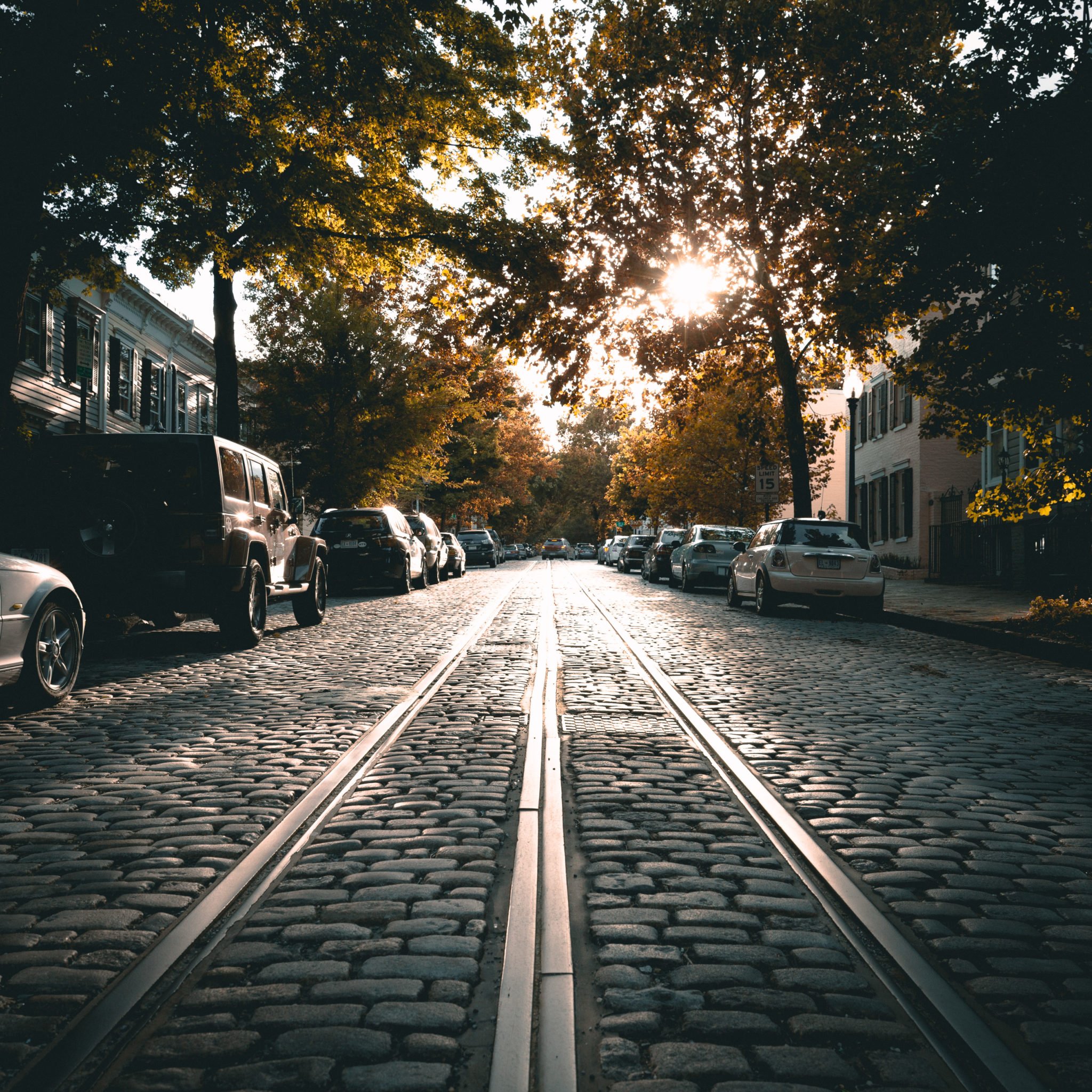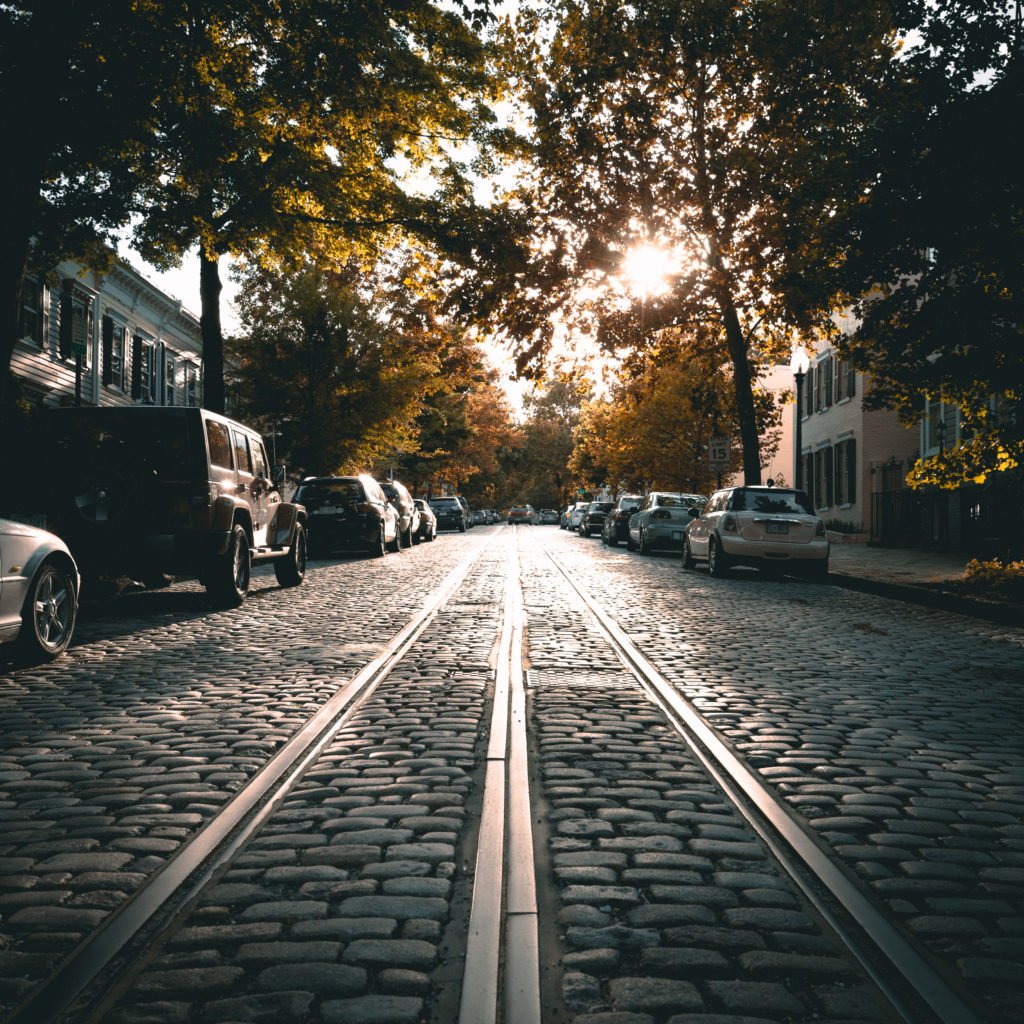 Georgetown is a highly sought-after destination throughout the year, regardless of the season. The historic neighborhoods, characterized by their picturesque row homes surrounded by fall leaves, along with the scenic Georgetown waterfront, offer endless opportunities for capturing captivating fall photographs.
Visitors to Georgetown will be delighted to witness numerous homes adorned with Halloween-themed decorations, including pumpkins and other festive embellishments. The charm of Georgetown is further accentuated by its charming cobblestone streets.
Georgetown on Google Maps
---
7. United States Capitol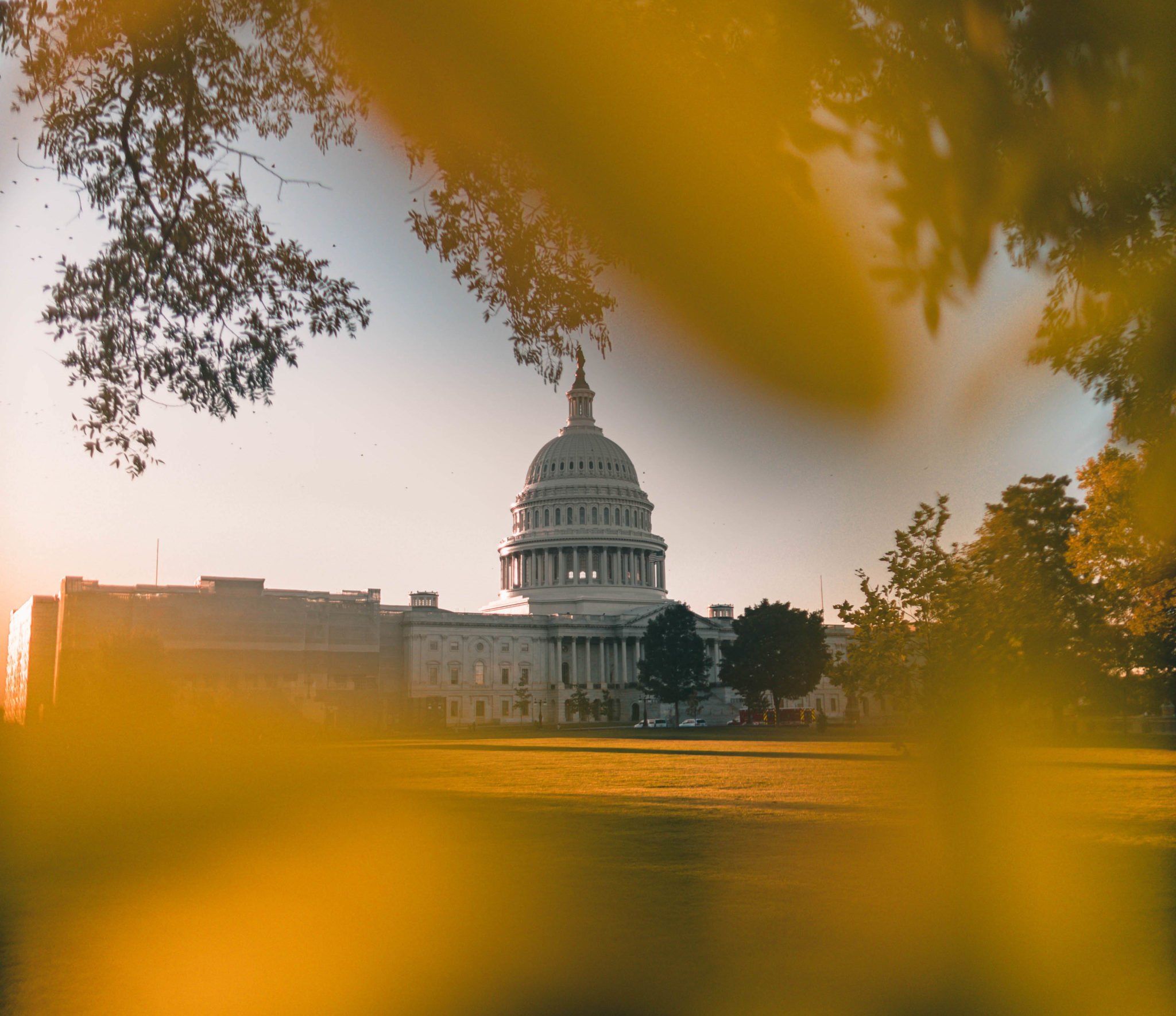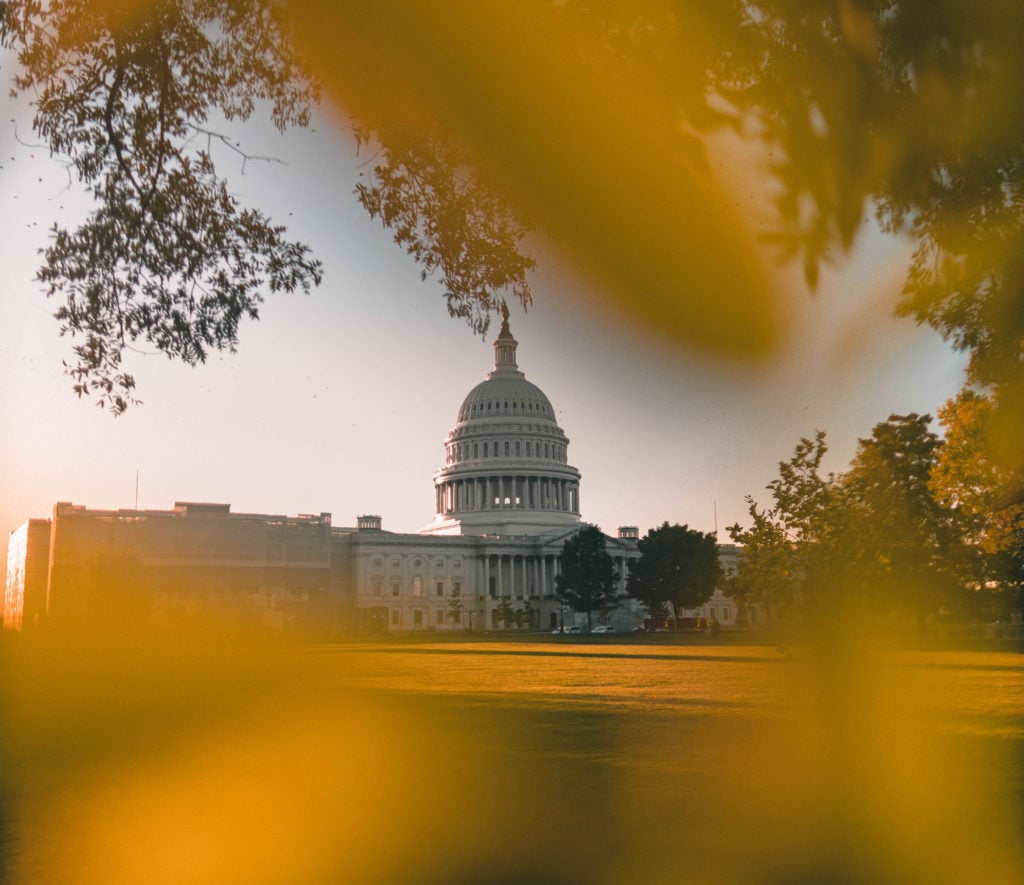 The US Capitol is one of my favorite places to take pictures in all of DC. Since trees line the Capitol grounds there are plenty of unique angles to capture the United States Capitol with fall colors.
United States Capitol on Google Maps
---
8. CityCenterDC
Right in Chinatown you'll find CityCenterDC that typically has seasonal decorations. The fall decorations are usually orange leaves above Palmer Alley that goes down the middle of CityCenter.
CityCenterDC on Google Maps
---
Places Outside of DC for Fall Foliage
Having a car enables to explore the scenic attractions surrounding Washington, DC during the autumn season. Maryland and Virginia offer a plethora of options for outdoor enthusiasts. Among these options, Shenandoah National Park stands out as a personal favorite.
Shenandoah National Park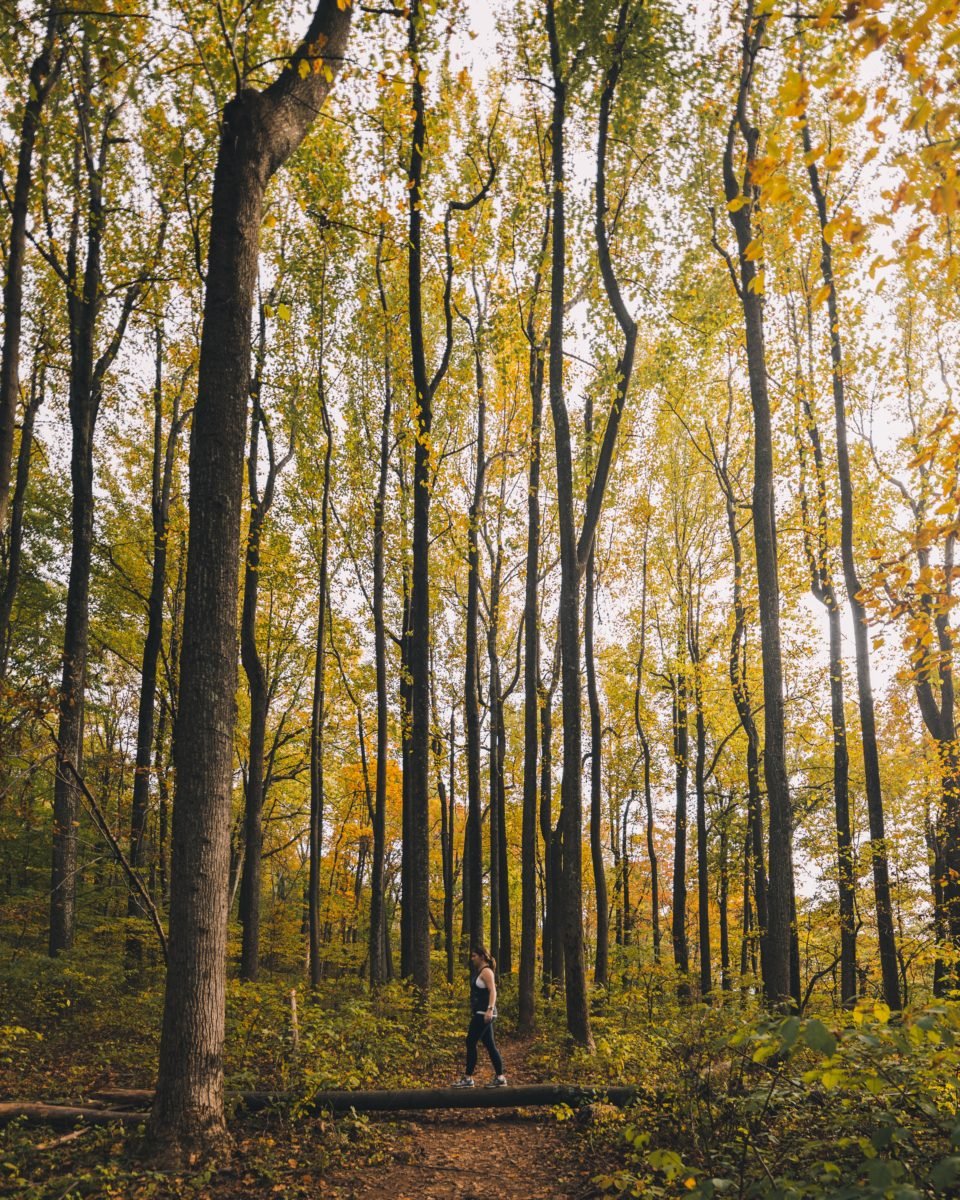 Shenandoah National Park is an essential stop if you're looking for beautiful fall foliage. Taking a drive down the Blue Ridge Parkway is seriously stunning. While in Shenandoah, you'll want to take a drive down Skyline Drive. Shenandoah is full of hiking trails as well as waterfalls (such as Dark Hollow Falls).
You'll have to pay to enter Shenandoah National Park. Since it's a national park you can also use the America the Beautiful park pass to enter.
When driving to Shenandoah I highly recommend pulling off at the Apple House for a donut as well.
Shenandoah National Park on Google Maps
Great Falls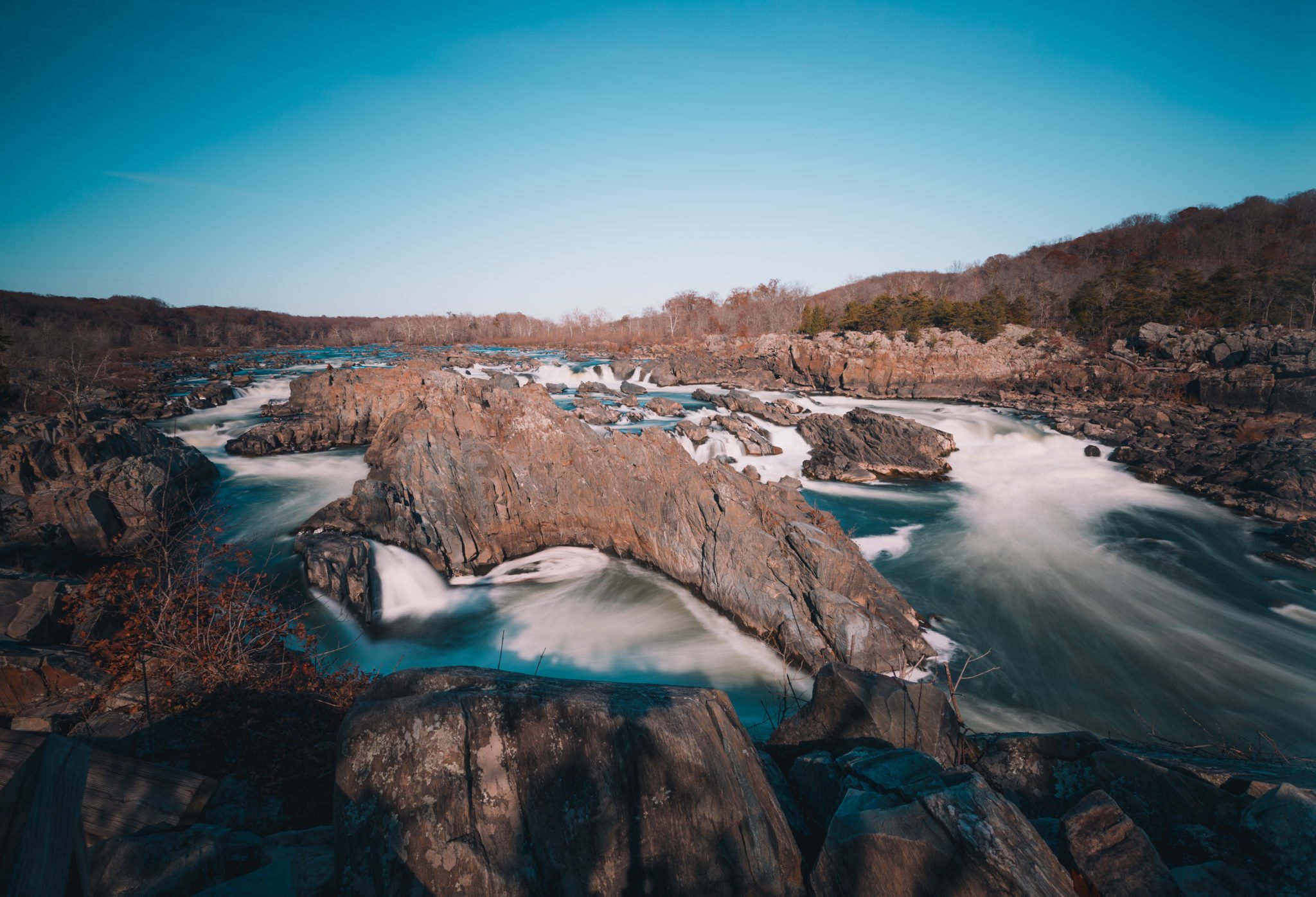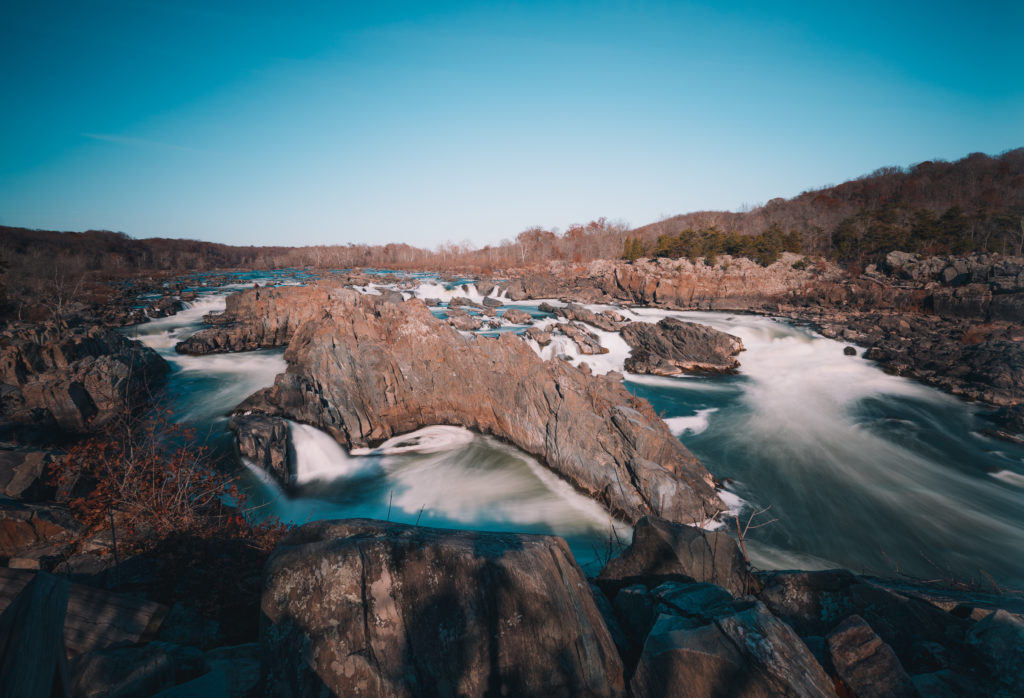 Great Falls Park, which lies between Maryland and Virginia, is always a great spot for fall foliage in the Washington DC area. Great Falls overlooks the Potomac River, and you can view the falls from either Maryland or Virginia. However, in my opinion, the Virginia side offers better views.
Great Falls Virginia on Google Maps
---
Fall Foliage in Washington DC: Frequently Asked Questions
Here are common questions people have about Washington DC fall colors.
When is the best time to see fall foliage in Washington DC?
The peak time to see fall foliage in Washington DC is typically between late October and early November. However, the exact timing can vary from year to year depending on weather conditions. For condition predictions I recommend checking out the Smoky Mountains fall foliage map.
Where are the best places to see fall foliage in Washington DC?
As you've seen in this post some of the best places to see fall foliage in Washington DC include the National Mall, Rock Creek Park, the Tidal Basin, and the C&O Canal. These areas offer stunning views of colorful trees against the backdrop of iconic landmarks.
Can I see fall foliage within the city or do I need to travel outside?
You can definitely see fall foliage within the city of Washington DC. While there are beautiful parks and green spaces within the city limits, you can also enjoy the vibrant colors of autumn in many residential neighborhoods including Georgetown and Capitol Hill.
What types of trees can I expect to see during the fall season in Washington DC?
During the fall season in Washington DC, you can expect to see a variety of trees showcasing vibrant fall colors. Some of the commonly seen trees include maple, oak, dogwood, sweetgum, and sycamore.
Can I take photographs of the fall foliage in Washington DC?
Absolutely! As you've seen in this post fall foliage in Washington DC provides a wonderful backdrop for photography. Capture the beauty of the changing leaves and share your stunning images with friends and family.
Can I go hiking or biking to enjoy the fall foliage in Washington DC?
Yes, there are numerous hiking and biking trails in and around Washington DC where you can enjoy the fall foliage. Rock Creek Park offers scenic trails, and the C&O Canal towpath is a popular choice for outdoor enthusiasts.
Are there any restrictions or guidelines for enjoying fall foliage in Washington DC?
While there are no specific restrictions, it is always important to respect the natural environment and follow the guidelines of the parks and trails. Be mindful of private property and avoid damaging any vegetation.
How long does the fall foliage season last in Washington DC?
The fall foliage season in Washington DC usually lasts for a few weeks, with the peak colors lasting for around 7-10 days. It is best to plan your visit accordingly to catch the vibrant hues of autumn.
Can I see fall foliage at night in Washington DC?
While the colors of fall foliage may not be as vibrant at night, you can still enjoy the peaceful ambiance of illuminated trees in certain areas of Washington DC, such as the National Mall and the Tidal Basin.
---
I hope you get out there and enjoy fall colors in Washington DC! With orange colors popping around charming row homes and plenty of nature fall is a great time to visit DC. Whether you live in the district or just visiting I hope you have a great time.
Want to see even more of DC?
Read: Washington DC Instagram spots.
Want to learn more about editing your fall photos? Check out my video about editing fall photos in Lightroom. I go over how to tweak colors, add foreground leaves and overall get the most out of your fall photos.
---
If you've enjoyed this post please share a pin on Pinterest
Keep up with the latest on my Washington DC Pinterest Board