In this post we'll be going over everything you need to know to start a photography blog in 2022.
No matter your skill level having a photography blog is a great way to showcase your work. Plus it can even help you book gigs depending on your niche.
Whether you just want to start with a simple blog or need a complex site; WordPress is the best option. There are plenty of tools to create your photography blog using WordPress and it can grow as you do. WordPress gives you complete control over your site and you own all of your content. This makes learning WordPress a better investment in the long term.
In this post I'm going to show you how to start a photography blog using WordPress. As a bonus I am also going to show you how to find a WordPress theme and the best WordPress plugins for your blog.
1. Domain Name + Hosting
One of the simplest and cheapest ways to start a photography blog is to use WordPress with BlueHost. It's a no brainer with its low up front cost of $3.95 a month and included domain name.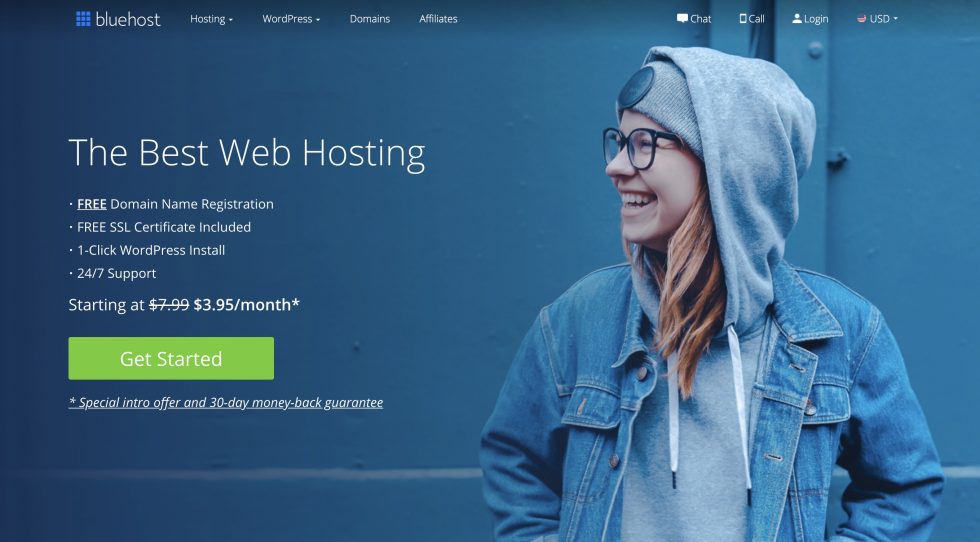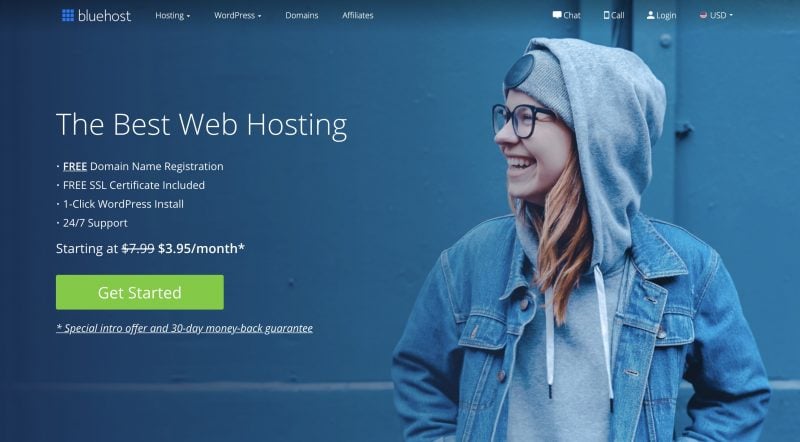 BlueHost offers a few plans but if you're just starting out the basic plan should be more than enough.
This will include a free domain name and an SSL certificate.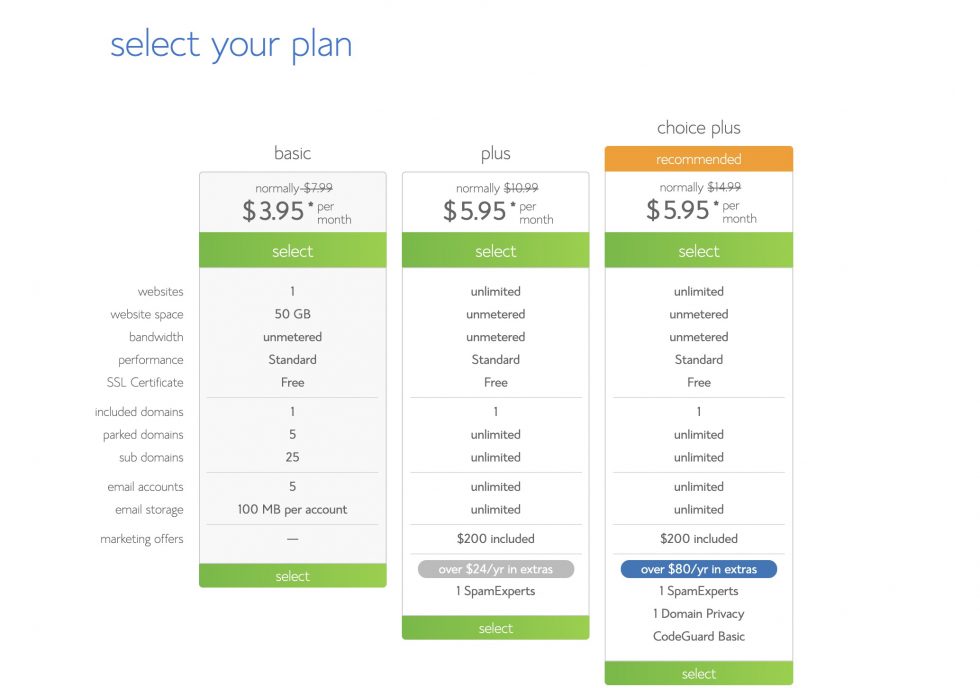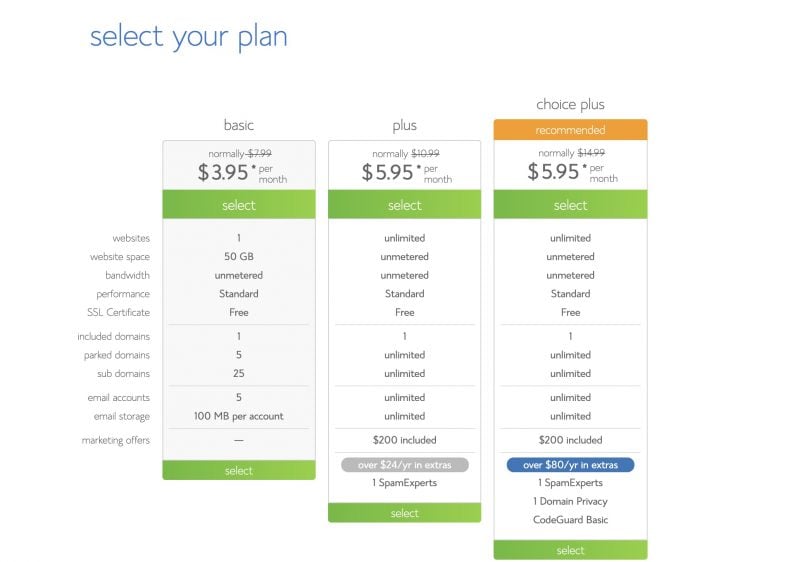 I see a lot of people get hung up on picking a domain name. Remember it's relatively simple to change it later so don't get hung up on the small stuff.
For our example I will be registering andyfeliciottiphoto.com.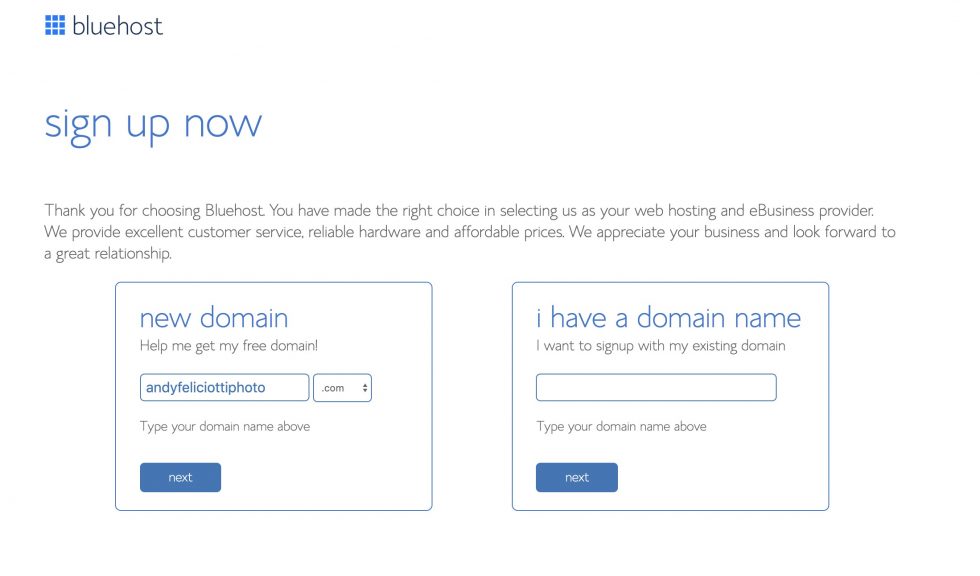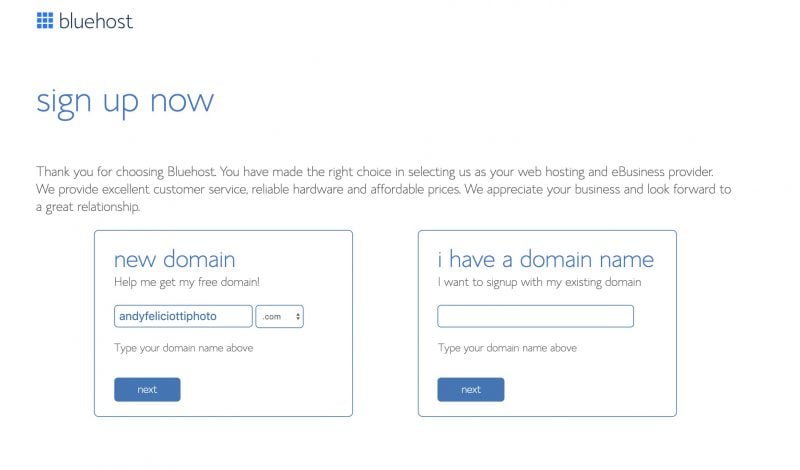 On the sign up page BlueHost offers a few additional services, in my opinion the only one you need is domain privacy. Domain privacy is helpful since it hides your home address from anyone looking up your site. The Codeguard and Sitelock services shouldn't be needed so uncheck those to save a few dollars a month.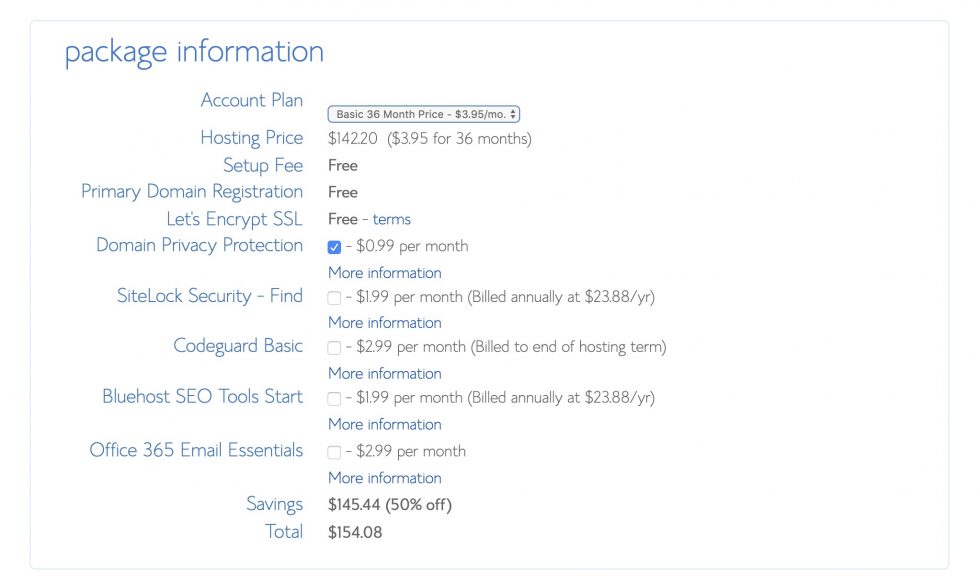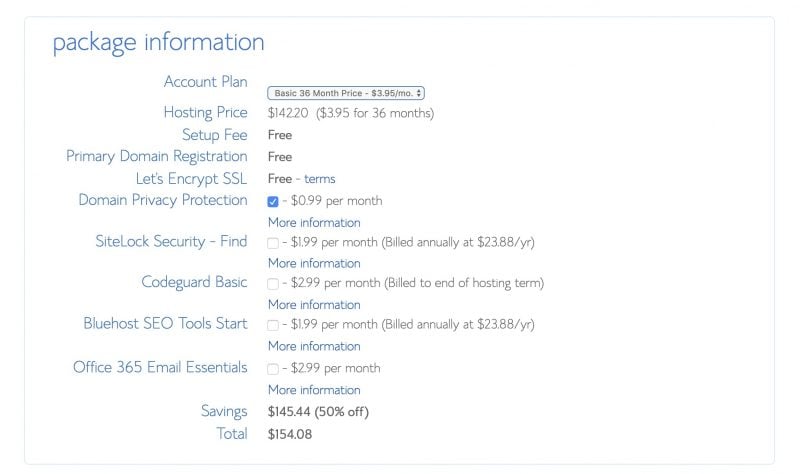 After signing up for your plan BlueHost will automatically setup WordPress for you and have you select a theme.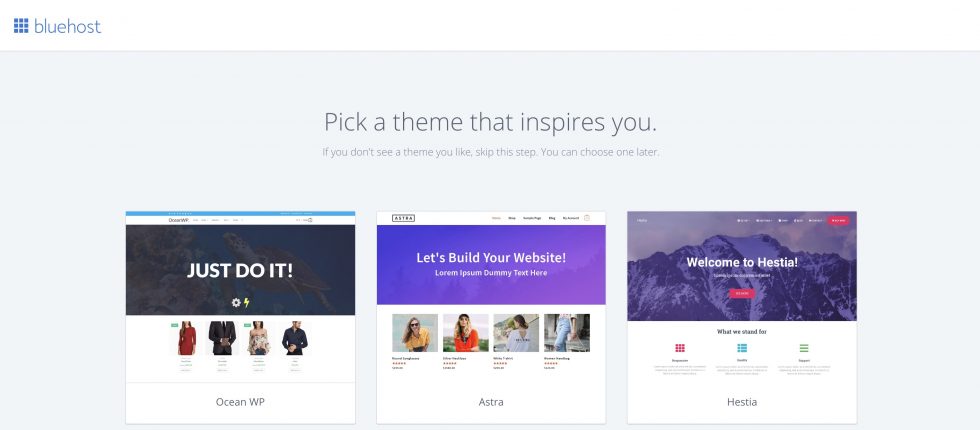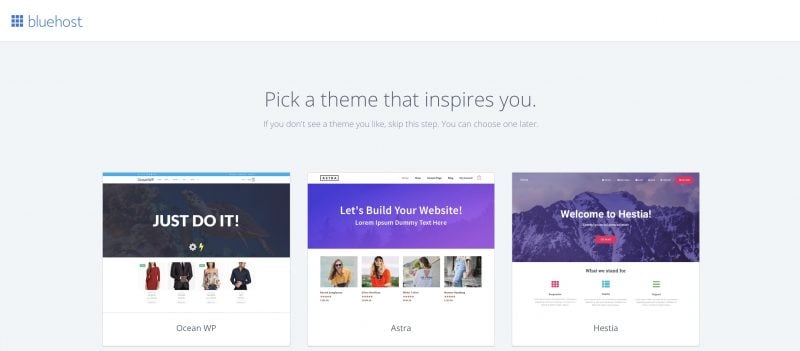 I recommend starting with Ocean WP but we'll cover WordPress themes in detail in the next section.
And boom you're done! Bluehost will now take you to your WordPress admin and walk you through the basic WordPress settings. Remember you can change anything at any point so don't get nervous making changes.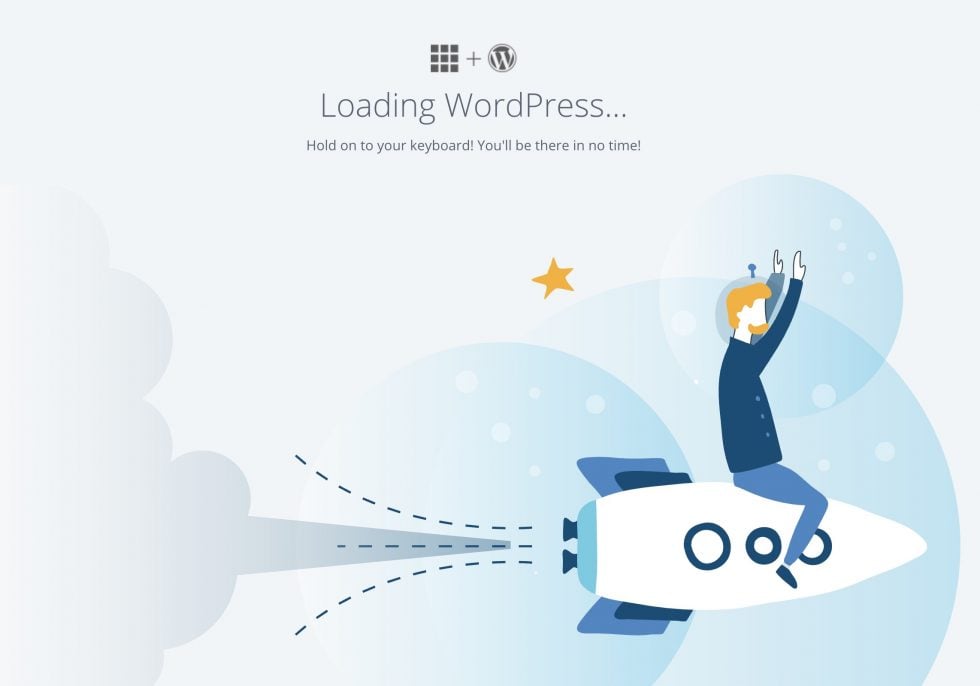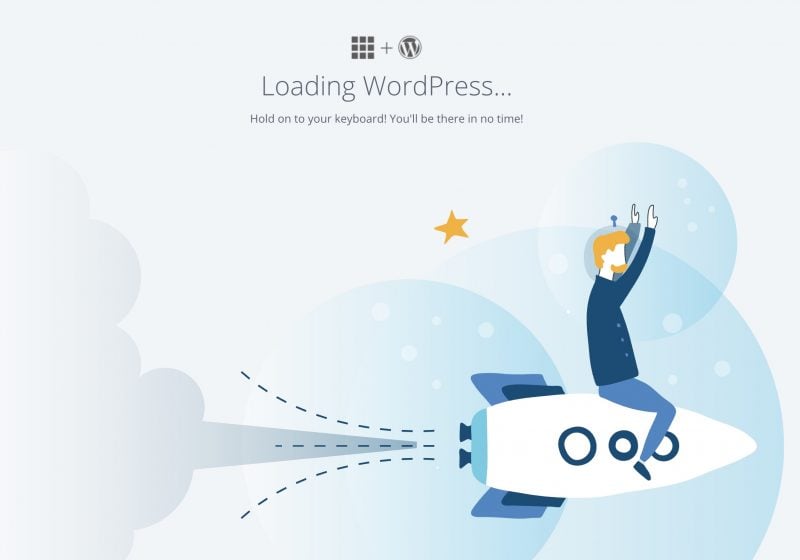 2. WordPress Photography Themes
While BlueHost will set you up with a starter theme here are more options of WordPress themes for photographers.
Premium WordPress Themes for Photographers
There are many options when it comes to WordPress themes. Many these become unsupported overtime and can eventually lead to a lack of features or even worse bugs. This is why I recommend using a framework + child theme. There are many options when it comes to this approach but one of the most popular is Genesis Framework. Plus they have a couple of child themes you can customize.
Genesis Framework Theme + Child Theme Revolution Pro:
If you didn't like any of the photography WordPress themes for Genesis here are a few more options. Themeforest offers a massive library of premium themes.
Free WordPress Theme for Photographers
OceanWP + Elementor Page Builder: If you're new to page builders they let you drag and drop to build your site. Elementor has quickly become the most popular page builder for WordPress. Best of all the basic version of Elementor is free so you can create stunning pages without coding. While Elementor will let you create pages OceanWP will be the theme that holds it all together.
3. Essential WordPress Plugins for Your Photo Blog [FREE]
One huge benefit of using WordPress is the amount of plugins. But at the same time it can be cumbersome to find good WordPress plugins.
There are premium versions of each of these plugins that offer more features but for the sake of this post I'll be focusing on free WordPress plugins.
One of the most important aspects of your WordPress blog is speed. WordPress offers plenty of performance plugins but I recommend using WP Super Cache. It's simple to setup and will speed up your blog immensely.
One huge aspect of having a website is SEO and Yoast SEO gives you all of the controls you need for your WordPress blog. This includes the ability to edit meta title tags and descriptions. Additionally Yoast will generate a sitemap for your blog so you can put it in Google webmasters for indexing.
Since WordPress powers 33% of the net it's a huge target for attacks. Installing a WordPress security plugin is essential to keeping your site safe. WordFence covers all aspects of WordPress security including your login page and protecting against exploits.
Pinterest Pin Button Hover: jQuery Pin It
Photography plays a huge part on Pinterest. Having a simple way for visitors to share your images can help you get more traffic. The jQuery Pin It plugin will add a pin button to your images in posts.
This is a fantastic addition if you're sharing large posts with lots of images such as a wedding gallery.
There are plenty of options to built forms in WordPress but have found Ninja Forms to be easiest to use.
If you're building a simple contact form or want to include additional details like date of an event Ninja Forms will let you create it all. Best of all it's a simple drag and drop editor making it easy to build forms.
4. Create Essential Pages for Blog
Creating pages on your WordPress blog can greatly vary depending on what theme and page builder you have installed. If you don't have a page builder you most likely are using Gutenberg or the Classic WordPress editor. At the end of the day all of these editors will allow you to achieve the same effect.
Creating a Contact Page
If the main goal of your blog is to book more clients than having a contact page is essential.
One of the biggest mistakes I see about contact pages is only having a form and nothing else. It's essential to include a blurb of why someone would be contacting you. This can include an overview of the services you offer such as "engagement photos, weddings, etc".
Now that you have written why someone would contact you, add a form to the page using Ninja Forms which I recommended above.
This can be as simple as asking for someone's name, email and their message. But if you are more organized adding things like event date or a service selector will help you funnel your contact requests.
Making an About Page for Your blog
Next you'll want to create a page about you. Including details about you, awards you have won, and even links to your social accounts.
My buddy Adam Mason includes fun facts on his about page to give a deeper connection to prospect clients.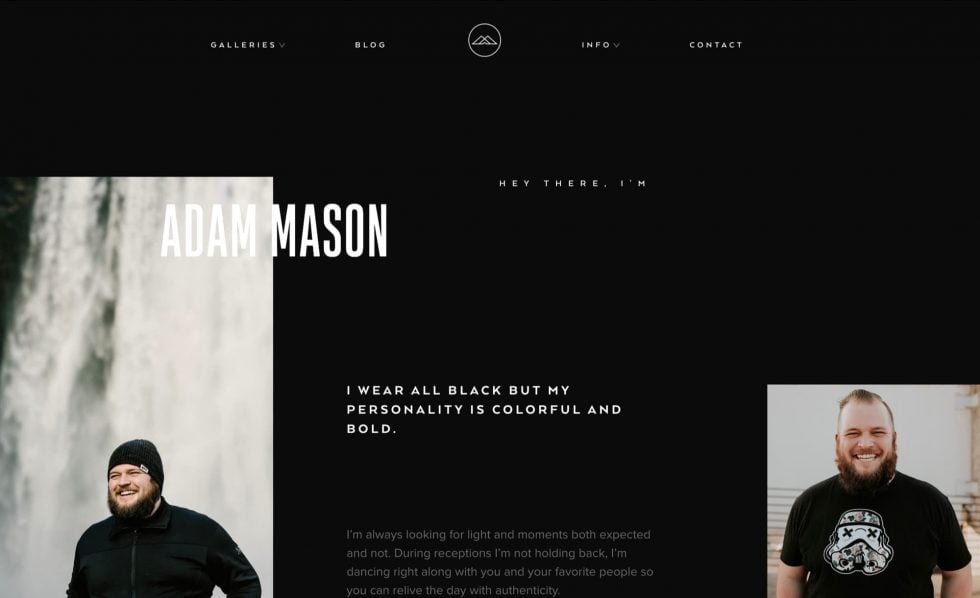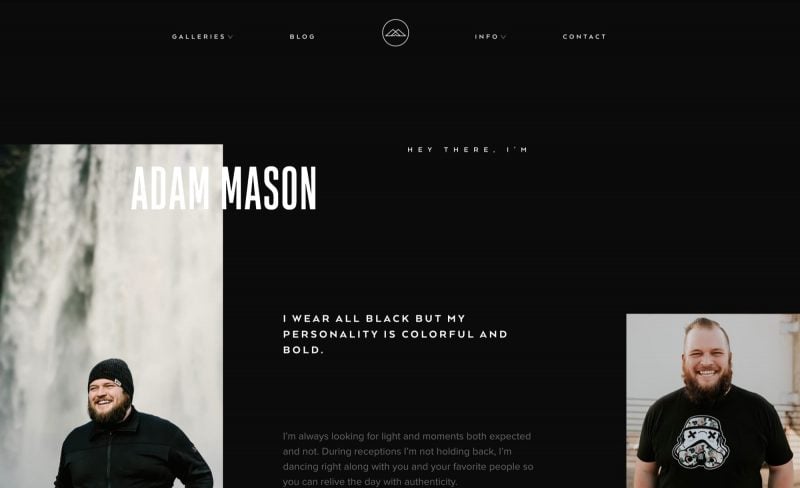 BONUS TIP: How to Use CloudFlare as a Free CDN
First you might ask yourself what is a CDN? A content delivery network or CDN is a network of servers that delivers images (and site assets) for your website.
Since you'll have a lot of large images and photos on your site a CDN can greatly improve your website.
Basically it makes your website faster.
And who doesn't love that!
Since PageSpeed is one of the factors Google ranks you on it's even more important.
One of the largest CDN services is CloudFlare. Best of all it's simple to set up, free, and even adds security to your website also.
To do this just sign up for CloudFlare. After signing up CloudFlare will scan your DNS records and you'll be given DNS name servers. These can be entered in your BlueHost account to replace your DNS. Just ensure that the DNS records CloudFlare scanned and the ones in your BlueHost account match since sometimes CloudFlare can miss entries.
After the DNS name servers are pointed to CloudFlare all of your traffic will go through CloudFlare servers.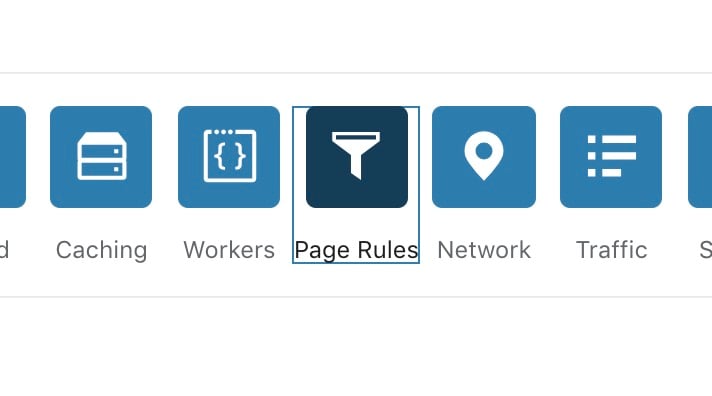 Here you'll want to create a page rule.
On this page you can create up to 3 free page rules but you will only need 1 to get the most out of it.
Just replace my domain name with yours and add the same settings in the rule.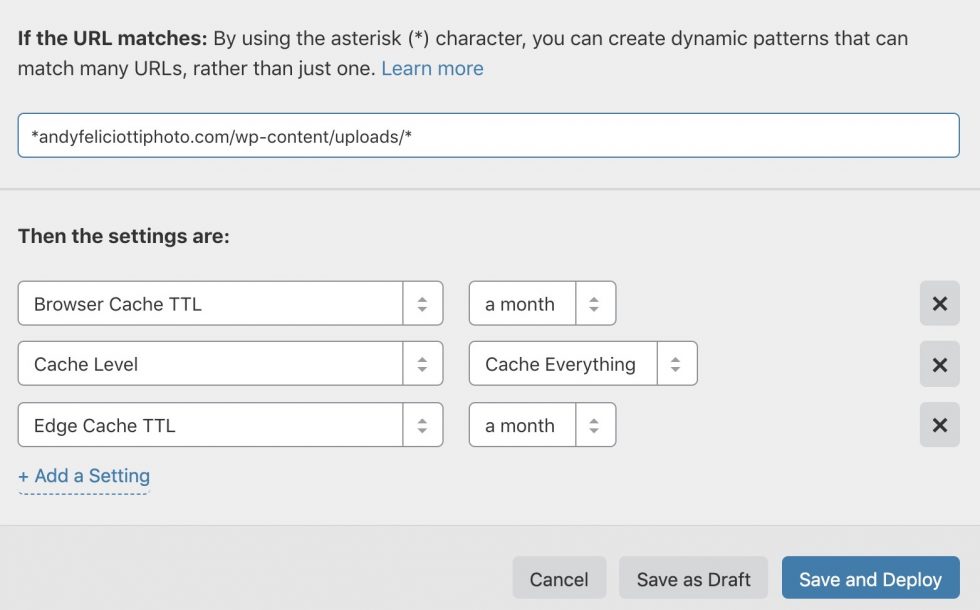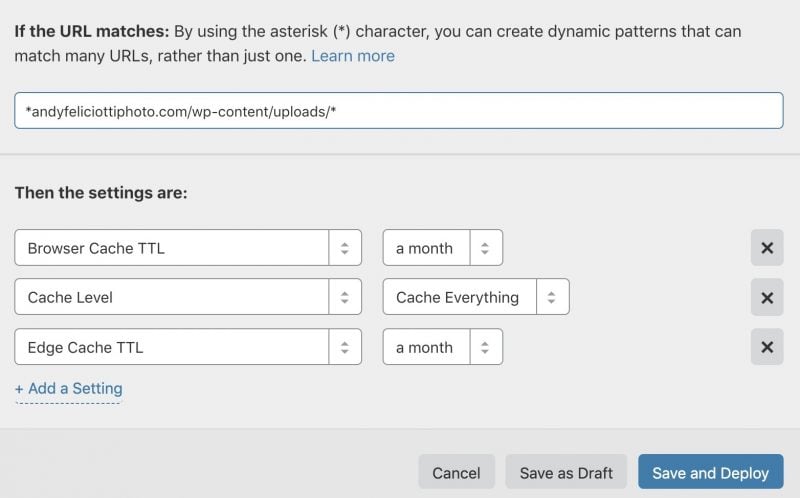 What this will do is server all of your wp-content/uploads content from CloudFlare and cache it for a month. From my experience this is a fantastic way to speed up images on your site for free.
After it's deployed you're good to go! and it's as simple as that.
---
You should have a blazing fast photography blog now!
After you get sense for how you want your WordPress blog to feel you can always hire a WordPress developer for deeper customization. Services like Envato Studio and Codeable give easy access to premium WordPress services.
If you have any question about setting up your photography blog leave them in the comments below.