Missouri Botanical Garden is one of the most beautiful places to visit in the Midwest, and with my multiple trips there, I have been blown away by the stunning sights and gardens in this 79-acre botanical garden. From the colorful flowers to the intricate statues, there was no shortage of photo opportunities to capture the essence of this amazing garden.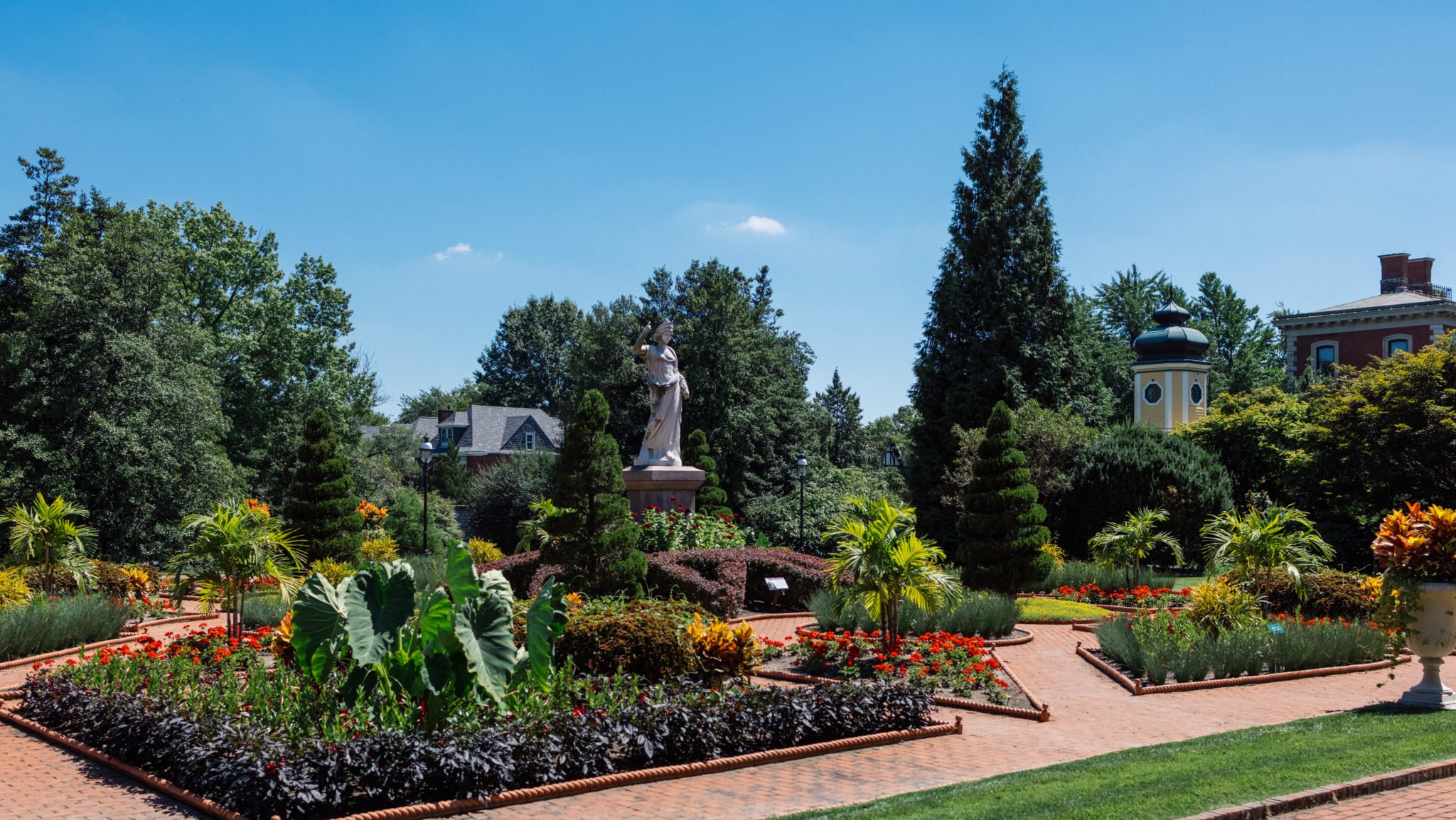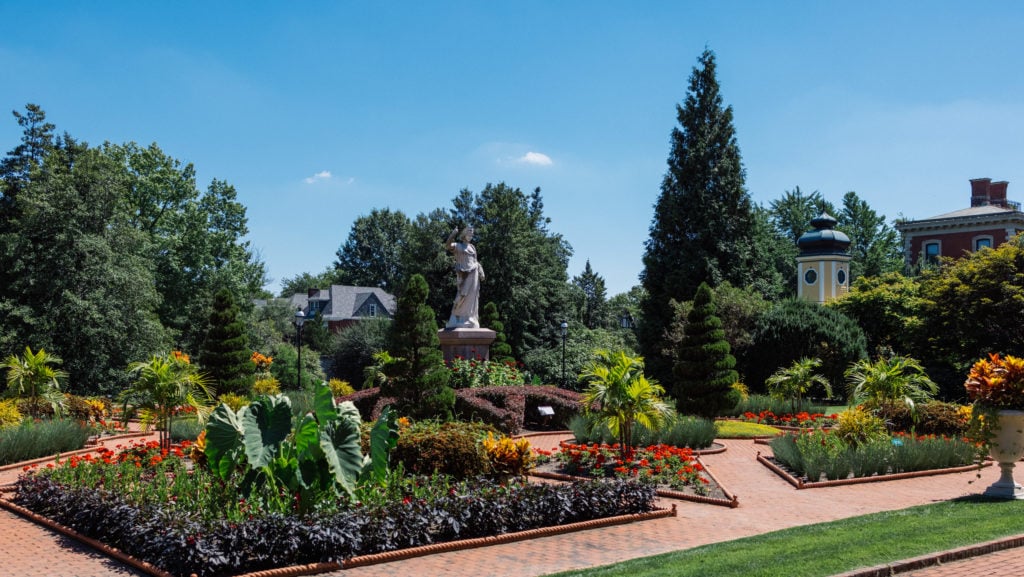 In this blog post, I'll take you on a visual journey through my experiences when visiting.
Table of contents
---
Geodesic Dome Conservatory
The Climatron is one of the first things you'll see when entering the Missouri Botanical Garden. The Climatron is a large greenhouse dome with no columns or supports. This dome allows more light to enter and hit over 2,800 plants located in the drome.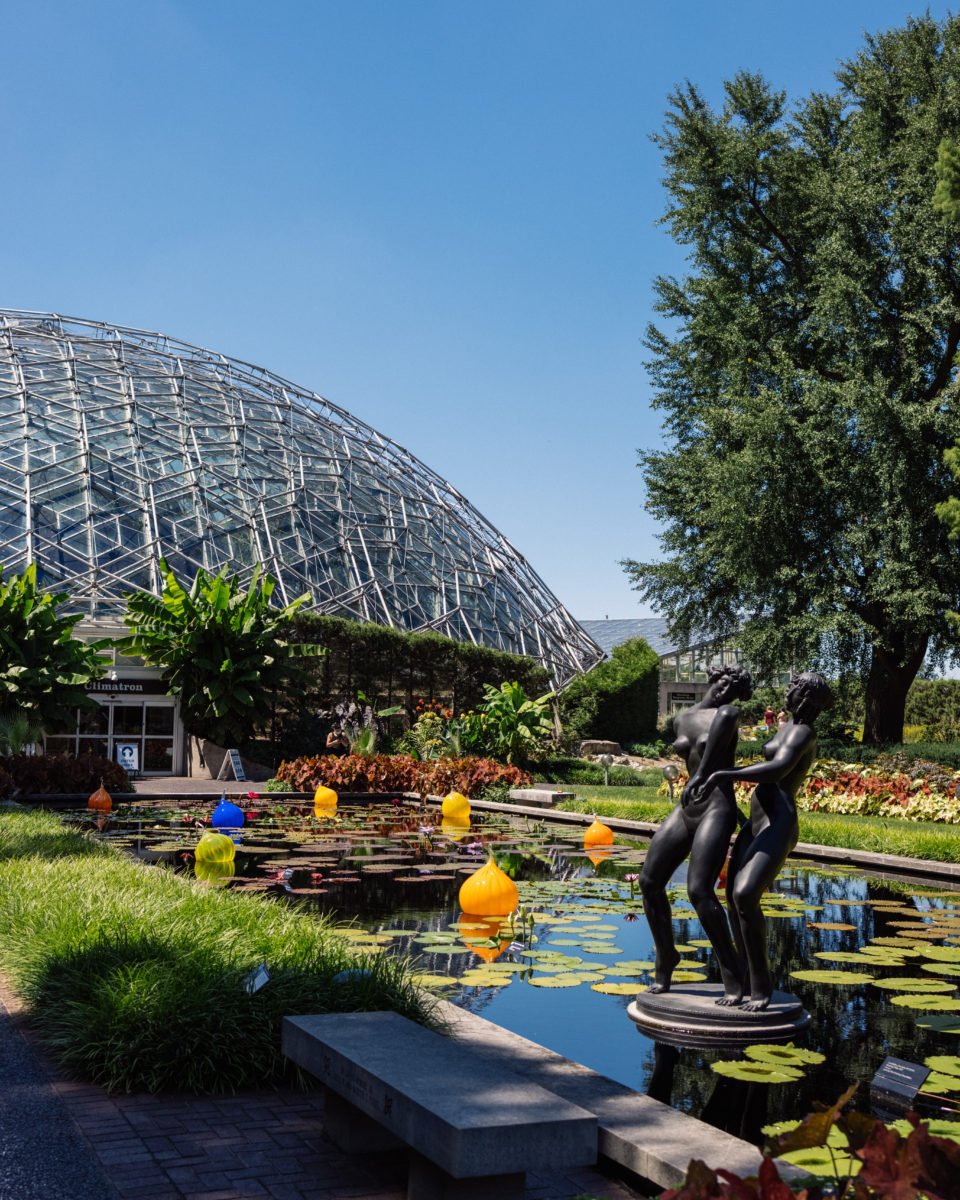 The Climatron's inside is designed like a tropical rainforest with a focus on its diversity and ecology. As soon as you enter, you'll be immersed in the tropics with dense green plants, waterfalls, rocky cliffs, and an aquarium with exotic fish. They can also see the forest canopy and plants from a bridge.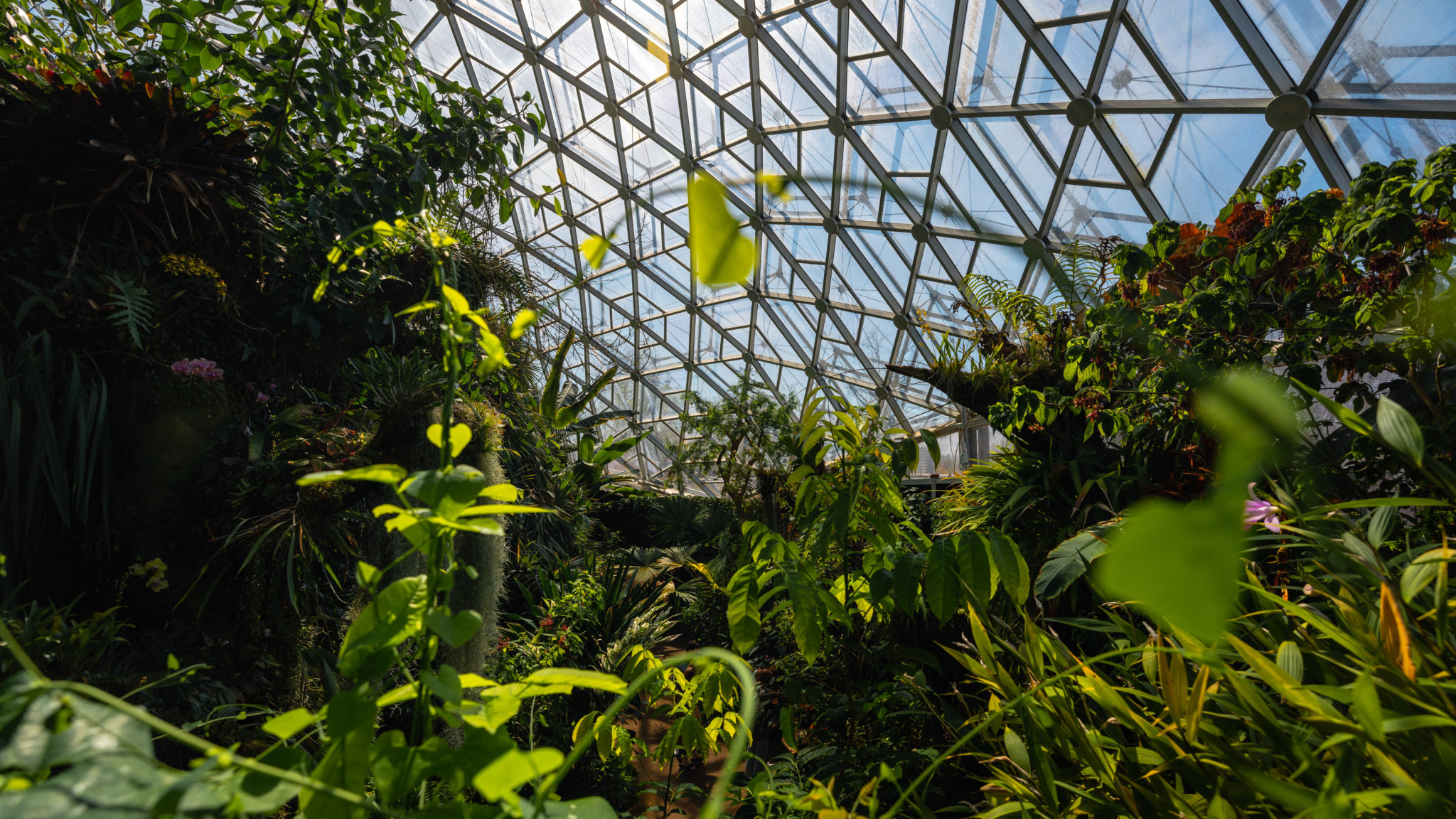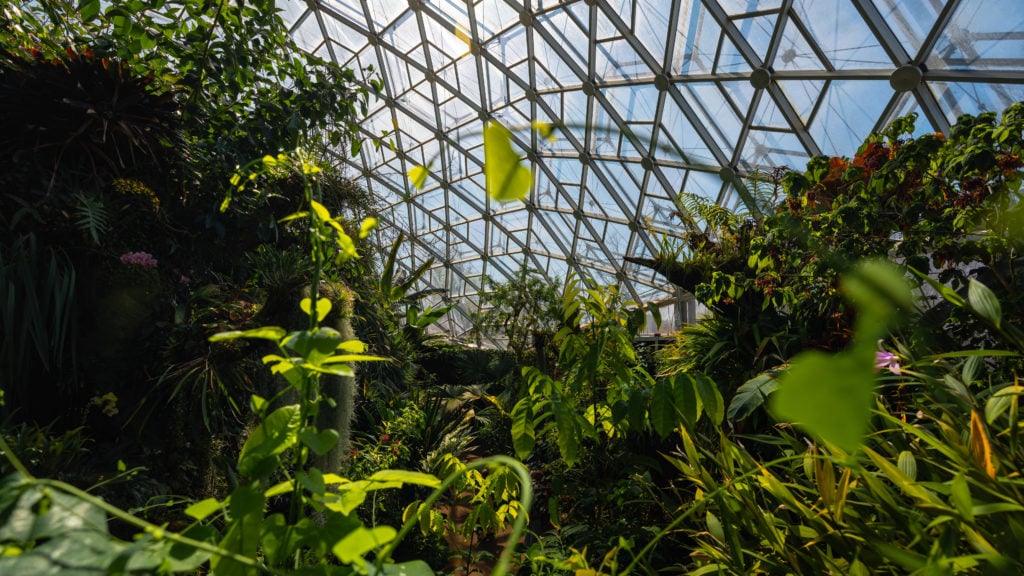 The Climatron has over 2,800 plants, including 1,400 different tropical species like banana, cacao, coffee, orchids, and exotic and rare plants. The greenhouse has a computerized climate control system that maintains a temperature ranging from 64°F (18°C) at night to 85°F (29°C) during the day, with an average humidity of 85 percent. The plants are watered with reverse osmosis purified, tempered water.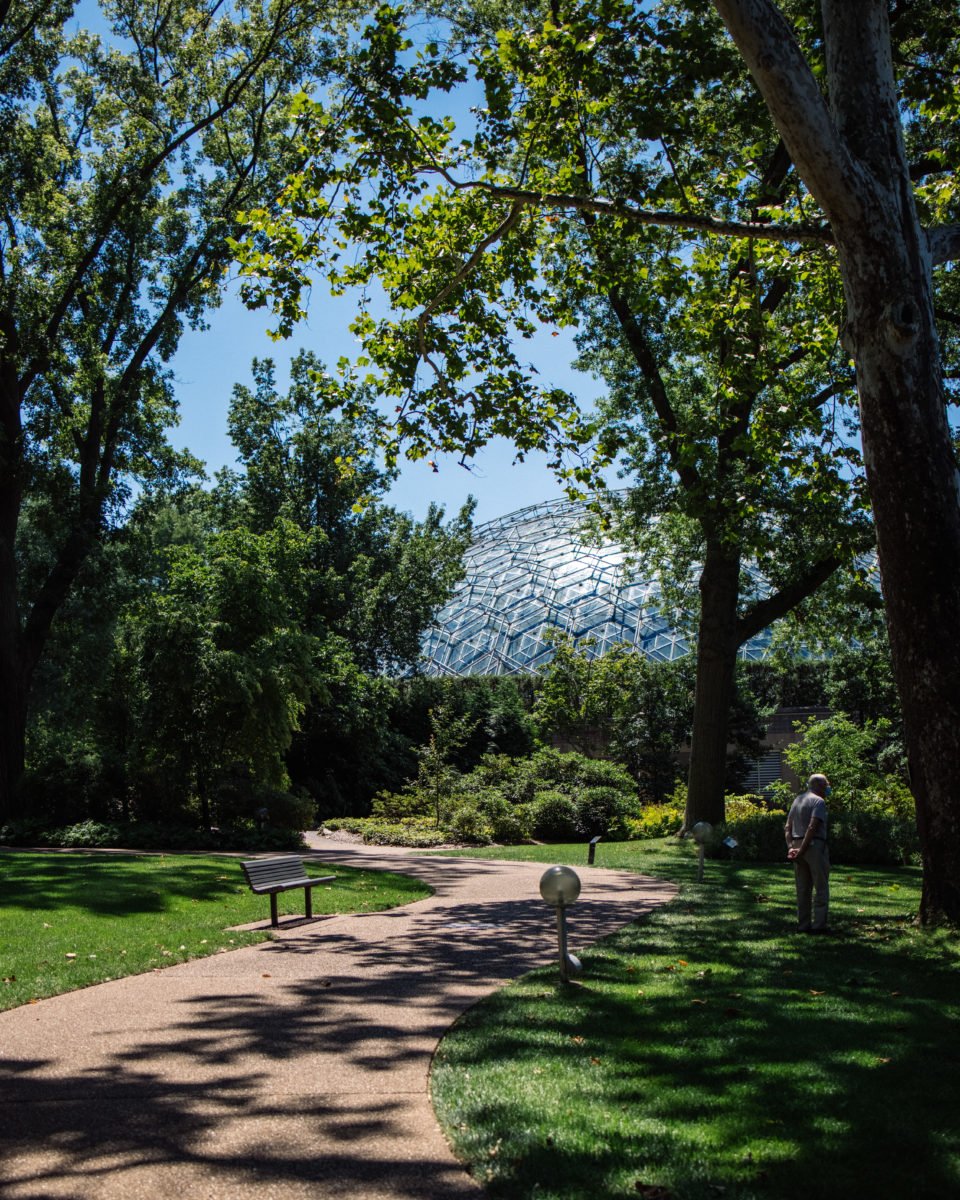 ---
Missouri Botanical Garden Pictures
Here are photos from my multiple trips to the Missouri Botanical Garden. I've been to the Missouri Botanical Garden a few times so you'll see photos of spring, fall, and even cherry blossoms blooming in the gardens.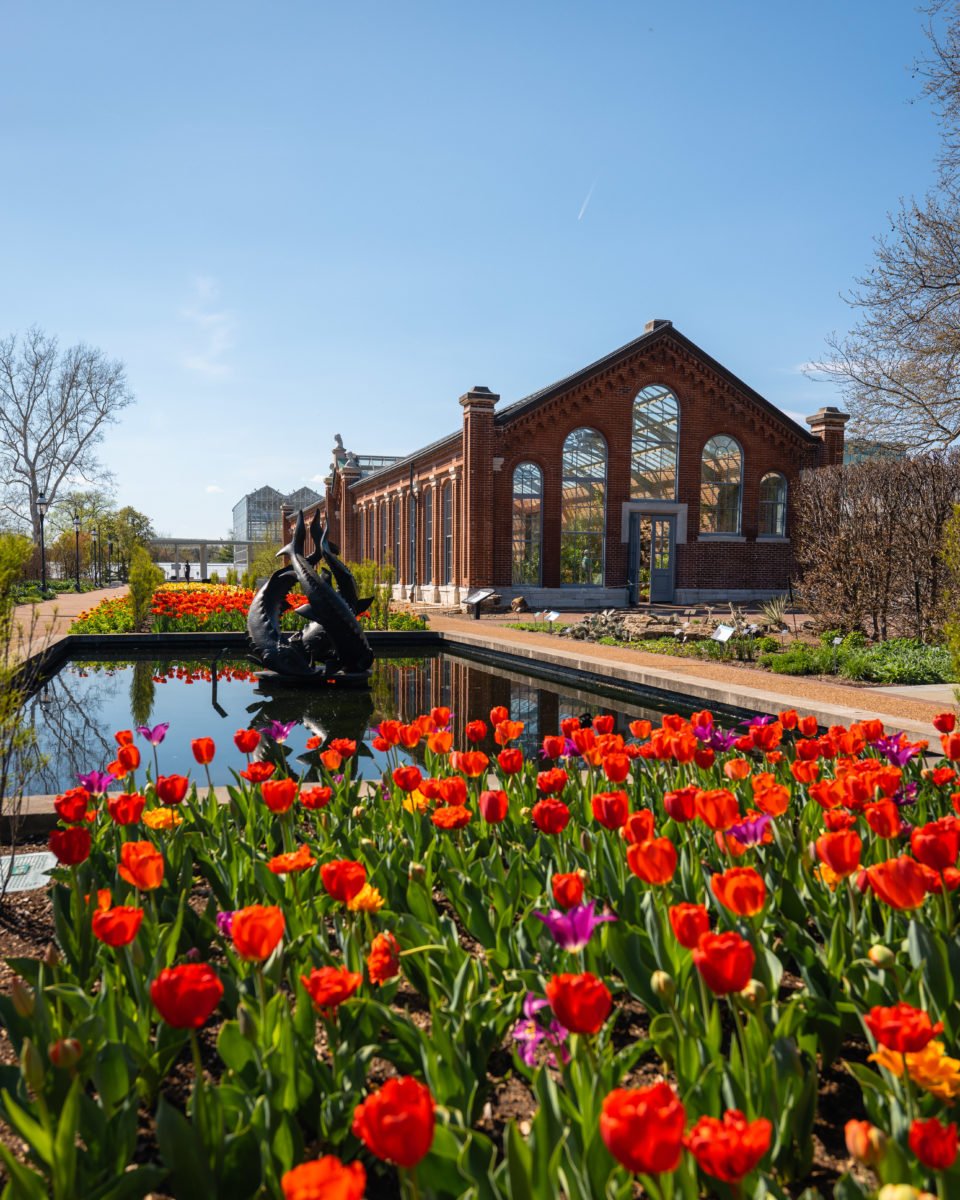 ---
Missouri Botanical Garden Frequently Asked Questions
What is the Missouri Botanical Garden?
The Missouri Botanical Garden is a renowned botanical garden located in St. Louis, Missouri. Founded in 1859, it is one of the oldest botanical institutions in the United States and is considered a national historic landmark.
What are the hours of operation?
The Missouri Botanical Garden is open 9:00 am to 5:00 pm daily, including weekends and holidays. The garden may be closed on certain holidays, so visitors should check the website or call ahead to confirm hours of operation.
What is the entrance fee?
The admission fee for adults is $14, seniors (ages 65+) is $14, and STL residents is $6. Children under age 12 are admitted free of charge. Additionally if you are a member of another botanical garden that's part of the American Horticultural Society reciprocal program you can enter with your membership.
Is there a discount for St. Louis residents?
Yes, St. Louis City and County residents receive free admission during walking hours on Wednesdays and Saturdays (walking hours from 7–9 a.m.). Additionally residents can buy tickets for $6. Proof of residency is required to receive a discount.
What can visitors see at the Missouri Botanical Garden?
The Missouri Botanical Garden features a wide variety of gardens and collections, including a Climatron geodesic dome, a Japanese garden, a Victorian-style garden, a Chinese garden, and a children's garden. The Botanical Garden also has a number of indoor exhibits and a butterfly house.
Are there any guided tours available?
Yes, guided tours are available at the Missouri Botanical Garden for an additional fee. The garden offers both walking tours and tram tours, as well as tours tailored specifically for children and groups. Visitors can also register for a self-guided tour on their website.
Is the Missouri Botanical Garden accessible for visitors with disabilities?
Yes, the Missouri Botanical Garden is fully accessible for visitors with disabilities. The garden offers accessible parking, ramps and elevators, and wheelchairs are available for rent. Service animals are also welcome.
Can visitors bring food and drinks into the garden?
Nom outside food is prohibited from the Missouri Botanic Garden. The garden has several dining options on-site, including a cafe and a restaurant.
Can visitors purchase plants at the garden?
Yes, visitors can purchase plants and gardening supplies at the Missouri Botanical Garden's Garden Gate Shop, which is located near the garden entrance. The shop offers a variety of plants, including rare and exotic species, as well as gardening tools and gifts.
---
All in all, the Missouri Botanical Garden is an incredible place to visit and take photos. The garden offers a peaceful and serene environment that's perfect for relaxing and unwinding. Whether you're a professional photographer or just looking to snap some pictures for your personal collection, the Missouri Botanical Garden is a great place to capture some stunning shots. So, plan your visit today and don't forget to bring your camera!