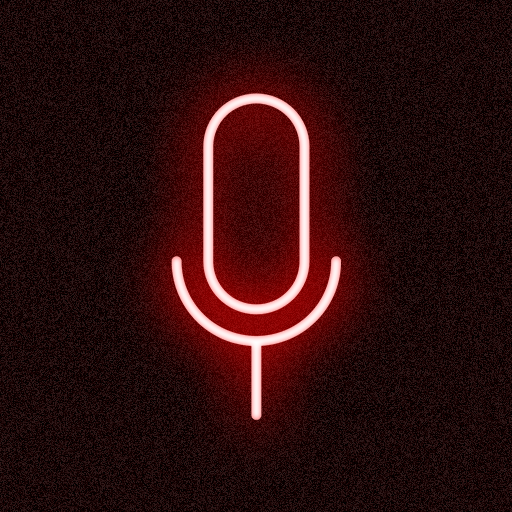 Audio is becoming a larger part of people's lives with the explosion of growth of the podcast space.
If you run a business or personal brand you could benefit from building a podcast around your niche. This list of podcast recording equipment is perfect whether you're a beginner or pro.
There is a lot to cover when building a podcast including microphones, audio interfaces, podcasting, and more. All of these topics are covered in this podcast equipment guide.
Beginner Podcast Equipment
The Audio-Technica AT2020 is a fantastic value for the audio quality of the microphone. This XLR condenser microphone's audio quality is going to make your podcast sound great right from the gate.
Beginner XLR Audio Interface: Scarlett 2i2
The Scarlett 2i2 will convert two XLR microphone inputs to USB audio for use in your recording software. This makes it simple to hook up your microphones, giving them power, and allowing them to be recorded via your computer.
If you plan on having more than 2 speakers you'll need a larger audio interface that will take in more microphones.
For 1 to 2 speakers: Scarlett 2i2
For 2 to 4 speakers: Allen & Heath ZEDi-10 Hybrid Mixer/Interface
There are plenty of options for pop filters. Pop filters help filter out pops in recordings so when people blow air out of their mouth for Ps for example a pop filter will help reduce the noise.
Getting a foam cap is one of the easiest ways to add a pop filter since you don't need to worry about adjusting anything in front of the microphone like how mask shields work.
You have a couple of options to hold your microphone, an arm or a desktop stand. Microphone arms can be cumbersome if you don't plan on recording in a dedicated recording space. This is why I recommend starting out with a desk microphone stand.
Any shock mount will help to reduce bumps and other sounds that resonate through the microphone stand. If you plan on recording your podcast on a table this will come in extremely handy for reducing the vibration noises.
Since most XLR microphones don't include cables you can pick some 6 foot XLR cables up on Amazon. They sell cables in plenty of lengths so think about how long your cables will need to be for your appropriate setup. If you have more people getting longer cables might be optimal.
These cables will go from your microphone to your XLR audio interface.
---
Professional Podcast Equipment
If you want the highest quality sounding podcast getting the right gear is essential.
Here are my recommendations for a professional podcasting setup.
Most see the Shure SM7B as the best podcasting microphone. It's often used for professional voiceovers, in radio stations and most importantly professional podcasting.
When buying an SM7B it's recommended to pair it with a Cloudlifter. The Cloudlifter will give your microphone +25dB of clean gain.
What does this mean?
The audio from your Shure SM7B will sound even cleaner when using a Cloudlifter with it. Best of all it will help cut down on your editing work.
For 1 to 2 speakers: Universal Audio Apollo Twin
For 2 to 4 podcasts: Apogee Quartet
If you don't want to use a traditional audio interface you can record up to 4 XLR microphones with a Zoom H6 recorder.
---
Podcast Recording & Editing Software
Now that you have the best equipment for podcasting it's time to record and edit your podcast.
There are plenty of free and premium ways to record a podcast.
When recording your podcast it's important to split each microphone up until multiple channels. This way you can add each person's recording separately.
I have had plenty of mistakes where I recorder all of the microphones on one track and that caused a lot of issues when editing. For example if one person's microphone is quiet it's easy to fix if all tracks are separated.
All of these apps will need to be configured to record each mic to it's own track so be sure to correctly set it up before recording.
Audacity (Free, Mac & PC)
Skype Call Recorders
If you plan to do your podcast over Skype you'll need a way to record calls. This is as simple as adding an app to your computer.
If you're calling people using Skype on Mac Ecamm Skype call recorder is your best bet for Skype call recording.
Pamela is a free way to record Skype calls on your PC.
---
Podcast Hosting
After recording and editing your podcast you'll need to find a podcast host. This is basically used to create a podcast XML feed to submit to iTunes/etc so others can listen to your podcast.
Using Simplecast to Host your Podcast
One of the cheapest and easiest ways to start hosting your podcast is to use Simplecast.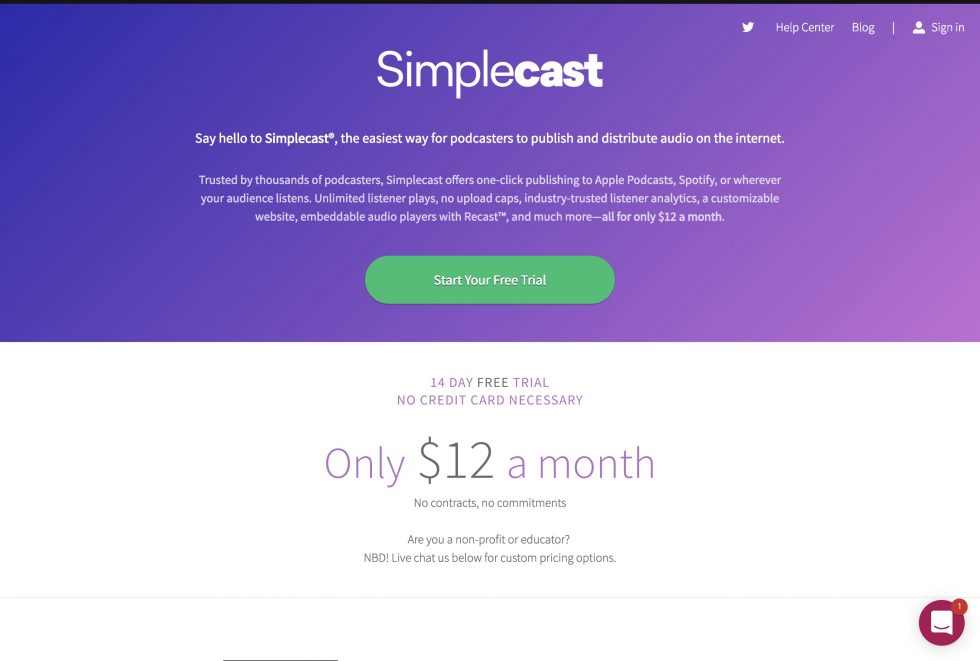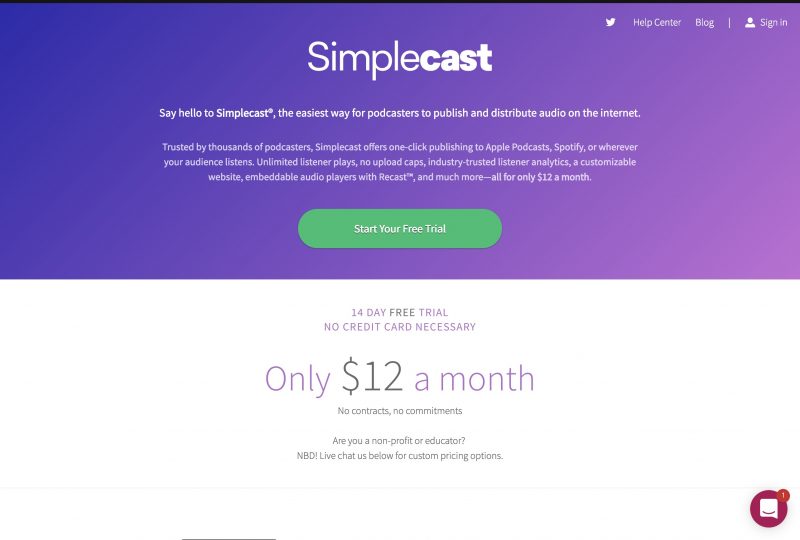 Using WordPress to Host your Podcast
If you're using WordPress for your website and want total control over your podcast using a plugin like Seriously Simple Podcasting can be extremely powerful. This is what we use to host the IGDC Podcast and I have found it straightforward to use but also has great features for people who want to customize everything.
Seriously Simple Podcasting will create a post type on your WordPress site so you can add episodes and series of your podcast(s).
Once you setup all of your initial settings adding episodes is as simple as adding an mp3 file.
When you create a podcast using the plugin you'll be given a feed url to give iTunes and other libraries. Then after that all episodes you publish are instantly updated.
Using Buzzsprout to Host your Podcast
Another great free option to host your podcast is Buzzsprout.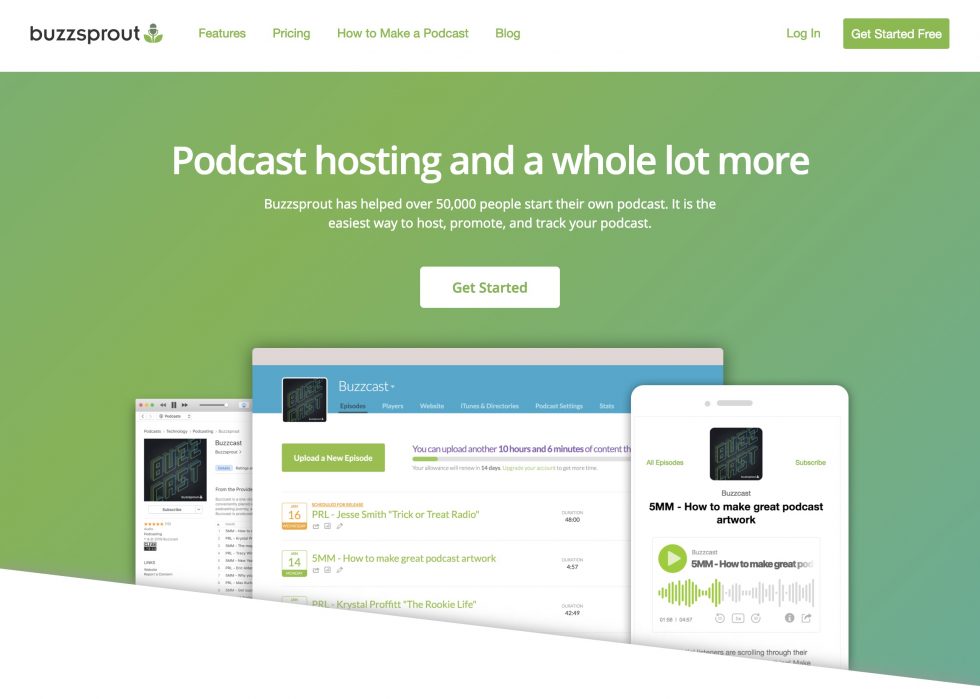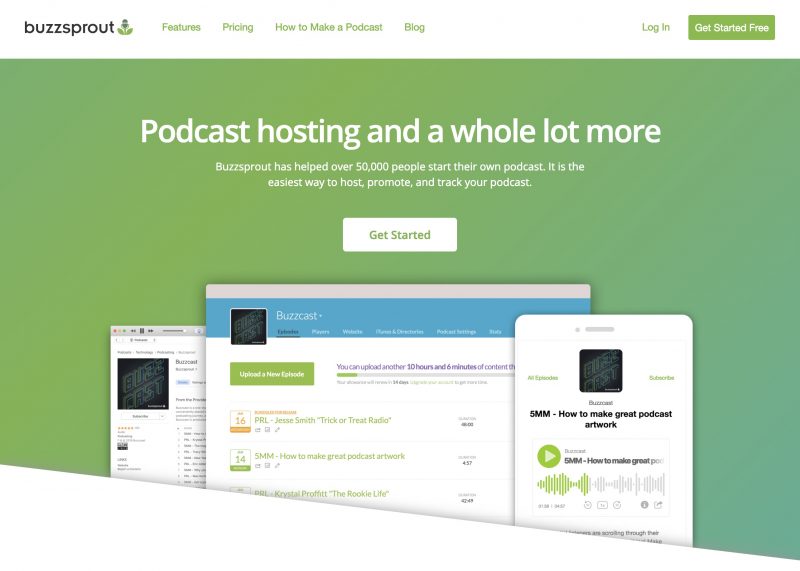 If you plan on uploading more than 3 hours of content a month you'll have to pay but their plans are affordable.
Using Soundcloud to Host your Podcast
An additional free way to host your podcast is to use Soundcloud.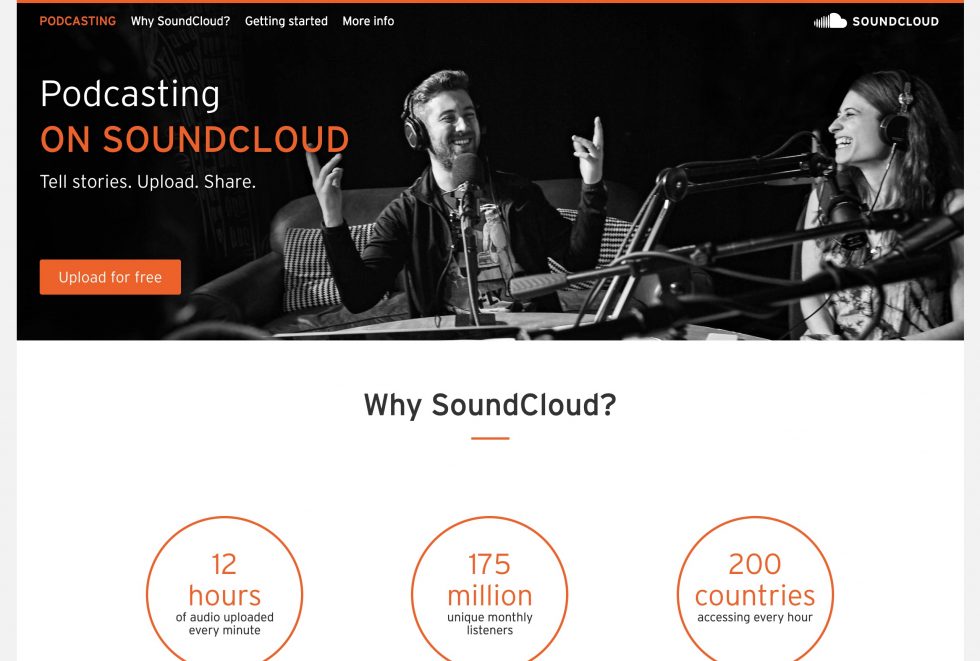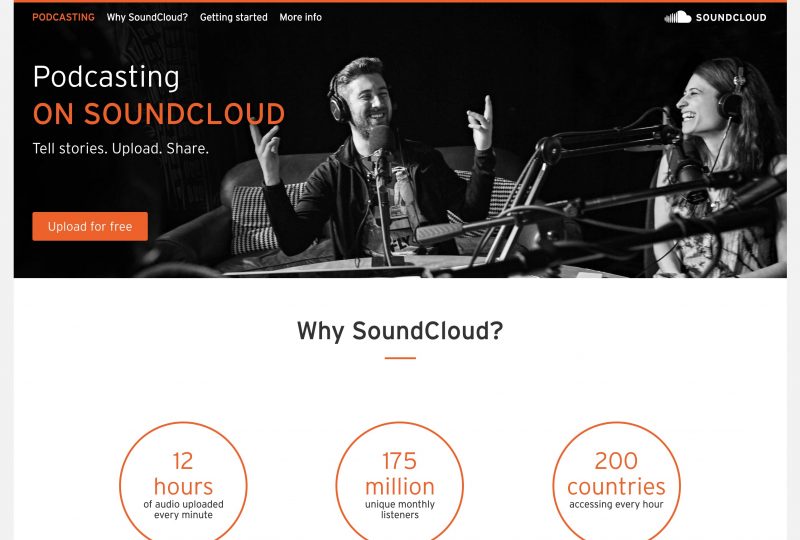 ---
Podcast Website Hosting
If you want the most control over the design and functionality of your website I'd setting up a WordPress site.
That being said we'll break down multiple options to host a website for your podcast.
Using WordPress to Host your Website
Arguably the most complicated method for hosting a podcast website but WordPress offers the highest level of customization. So if things like controlling your data, design, and functionality 100% WordPress is a fantastic choice.
Using SquareSpace to Host your Website
Probably the easiest way to create a website is to use SquareSpace. It's simple drag and drop editor is extremely beginner friendly. If you just want to get something quickly up so you can link to your podcast on Apple Podcast/etc this might be your best bet.
Using Simplecast to Host your Website
If you are hosting your podcast on Simplecast they will also generate pages for your podcast. Including individual episode pages and players on pages for visitors to listen.
---
Submitting Your Podcast to Apple, Spotify, Google Play, Etc
After recording and publishing your first podcast episode you'll want to submit your podcast to all of the podcast libraries.
No matter how you host your podcast you'll need to know your podcast feed url. This is what podcast services will use to publish your podcast.
I will note once you get your podcast on iTunes a lot of services just replicate their library so submitting your podcast to iTunes is essential to any podcast.
How to Submit a Podcast to Apple
Submitting a podcast to apple is simple just using Apple's podcast connect website. Once you submit your podcast to Apple most other podcast directories will start listing your podcast automatically. In addition to allowing users to download your podcast you will also be able to view analytics of how long people listened and how many times an episode was downloaded in podcast connect.
How to Submit a Podcast to Spotify
How to Submit a Podcast to Google Play
Publish podcast on Google Play
---
I hope this tips were helpful from the gear for podcasts to the podcast publishing process.
If you have any questions I most likely can help, just let me know in the comments below!