Albert Einstein known for his massive contributions to the science community is immortalized with a 21-foot statue in Washington DC. The Einstein Memorial features a large statue of Einstein holding a stack of papers in his left hand with his famous theory of relativity on it along with other scientific contributions.
The statue was originally made in honor of Einstein's 100th birthday in April 22, 1979.
Located directly in front of the National Academy of Sciences (NAS) the statue of Einstein is triple-sized making it hard to miss from the street. You can easily find the Albert Einstein Memorial with a short walk from the Vietnam Veteran Memorial on Constitution Ave NW.
The large bronze statue's design just begs for you to sit in Einstein's lap for a quick photo.
Statue of Albert Einstein on Google Maps
---
Photos of the Einstein Memorial
Here are more of my photos of the Albert Einstein Memorial in front of the National Academy of Sciences. Including close up photos where you can see Albert Einstein's nose that visits often rub for luck.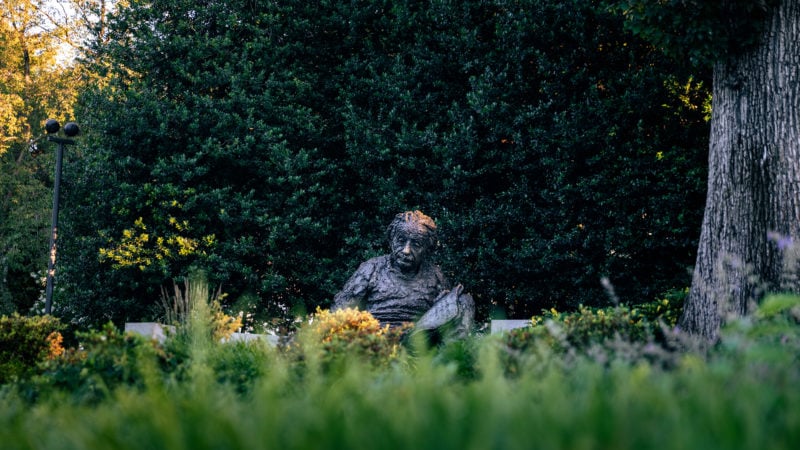 ---
Planning a Visit to the Albert Einstein Memorial
The Einstein Memorial is accessible 24/7 off of Constitution Avenue. The statue of Albert Einstein is across the street from Vietnam Veterans Memorial so if you're visiting the National Mall it's close by.
If you plan on taking the Metro to the Einstein Memorial there are a few stops near by including Foggy Bottom (0.7 mile) and Smithsonian (1.4 miles). Both stops are about a mile away so expect to walk a bit to get here.
Parking can be tough but there are typically spots on Constitution Ave or 22nd St. Most of the parking near the National Mall is paid via the ParkMobile app.
Of course you can also take a Capital Bikeshare bike or rent an electric scooter.
---
If you've enjoyed this post please share a pin on Pinterest.
Keep up with the latest on my Washington DC Pinterest Board.