One of my favorite features Canon has been adding to their cameras is the ability to record timelapses all in-camera. This makes it extremely easy to just setup your camera and get great results. The Canon R5 has a fantastic timelapse mode that can record up to 8K resolution.
Even if you're trying to achieve a holy grail (day to night) timelapse you'll be able to with the R5's built-in modes.
If you're a more experienced timelapse photographer the Canon EOS R5 includes a built-in intervalometer. This allows you to take photos at preset intervals all without an additional remote.
In this article I will be going over the built-in timelapse mode in the Canon R5 and how to get great results.
The Canon EOS R5 timelapse mode allows you to record timelapses in 1080p, 4K, and 8K resolution. After your timelapse is over it's automatically compiled into an MP4 video all in-camera.
---
How to Setup a Timelapse with Canon EOS R5
Now let's get started.
First you'll need a sturdy tripod or somewhere to place your camera so it doesn't move. Secondly an interesting subject like a sunset, clouds, or traffic.
After you have those you're ready to capture a timelapse!
Need a memory card for your R5?
Read: Canon R5 memory card recommendations
Now that we have an interesting subject and tripod I'll go over a few settings you'll need to change to get the best results.
By default when filming a timelapse on the Canon R5 the ISO will automatically move between ISO 400-26500. This will cause us trouble since low light scenes will introduce a lot of noise at higher ISO ranges
Luckily we can change the max ISO speed when recording a timelapse on the R5. To do this set the camera to movie mode and head to ISO settings in the R5 menu (Shoot2) and find "Max for Auto" with a little timelapse symbol before it. Here you can set the max ISO from 400 to 26500, I recommend setting the max timelapse ISO to 400 so we have a cleanest image possible.
Now that we have our max ISO set we can setup our timelapse.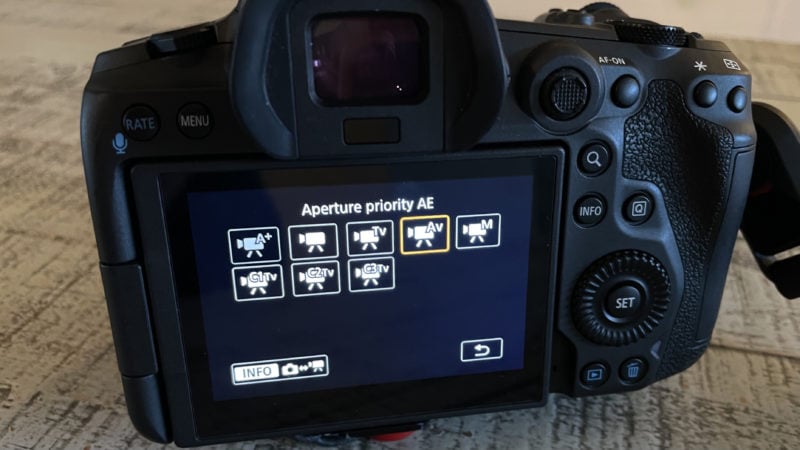 I recommend using movie aperture priority (Av) mode. Once you're on that you'll be able to enable timelapse shooting in the Shoot5 menu. Here is a quick break of the settings I recommend.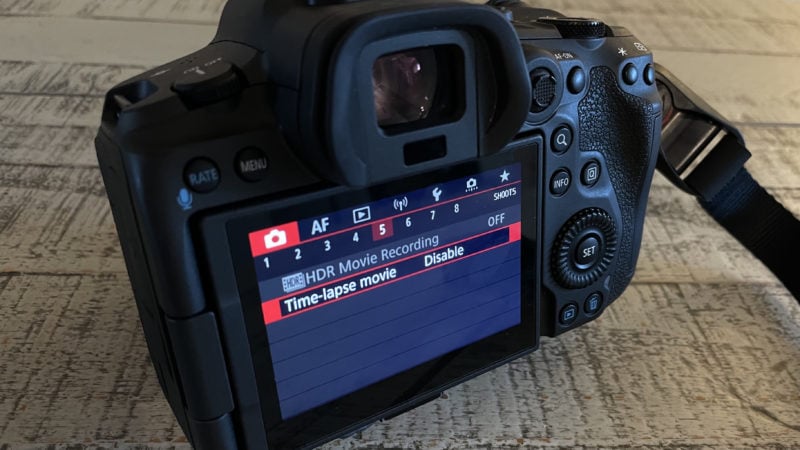 Recommended Canon R5 timelapse settings:
Mode: Movie Aperture priority (~f/8)
Time-lapse: Enable
Interval: 00:00:05
No. of shots: 3600
Movie rec. size: 4K
Auto exposure: Each frame
Screen auto off: Enable
Beep as img taken: Disable
In the Canon R5 timelapse mode you can take up to 3600 photos at a minimum of 2 seconds apart. The menu will tell you how long your timelapse will go as well and the resulting video length.
If you're going to film a short timelapse I recommend doing a lower time like 2 seconds while if you want one that is a few hours you'll want to have a longer interval.
Of course you can stop your timelapse at anytime by hitting the record button on the camera so I typically keep the photo count to the max of 3600.
You can set the camera's auto exposure for each frame or to match the first frame. Auto exposing for each frame will allow you to capture changing lighting conditions like day-to-night timelapses all without flickering so it's a no brainer to use that option.
After enabling timelapse mode and configuring the settings hit the red record button on top of the camera then the shutter button to start the timelapse. You should see the screen turn off/on as its capturing images.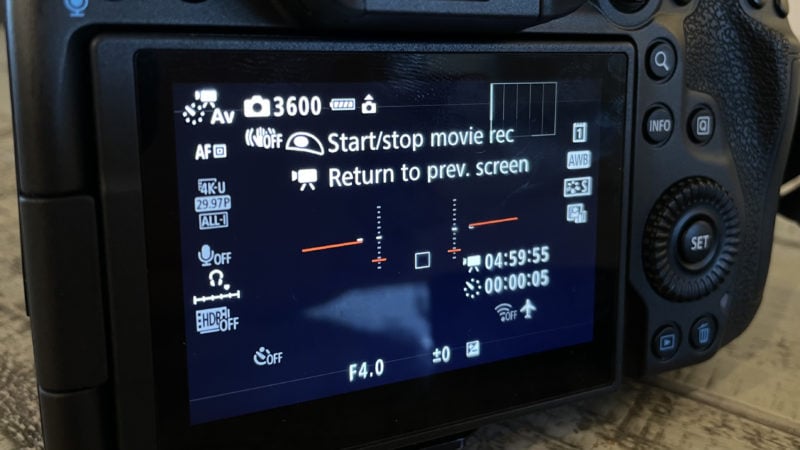 After 10 seconds the screen should automatically turn off if "Screen auto off" is enabled. You can also turn the R5's screen on/off during timelapse recording by hitting the info button, just be careful when interacting with the camera since any nudge can ruin your timelapse.
After stopping the timelapse the R5 will quickly generate your video and you can preview it directly on the camera.
I do wish you could do C-LOG or RAW recording for timelapses but sadly the R5 doesn't have the option to do that. If you need more fidelity you can use the R5's built-in intervalometer and software like LRTimelapse to capture a more "professional" timelapse. That being said I have found the results from the built-in functionality to be excellent. Especially if you're just trying to capture something quick to include in a travel video.
The Canon EOS R5 battery will last a couple of hours while timelapse shooting. Sadly you cannot use USB-C charging to charge the camera while recording. If you need to film a longer timelapse you'll need Canon's dummy battery adapter to power the camera.
---
Here's another example of the Canon R5 timelapse feature with a day to night timelapse. This was shot using -1/3 exposure compensation on aperture priority using the built in timelapse mode.
Here's another example of a day to night timelapse using the Canon R5.
---
I hope you found this guide to the Canon EOS R5 time-lapse mode helpful! If you have any questions let me know in the comments below.