Looking for an SD card for the Canon R50? In this post, I will discuss the top memory cards that are perfect for the Canon EOS R50. With its features like 4K video and high-speed 15 fps photo capture, it's essential to have a quality UHS-I SD card that can fully leverage the capabilities of your new camera.
Shop for a Canon EOS R50 on B&H Photo
If you aren't familiar with the R50 it's a compact, lightweight mirrorless camera ideal for content creators and beginners. The R50 uses Canon's RF lens mount and is compatible with RF and RF-S lenses. You can also use an EF to RF adapter to use any RF lenses.
The Canon R50 features a 24.2MP APS-C CMOS sensor, DIGIC X image processor, UHD 4K 30p video recording, and a Dual Pixel CMOS AF II with 651 zones for precise autofocus. The 2.36m-Dot Electronic Viewfinder and a 3.0″ flip out touchscreen. With Multi-Function Shoe, Wi-Fi, and Bluetooth, it ensures seamless integration and easy sharing, making it a feature-packed, yet portable powerhouse for the modern travel photographer.
Let's dive into my Canon R50 SD card recommendations.
Canon EOS R50 Memory Card Recommendations
The Canon R50 has a single SD card slot that supports SD/SDHC/SDXC memory cards with a UHS-I.
Memory Card Slots: 1 (Eye-Fi and Multimedia cards are not supported)
Memory Card Type: SD/SDHC/SDXC Card
Memory Card Speed: UHS-I
Since the Canon R50 only supports UHS-I speeds that means you don't need an expensive card to get optimal performance form the camera. Of course if you have a faster card sitting around you can use it but if you are buying a new card only for the R50 it can be UHS-I.
Best UHS-I SD memory cards for Canon EOS R50
I typically trust SanDisk for affordable SD cards and the Extreme Pro makes a great choice for the Canon EOS R50. Since UHS-I memory cards are so affordable you can get a larger storage card for a great price so you have plenty of storage.
My Pick: SanDisk 128GB Extreme PRO SDXC UHS-I
Sale
Fast read and write speeds on the SanDisk Extreme Pro UHS-I SD card are 200 MB/s and 140 MB/s, respectively. You can take uninterrupted full HD and 4K videos using it. With a high-speed class rating of V30 and the ability to handle both RAW and burst photography, your photos and videos will be taken quickly without losing any data.
---
Canon EOS R50 SD Card Specifications
Specifications for the SD card are provided in-depth by the Canon EOS R50 in a separate specification sheet. Important information, such as storage capacity, speed class, write speed, and other pertinent details, are outlined in this document. With these specifications at hand, users of the Canon EOS R50 can choose the best SD card for their individual needs and make an informed decision.
Since class 10 SD cards are so affordable it makes the most sense to get a fast card so you don't need to worry about being limited during 4K movie recording.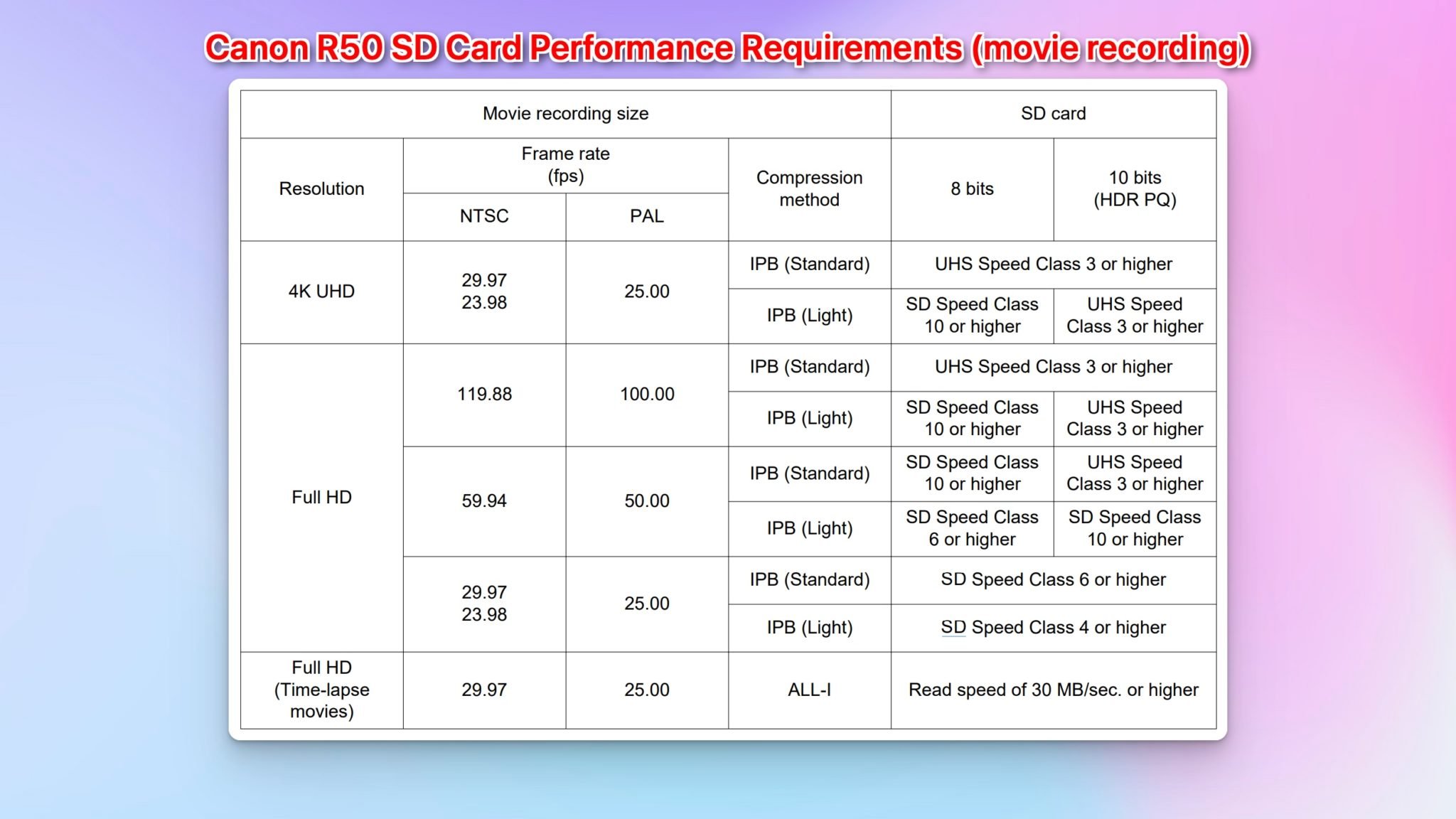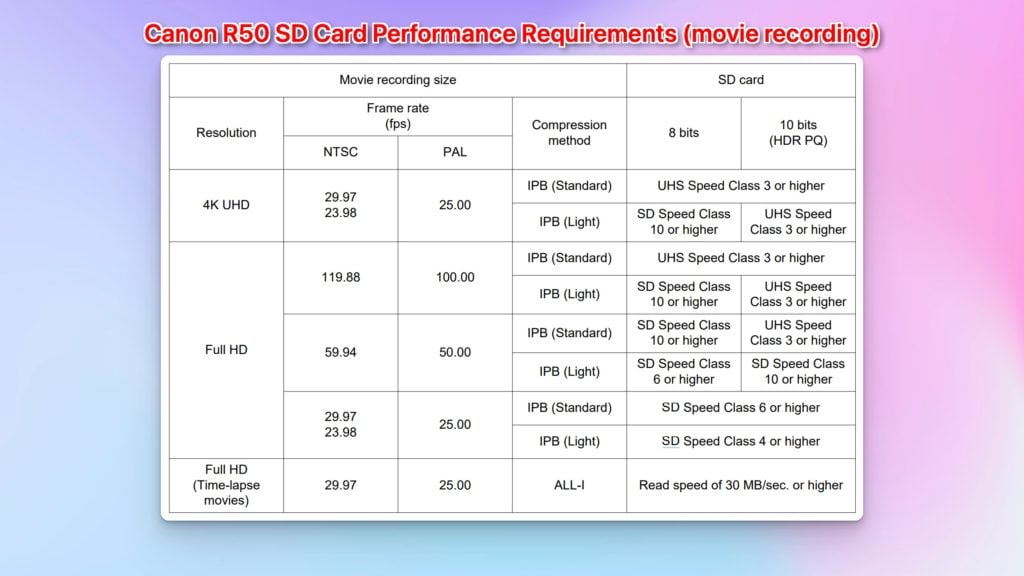 ---
How to Format SD Cards on Canon EOS R50
Formatting memory cards on the Canon EOS R50 is a simple process. To format a memory card, access the camera's menu by pressing the Menu button. Navigate to the "Setup 1" section (indicated with a wrench icon) and look for the "Format card" option. Select it, and you will be prompted to format the memory card.
Within the formatting options, you may also have the choice to perform a low-level format, which completely erases all data on the card, including sensitive photos that you want to ensure cannot be recovered.
To ensure optimal performance with your Canon EOS R50, it is recommended to format your new memory card once you have it.
---
Of course if you're upgrading from a DSLR you likely already have an SD card laying around that will work well in the Canon R50. The most demanding things you can do for an SD card is continuous shooting and 4K, typically if I am testing speeds I'll do those functions first.
When it comes to selecting the best memory card for your Canon EOS R50 it's important to consider factors such as speed, capacity, and brand reputation. By prioritizing these elements, you can make an informed decision that will benefit your photography or videography endeavors in the long run.