While the Canon EOS R5 may be the camera getting all the headlines but the Canon EOS R6 has also been announced. The Canon EOS R6 features a 20.1 MP full-frame sensor, IBIS, and 4K shooting modes which will make it a popular camera for hybrid shooters.
Today I'll be going over the best memory cards for the Canon EOS R6. The Canon EOS R6 has dual SD card slots that can handle speeds from UHS-II SDXC and SDHC memory cards.
Now let's not waste anymore time and dive into recommended R6 SD cards.
---
Canon EOS R6 Memory Card Recommendations
Using a UHS-II SD card unlocks on the R6 is RAW bursts up to 240 photos and HDR C-Log 4K60. So if you want to use every feature of the EOS R6 you'll likely want a UHS-II Card. The Sony Tough UHS-II card is a rugged card with the performance needed to use all of these modes.
If you're not filming Canon Log 4K footage or high burst rates a UHS-I card will fit most needs. Plus UHS-I cards are a lot more affordable.
---
Recommended SD Card for Photographers
If you're shooting high-speed sports or wildlife you may need massive RAW image buffers which require a UHS-II card. But for most photographers who are casually shooting on the EOS R6 using a UHS-I card will be more than enough. At their lower cost you can have money for more cards and storage overall.
You can consult Canon's chart below about the maximum burst amounts for each type of SD card.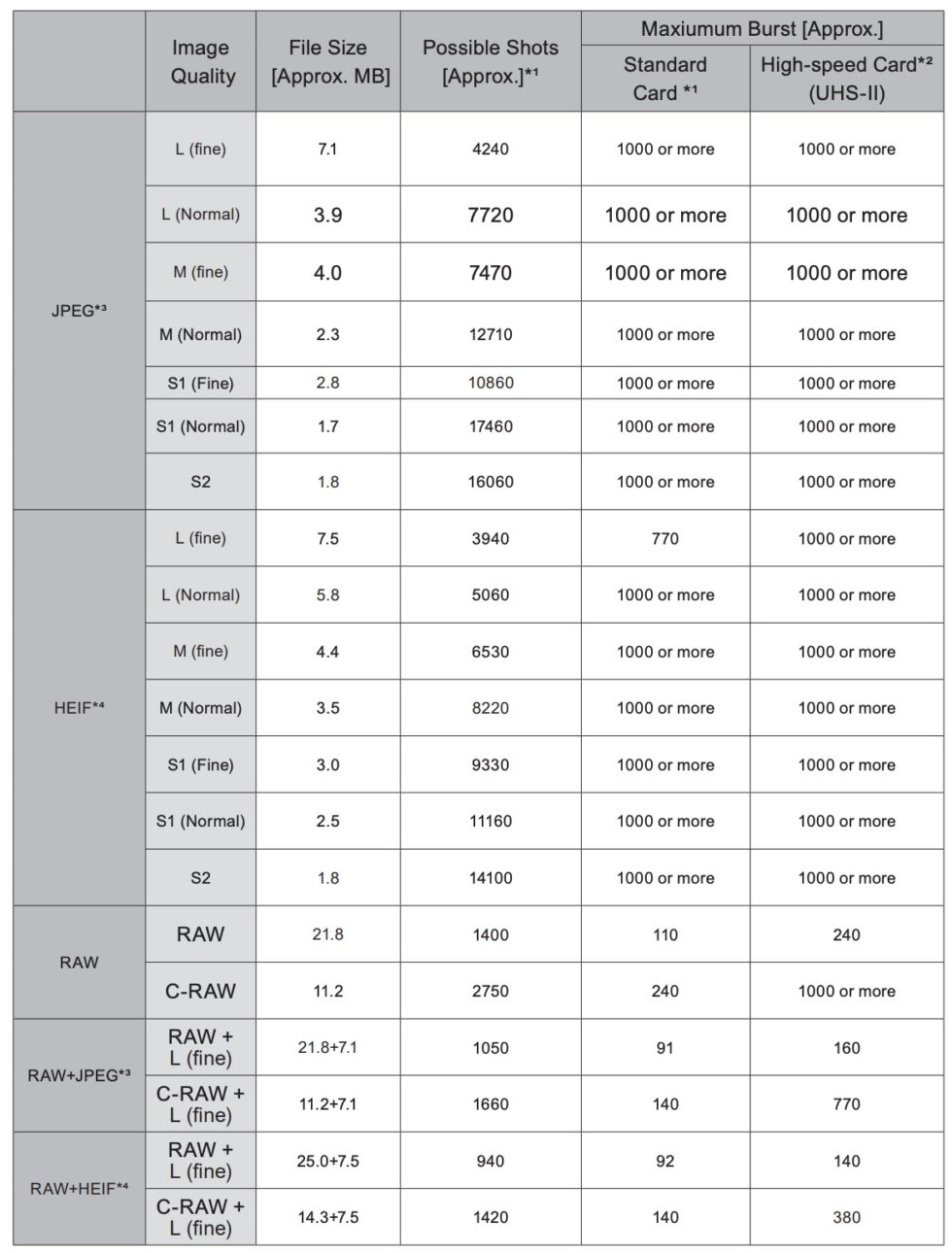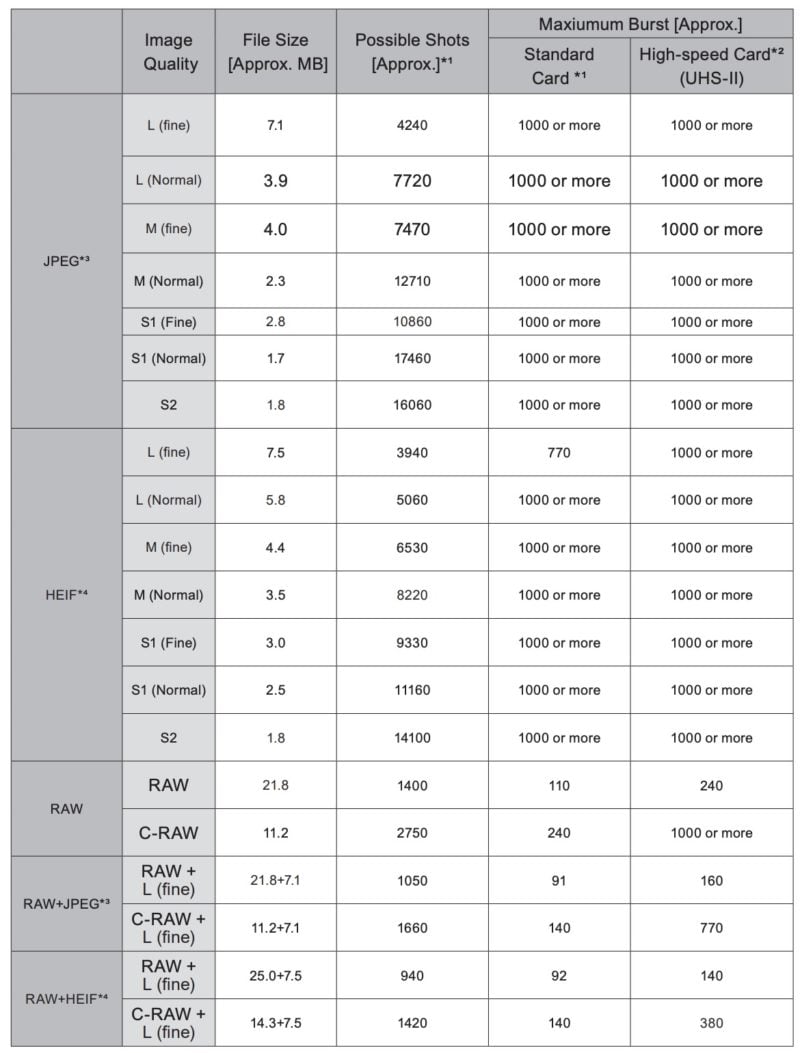 Now if you want your workflow to be faster a UHS-II card will make things transfer to your computer faster. But for most photographers only taking stills the UHS-I style card will be perfect.
Sale
---
Recommended SD Card for Videographers
The Canon EOS R6 films in the IPB format which is more compressed than the ALL-I mode featured on the R5 and R. This means your video files will be smaller making it easier for UHS-I to be usable.
You can consult the chart below to see which features are only available on a UHS-II card vs a UHS-I card.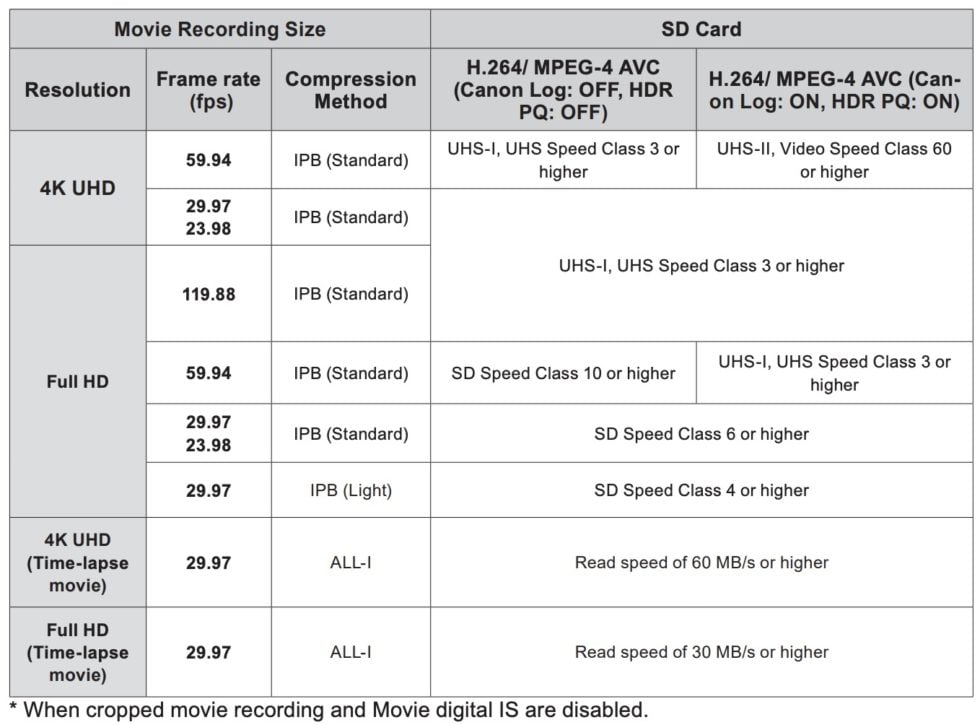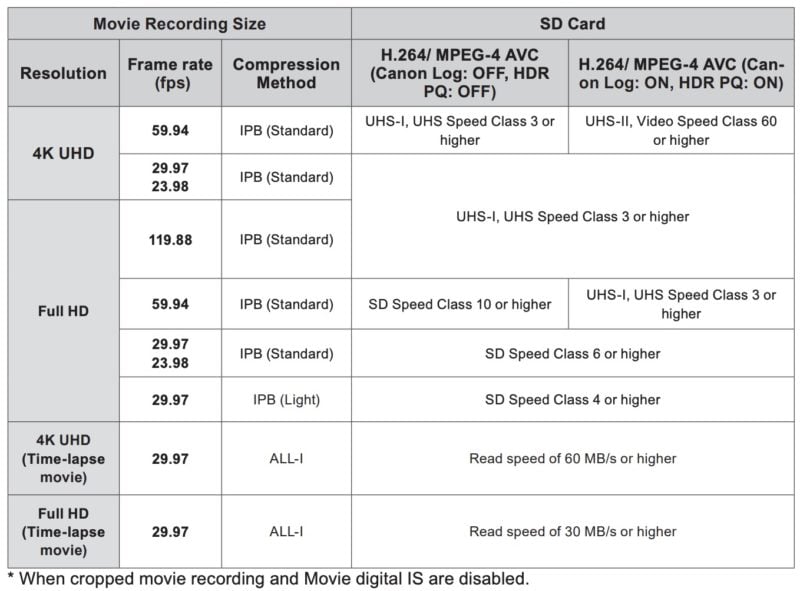 Since your video editing workflow will be speed up by having a faster memory card I recommend getting a UHS-II card. This will mean you're able to use all the features of the R6 and will be able to transfer files faster to your computer.
Sale
---
How to Format SD Cards on Canon EOS R6
To format your memory card on the Canon EOS R6, follow these simple steps. Navigate to "Setup Menu 1" (which is the wrench icon) and choose the "Format card" option. Within this menu, you can also perform a low-level format, which erases all data on the card, including any sensitive photos you may want to remove to prevent their recovery. Since there is a dual card slot you can select which slot you want to format.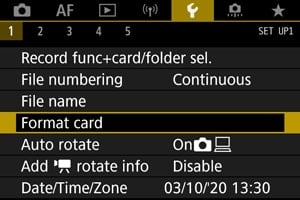 I highly recommend formatting your SD cards before using them on your Canon EOS R6 for optimal performance.
---
Does the Canon R6 have dual card slots?
Yes, Canon R6 has dual card slots for UHS-II SD cards.
You don't need to use two SD cards but if you want redundancy while shooting you'll want to use both memory card slots.
There are a few ways to use the two memory card slots on the Canon R6. You can set the camera to automatically switch cards if the first card is full. Additionally you can have the camera write files to both cards at the same time as a backup (important for paid work). You can also designate one card for RAW files and another for JPG.
---
For more information about the Canon EOS R6 check out the page on Canon's site. Here you can find the manual and more details about write speeds.