If you're looking for the perfect UHS-II SD cards to use with your Canon EOS R8 mirrorless camera, you've come to the right place. We'll be going over the best memory cards for the Canon EOS R8 to get the most out of your new camera.
Boasting a powerful full-frame 24.2MP CMOS sensor and DIGIC X image processor, the Canon EOS R8 provides 6K oversampled UHD 4K 60p video recording, 4:2:2 10-bit shooting with C-Log and up to 2-hours of video recording at 29.97 fps, It it supports up to 40 fps continuous shooting. That's why I highly recommend you equip your camera with one of the fast V90 or V60 UHS-II SD cards from the list below for an unbeatable performance.
Canon EOS R8 Memory Card Recommendations
The Canon EOS R8 features one memory card slot that is compatible with SD cards. However, Eye-Fi and Multimedia Cards (MMC) are not supported. The camera also supports UHS-II memory card speeds, which allow for faster read and write speeds when transferring data.
Memory Card Slots: 1 (Eye-Fi and Multimedia cards (MMC) are not supported)
Memory Card Type: SD Card
Memory Card Speed: UHS-II
Since the Canon R8 can shoot in 4K with Canon Log video shooters will want to utilize the UHS-II speed cards to get the best video quality.
---
Best UHS-II SD memory cards for Canon EOS R8:
Here are some of the best UHS-II SD cards for your Canon R8. Two of my favorite brands for memory cards are Sony Tough and ProGrade. These are the best option for filming at the highest standards of the camera.
---
Best UHS-I SD memory cards for Canon EOS R8:
If you don't plan on shooting at fast shutter speeds or using advanced video features like 4K or C-Log you can go with a slower card like a UHS-I Card
SanDisk 256GB Extreme SDXC UHS-I (Slower but much more affordable)
Sale
---
Canon EOS R8 SD Card Specifications
The Canon EOS R8 SD card specifications are listed on the R8 Specification sheet. It includes information such as storage capacity, speed class, write speed and more. With this information, users can make an informed decision on the best SD card for their needs.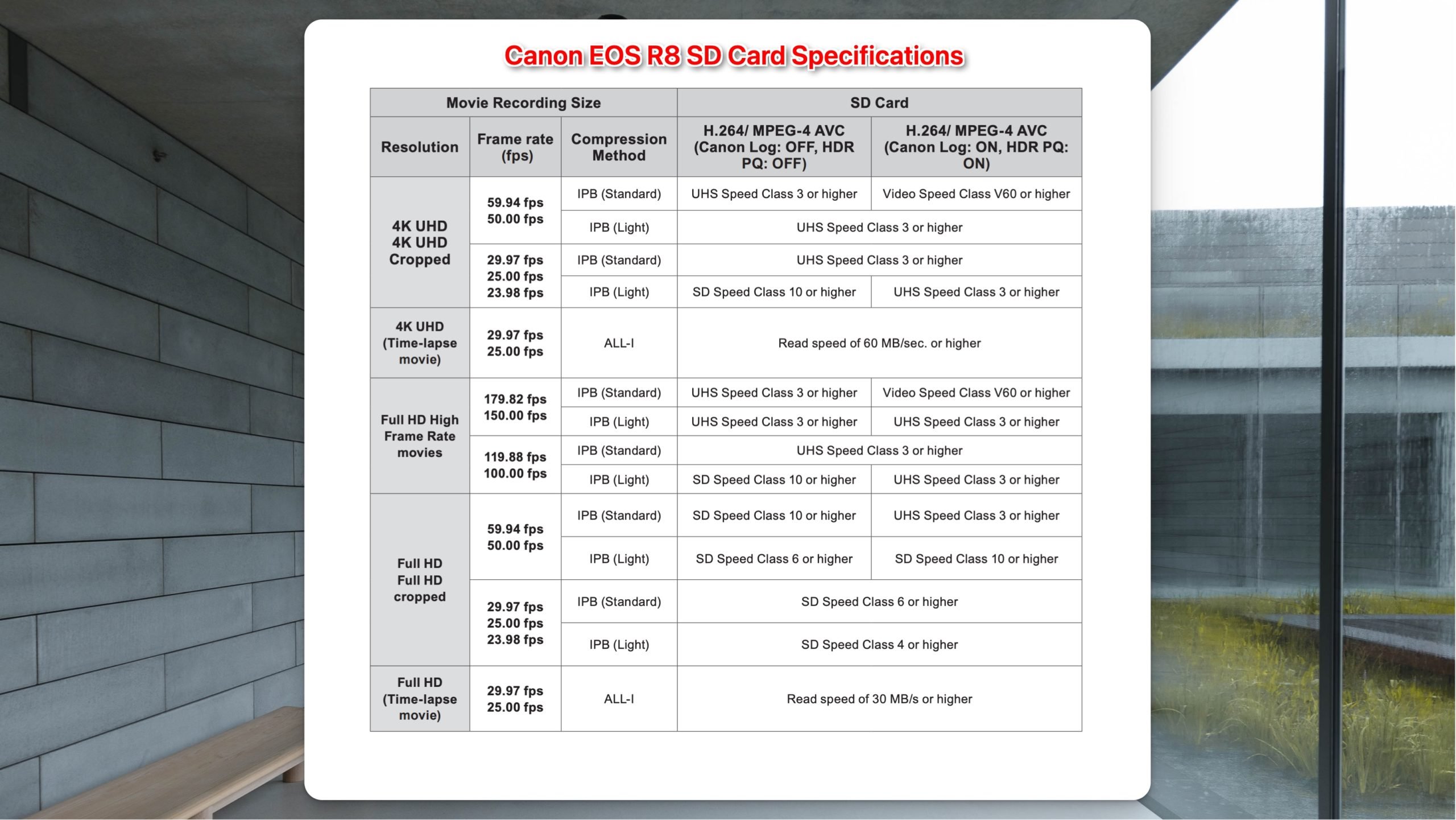 ---
For more information about write speeds on the Canon R8 check out the R8 spec manual.