Diablo Lake in Washington is a mesmerizing destination that offers breathtaking views. Nestled within the North Cascades National Park, this hidden gem attracts nature enthusiasts and adventure seekers alike. In this post, I will share my personal experiences from my visits to Diablo Lake and a few tips for planning your visit.
Diablo Lake is renowned for its striking turquoise color, which is a result of glacial meltwater carrying fine particles of rock called "glacial flour." Surrounded by majestic mountains and dense forests, the lake's vibrant hue stands in stark contrast to its surroundings, creating a truly captivating sight.
While there are boat tours and hiking trails at Diablo Lake I've only been to the Diablo Lake Vista Point. If you are planning a quick stop I'd highly recommend stopping at the overlook since it's one of the best views of Diablo Lake.
---
Planning Your Visit
To make the most of your trip to Diablo Lake, here are a few essential tips to keep in mind:
Weather Conditions: Check the weather forecast before your visit, as it can change rapidly in the mountainous region. Depending on what activities you do you'll need to dress in layers and pack appropriate gear. Additionally roads can close due to snow and other weather conditions.
Getting There: Diablo Lake is located in the North Cascades National Park, approximately 2.5 hours drive from Seattle. Plan your route and ensure you have a full tank of gas.
Permits and Fees: Some trails and camping areas require permits or a Northwest Forest Pass. Check the official website for information on permits and fees.
Safety Precautions: Be cautious when hiking and respectful of the wildlife and natural surroundings. Carry essentials like water, snacks, and a first aid kit.
---
Diablo Lake Pictures
Here are a few photos from the Diablo Lake Vista Point in North Cascades.
If you're a photographer planning a trip to the area I think a zoom lens like a 24-70mm will allow you to get a lot of variety. Of course a wide angle lens (I love the Canon RF 15-35mm) works great for capturing the main viewpoint from the overlook. You may also want to bring an ND filter to smooth clouds or water.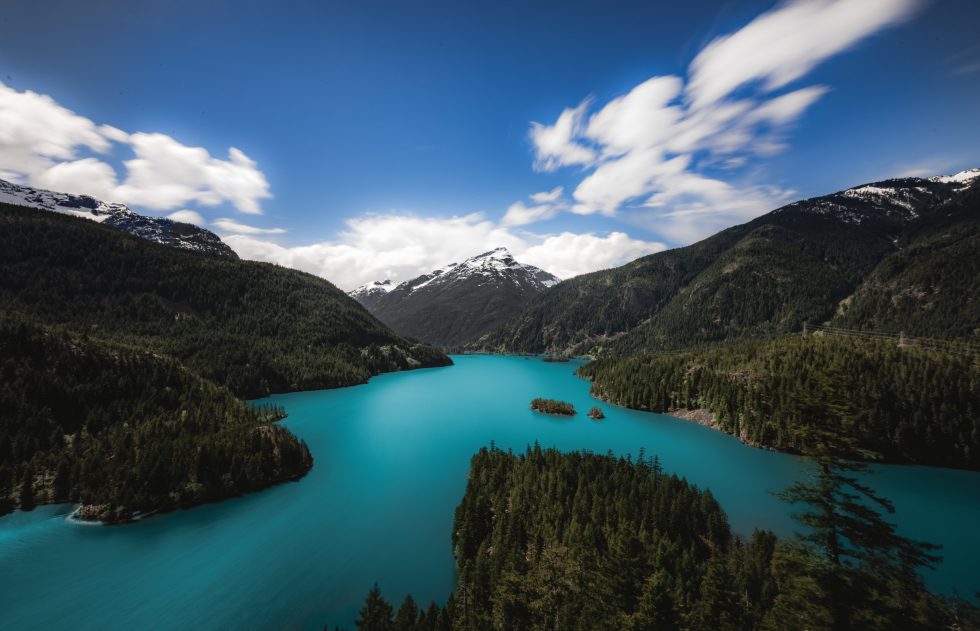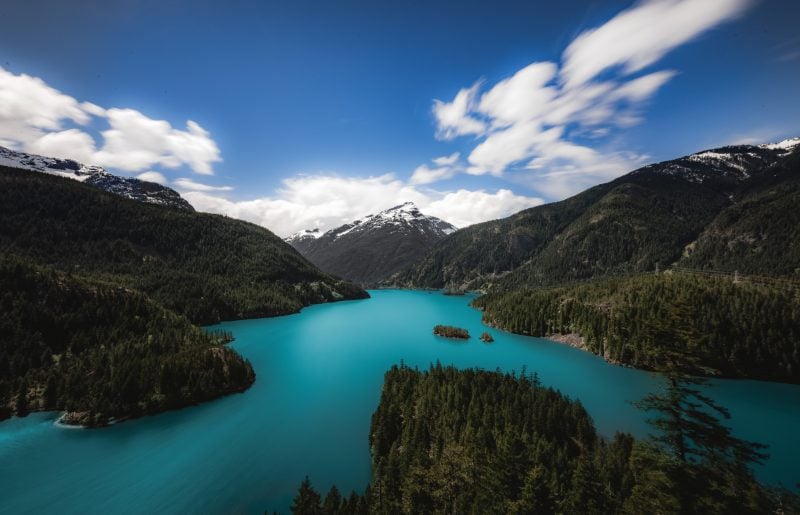 ---
In conclusion, a visit to Diablo Lake in Washington promises an enchanting experience filled with natural beauty and outdoor adventures. The lake's vibrant water is truly something everyone should experience. So, plan your trip, immerse yourself in the awe-inspiring landscapes, and create unforgettable memories at Diablo Lake.
Another great spot near North Cascades National Park is Picture Lake which is about a 2 hour 30 minute drive from Diablo Lake.