Kaaterskill Falls features a massive 260 foot tall tiered waterfall surrounded by beautiful scenery. Hikes at the falls are accessible from the top and bottom. If you aren't an avid hiker starting at the is much easier.
During our visit to Kaaterskill falls the area wasn't that busy and full of fog. While on the hike you'll find plenty of beautiful bridges and creeks to explore.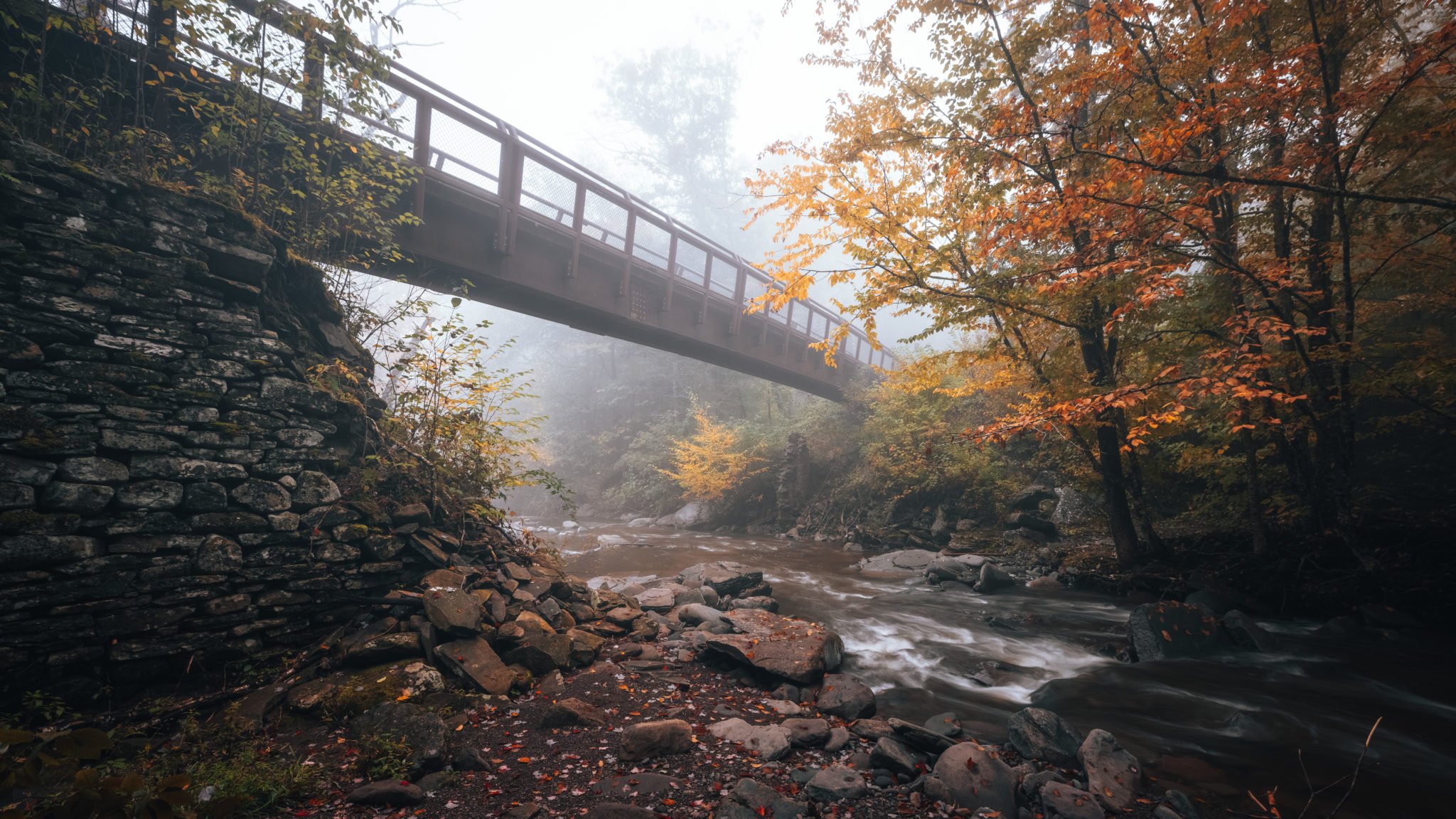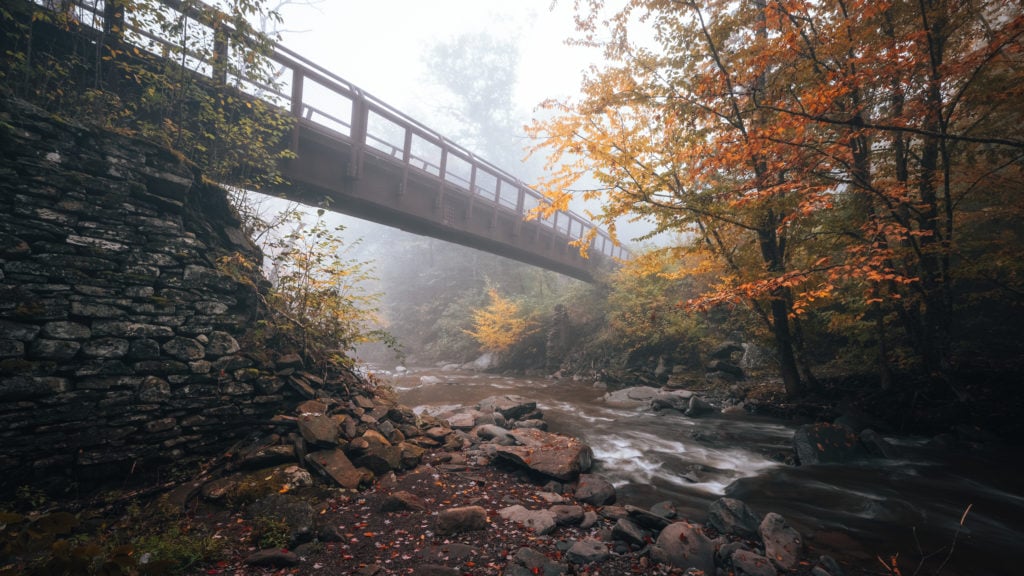 I couldn't get over how pretty the area was in fall.
Kaaterskill Falls on Google Maps
Tips for Hiking at Kaaterskill Falls
If you plan on visiting the viewing platform and bottom of the falls you'll be in for a 1.6 round trip hike at Kaaterskill Falls. For a detailed map of the hike at Kaaterskill Falls I recommend using AllTrails. Hiking to the main viewing platform is a relatively simple and easy hike from the main parking lot. To get to the bottom of the falls is aa different story. You'll have to hike down around 400 feet of elevation including 181 steps which winded me on my visit. If you plan on visiting I highly recommend exploring all of the grounds and trails.
Wear good shoes, the hike to the bottom can often be slippery from mist.
Arrive during off peak times since the parking lot can fill up.
Bring water if you plan on hiking to the bottom of the falls.
And as always carry out what you carry in!
Explore the area and have fun!
Once you're at the bottom of Kaaterskill Falls you can view the falls from a few different angles. This includes right up on the falls like the photo above or further down the runoff like the photo below.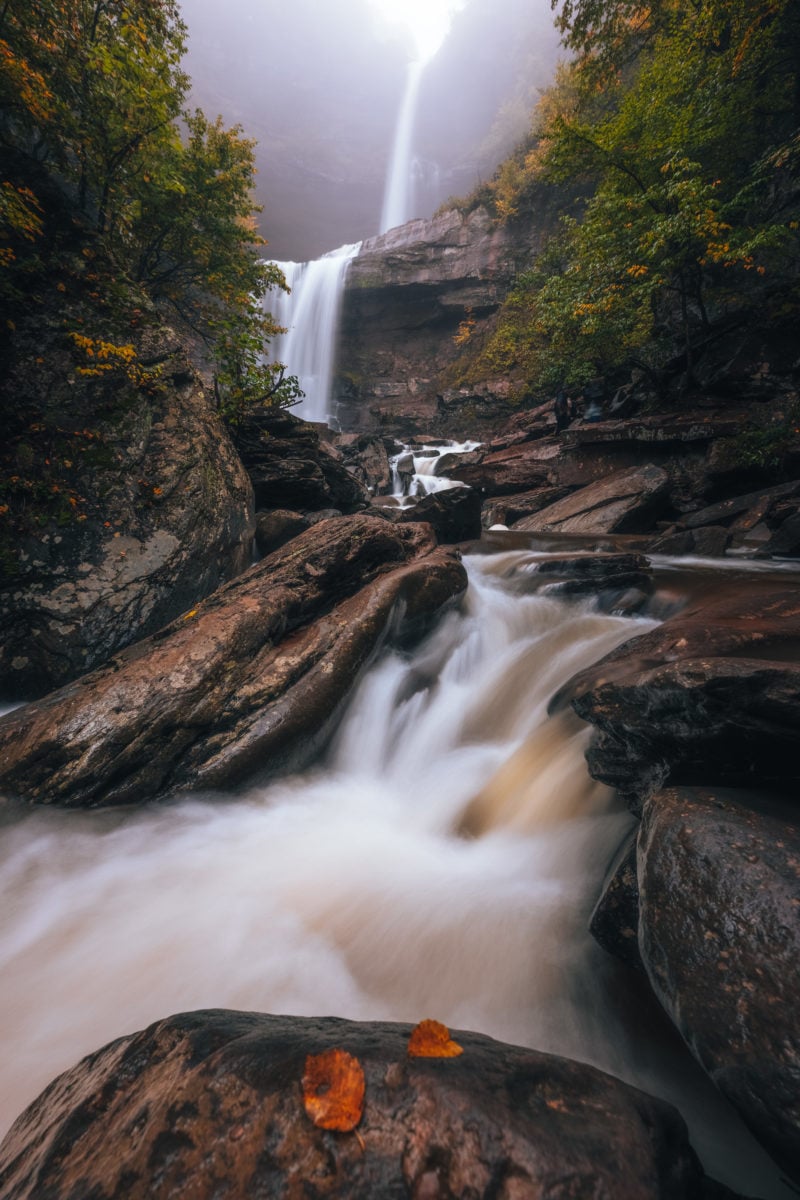 In addition to the main hike to the bottom at Kaaterskill there are plenty of other trails. While hiking you'll see plenty of well marked signs that will lead you to other sights.
Photos of Kaaterskill Falls in Upstate New York
Here are more photos of what to expect when visiting Kaaterskill Falls. On our visit the area was quite moody and foggy.