Kaaterskill Falls is a massive, 260-foot tiered waterfall surrounded by beautiful scenery. Hikes at the falls are accessible from the top and bottom. If you aren't an avid hiker, it is much easier to begin at the Laurel House Road parking lot. Other, more moderate hikes begin at Scutt Road and Haines Falls.
Since we visited Kaaterskill Falls on a weekday, it was not super crowded. It was a really foggy, hazy day which made it a very moody and dramatic experience.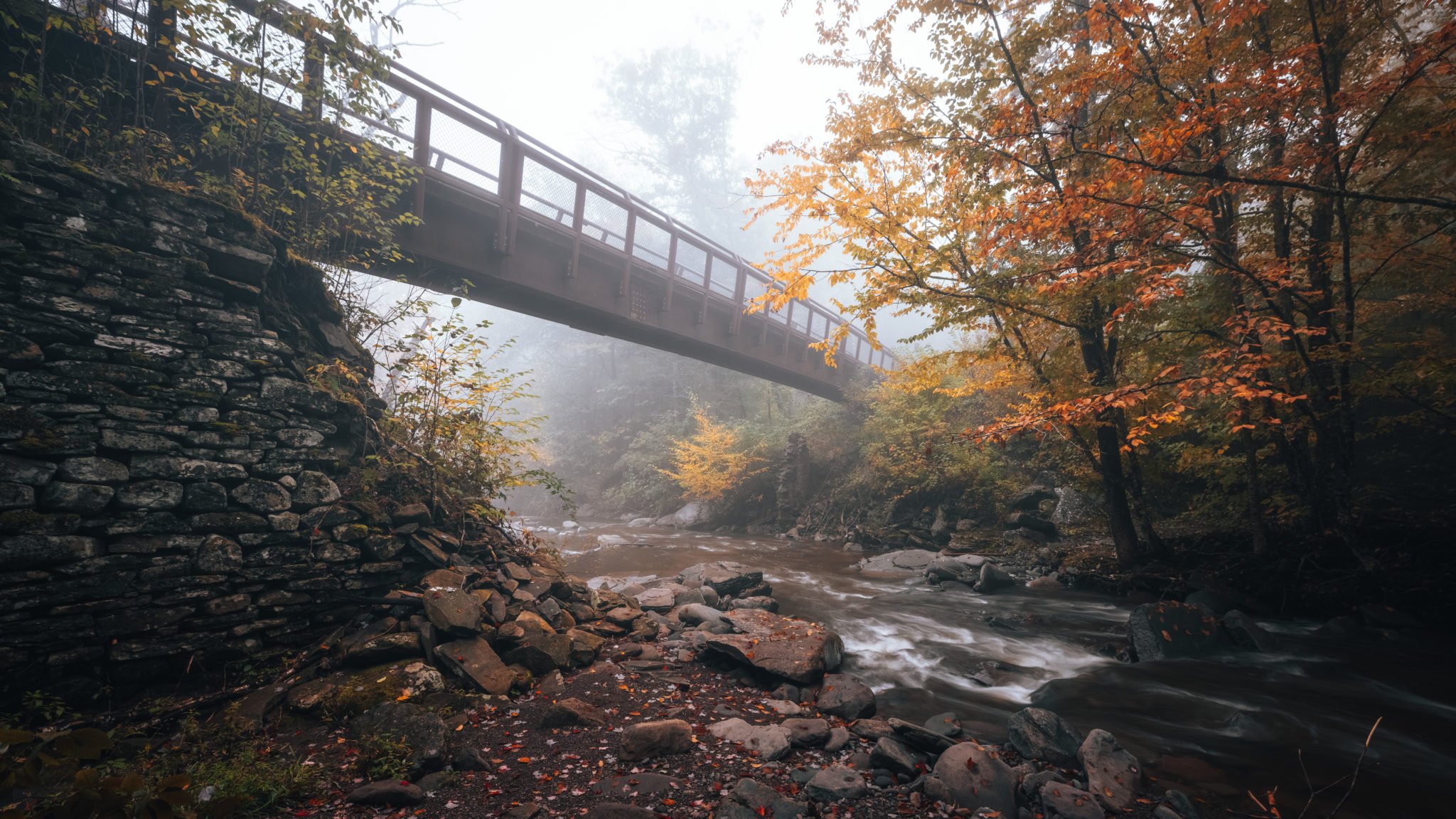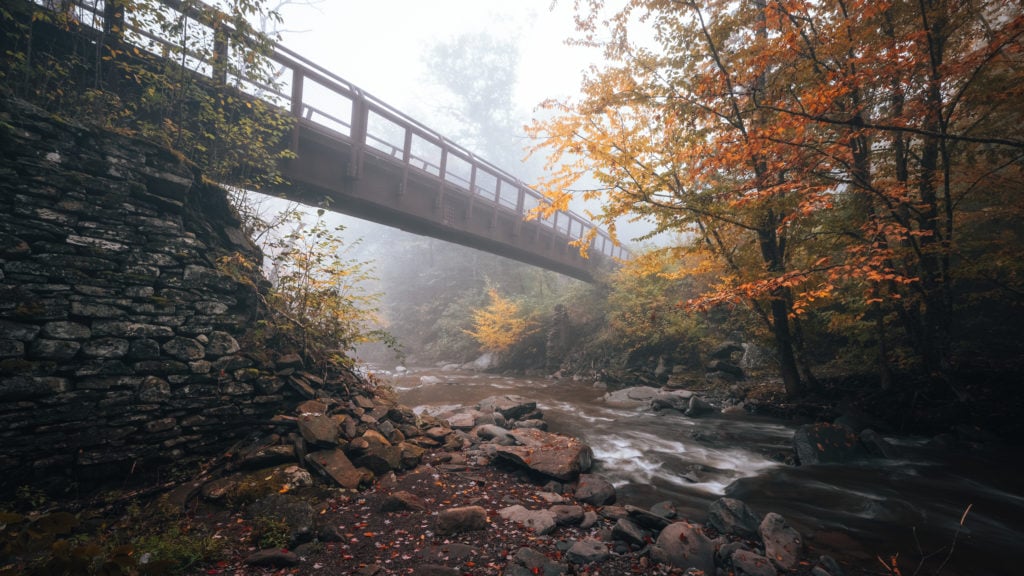 I couldn't get over how pretty the area was with fall foliage peaking.
Kaaterskill Falls on Google Maps
---
Tips for Hiking at Kaaterskill Falls
For a detailed map of all of the hiking options at Kaaterskill Falls, I recommend using AllTrails. If you plan on visiting the Kaaterskill Falls viewing platform as well as venturing to the bottom of the falls, it'll be just about a 1.6 mile hike. Getting to the main viewing platform is a relatively simple and easy walk from the Laurel House Road parking lot. To get to the bottom of the falls, you'll hike down around 400 feet of elevation, including 181 steps! The stairs are steep and can be slippery due to the falls. This part of the trail might be challenging if stairs are uncomfortable. The effort, however, is totally worth it.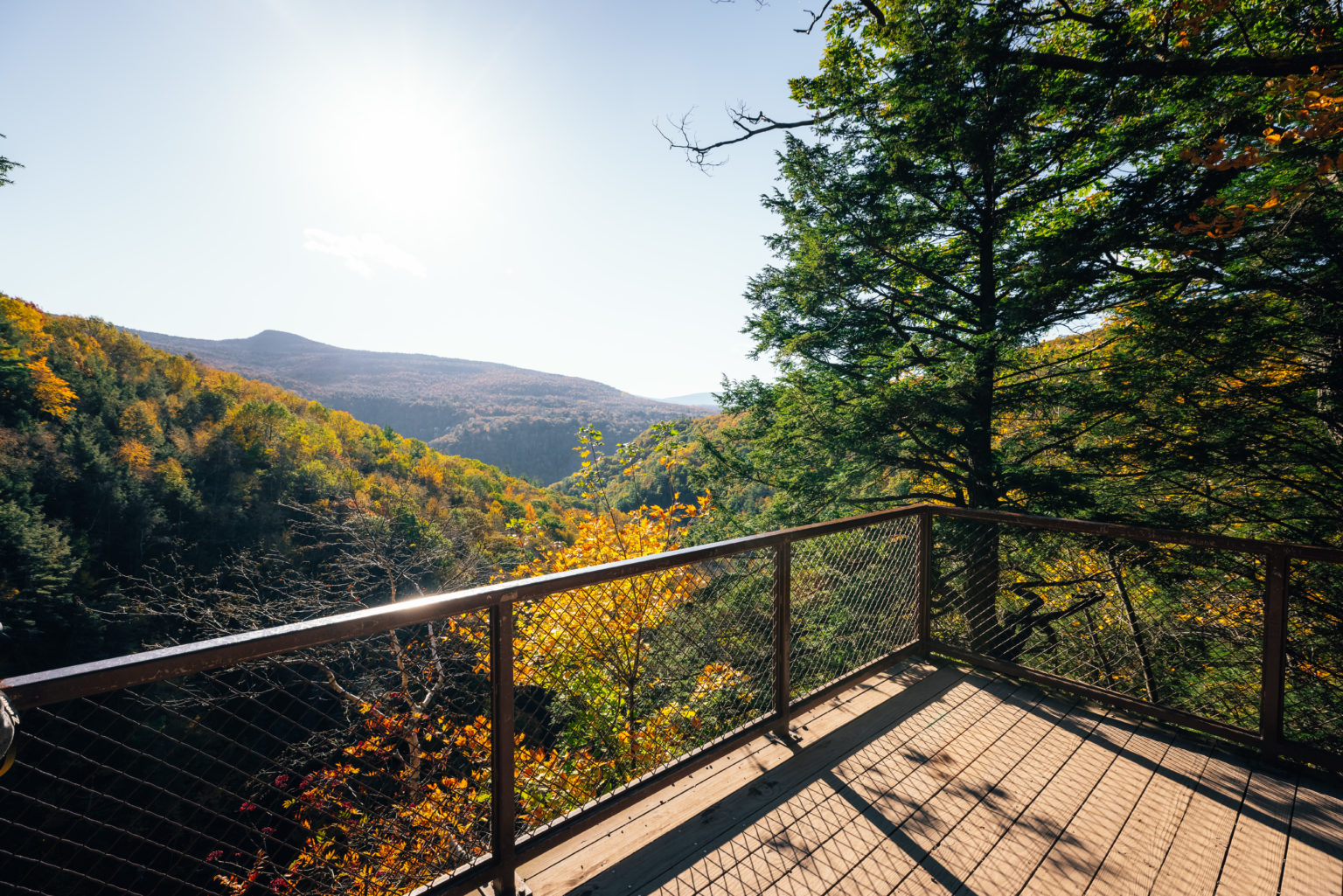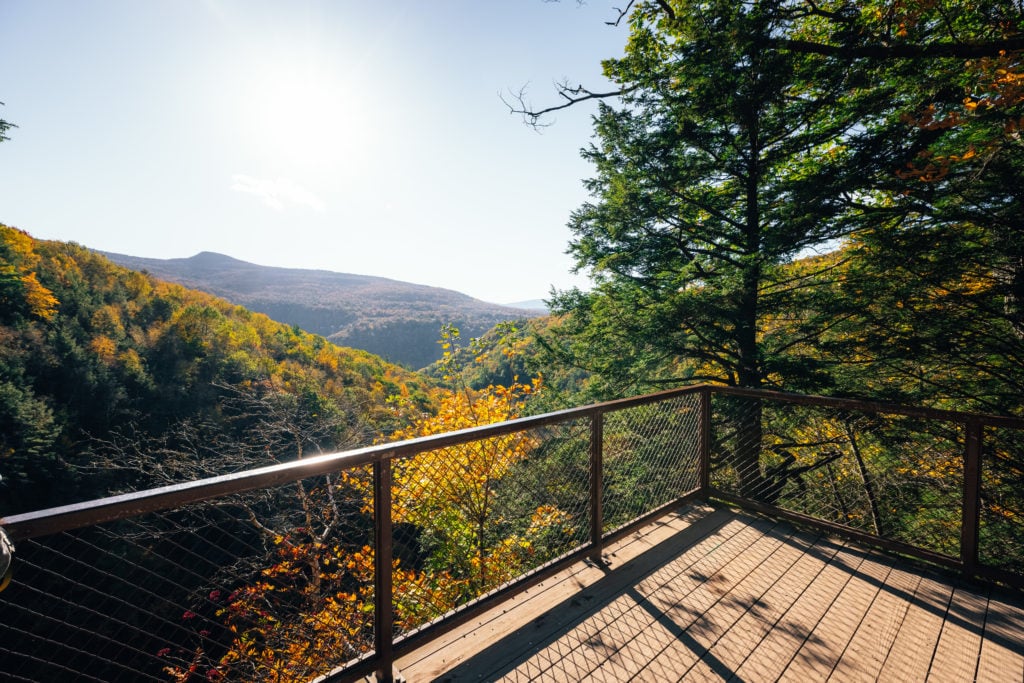 We also walked a bit of the Escarpment Loop trail. While wandering around we found plenty of beautiful bridges and creeks to explore. If you plan on visiting, I highly recommend exploring all of the grounds and trails.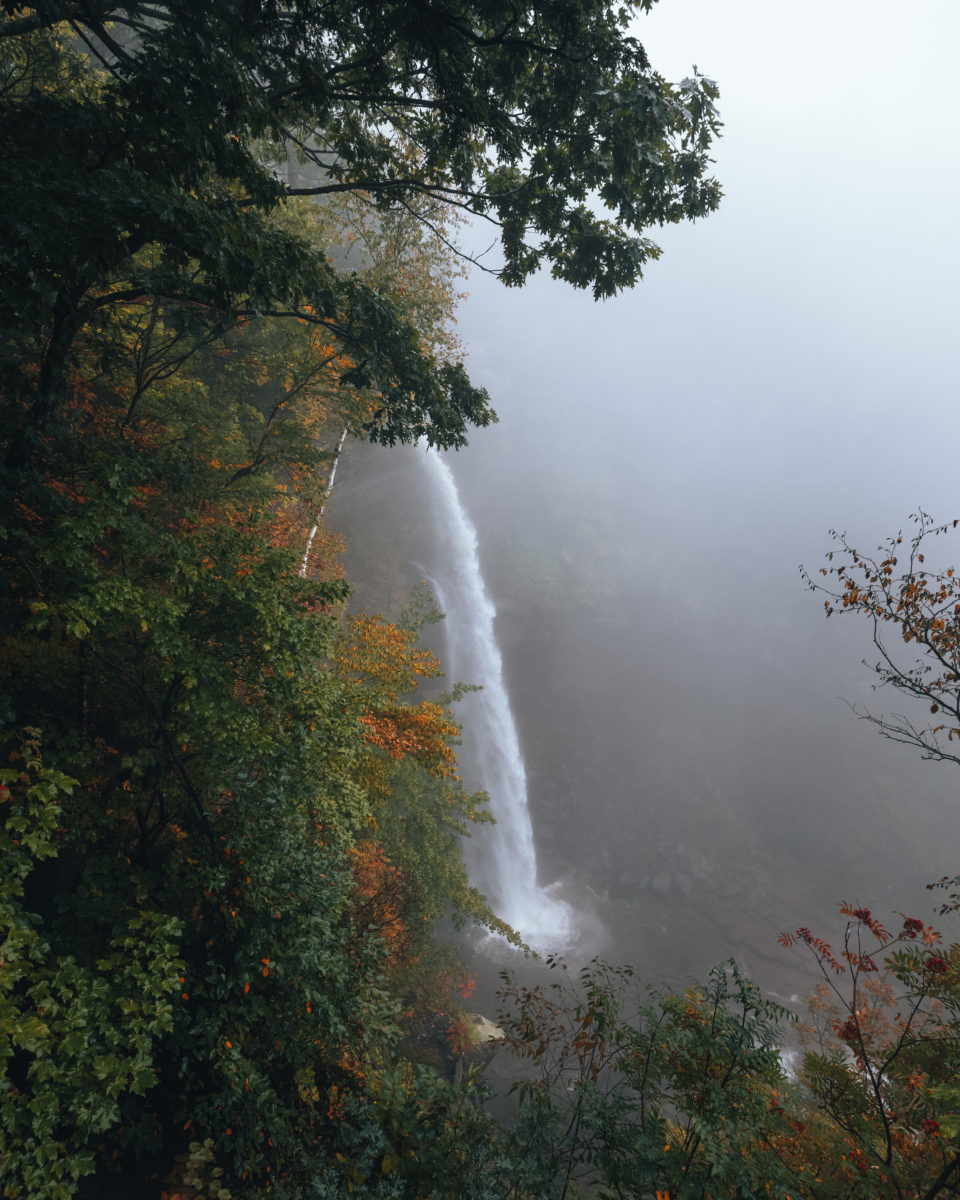 Kaaterskill Falls hiking tips:
Wear good, waterproof shoes! The hike to the bottom of the falls can often be slippery from the mist.
Arrive during off-peak times since the parking lots can fill up quickly.
Bring water and always carry out what you carry in.
And as always, explore the area and have fun!
Shopping for hiking boots?
Read: Best Hiking Boots for Men and Women
Once you're at the bottom of Kaaterskill Falls you can view the falls from a few different angles. This includes right up on the falls like the photo above or further down the runoff like the photo below.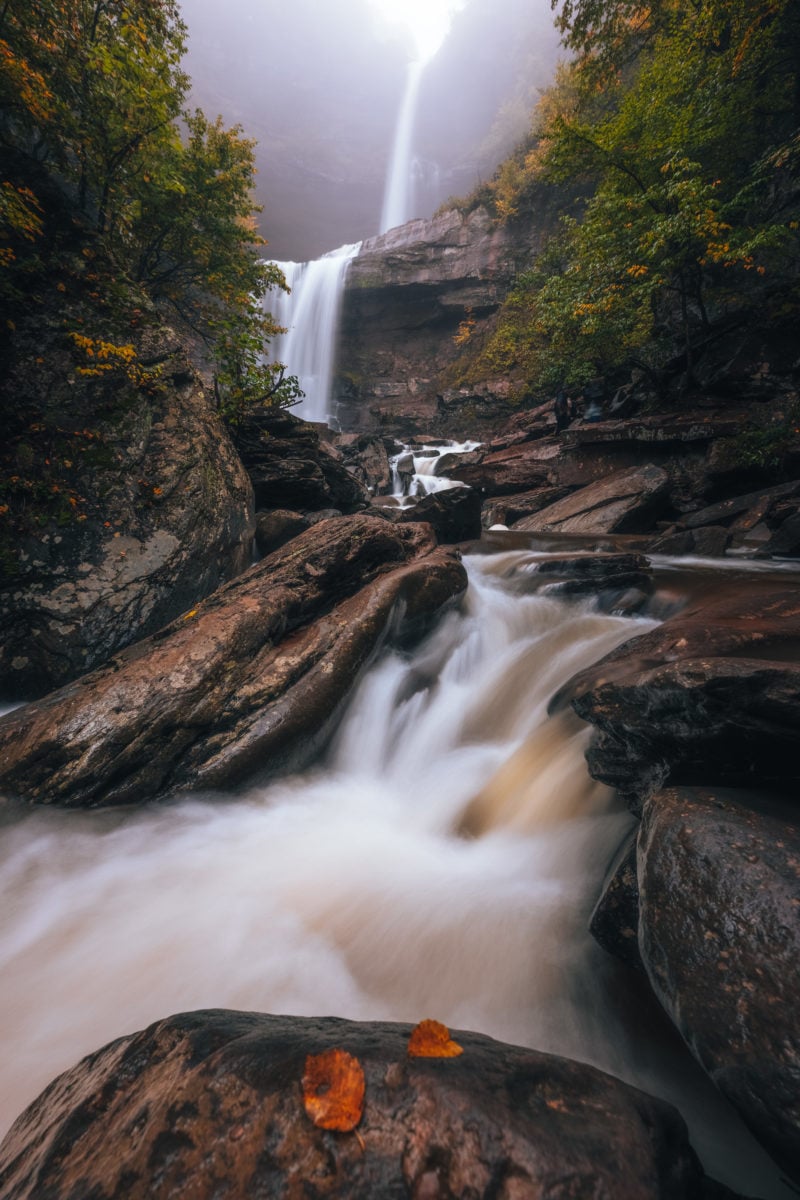 ---
Photography Tips for Kaaterskill Falls
Kaaterskill Falls is a stunning place especially in the fall. If you're photographing foliage in New York it's well worth stopping at Kaaterskill Falls.
You'll want to bring a tripod to capture long exposure photos of the waterfall and streams.
I enjoyed capturing the area with a wide angle lens (16-35mm) and used it for most of my shots in the area. A zoom lens may be helpful for capturing close ups of the waterfall from the viewing platform.
A polarizing filter can help reduce glare from the water. Additionally I would pack an ND filter so you can drag your shutter.
Bringing a drone can get you some unique shots of the falls from above.
Bring a cloth to wipe water from your lens/gear.
Planning a trip to New York?
Read: Best Photos Spots in New York State
---
Photos of Kaaterskill Falls in Upstate New York
Here are more photos of what to expect when visiting Kaaterskill Falls. I visited twice in October—once on a foggy day and once on a sunny day.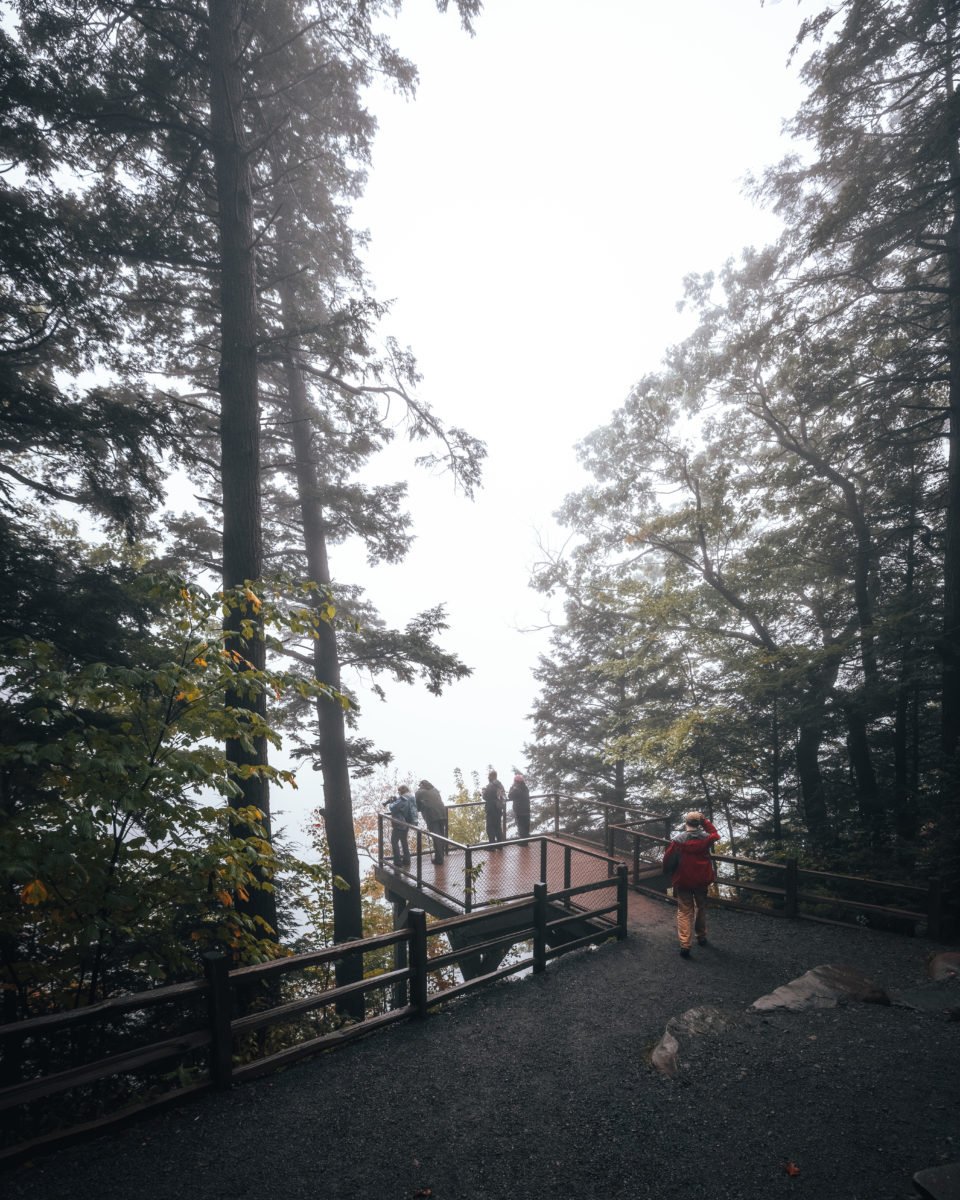 ---
I hope you enjoyed my Kaaterskill Falls hiking & photography guide. Next time I'm in New York I plan on returning, it's well worth a trip. If you have any questions about the area let me know in the comments below.
---
Enjoyed this article?
Save an image below to Pinterest