Located near Lake Crescent in Olympic National Park is Marymere Falls. This unique trail in Olympic has become quite popular with its proximity to the lake and location in the park. The trail to Marymere Falls takes your through an old-growth forest full of stunning moss covered trees.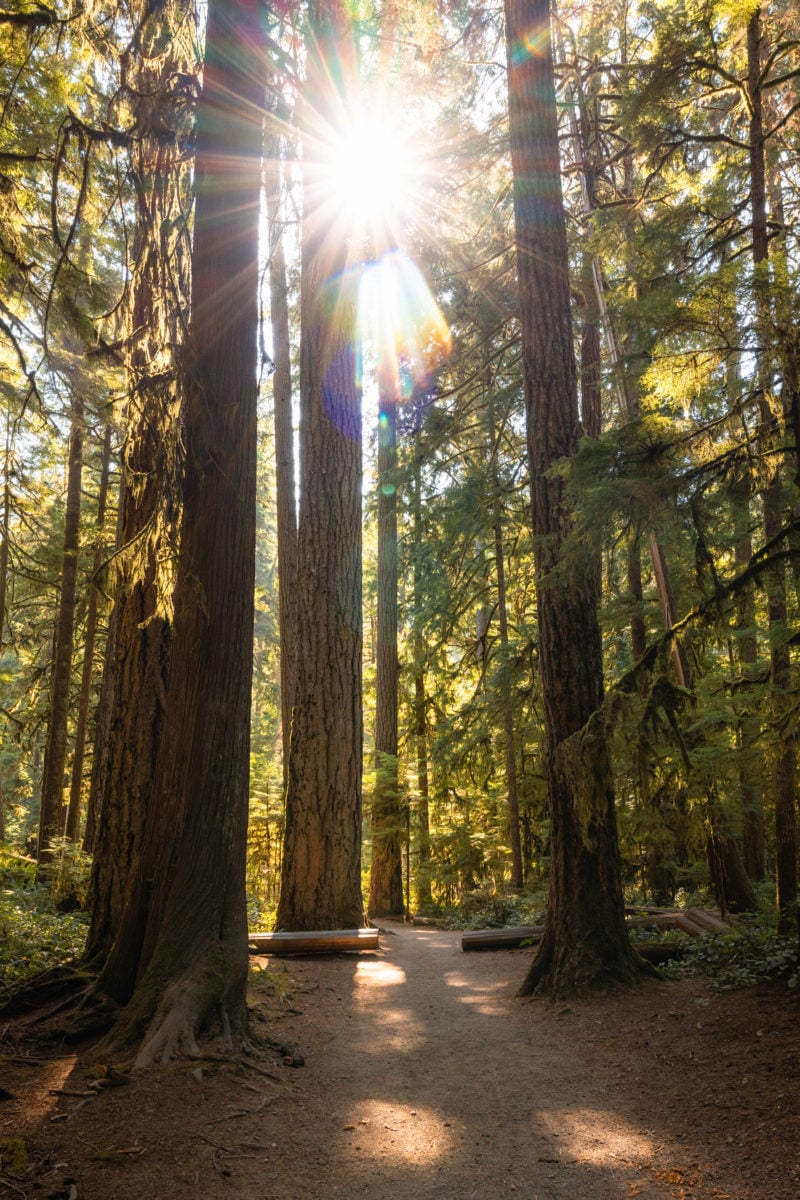 The hike from the parking lot to Marymere Falls is about 1.8 miles total on an out-and-back trail. Marymere Falls trail will also take you up a 300-foot elevation gain once you get closer to the falls.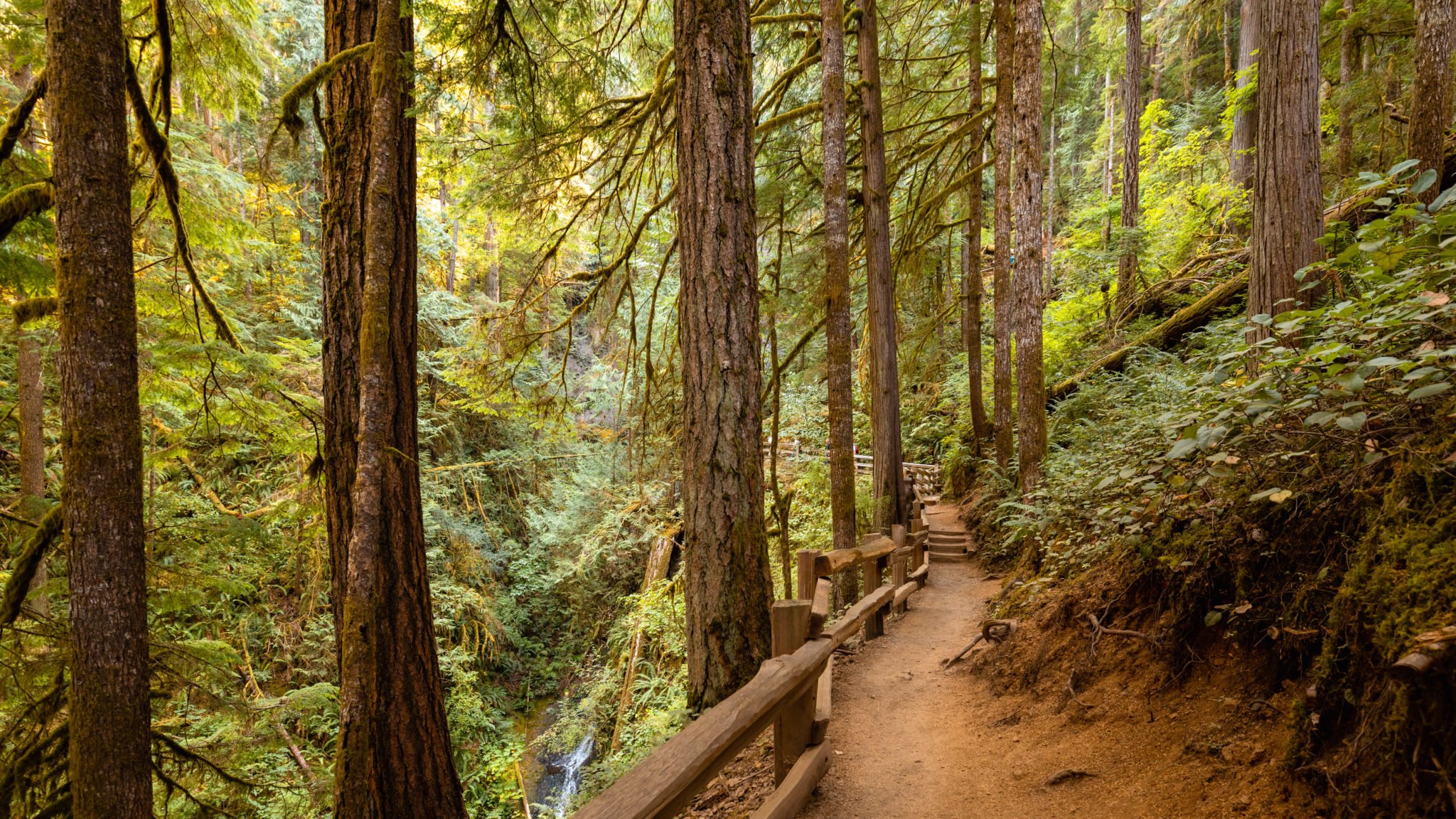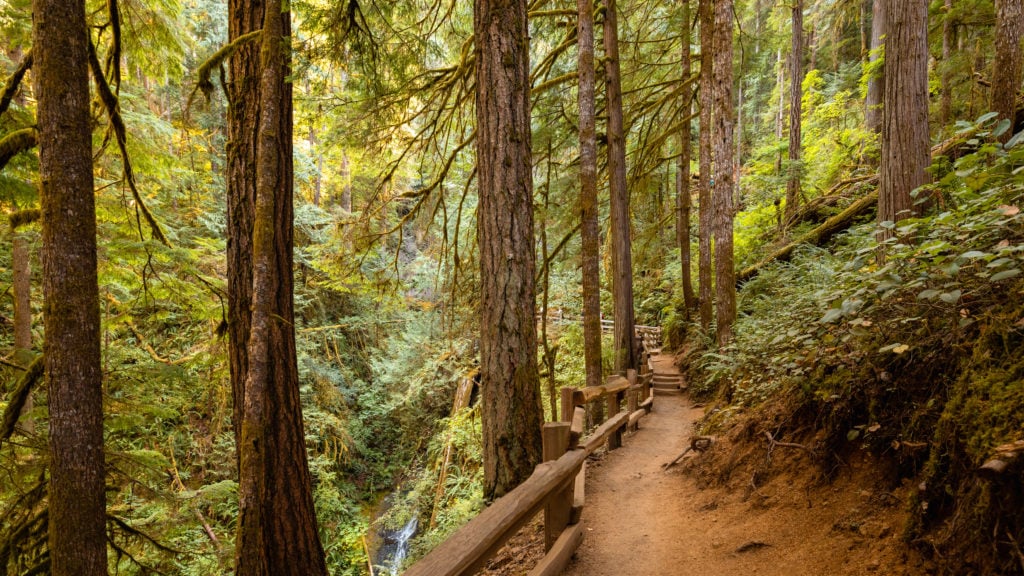 The best views of the falls is from the elevated view at the end of the trail. The hike is fairly easy and should take about an hour to complete.
---
Tips for Hiking to Marymere Falls
Here are some good things to know when hiking to Marymere falls in Olympic National Park.
While not the longest hike at 1.8 miles it's always good to bring water with you.
The parking lot if quite large and has a restroom if needed.
On popular days it can be hard to find a parking spot since the parking lot if also used for people visiting Lake Crescent.
Dogs are not allowed on the trail.
---
Marymere Falls Pictures
Here are more photos of my trip to Marymere Falls in Olympic National Park.
If you're a photographer planning on what to bring with you I'd recommend a zoom lens (24-70mm). While I used my Canon RF 15-35mm for most shots I think having the ability to zoom in the area will help capture details.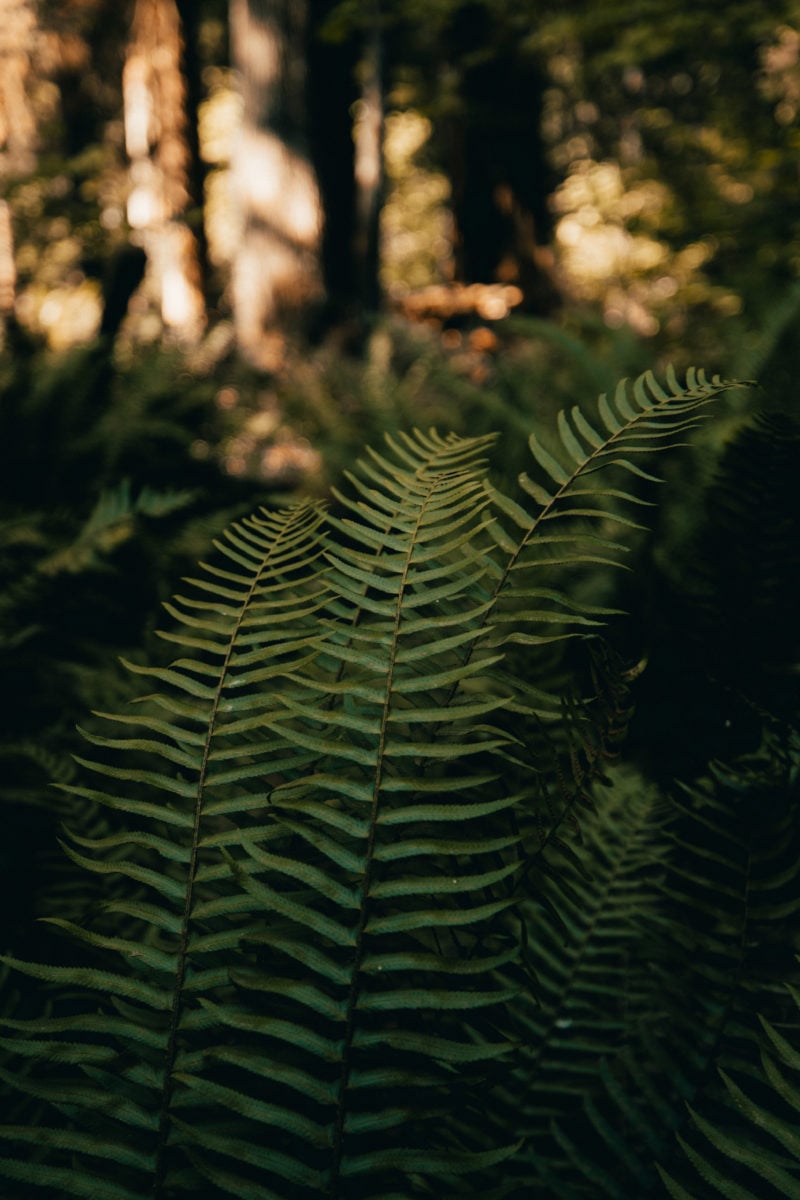 ---
Frequently Asked Questions About Marymere Falls in Olympic National Park
Where is Marymere Falls located?
Marymere Falls is located in Olympic National Park, in the state of Washington, USA.
How do I get to Marymere Falls?
You can access Marymere Falls via the Marymere Falls Trail, which begins at the Storm King Ranger Station (located off US Highway 101, about 20 miles west of Port Angeles).
Is the Marymere Falls Trail difficult?
The Marymere Falls Trail is considered an easy hike, with a gradual elevation gain of about ~300 feet over a distance of 1.8 miles (round trip). I recommend checking out AllTrails for more information about the trail.
Are there any facilities or amenities near Marymere Falls?
Yes, there is a picnic area and restrooms located at the parking lot for Marymere Falls.
Can I bring my dog on the Marymere Falls Trail?
No, pets are not allowed on the Marymere Falls Trail or any other trails within Olympic National Park.
Is it safe to swim in the pool at the base of Marymere Falls?
No, swimming is not recommended at Marymere Falls due to the possibility of strong currents and underwater hazards. If you want to take a swim you can get in Lake Crescent located near the trailhead.
How tall is Marymere Falls?
Marymere Falls is approximately 90 feet tall.
Can I visit Marymere Falls in the winter?
Yes, Marymere Falls is accessible year-round, but the trail may be covered in snow and ice during the winter months. Visitors should use caution and appropriate gear when hiking in winter conditions.
Are there any other attractions near Marymere Falls?
Yes, Lake Crescent and the historic Lake Crescent Lodge are located nearby and offer additional recreational opportunities and amenities.
---
In conclusion, Marymere Falls is a must-visit destination for nature enthusiasts and photographers alike. The stunning waterfalls surrounded by lush greenery is a stunning sight to see. Remember to bring your camera and capture the beauty of this hidden gem in Olympic National Park.