If you're taking a road trip through New Mexico you'll want to stop by Bisti Badlands. This unique area is like you're walking on a different planet. You'll find tons of unique rock formations, hoodoos and spires. Photographers will have a fun time exploring Bisti Badlands.
The Bisti/De-Na-Zin Wilderness contains over 45,000 acres and is owned by the Bureau of Land Management. While the area is quite large the two main attractions are a 5.5 mile hike that takes you through many sights like the Bisti Arch, Paint Pallet Hoodoo and the Egg Hatchery. In this post we'll be focusing on the 2.8 mile Bisti Wings trail that takes you to three stone wings on the north side of Bisti.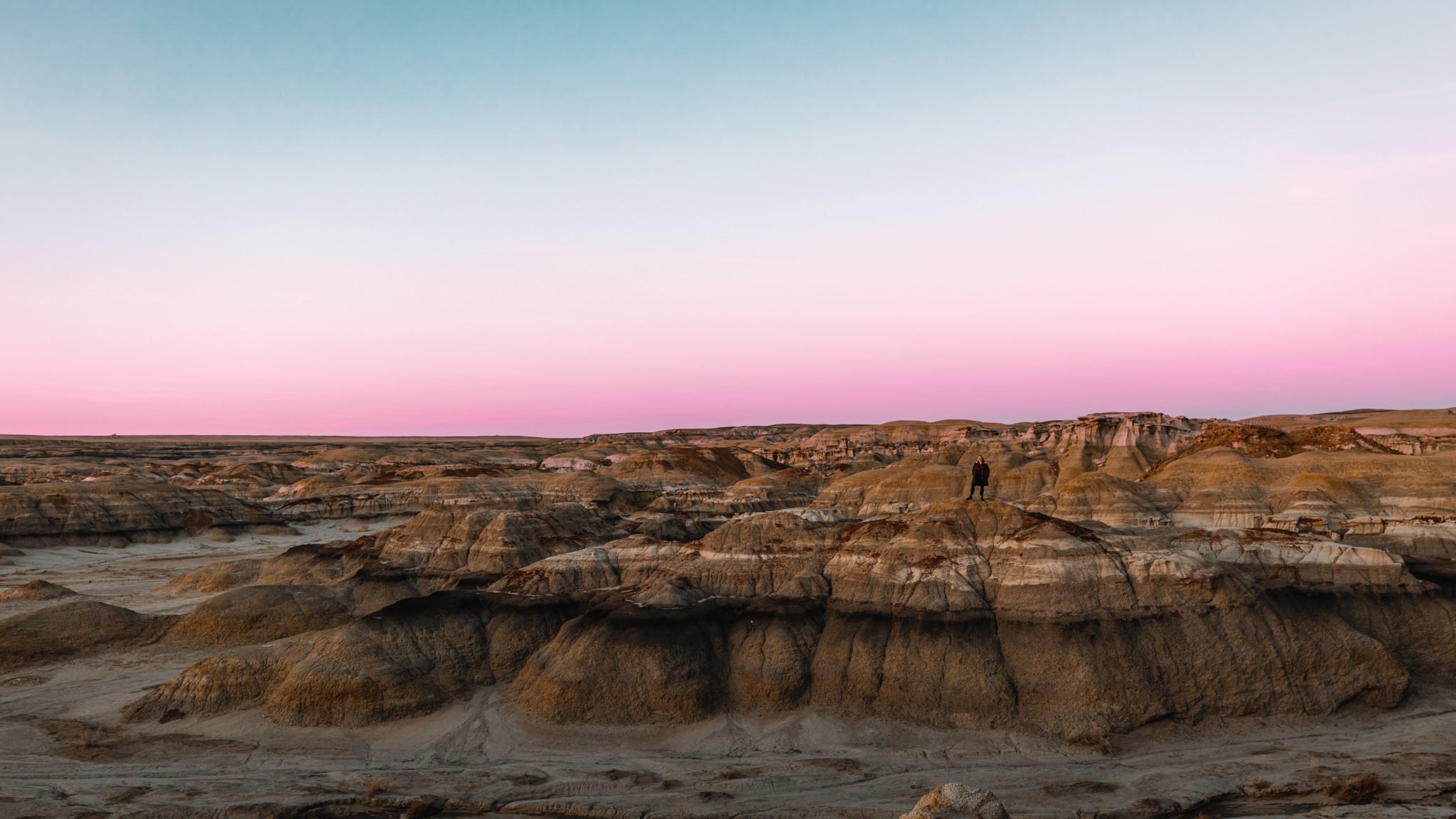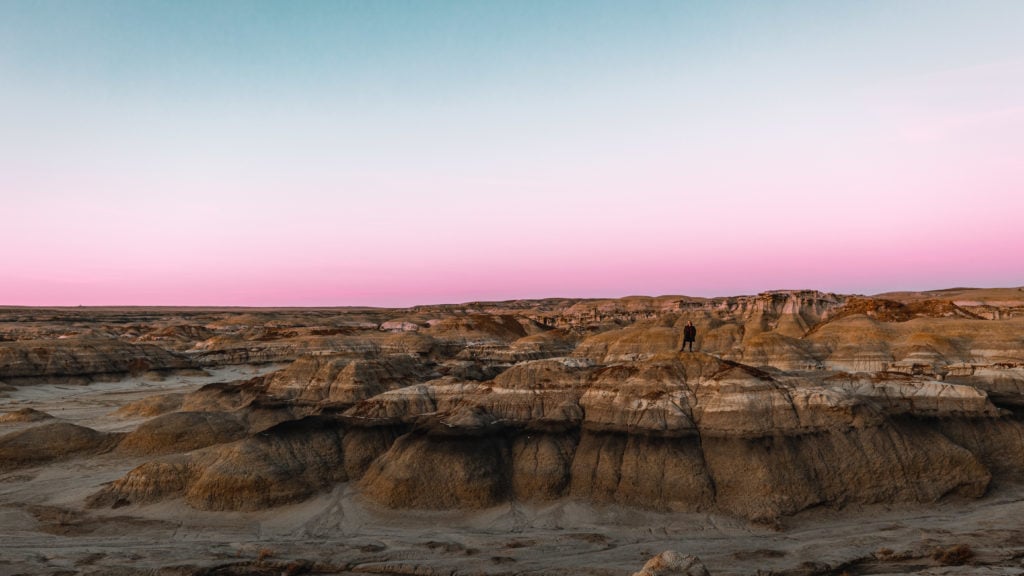 ---
Tips for Visiting Bisti Badlands
Bring water! The hike to the Stone Wings is a little over a mile and there are no nearby amenities.
Be respectful of the stone and of course leave no trace.
There are no trail markings to get to the Stone Wings so I highly recommend downloading maps before your visit. I used GALA GPS on my visit and it worked great, AllTrails also has the trail listed.
You'll cross a couple of streams on the hike, on my visit these weren't that too bad to cross but I could imagine them to be difficult to get around if it has recently rained.
Cell service at Bisti can be spotty so keep that in mind.
Check the weather before visiting, if it rains it could be difficult to drive in/out and to hike.
If you plan on being here for sunset bring flashlights for the walk back.
There is no fee to enter, for more rules read the BLM website.
---
How to Get to the Stone Wings at Bisti Badlands
First you'll need to head to the north Bisti parking lot. The north parking lot is located at the coordinates 36.27867, -108.25336. The south parking lot contains more signage and more hikes but if you want to see visit Stone Wings you'll want to go to the north parking lot.
When heading to the north Bisti parking lot you'll pull off of NM-371 to Country Road 7295. You'll see a Bistahi First United Methodist Church sign to a dirt road (there was no sign for Bisti on this exit). The dirt road contained some large holes but it wasn't a problem in a Subaru Outback.
After about 1 mile of off-road driving down Country Road 7295 you'll come to an intersection where you'll veer right. There will be a sign that says "tourists park here" with an arrow. If you're following GPS it should be fairly obvious. Just remember not to park at the church.
Once you follow the tourist parking signs you'll kind of be put into an open field which can be confusing. You should see a barb wire fence, follow it east until it intersects with another and park anywhere in that area.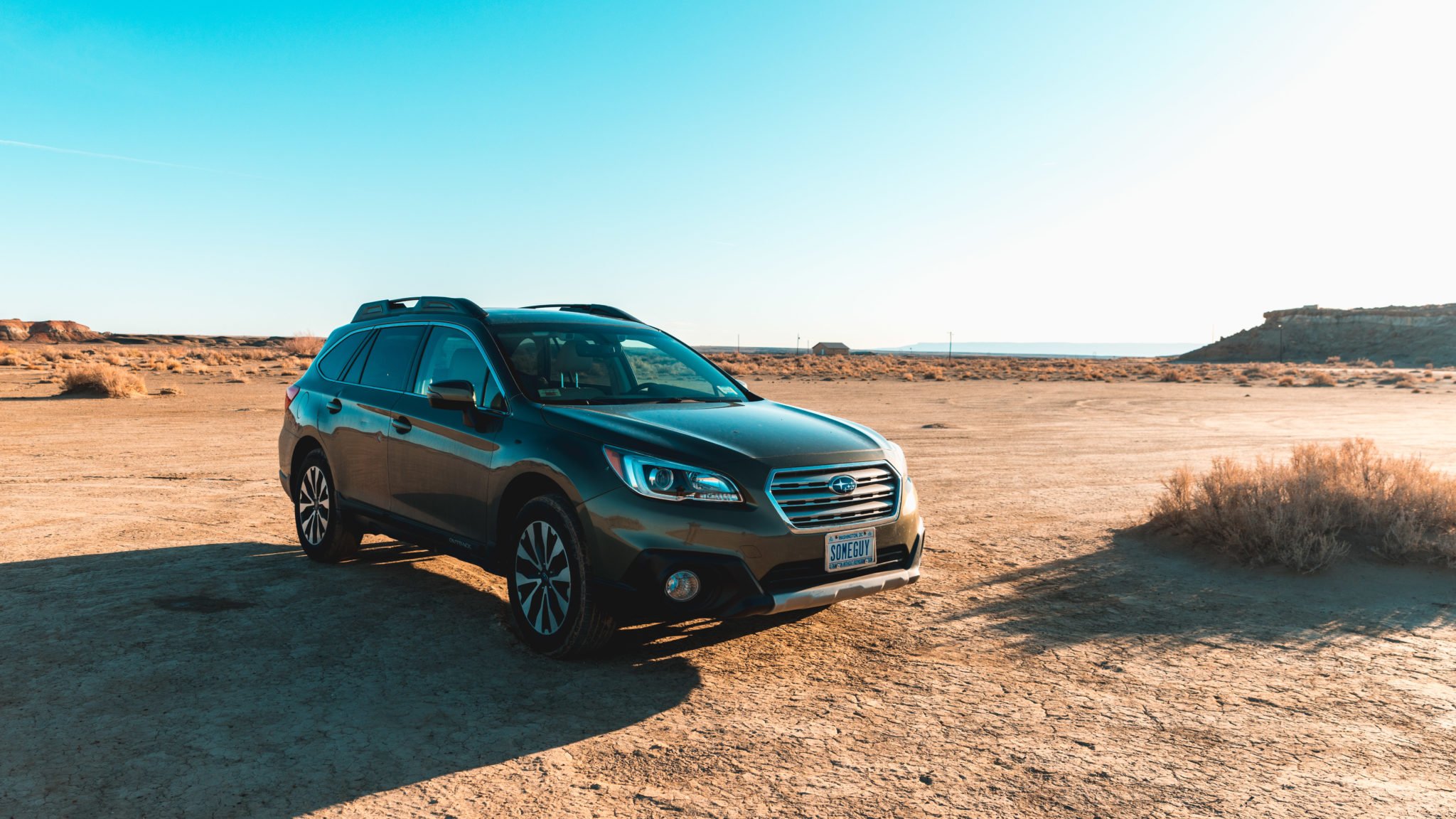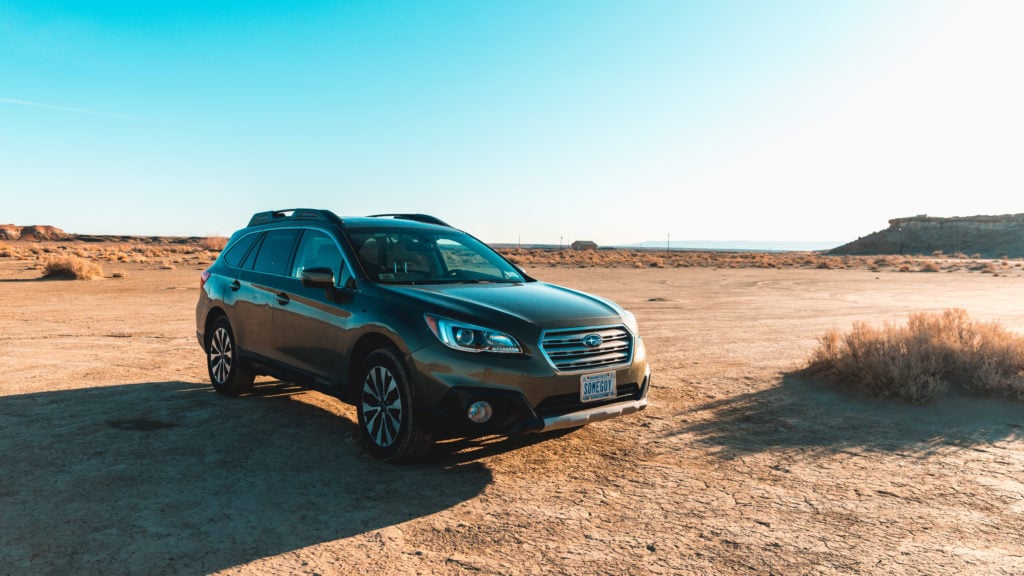 I thought this part was a bit odd but you'll need to cross the barbed wire fence to head to the Wings. On my visit one bit of the barbed wire was fallen down but you can either climb under the fence or follow the fence south to the wash/stream where you can pass without a fence.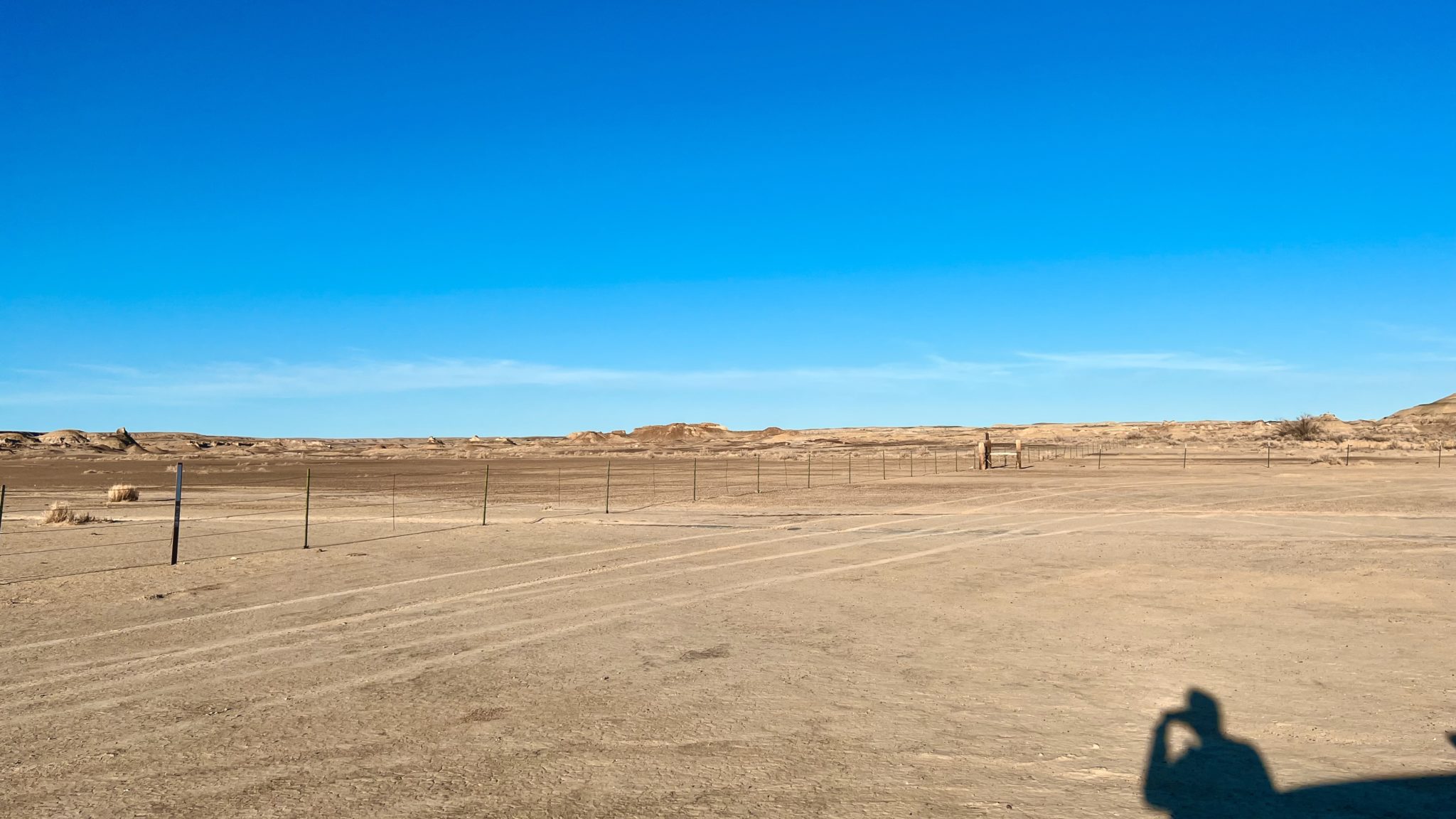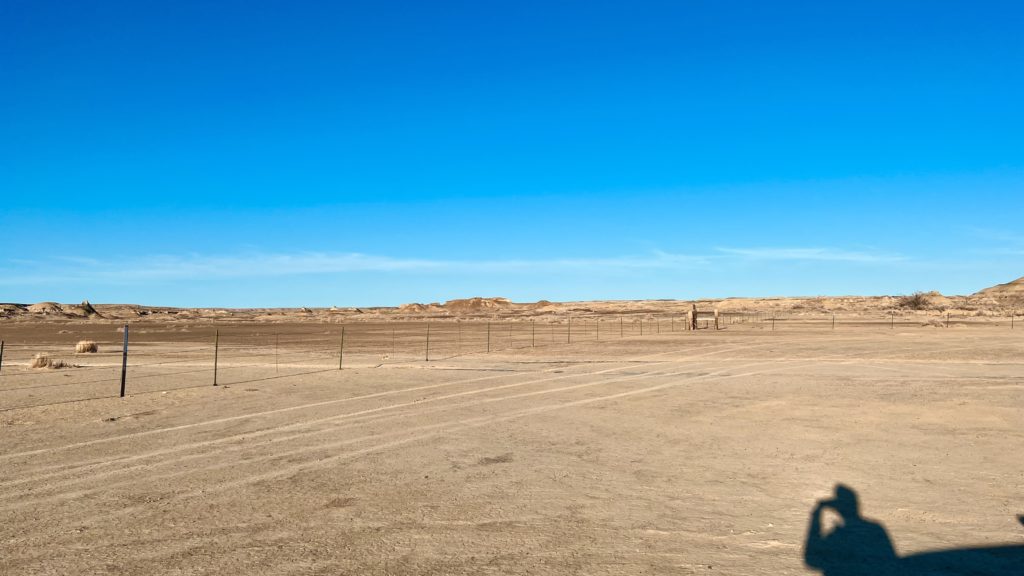 Now that you're actually in Bisti Badlands you'll pretty much want to head east. This is where having a GPS app handy is essential. Since there are no trail markings you'll need to follow an app or compass.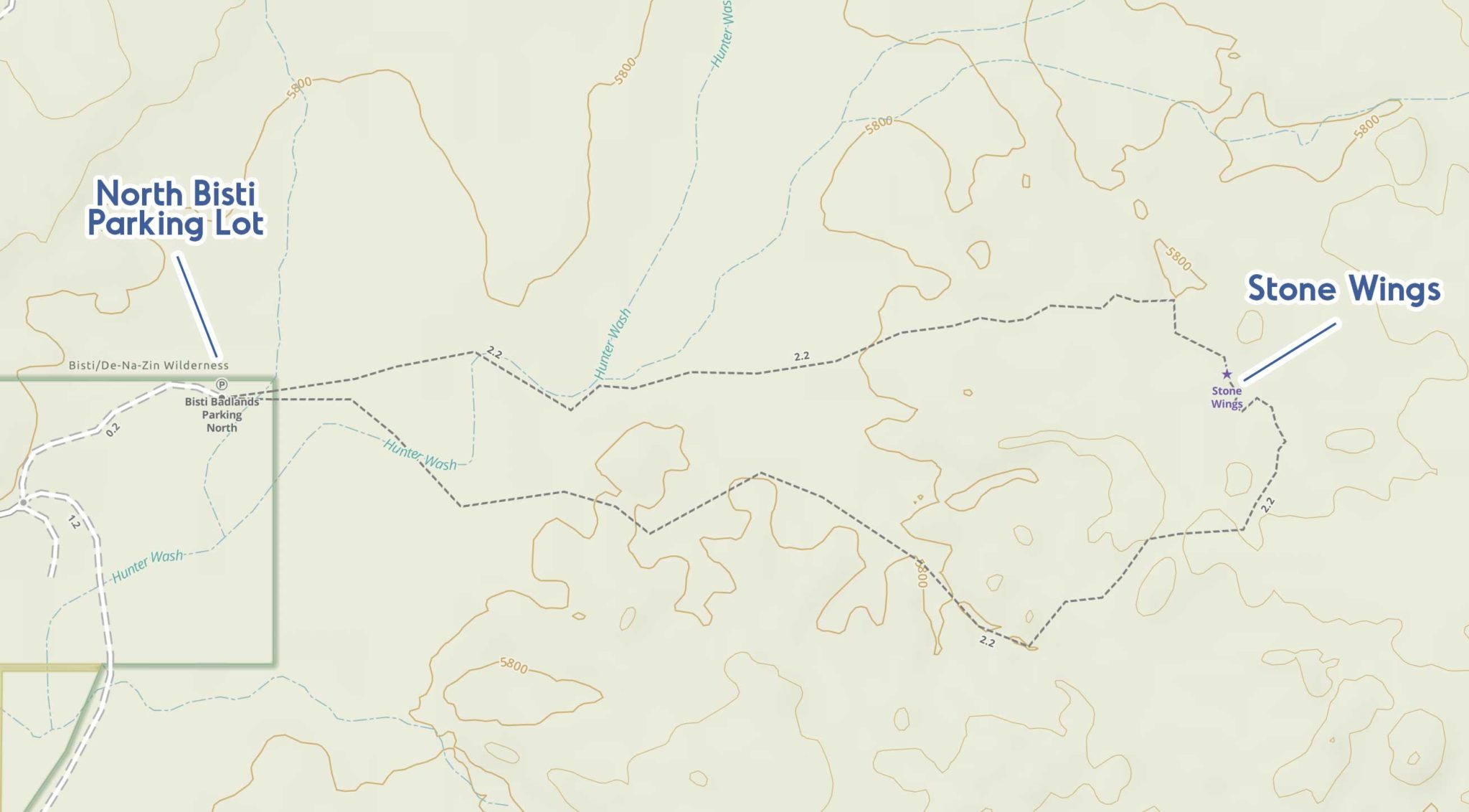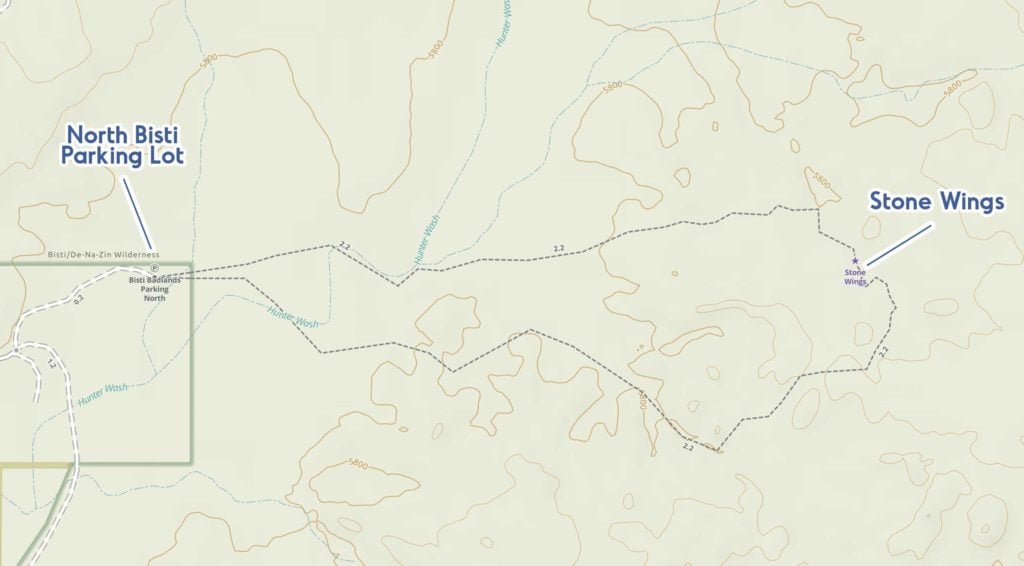 The quickest route to the wings is the northern side of the route listed above.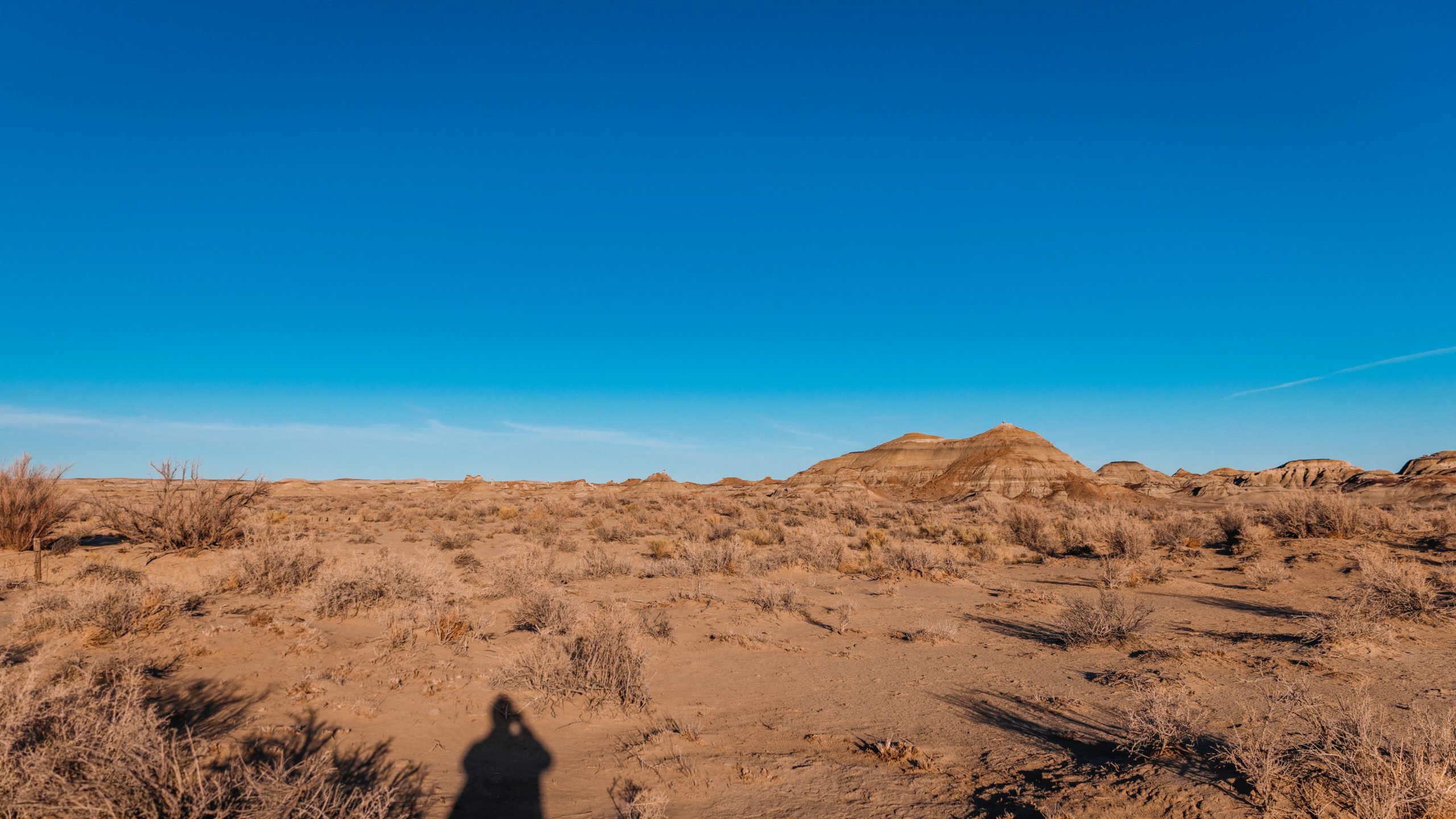 The hike is fairly easy and is mostly flat, the only obstacles you'll find are the washes. It starts off pretty barren then you'll start to see amazing rock formations as you get closer to the Stone Wings.
There are a couple of small canyons as you get closer to the wings that are fairly easy to navigate but I could see this being confusing if I didn't have GPS.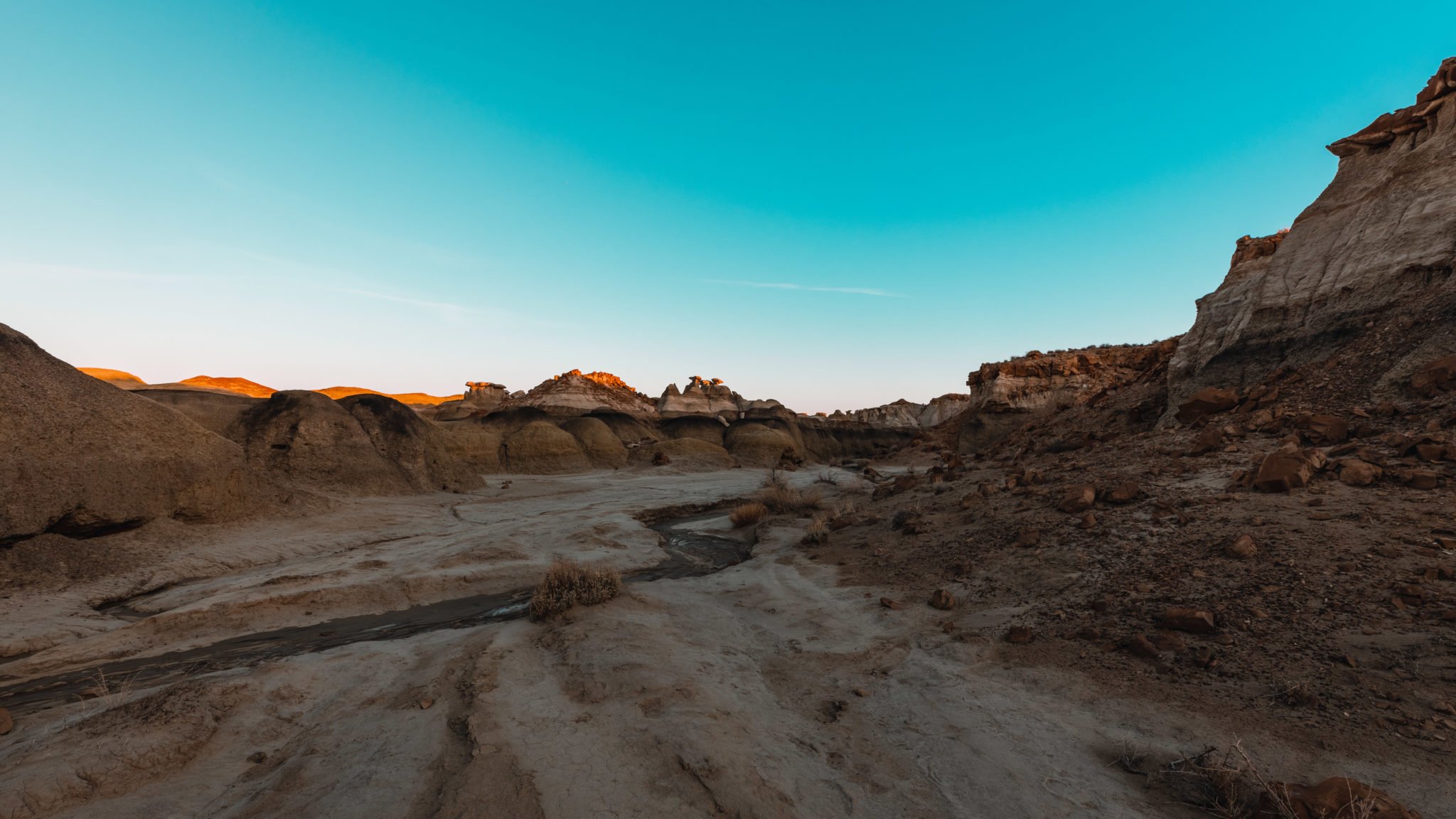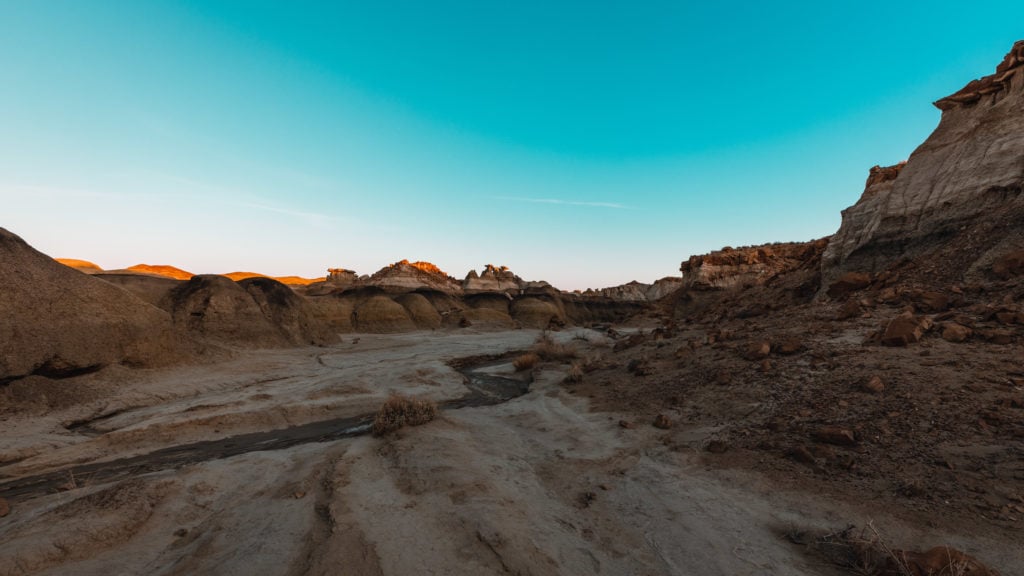 You'll eventually get to a canyon with a wash down the middle and you'll be able to see the Stone Wings. The best view of them is facing North West while standing in the Canyon.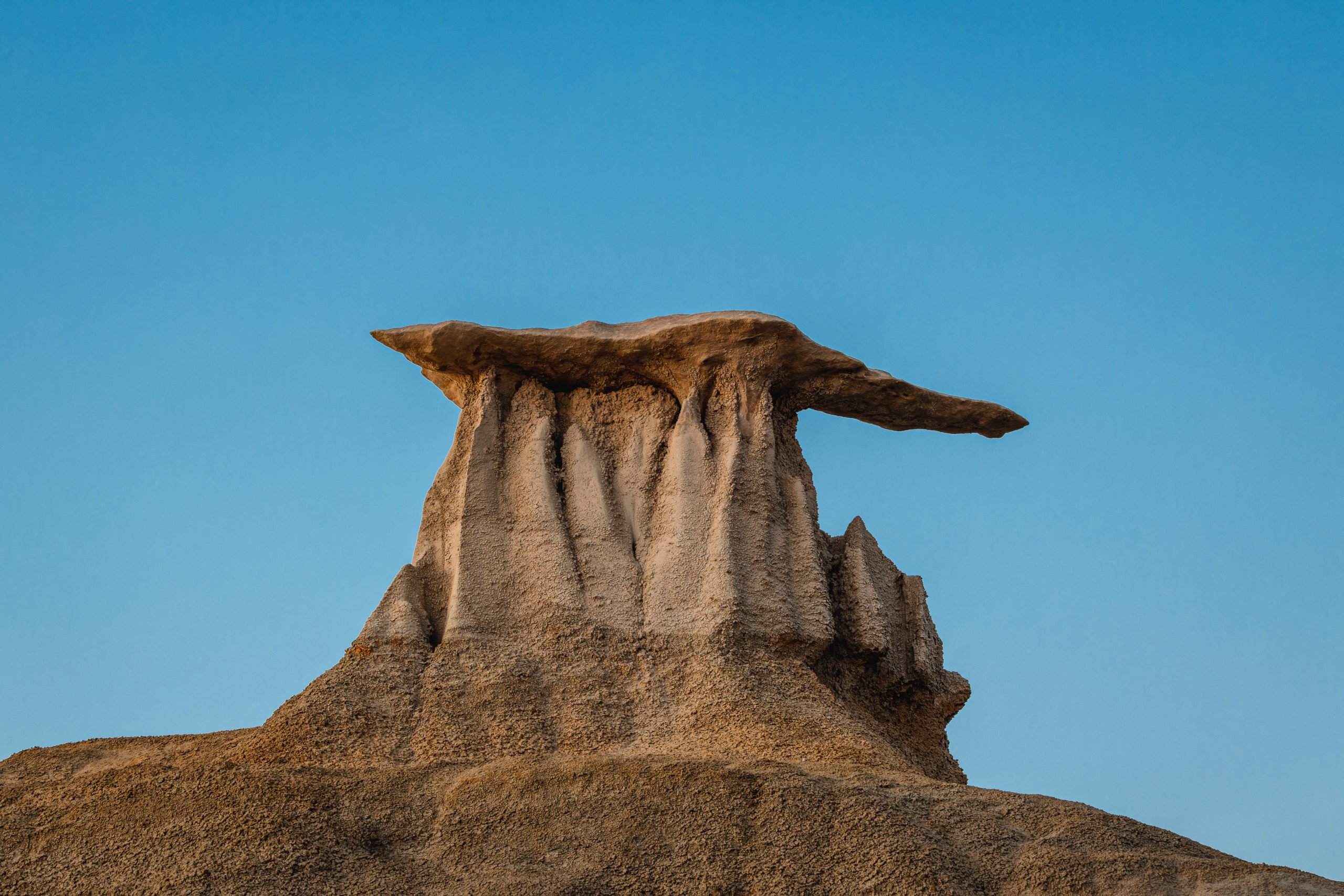 Bisti North Parking Lot on Google Maps
---
Bisti Badlands Stone Wings Photos
Here are more of my photos from Bisti Badlands. Including Stone Wings, the hike, and other formations I saw on the way to the wings. You could easily spend all night here working on different compositions.
Recommended photography gear: I'd highly recommend bringing a tripod especially when the area becomes low-light. You're probably best off with a 24-70mm lens, on my visit I also brought a telephoto to capture hoodoos far away. From my experience the formations appear larger in photos so having a zoom lens is nice. For my Stone Wings photos I shot them around 50-70mm range. While I didn't spend all night in the wilderness on my visit astrophotography is popular here. Bringing flashlights for light painting is recommended if you plan on being past dusk.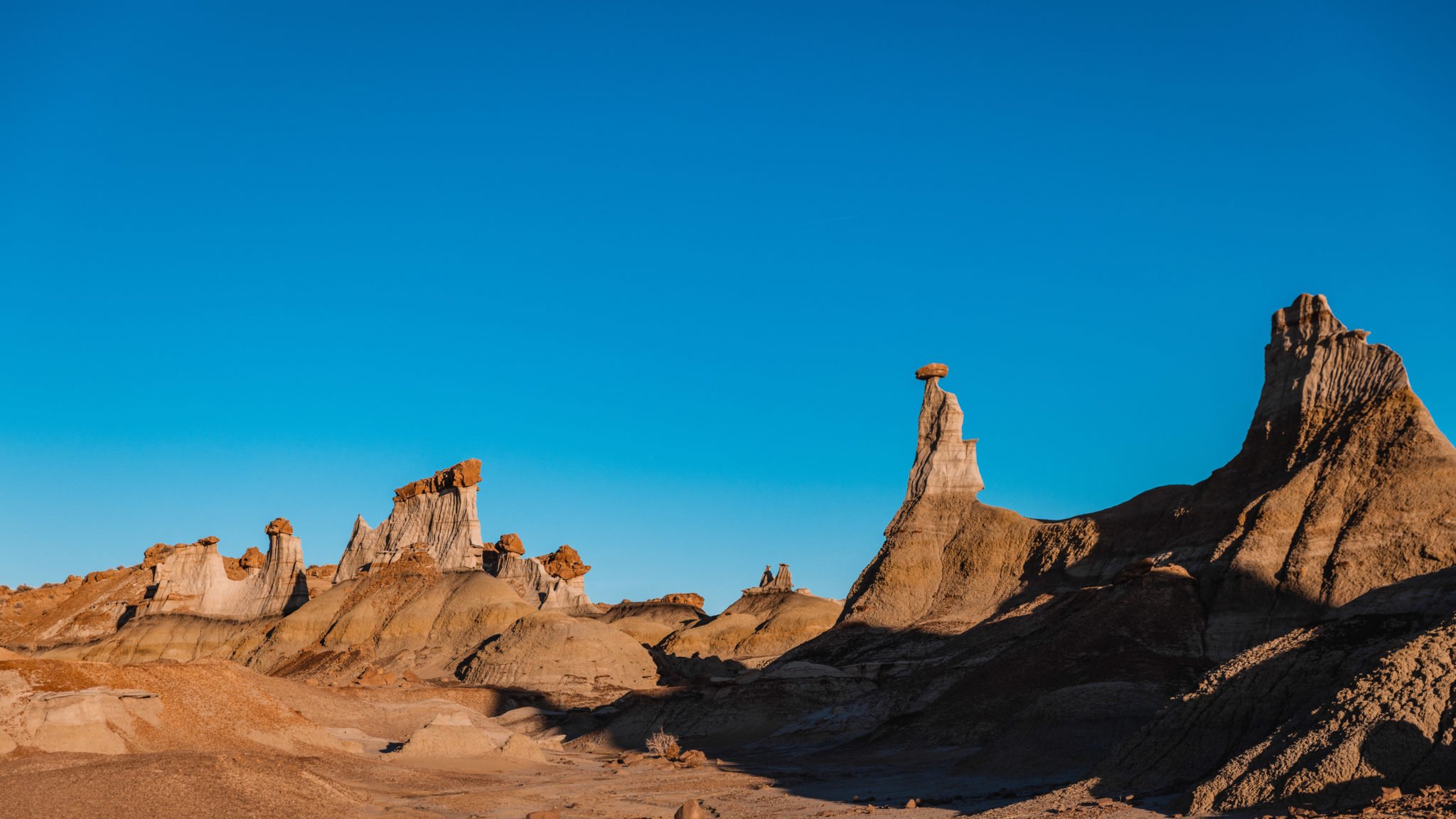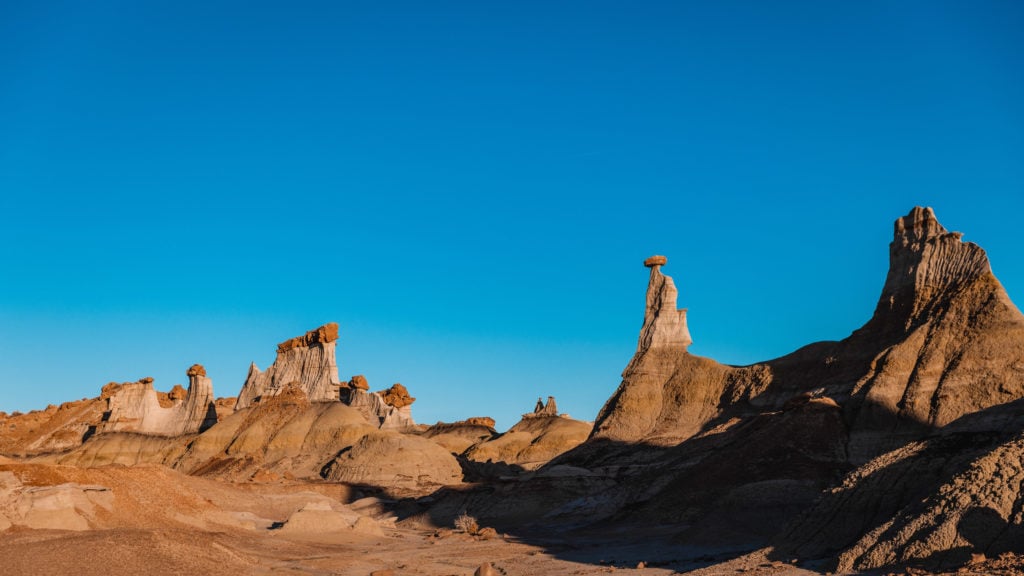 ---
Thanks for reading my guide to the Bisti Badlands Stone Wings! Hoping this helped plan your trip to the area. Here's my full list of places to take pictures in New Mexico. If you're looking to improve your photos I'd also recommend reading my travel photography tips.
---
Enjoyed this article?
Save an image below to Pinterest