Boston is full of history and incredible for photography. From colonial houses to beautiful greenery Boston is full of places to photograph. When traveling I love to visit all of the "Instagrammable" spots. Downtown Boston is a blast to explore since it has so much to see in such a small area.
Here are the best places to photograph in Boston, Massachusetts:
---
1. Acorn Street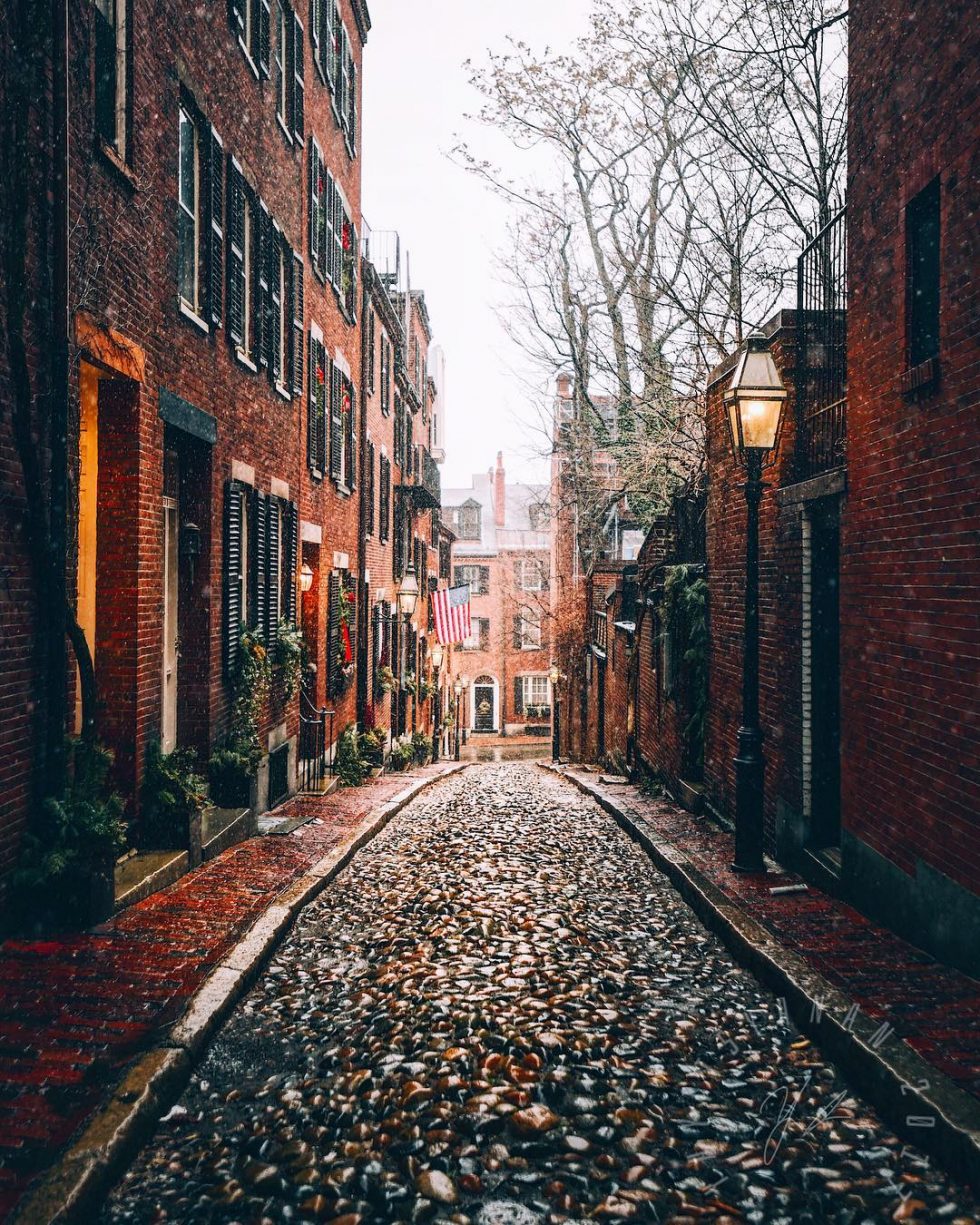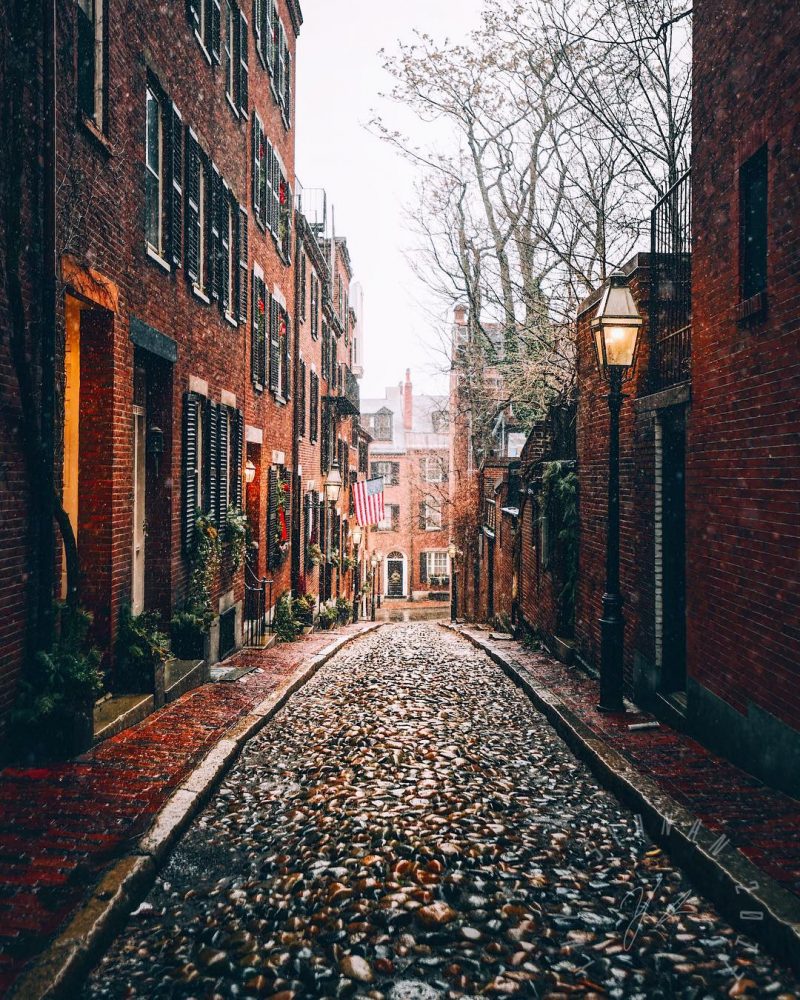 Probably one of the most iconic streets in the United States; Acorn street is an incredible cobblestone street that was built in 1823. Lined with beautiful houses you'll feel like you stepped into back in time. The cobblestone street looks especially stunning after rain making it easy to capture reflections off of the cobblestone.
Acorn Street on Google Maps
---
2. Boston Public Library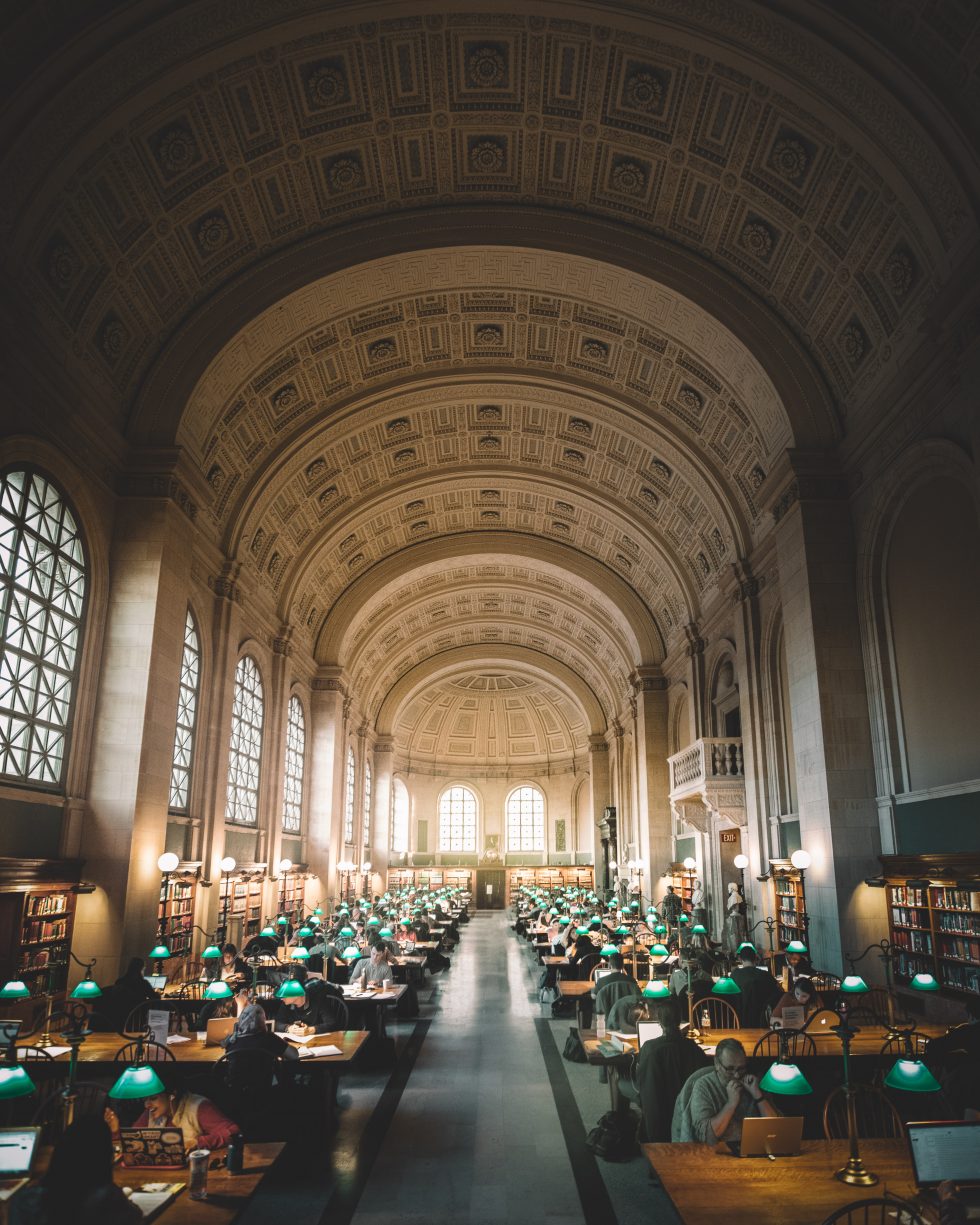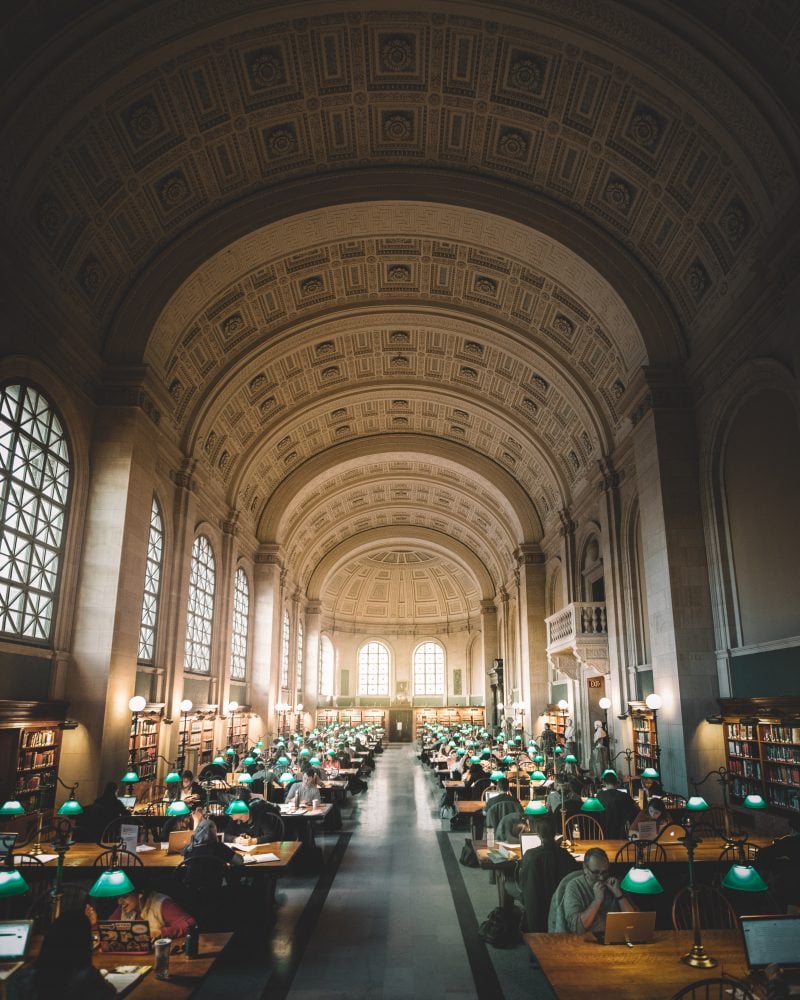 Bates Hall in the Boston Public Library has plenty to photograph including a stunning barrel-arched ceiling, busts of famous Boston authors, and English oak bookcases. Best of all it's free to enter, just keep quiet when you're in Bates Hall since people are likely working and reading.
Boston Public Library on Google Maps
---
3. Beacon Hill Neighborhood
It's hard to resist the stunning row houses in the Beacon Hill neighborhood. If your Instagram feed is full of charming houses you'll love walking around Beacon Hill.
Beacon Hill on Google Maps
---
4. Isabella Stewart Gardner Museum
The Isabella Stewart Gardner Museum is full of art and a fantastic courtyard. This beautiful art museum features European, Asian, and American art. The interior courtyard with covered glass, steel supports and a garden will look great in anyone's photo.
The Isabella Stewart Gardner Museum is also well known for a massive art heist of works valued at $500 million in 1990.
Isabella Stewart Gardner Museum on Google Maps
---
5. Boston Public Garden
The Boston Public Garden is located in the heart of Boston and is loaded with 600 different types of trees and plenty of flowers. Just a great place to relax and to take photos on a sunny day. In the center of the park is a statue of George Washington riding a horse.
Boston Public Garden on Google Maps
---
6. Christopher Columbus Waterfront Park
Another park you can't miss in Boston is the Christopher Columbus Waterfront Park. Great to visit when the rose garden is in full bloom.
Christopher Columbus Waterfront Park on Google Maps
---
7. Leonard P. Zakim Bridge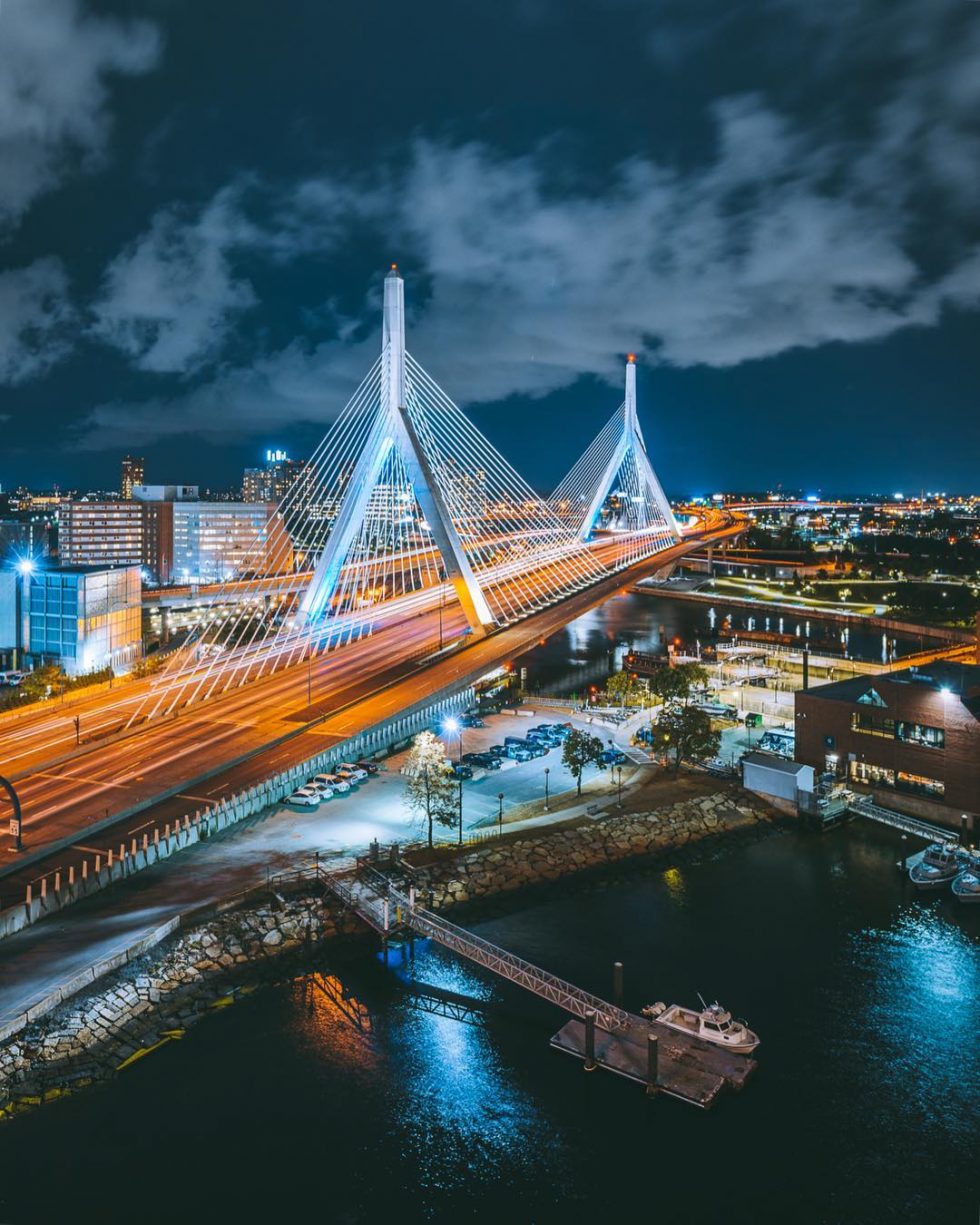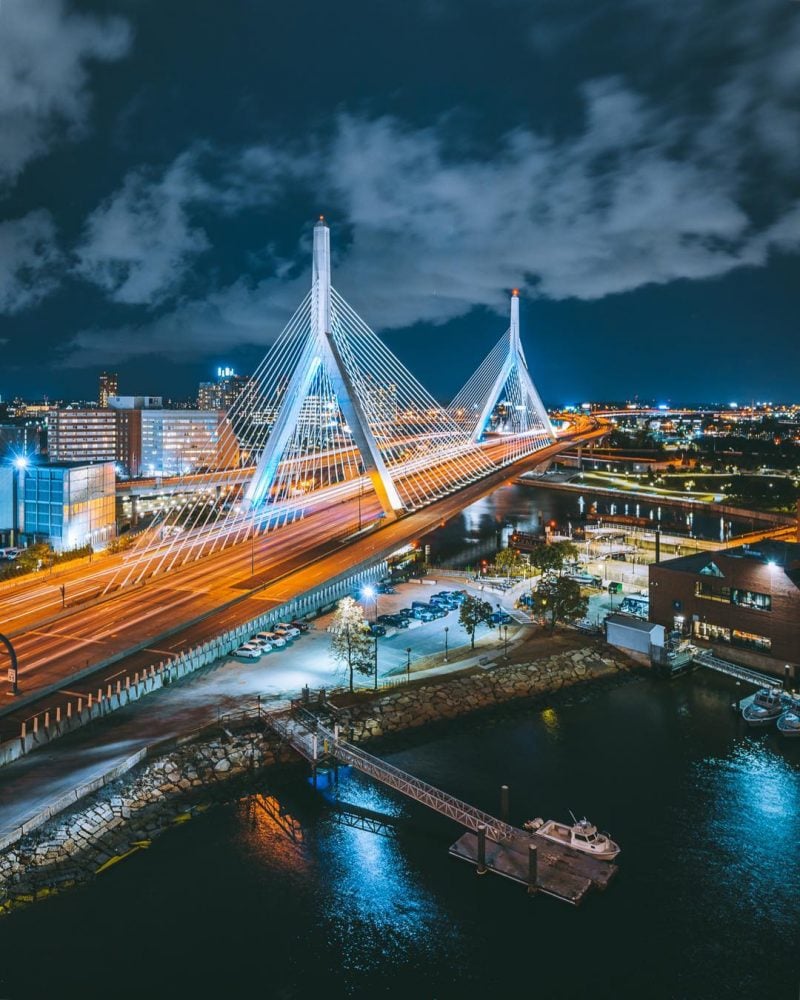 One of Boston's most unique structures is the Leonard P. Zakim Bridge. The bridge is a great sport for night photography with its unique suspension system being lit up in the evening. There is also walking path through it but you'll most likely want to explore to find the best angle.
Leonard P. Zakim Bridge on Google Maps
---
8. Bunker Hill Monument
Very similar to the Washington Monument in Washington DC you can see the Bunker Hill Monument poking over the houses in northern Boston. Plus if you climb the 294 steps to the top you can get scenic views of Boston.
Bunker Hill Monument on Google Maps
---
9. Fan Pier Park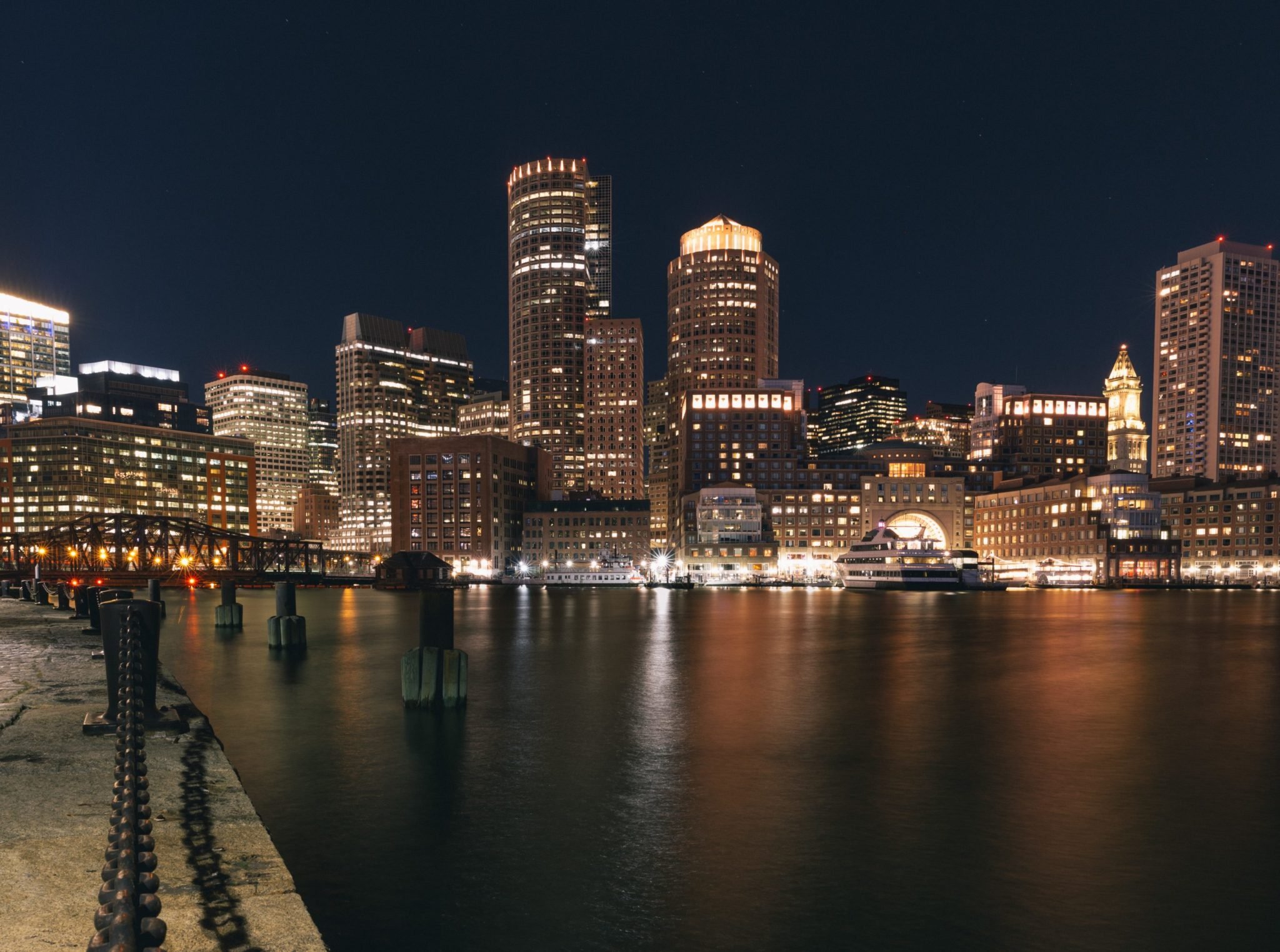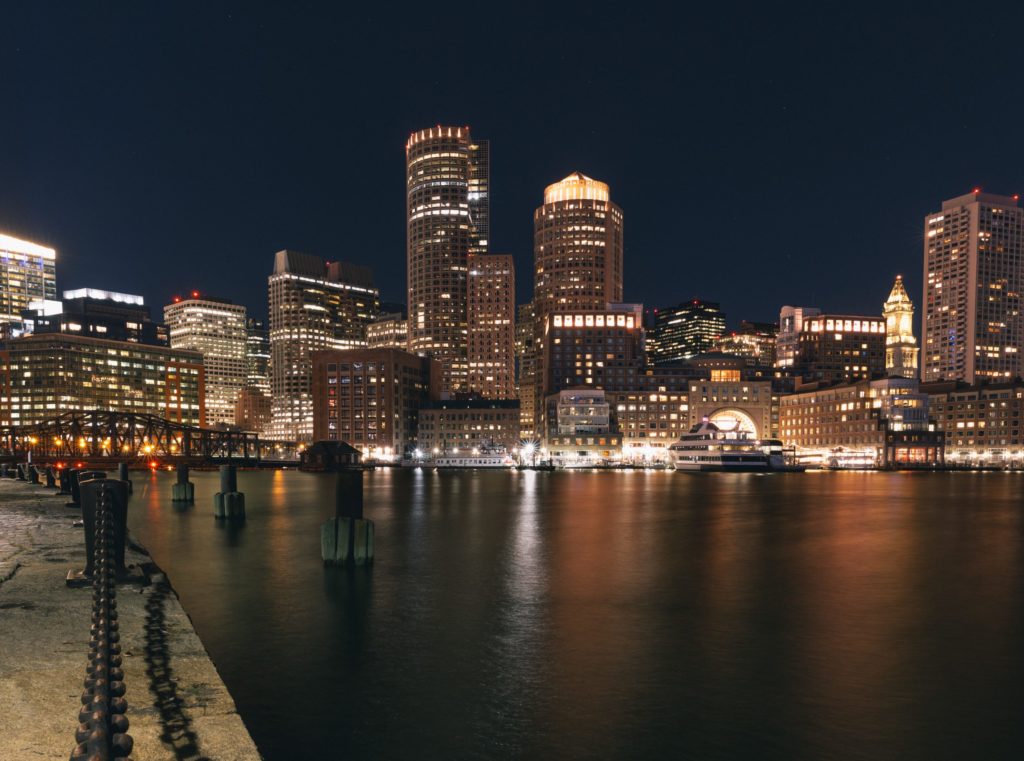 Fan Pier Park is a great spot to get a view of the Boston skyline at night. It's fun to work with the angles especially with the massive chain running down the pier. Fan Pier Park is also a great place for sunset, you can use this Boston sunrise and sunset calendar to plan your shot.
Fan Pier Park on Google Maps
---
Boston Photography Spots Map
Here is a map of all of the Boston photo spots mentioned in the article above. I find it helpful when traveling to visualize location on a map so you can plan out your trip.
---
Since Boston is one of the oldest municipalities in the United States it's full of plenty of history. Key American events such as the Boston Massacre, Boston Tea Party, and the Battle of Bunker Hill all took place in the city. Photographers will enjoy capturing Boston's rich history when visiting.
There are plenty of other areas to photograph in Boston such as Cambridge, Fenway Park, and the Museum of Fine Arts.
If I'm missing something amazing in Boston let me know in the comments! I hope you have a great trip to Massachusetts.