LA has to be one of the most photogenic cities in the US. From the sprawling mountains minutes away from the city to scenic beaches Los Angeles is FULL of great places to Instagram.
Nearly every sunset in LA is breathtaking which is why I love this city so much. Every time I visit Los Angeles I find myself photographing all day and night. If you visiting LA for the first time I highly recommend renting a car to get around. Much of the city is sprawled out so it's best to have a car to get around the city.
Here is my list of the 19 best places to take pictures in Los Angeles:
1. Griffith Observatory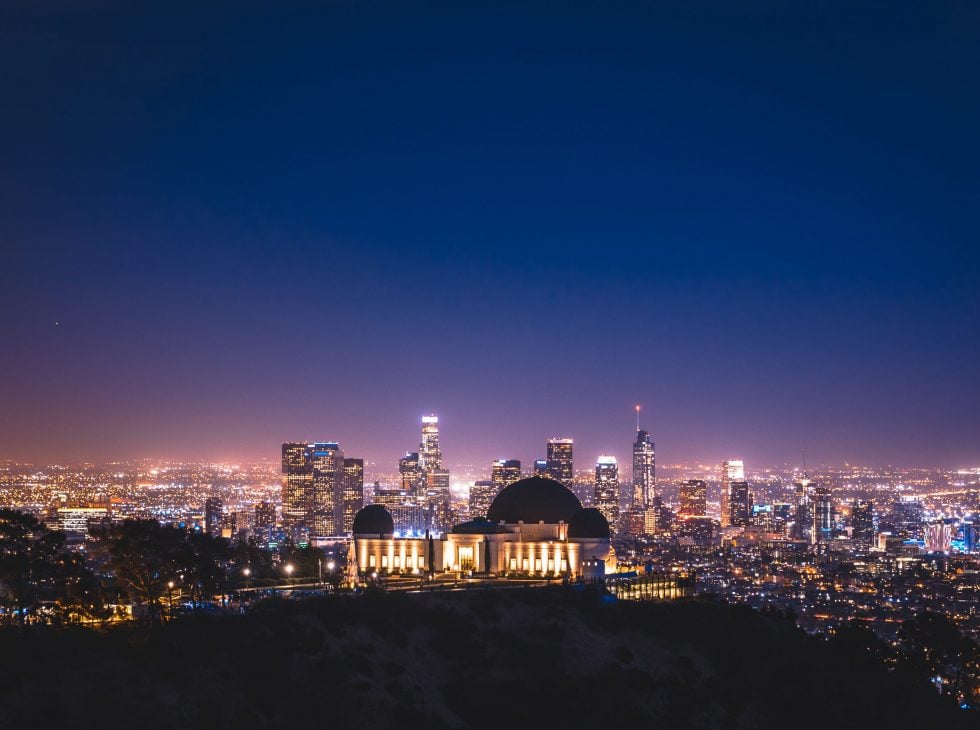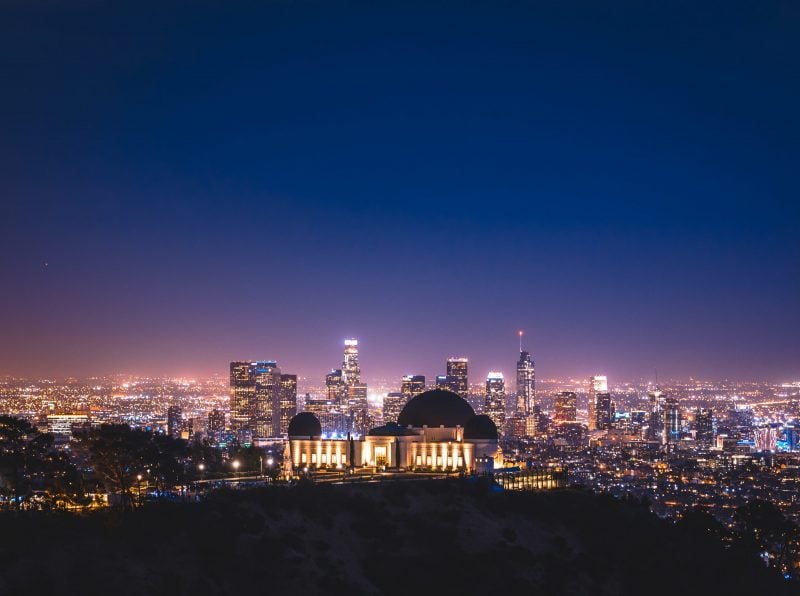 If you only stop at one place on this list the Griffith Observatory is a must, it has to be one of the most instagrammable places in LA. Once you get to Griffith Observatory you'll be greeted with a panoramic view of LA. If you're looking for a Los Angeles skyline photo location put the observatory on your list!
Parking can be tight at peak times though and you may have to park a bit down the hill if the parking lot is full.
Additionally if you're willing to hike a bit there are a few trails behind Griffith that will let you get above the observatory for even more creative views. The photo above is from the hiking path that starts at the observatory.
Griffith Observatory on Google Maps
---
2. LACMA "Urban Light"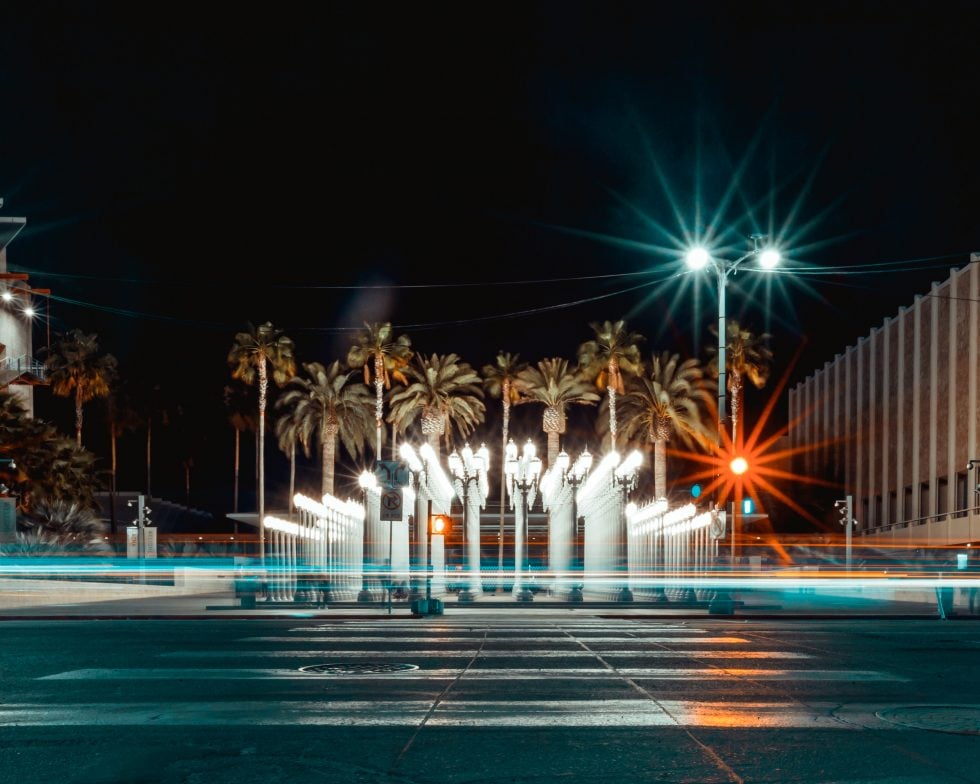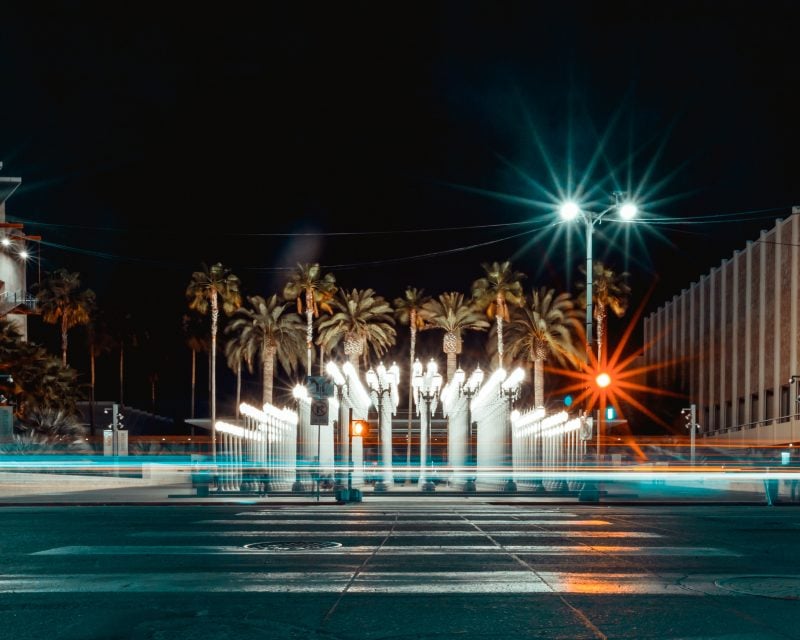 Day or Night the "Urban Light" exhibit at LACMA is a popular destination. Basically any instagrammer can appreciate the unique rows of street lights here. The grounds of LACMA also have some interesting environments to explore but the most prominent feature is Urban Light.
LACMA on Google Maps
---
3. Angels Gate Park (Basketball Court/Korean Friendship Bell)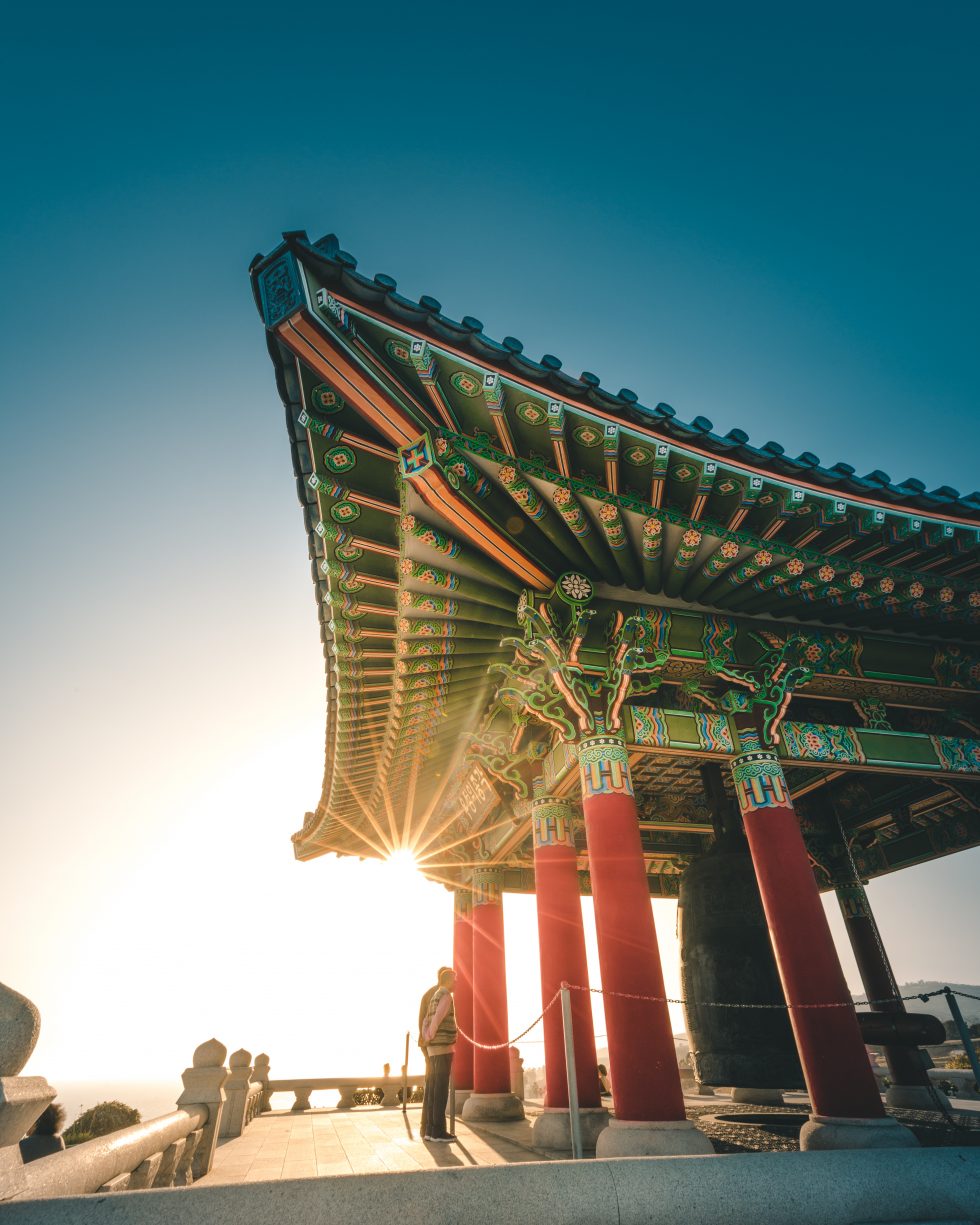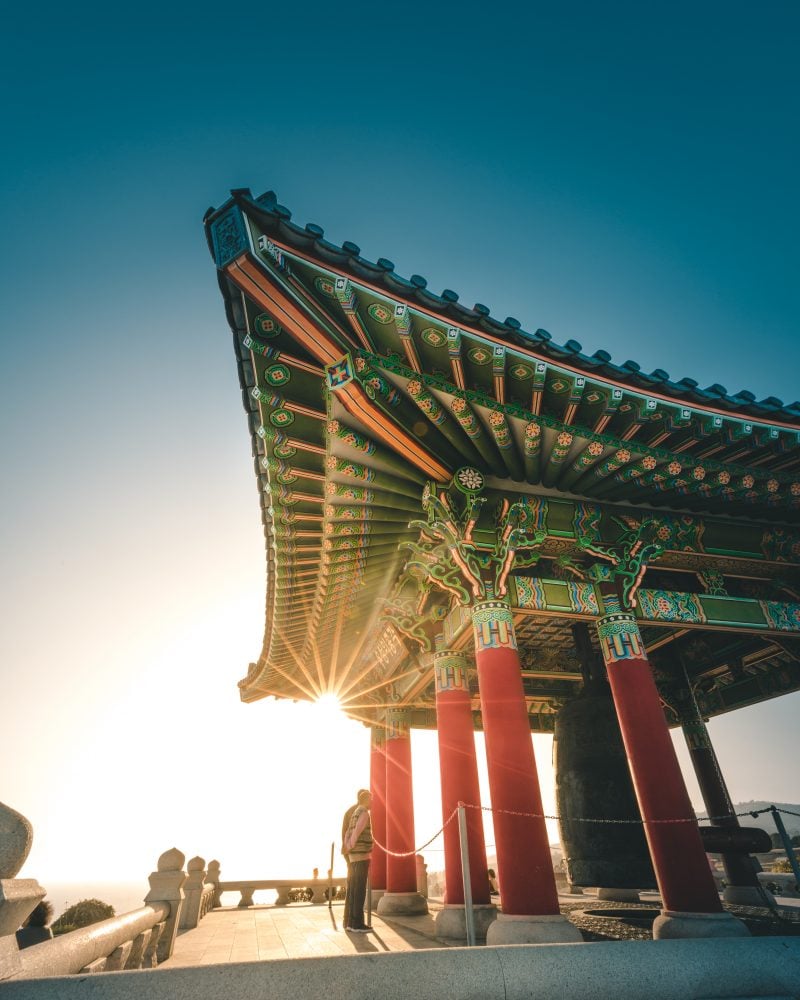 This spot took me a long time to find so I knew I had to include it on the list. Angels Gate Park has Korean Friendship Bell which is a massive bell in a stone pavilion. Additionally there is a very unique arched basketball hoop at this park. Plus it's on a large hill so you can get views of the water from the park.
Angels Gate Park on Google Maps
---
4. Santa Monica Pier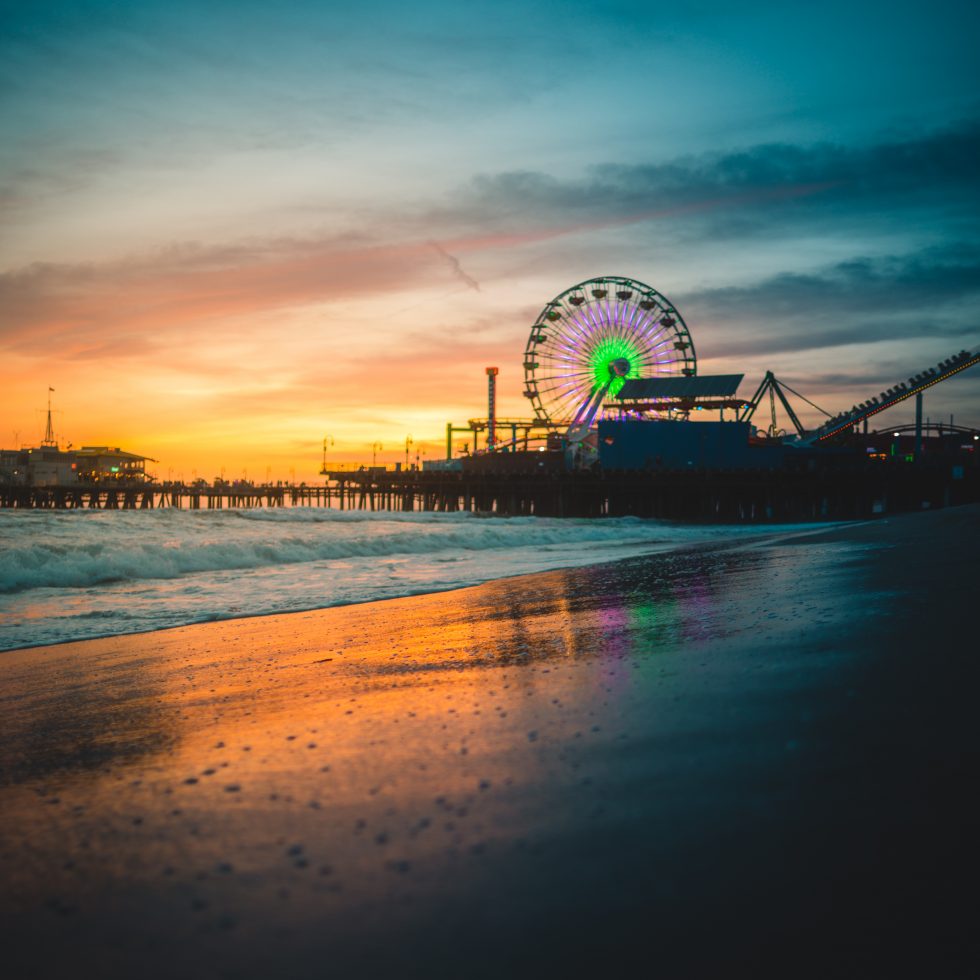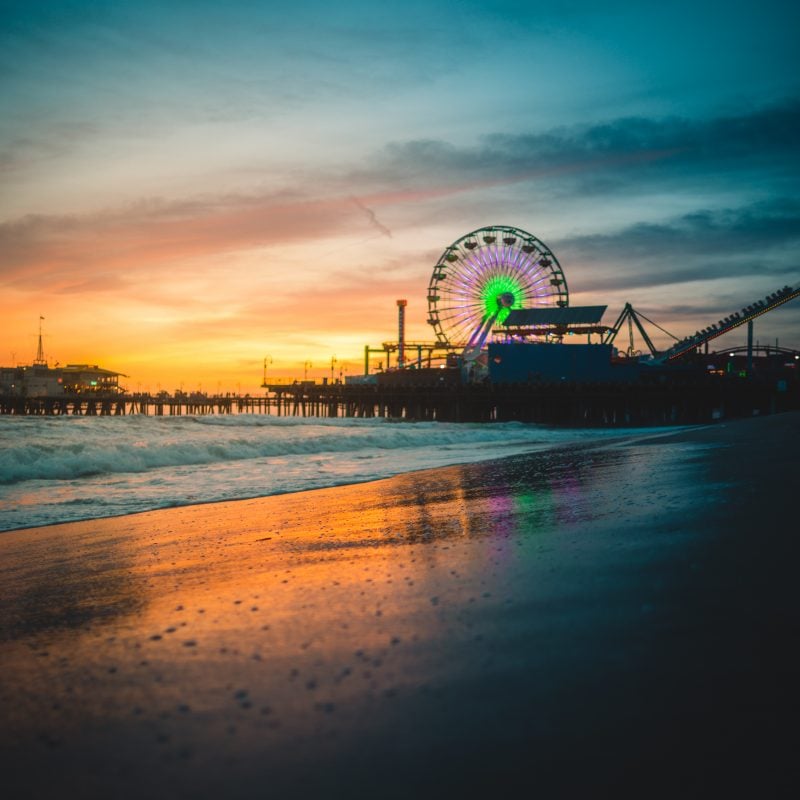 If you're visiting LA enjoying a sunset at the Santa Monica Pier is a must. The waves crashing down as the sun goes down behind the pier is just one of those classic California things that can't be missed. If you want to spend more time here I recommend exploring the pier, you can even walk underneath the pier.
Santa Monica Pier on Google Maps
---
5. Walt Disney Concert Hall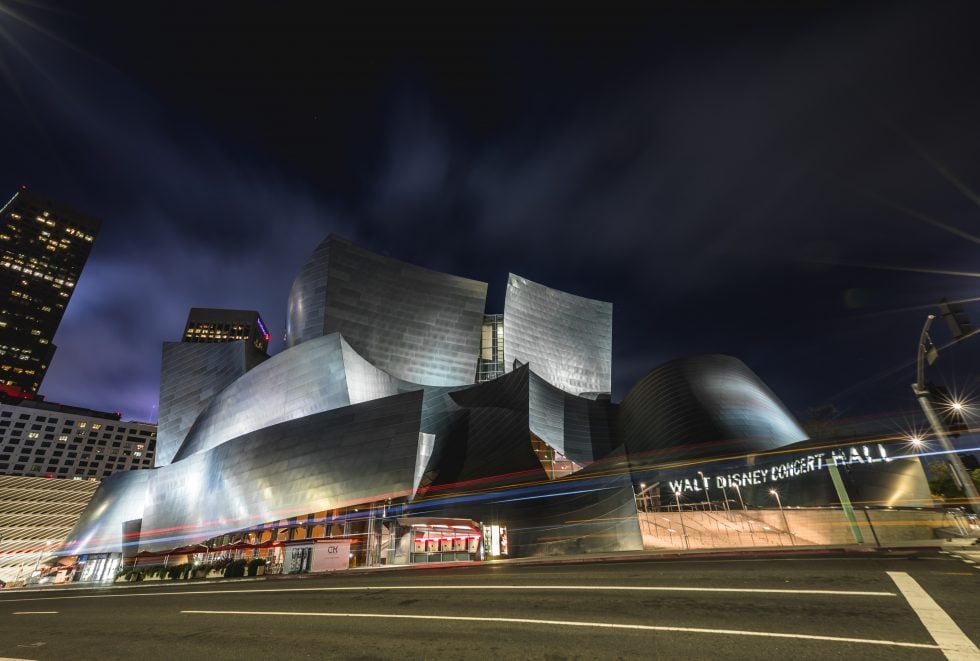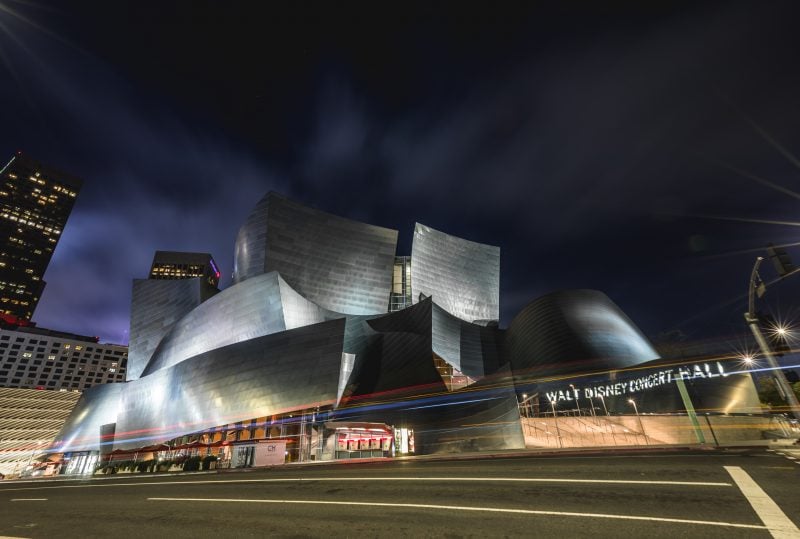 Located directly downtown The Walt Disney Concert Hall is full of incredible shapes and architecture. Just a warning: The stainless steel exterior can get incredibly hot on a sunny day so be careful where you put your hands.
Walt Disney Concert Hall on Google Maps
---
6. The Broad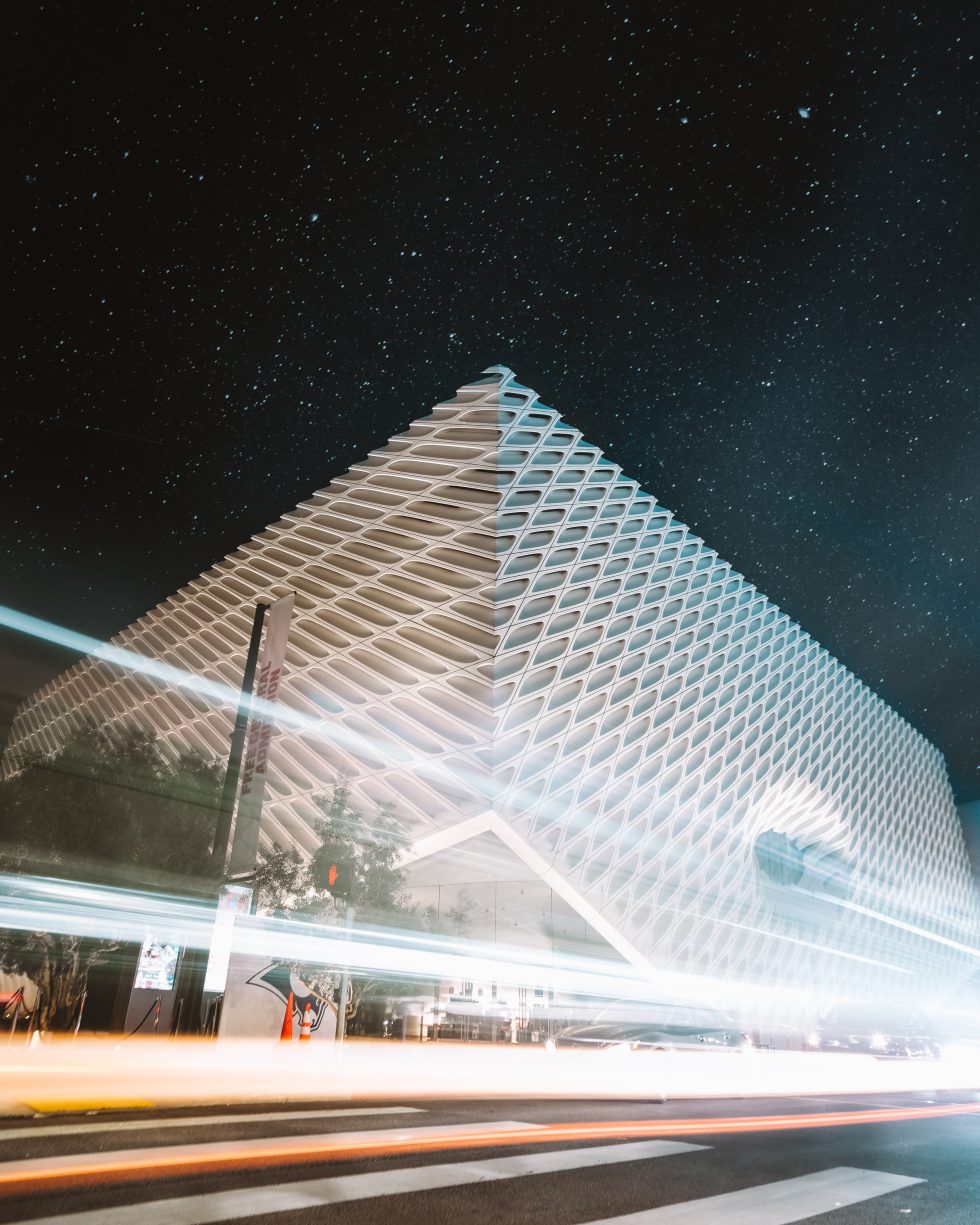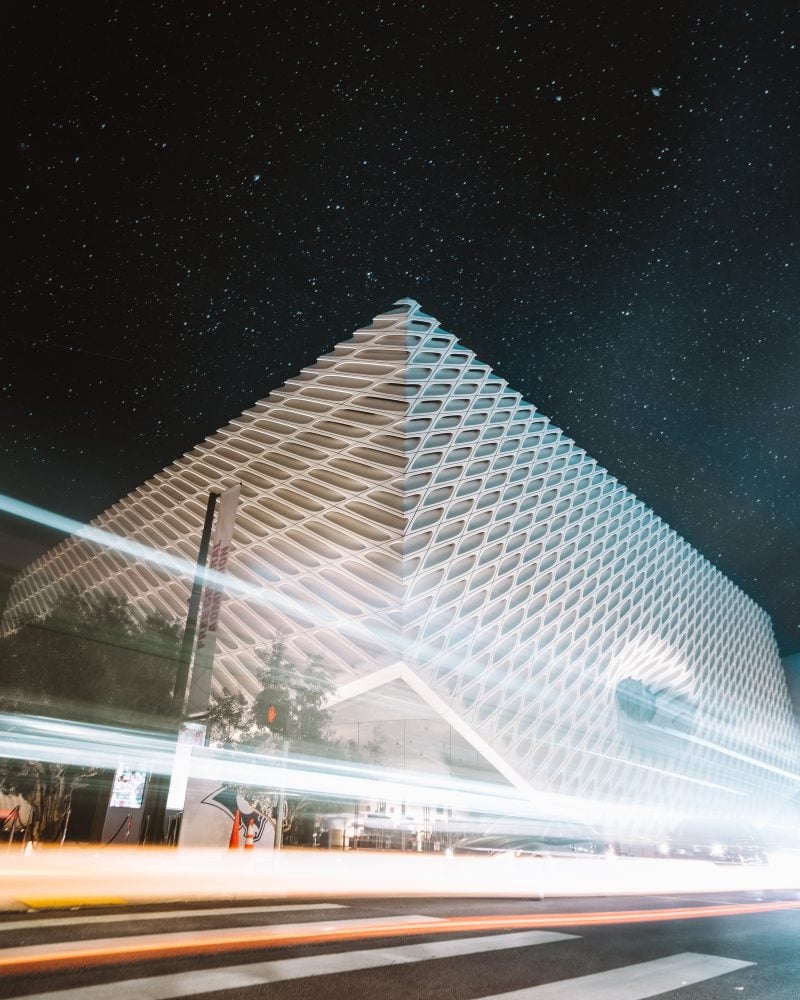 The Broad museum is right next to the Walt Disney Concert Hall in the middle of downtown LA. Its unique exterior is fun to photography day or night. There are also some interesting art pieces inside, general admission tickets are free but there is typically a line for them.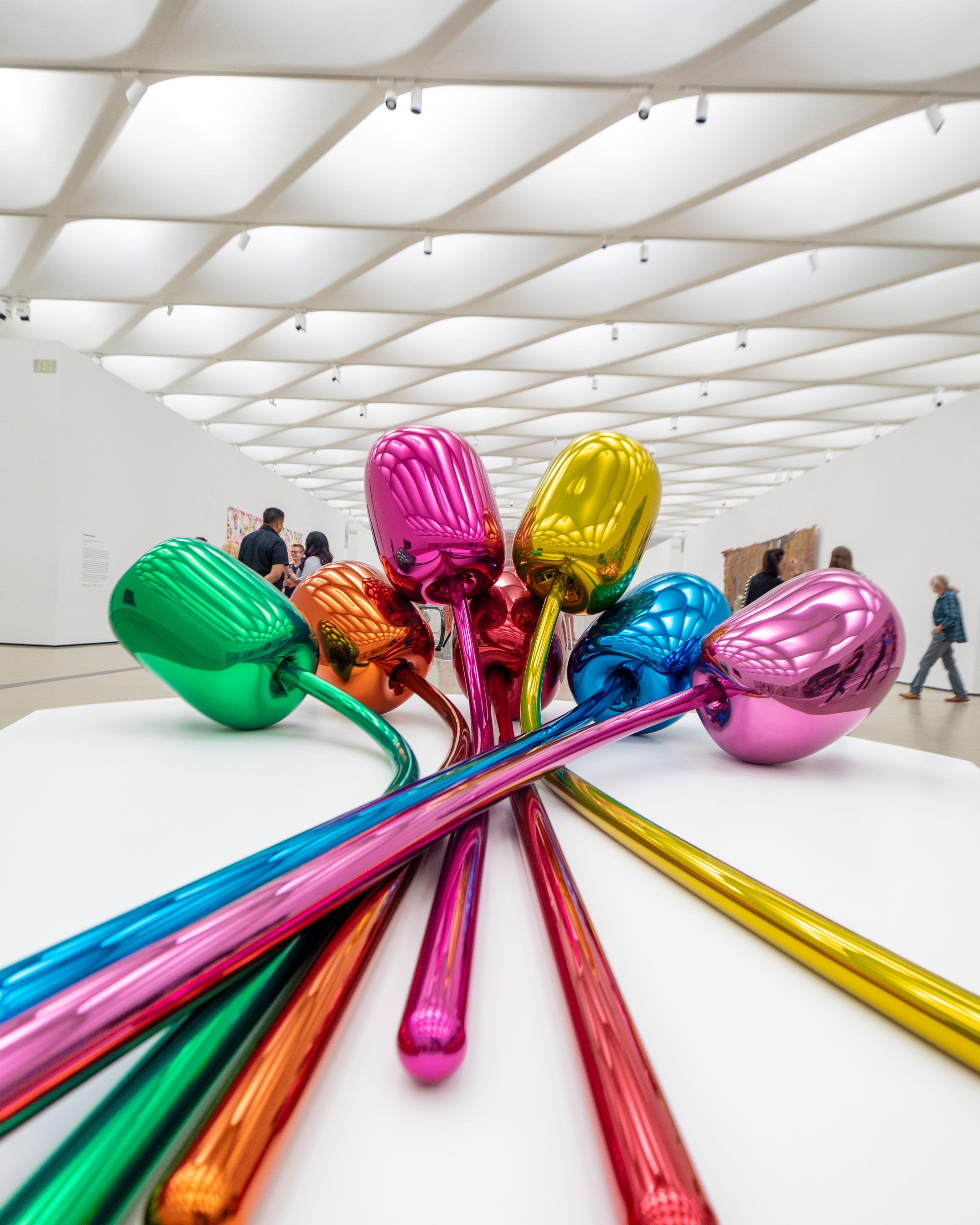 The Broad on Google Maps
---
7. The Queen Mary Cruise Ship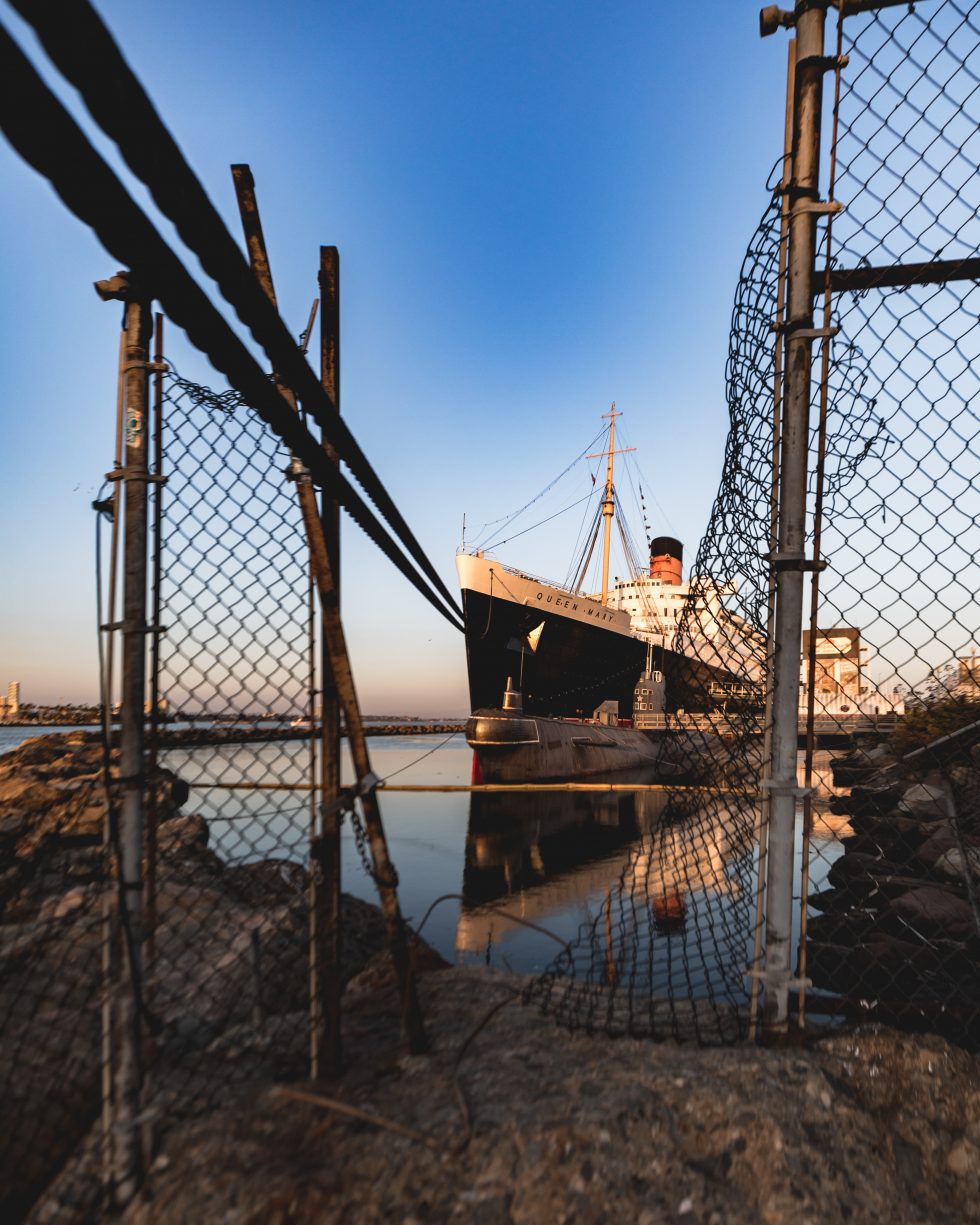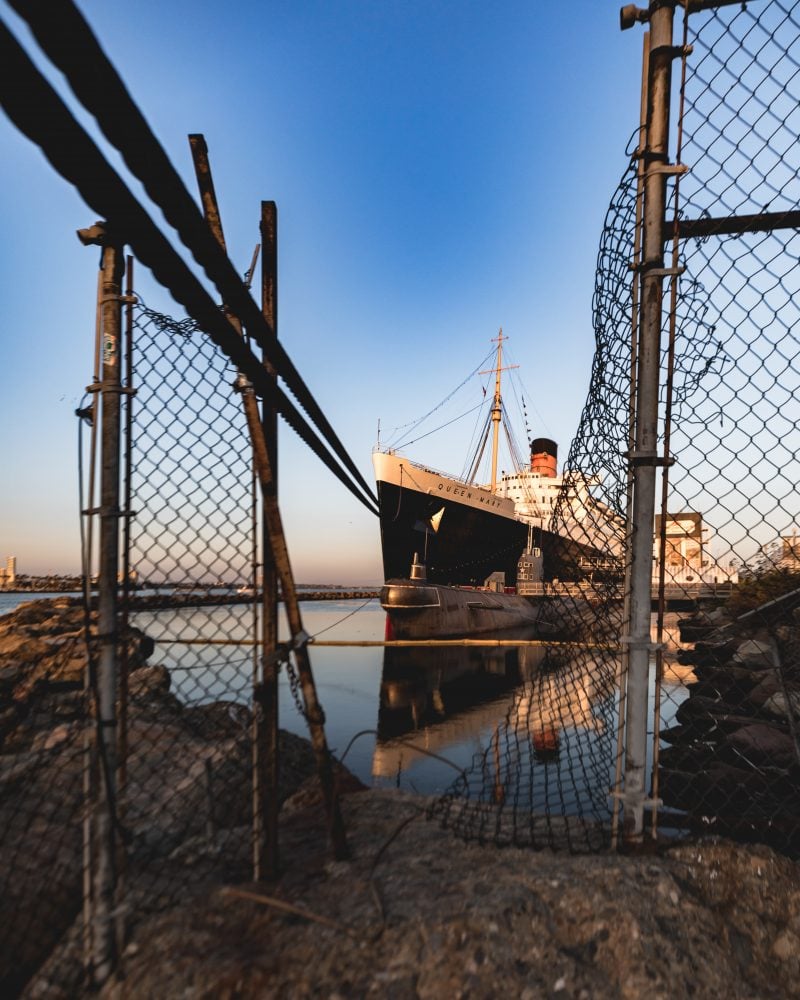 The Queen Mary is quite the tourist attraction with shops and restaurants inside but the front of the ship is incredible. Parking was free for 30 minutes while I was there which was just enough time to hop out and take a photos and get back on the road.
Queen Mary on Google Maps
---
8. Bradbury Building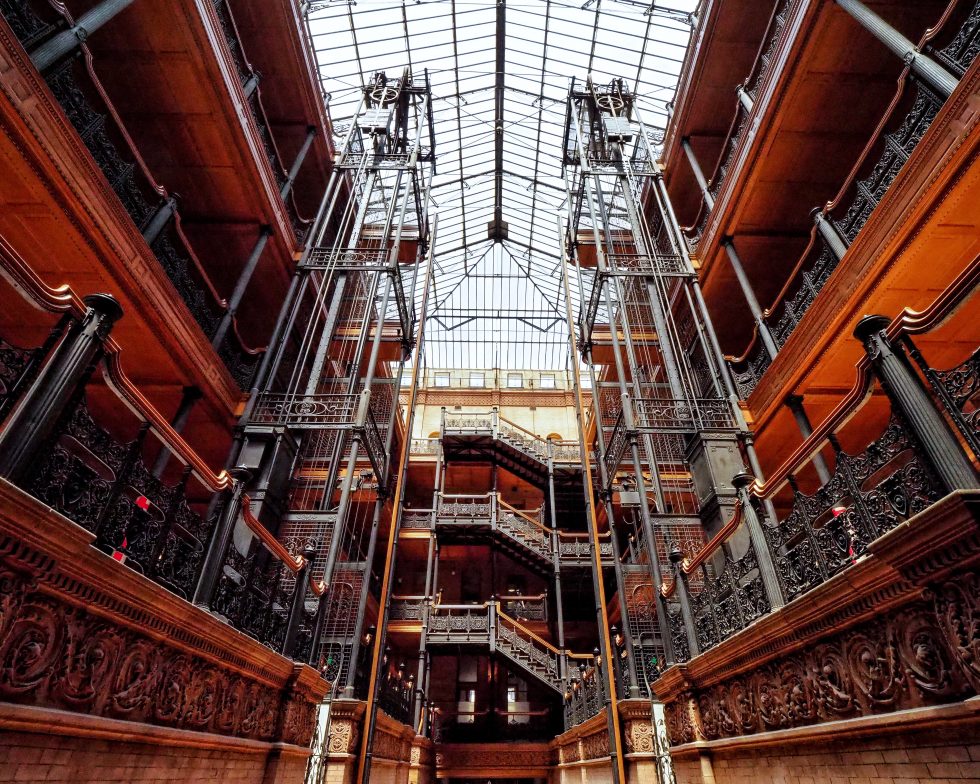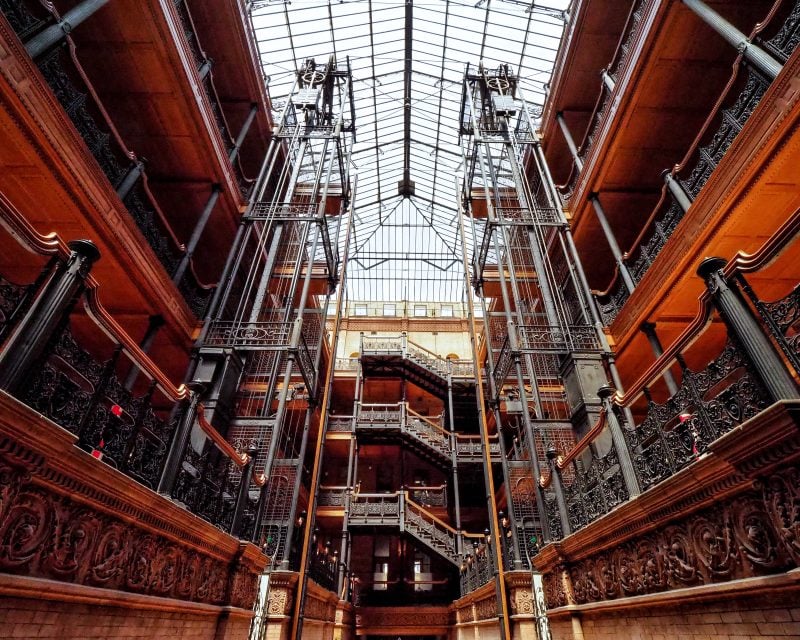 Inside of the Bradbury Building there is a vintage stairway that is hit with unique lighting from the skylight on the roof. I haven't had the pleasure of personally going but it looks stunning from photos. According to a comment I received they are only allowing photos taken with phones at the moment.
Bradbury Building on Google Maps
---
9. Underpass in Downtown LA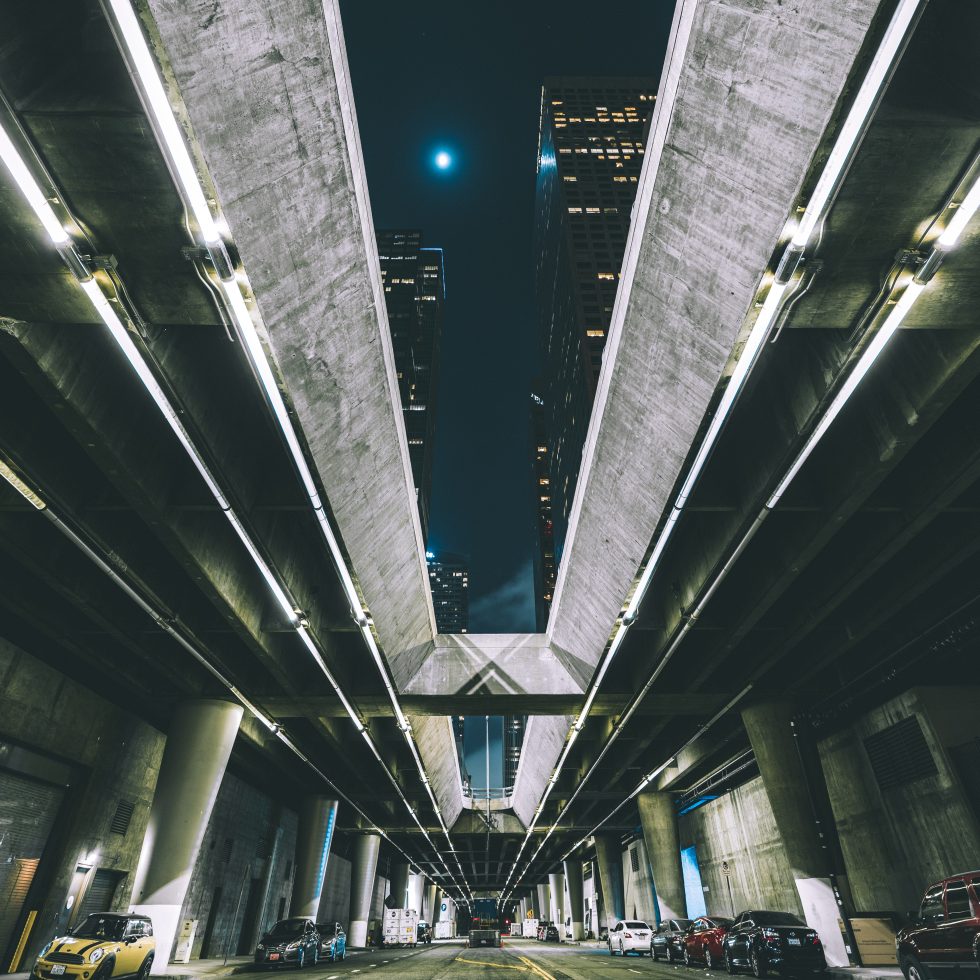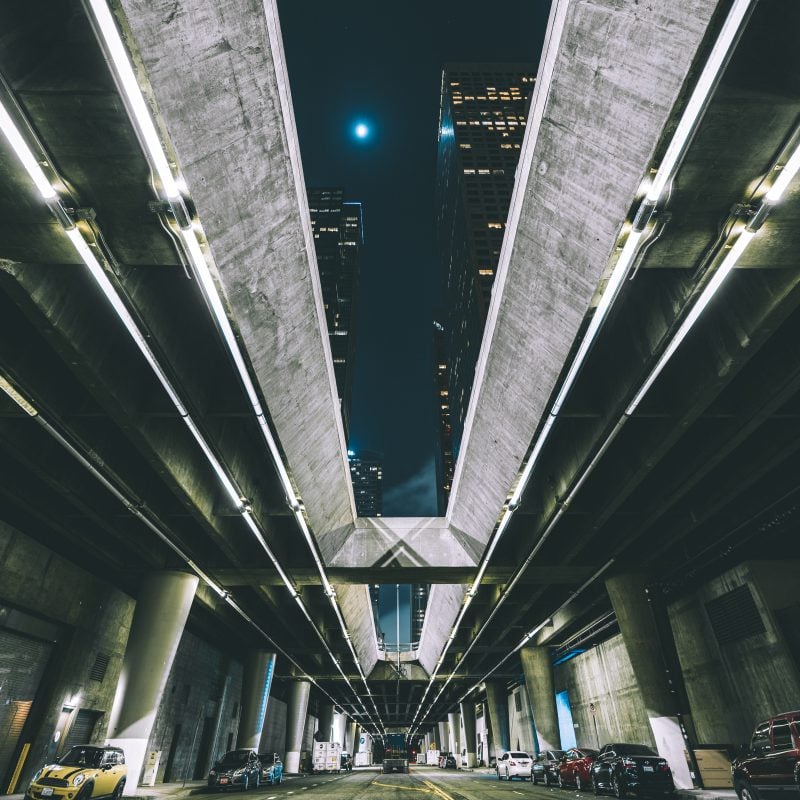 It took a bit to find this spot but it's centrally located in Downtown LA. There are a few places to drive into the underpass, plus if you come late there is parking all over the street where you'd want to shoot. It's underneath S Grand Ave so you can enter via W 4th St.
W 4th St & S Grand Ave on Google Maps
---
10. The Last Bookstore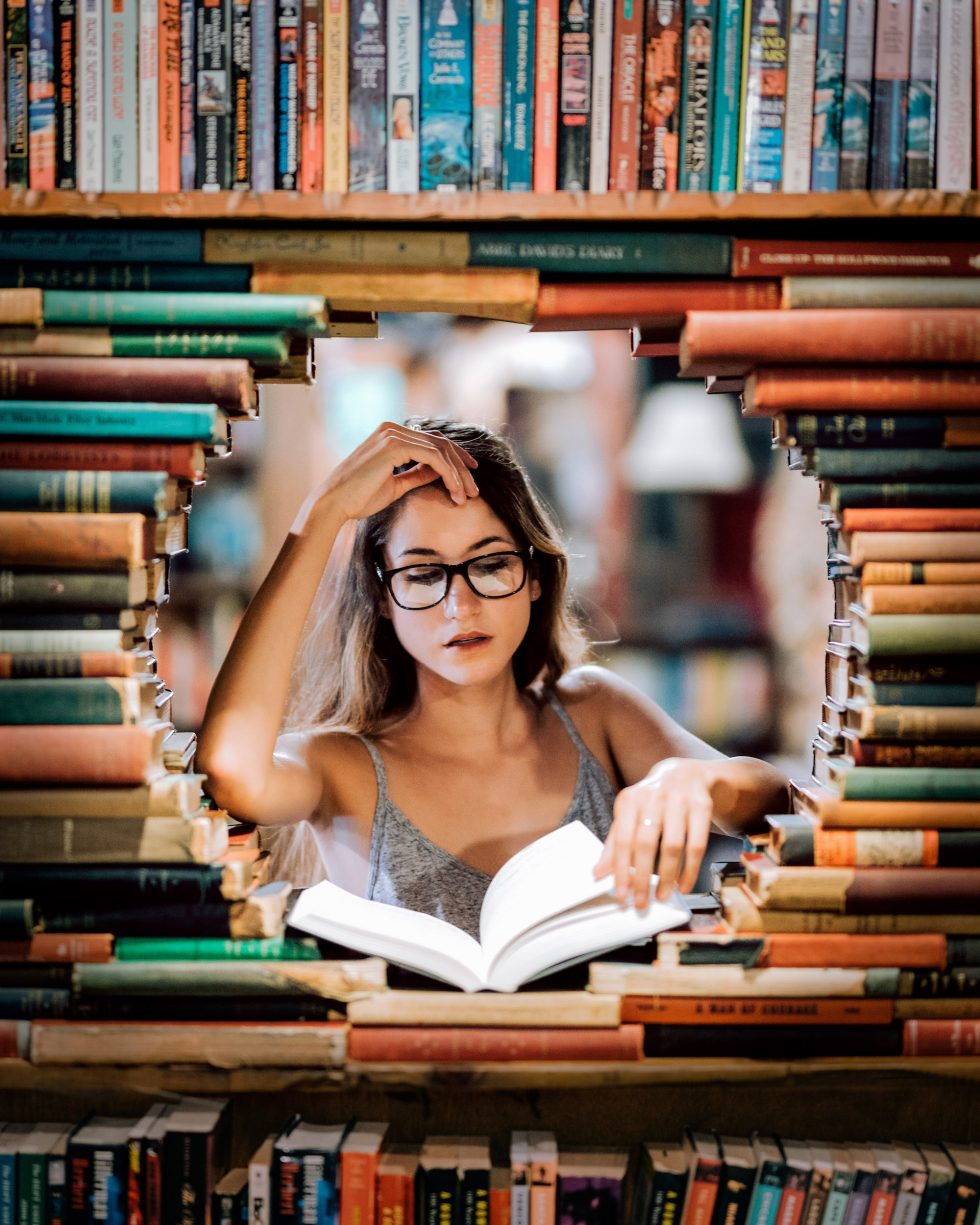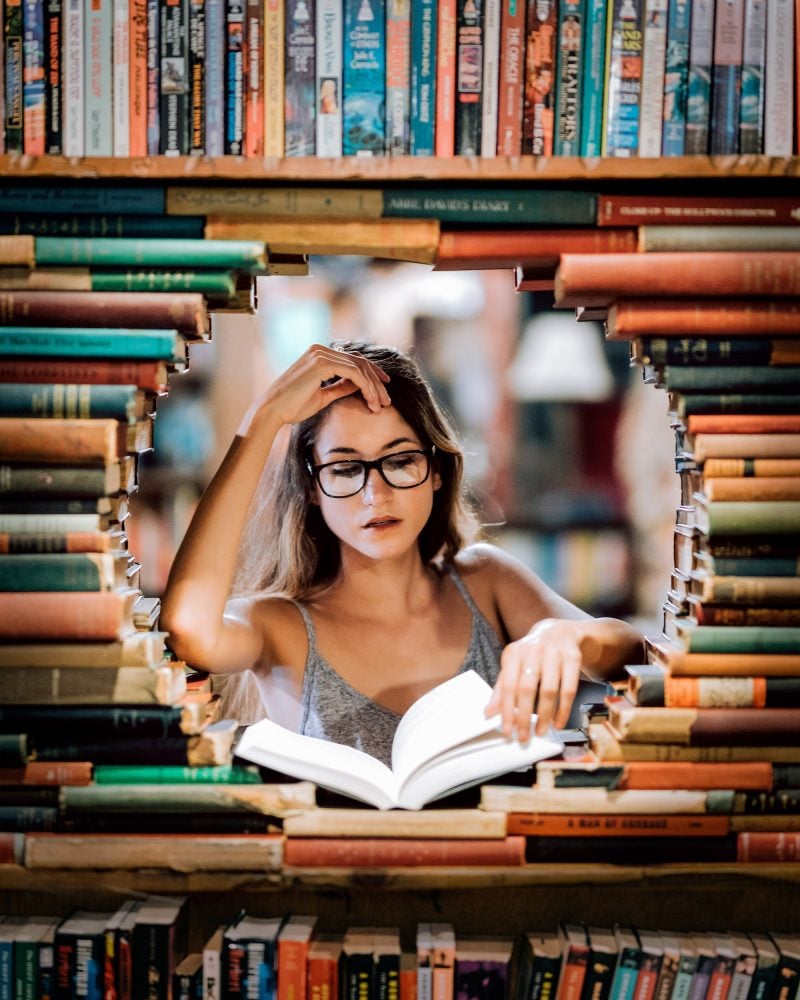 If you take portraits the last bookstore is a perfect stop with its uniquely stacked books. Many will recognize the books stacked in a circle pattern.
The Last Bookstore on Google Maps
---
11. 808 S Olive Street Parking Garage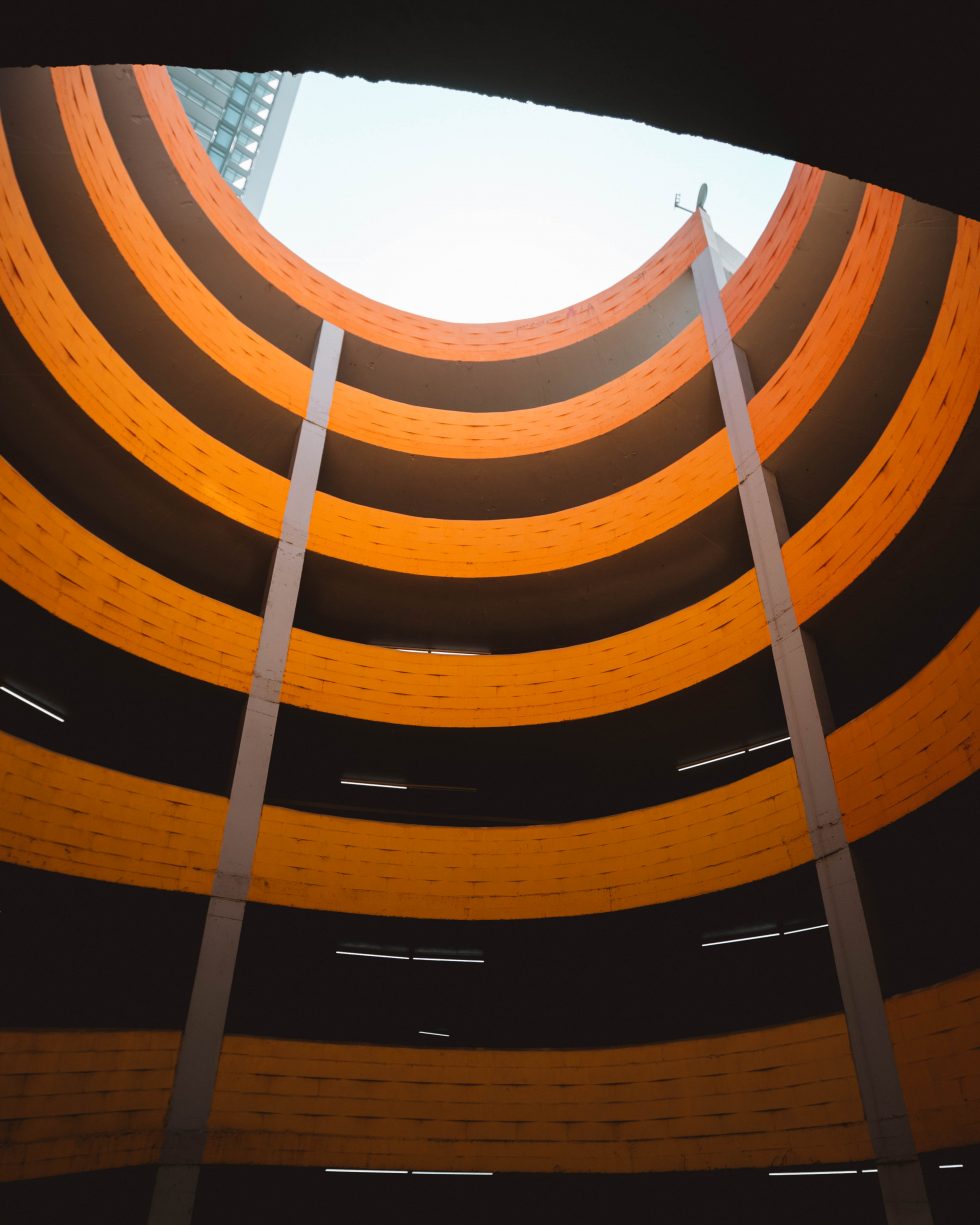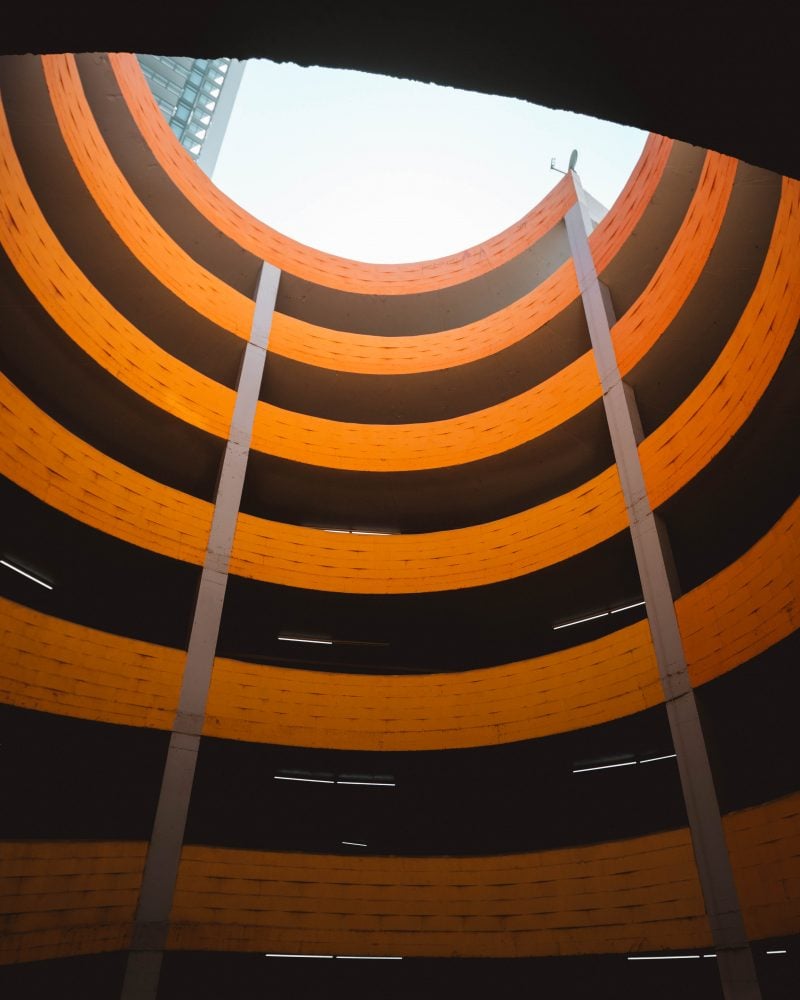 Joe's parking garage at 808 S Olive St is located in the heart of downtown LA. There isn't much to see at this garage but when you're driving down to exit the garage has a stunning circular ramp that is painted orange. When I visited the garage was $3 for 15 minutes and that was about all the time I spent here. I couldn't figure out a way to enter the bottom of the ramp area but when you're driving down you can pull over and hold your camera out the window (which I did to take the photo above).
808 S Olive Street Parking Garage on Google Maps
---
12. Venice Beach Canals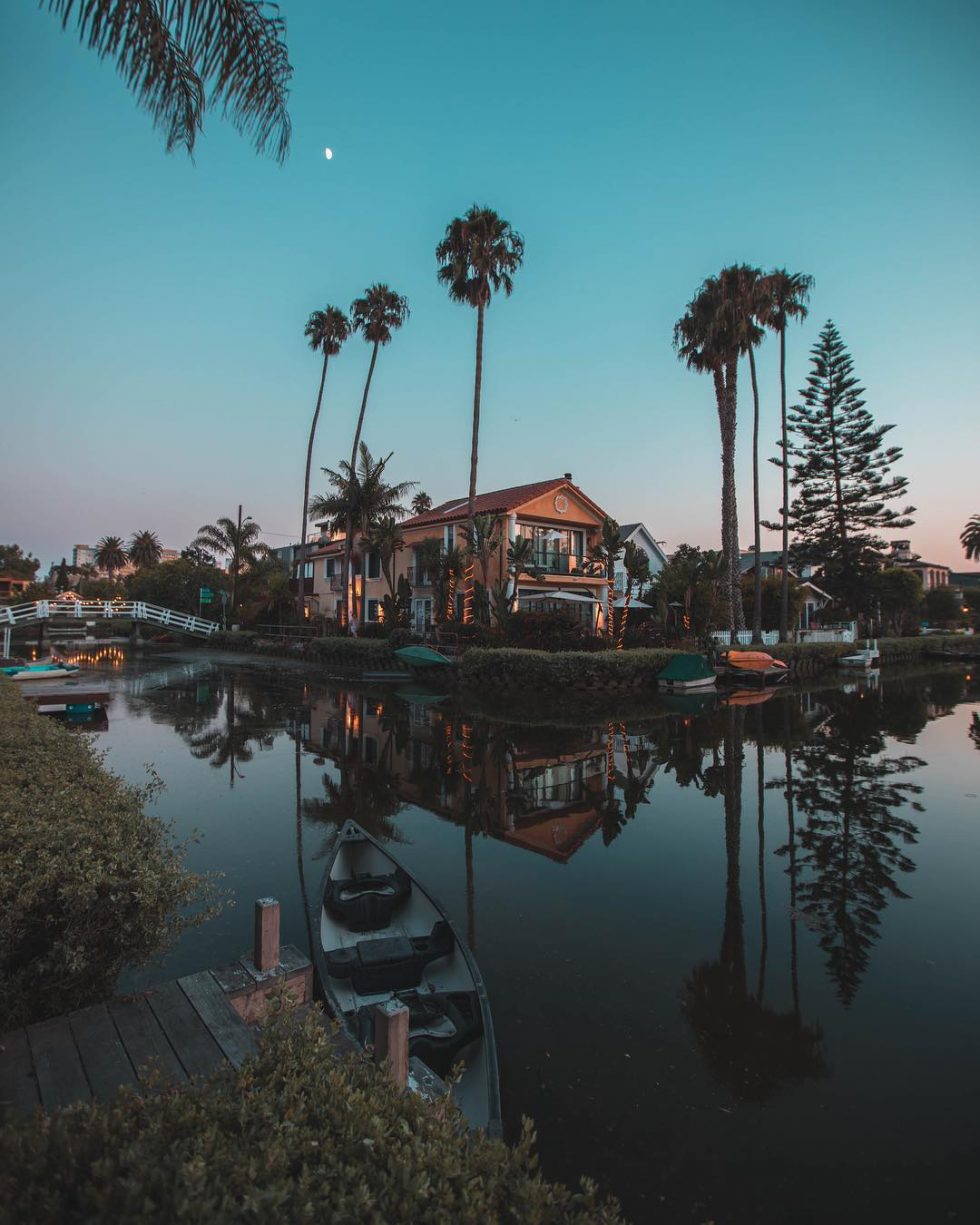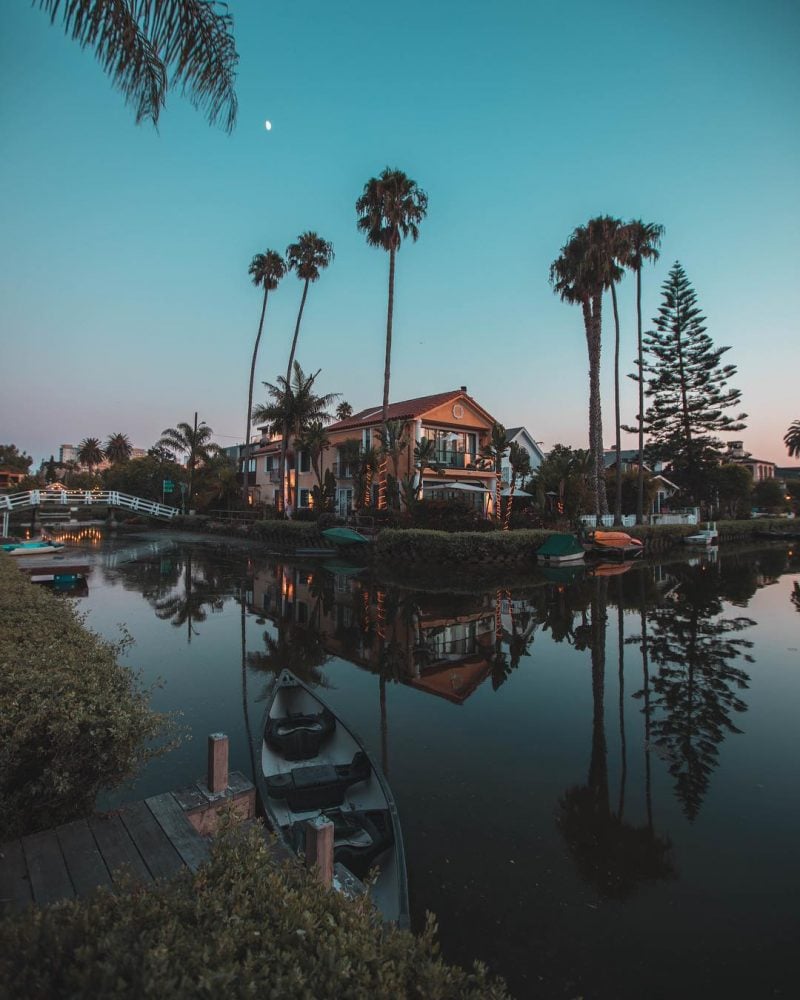 The Venice Canal Historic District is great to capture during the day or at sunset. The man made canals were built in 1905 by developer Abbot Kinney who wanted to recreate the feel of Venice, Italy. You'll find tons of pedestrian walkways and bridges here that go between incredible homes and gardens. The canals themselves offer great reflections of the palm trees poking up all over the neighborhood.
Venice Beach Canals on Google Maps
---
13. Skyline/Highways at the W 4th St Bridge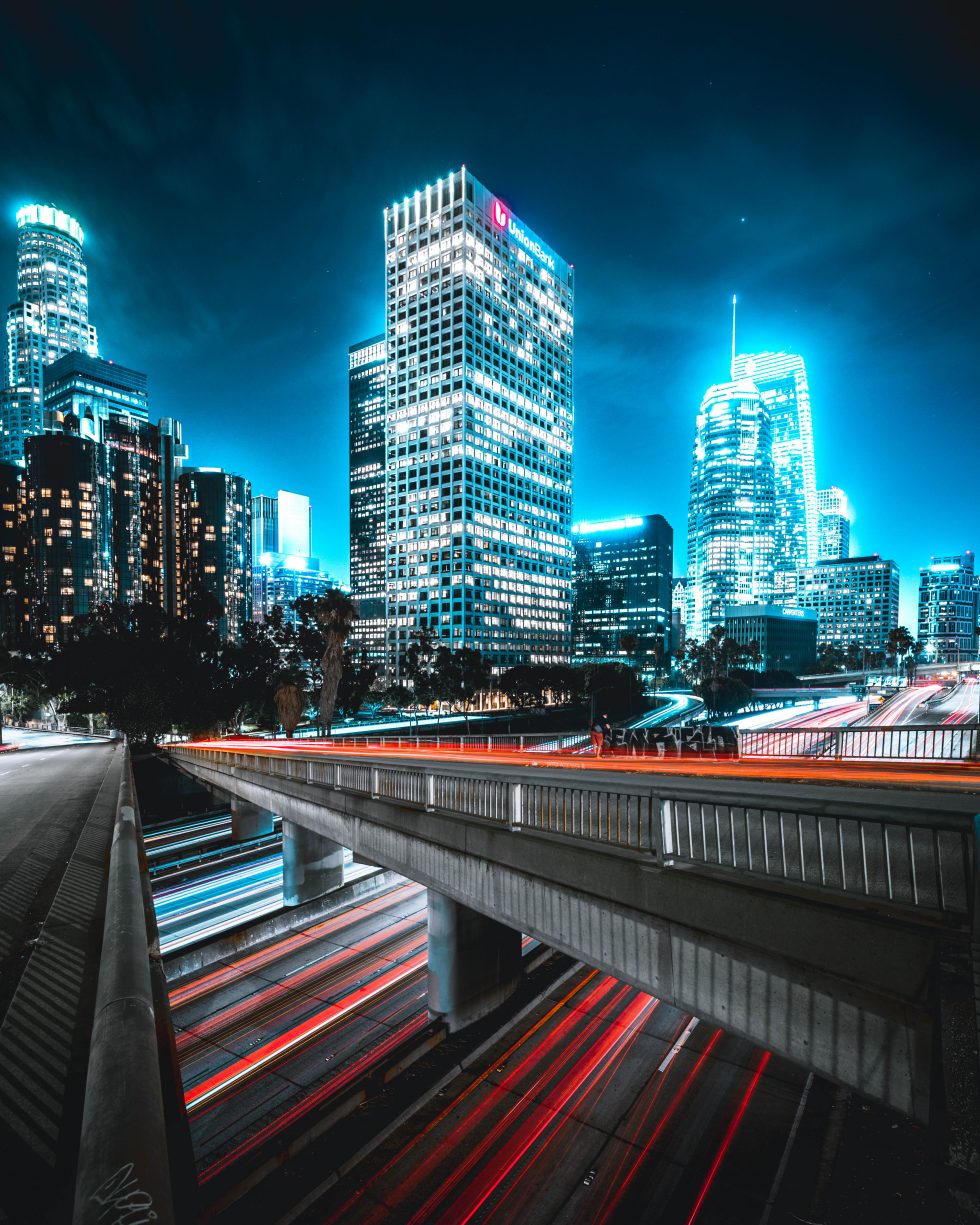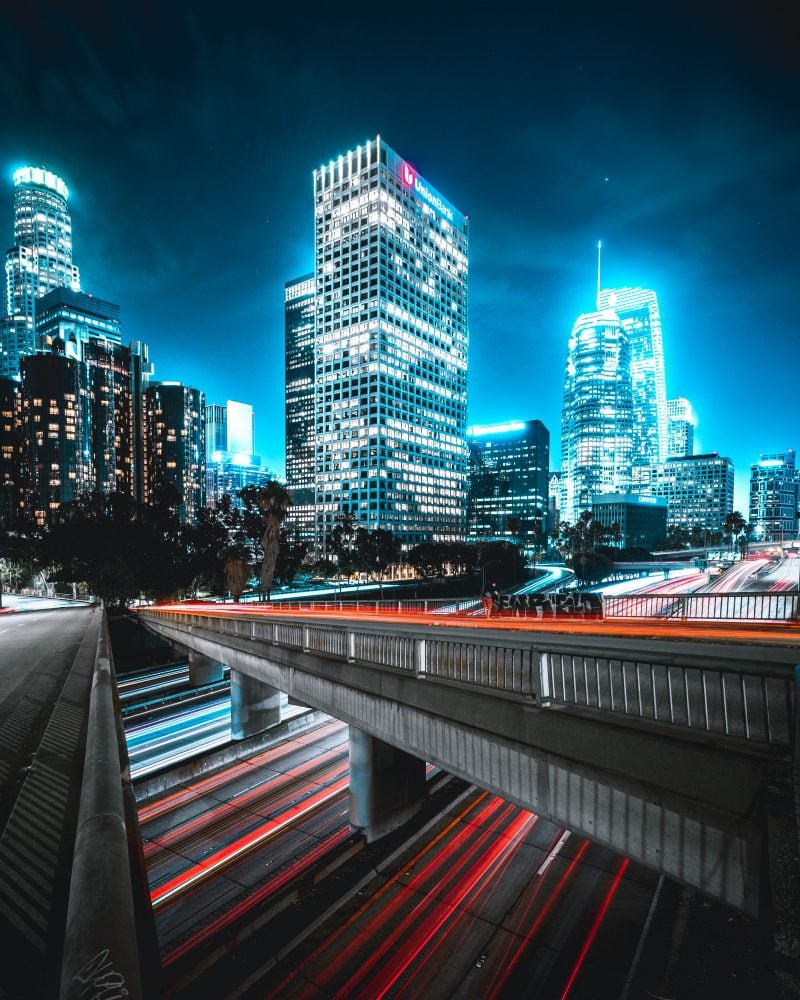 If you're looking for somewhere to take pictures in Los Angeles at night you have to stop at the W 4th street bridge. If you're driving it's usually pretty easy to find a parking spot a few blocks away on S Boylston St or Miramar St.
After getting the skyline from the W 4th St bridge take a walk down S Beaudry Ave to the 5th and 6th street bridge for tons of other angles. If you have a wide angle lens and a tripod you'll be in heaven in this area.
With the range of intersections and highways there are tons of different light trails you can capture at this location. I love that this spot captures the Los Angeles aesthetic perfectly.
Read my list of night photography tips if you're new to night photography.
4th St Bridge on Google Maps
---
14. California Department of Transportation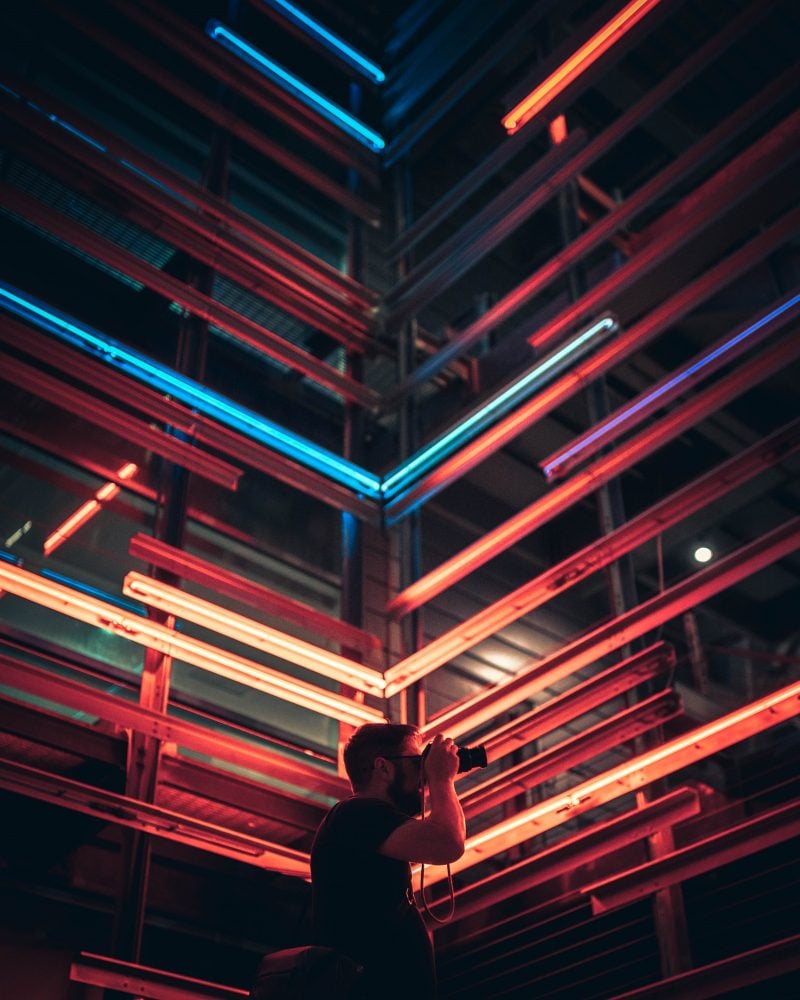 The California Department of Transportation with its red neon lights is perfect for late night portrait photoshoots. When driving here you can't miss the lights and you can usually find parking a block away. A few other photographers showed up here when we were shooting. It seemed like a popular spot for photographers in downtown LA and I would recommend stopping by.
Caltrans Building on Google Maps
---
15. Hike Behind the Hollywood Sign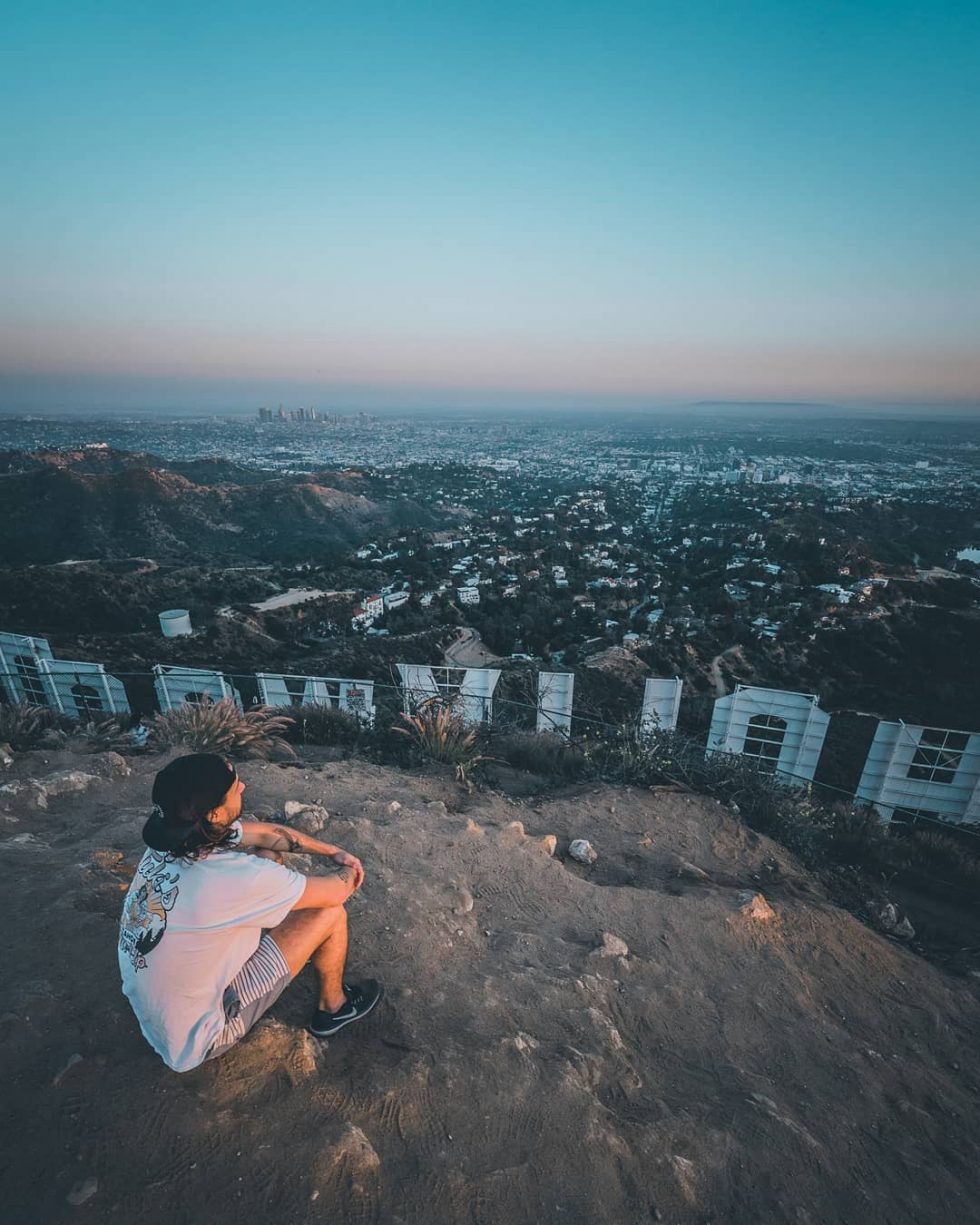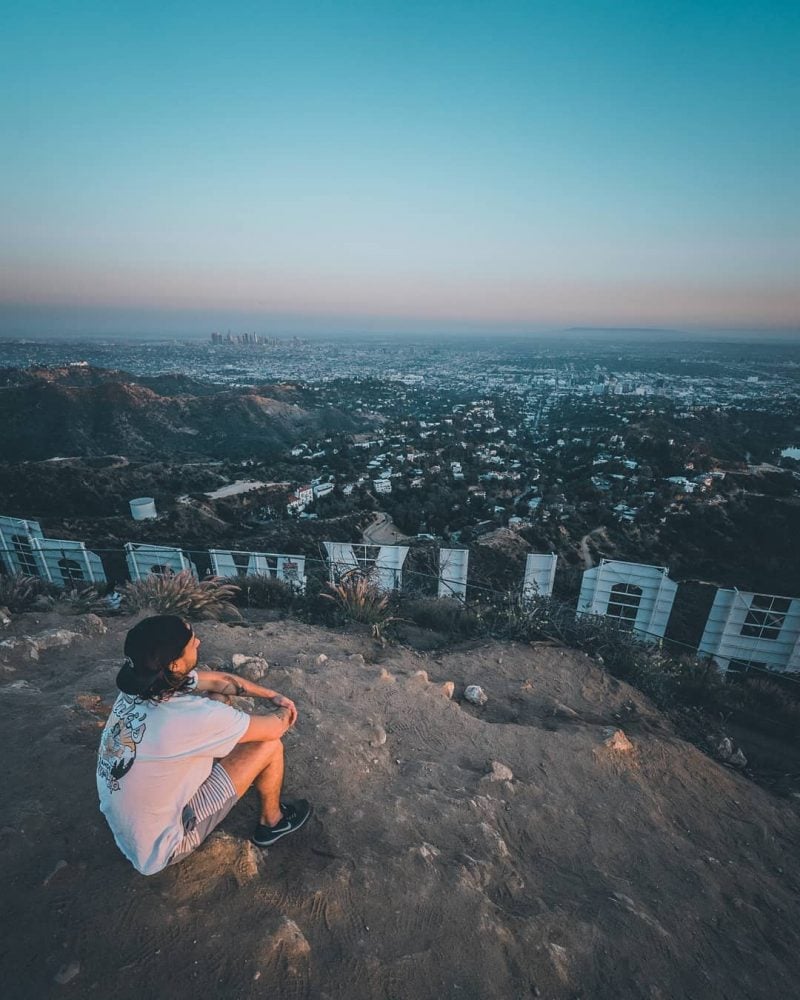 One of the most iconic L.A. sights is the giant Hollywood sign in the hills. There are a few trails that let you hike behind the sign to get great photos of the skyline and sign.
Trail to Hollywood Sign on Google Maps
---
16. Grimes Canyon Road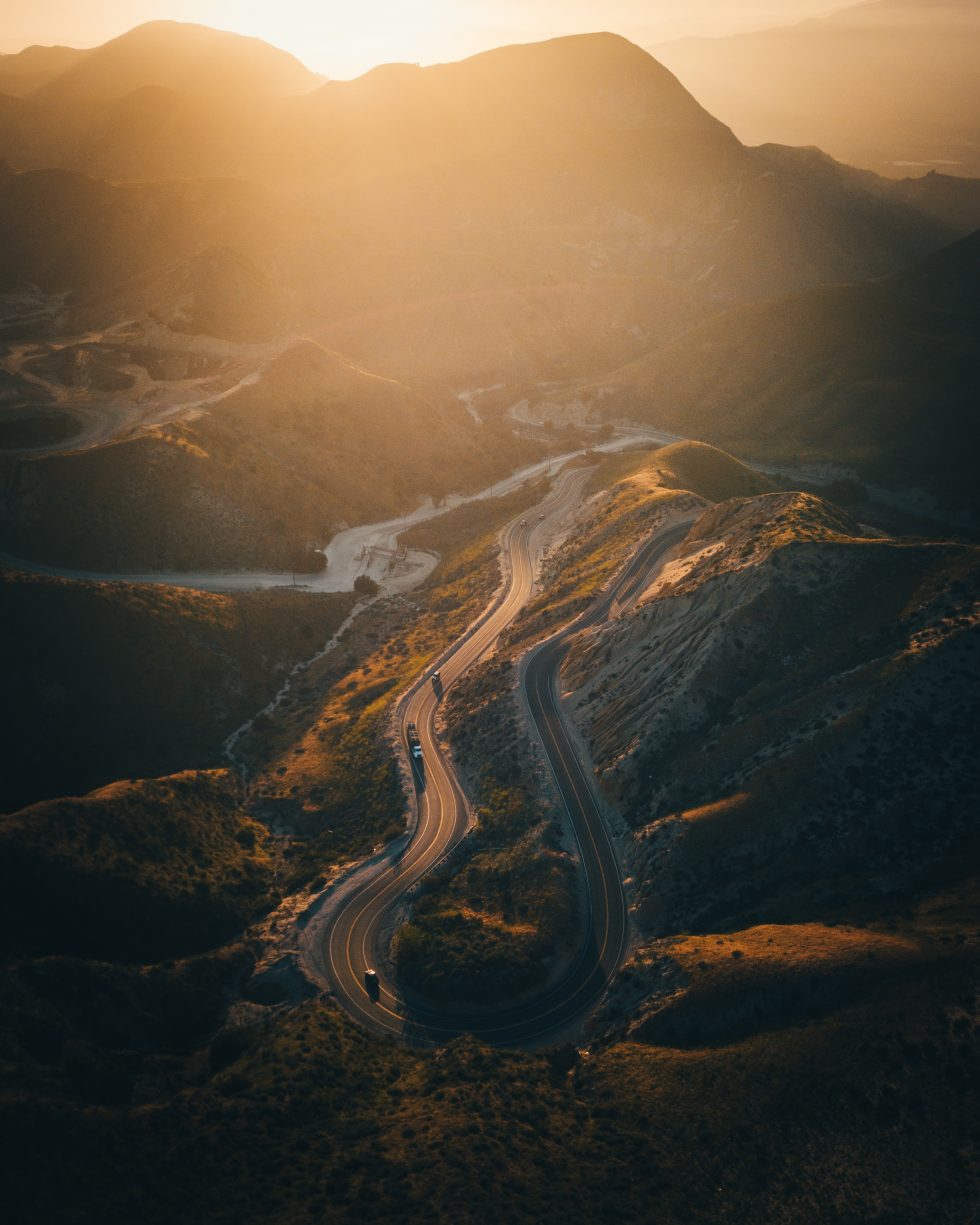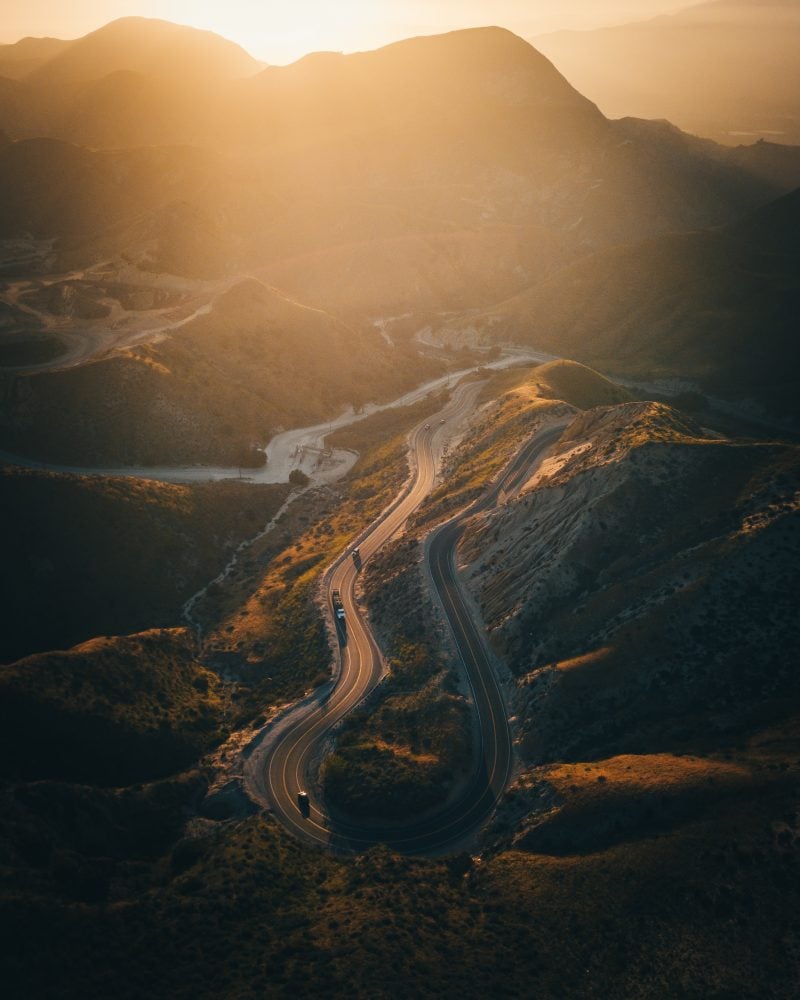 You'll need a car to get to Grimes Canyon road but the scenery is spectacular, especially when the sun goes down. There are a a few spots to shoot from to get shots of the curve in the road; which looks especially great with a long exposure at night.
Just be careful here, the walk to the path to get photos of the road at night is narrow so walk with cation (cars will be driving past you).
Grimes Canyon Road on Google Maps
---
17. Pedestrian Bridge at Slauson Station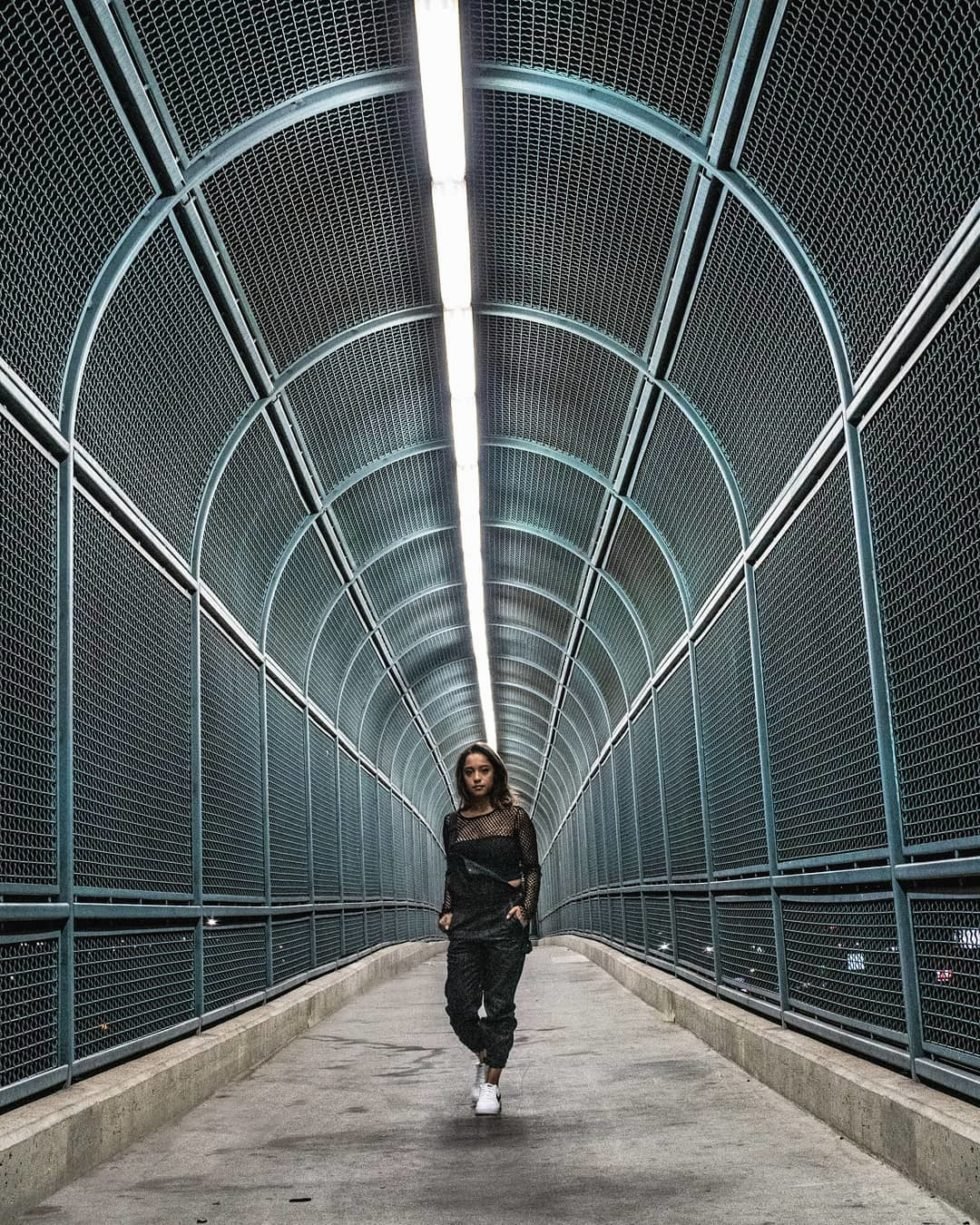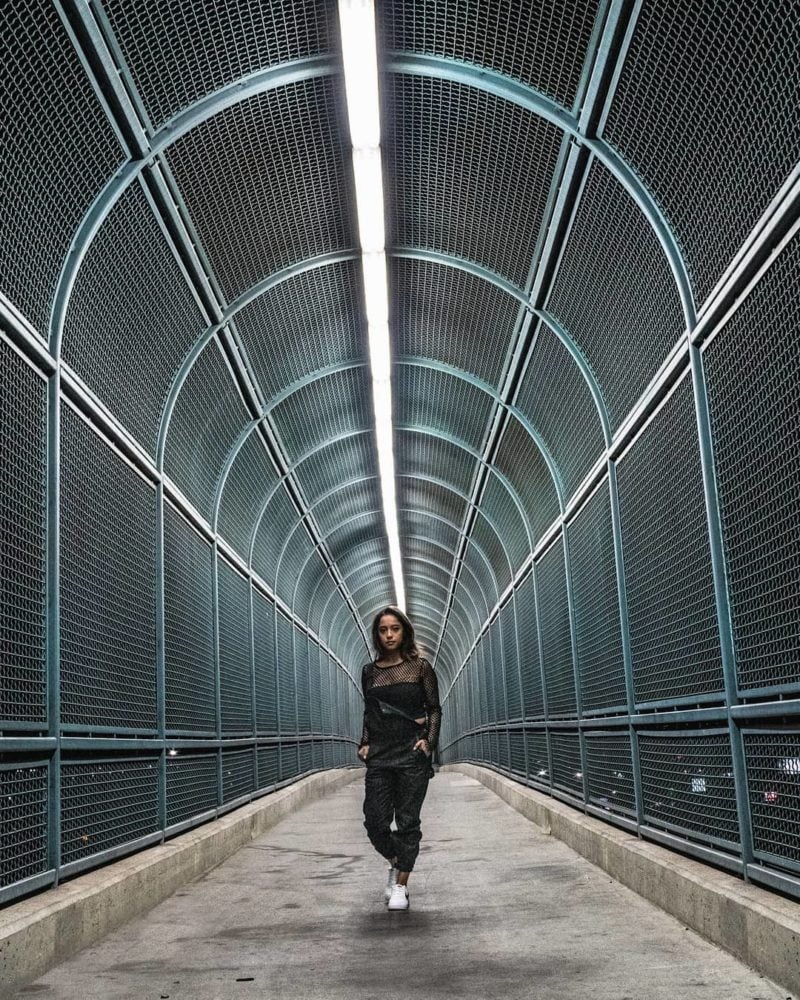 The pedestrian bridge at Slauson Station is huge for portraits. The bridge at night is lit by a single light source on the top that gives your photos a very moody feel. I personally haven't been here but have been told by friends that they recommend bringing a couple of people since the area can be dangerous at night.
Slauson Station on Google Maps
---
18. Aerial Shots of LA from a Helicopter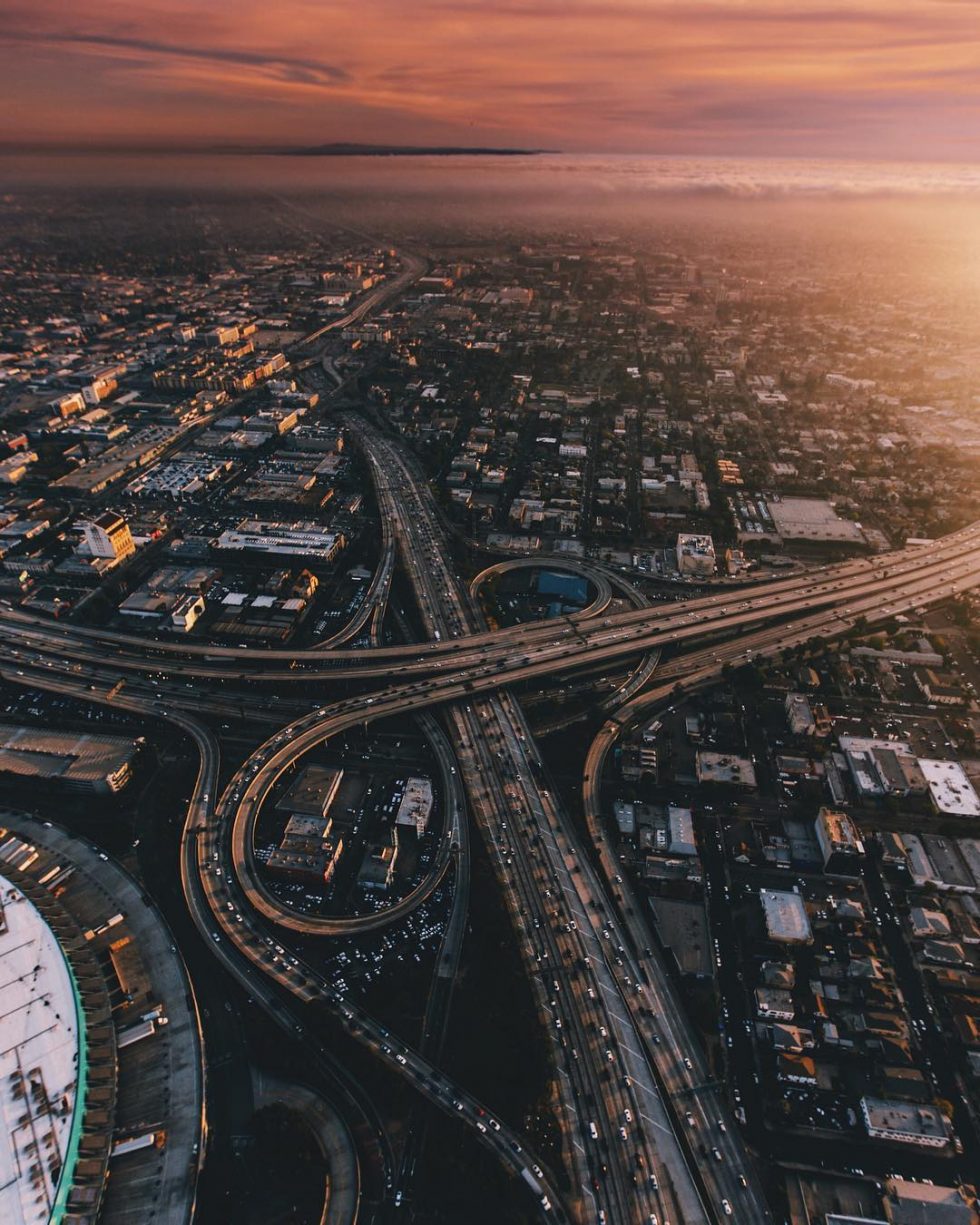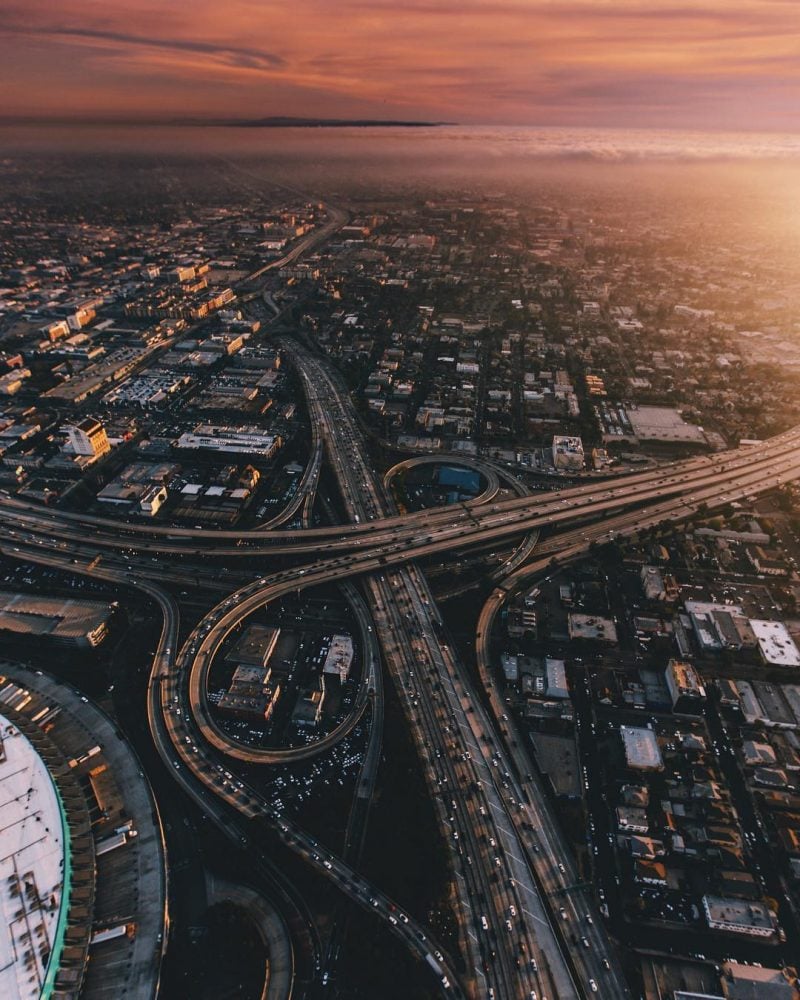 Many fly with flynyon to get aerial photos of Los Angeles. It can be a bit pricey but it's a great way to get unique angles of LA.
---
19. Elysian Park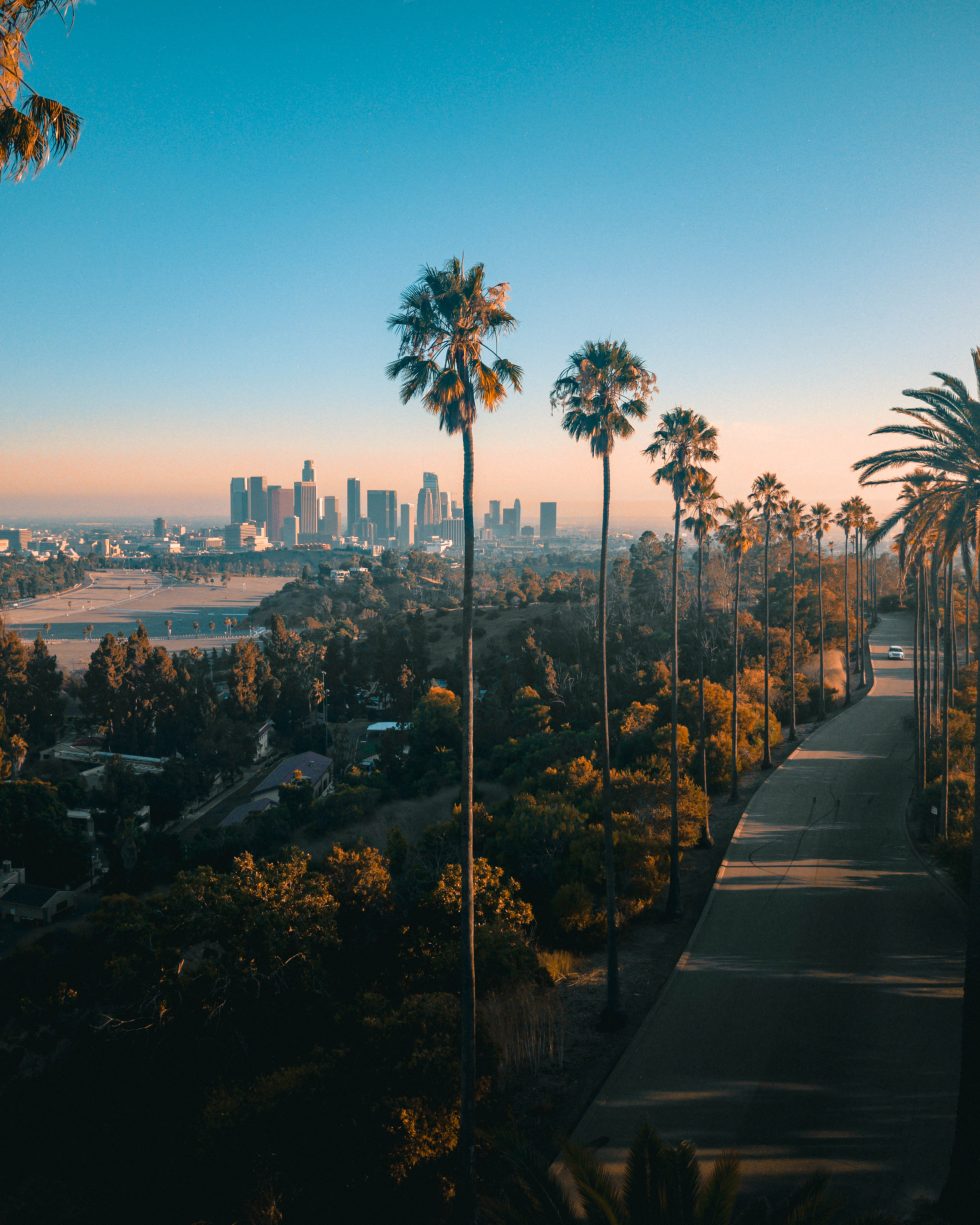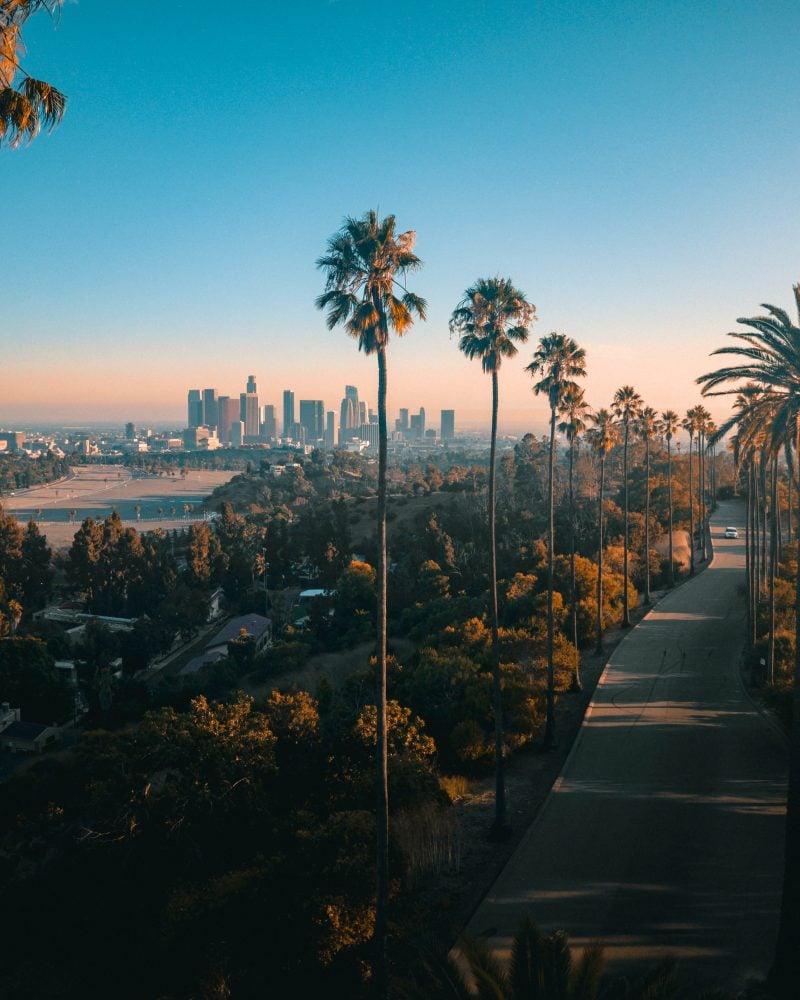 Elysian Park which is north of Downtown LA has a few great spots to photograph. Plus you can get a great view of the LA skyline without as many tourists as Griffith observatory. This park is one of my favorite scenic places in LA, especially the palm tree lined road called Angels Point Rd.
There is a secret swing in the park as well that overlooks some homes and the highway. It was about a steep 10 minute hike to where the swing is but it's worth seeing if you're in Elysian Park.
The Park does close around 9pm so be sure to get out before they close the gate (a truck will drive around to warn you when they are about to close the gate).
Elysian Park on Google Maps
---
Video from Los Angeles
In addition to the photos above I recorded a vlog showcasing many of the LA photography spots above. You can watch the video below.
---
Whether it's the breathtaking views of the Griffith Observatory or the traditional beach vibes of the Santa Monica Pier, each one of these LA photo spots has something special to offer. Whichever you travel to, you're certain to leave with some incredible pictures that will make your Instagram feed pop. So hurry up and grab your camera; Los Angeles is waiting for you!
Did I miss a spot? let us know your Instagram worthy places in LA in the comments below!